Customer Data Integration—Not THAT Scary!
With the speed on-demand solutions appear and gain popularity and compete with the old-school desktop systems, you'd naturally think customer data integration solutions have long become a usual thing. That's why it's a bit shocking to see the recent Forrester research report only 2% of companies surveyed manage to achieve an integrated view of customer data, while 92% claim this approach to be either "critical" or "very important."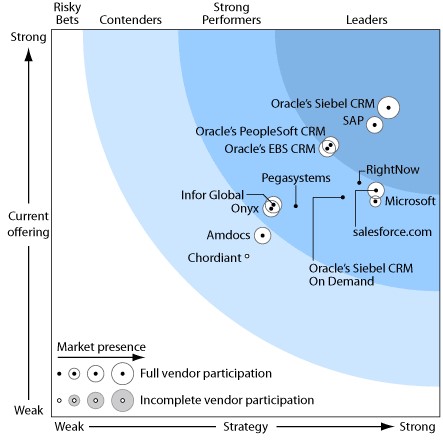 The market of enterprise CRM suites in 2007 (Image credit)
Turns out, building bridges between the web and desktop is still a problem, and we're only left guessing whether it's the loss of data, resources, or time that the companies are scared of.
But then there are enough prebuilt solutions out there that won't take months or weeks of your time, and that you can use and be sure that nothing gets lost. Everything is simple, couldn't get more simple, in fact. Then why make it sound so compicated and scary?
Just know what you need out of your CDI solution, and find one that would fit your requirements. Also, it helps to actually know what customer data integration is and enlightening your staff as to why the company needs it. In these terms, Jill Dyché's seven tips to get companies ready for successful customer data integration implementation might be useful.