Customer Data Integration—Not THAT Scary!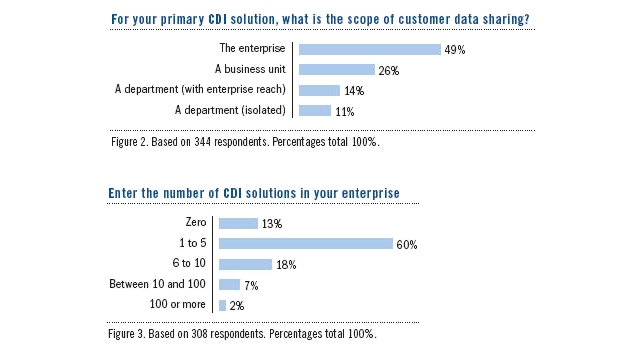 Mismanaged data is a source of constant headache for an organization, but you can handle it efficiently.
(Featured image credit: TDWI)
A critical problem
Administering data within an organization is not an isolated process. Data is not usually confined to a single application or an individual within a department; it flows across systems, often multiple times. So, it's utterly important that data is being treated as a corporate asset. It is especially true when speaking of customer data.
With the speed on-demand solutions appear and gain popularity, competing with the old-school desktop systems, you'd naturally think customer data integration (CDI) solutions have long become a usual thing. That's why it's a bit shocking to see the recent Forrester Research report—only 2% of companies surveyed manage to achieve an integrated view of customer data, while 92% claim this approach to be either "critical" or "very important."
It turns out that building bridges between the web and desktop is still a problem, despite the fact that the CDI market is ever growing.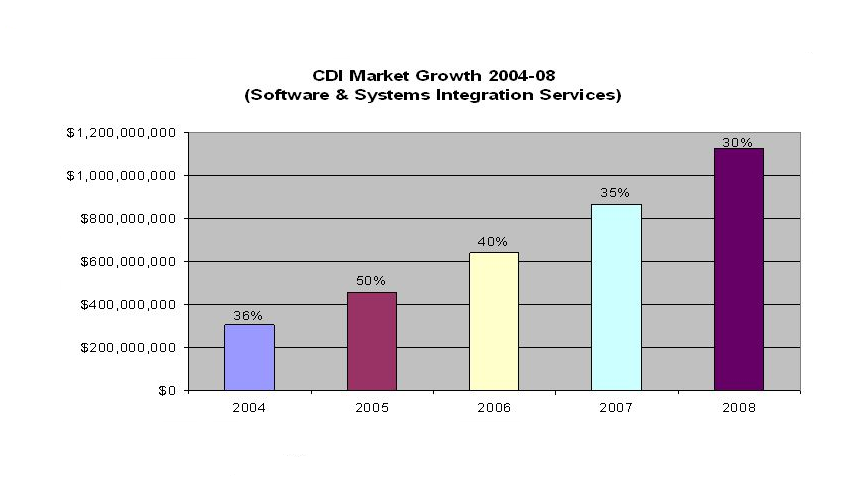 Source: The CDI Institute's 1Q2005 MarketPulse™ survey
Why CDI projects fail
According to this great article by TechTarget's Hannah Smalltree, there are a number of common pitfalls that may turn a CDI initiative into a failure:
Data model misfortunes. Vendors usually promote those data models were designed to support their applications. They can't offer flexibility around the data model. However, a predetermined data model, designed by an application vendor, can be a big reason for CDI failure. Companies should look carefully at various data model approaches and options and choose those answering their needs.
Overarching architecture and technology issues. While opinions again vary on the right technical and architectural approach, it's clear that there is no "one-size-fits-all" approach to CDI. A company's existing systems, potential longer-term changes and specific business requirements all play a part in determining the correct technological approach for a given project. Issues of CDI system architecture, performance and scalability are all very important to consider up front, and flexibility is critical.
No plan (or budget) for long-term maintenance and extensibility. CDI is not a one-shot deal. It's an ongoing project. Early adopters of CDI, many of whom built their own in-house systems, are now looking toward commercial products. They have found out about the long-term costs and requirements of maintaining custom systems.
Lack of user adoption. Education and training are extremely important parts of CDI implementation and must be a primary part of a CDI plan, not an afterthought. Many companies using CDI successfully recommended developing a corporate-wide marketing plan for a CDI project and associated data governance and data stewardship initiatives.
Not addressing data quality, governance, and stewardship issues. CDI projects without an associated enterprise-wide focus on data stewardship and data governance will fail, many attendees said, because the source of the data problems might not be addressed. Worse yet, if users discover data problems in the context of a CDI implementation and start to distrust the data in the system, the whole CDI project can fail due to skepticism leading to lack of user adoption.
Politics, pure and simple. Underlying many CDI-challenge discussions was the issue of corporate politics. By definition, CDI projects can touch almost every department in an organization. Whether it's the lack of enterprise-wide support, unrealistic timelines, inadequate budgets or data ownership issues, CDI project leaders must be social champions, as well as architectural experts. Data management can be a touchy issue, according to many attendees. Various divisions may feel that they own the data in their own systems and may be reticent to allow another system to access—much less change—what they consider to be their critical information.
Avoiding CDI implementation challenges
In these endeavor, Jill Dyché's seven tips to get companies ready for successful customer data integration implementation might be useful.
There are always people in a company who refuse to understand the purpose of CDI implementation if there is already "a kind of thing that's doing almost the same." Anticipate such arguments, prepare to explain the key moments and educate your opponents offering them deliberate examples. Position your CDI effort as an ongoing program that can enable different business needs.
Premature involvement of vendors may lead to waste of time and money for you won't be able to give the vendors what they need to deliver the tools. Data management requires intent focus on functional requirements. So, until you have your thoroughly elaborated list of requirements, keep vendors aside.
Many IT environments are accustomed to buying off-the-shelf applications and they simply don't have enough development skills to configure and maintain an MDM solution. Underestimating the need of required development skills will bring no good. For if your business is complex, data management solutions will be also complex
Sometimes, you just don't understand where to start. Do not disregard asking professionals from a good consulting company which may explain all pros and cons, help to define the right product from the wide range vendors offer, it also may recommend tactics for moving forward.
Read the rest of the tips in Jill's Q&A piece or check out other articles on data integration here.
Further reading
---
The post is written by Olga Belokurskaya and Alena Semeshko; edited by Alex Khizhniak.