Building an Open-Source CRM for Tourism with SugarCRM and Apatar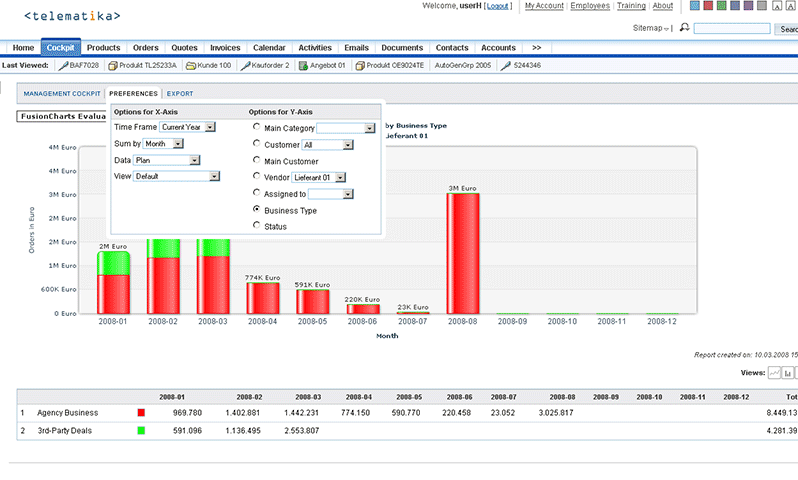 Working with Telematika and Apatar, Wild-East Marketing fully integrated its new CRM with the internal systems in three quick steps.
Wild-East Marketing GmbH, one of Germany's leading service provider for online booking systems (OBS), decided to implement an open-source customer relationship system based on SugarCRM. Helping the company to achieve the goal, Telematika GmbH set up a 3-step integration model, which would make sure that Wild-East Marketing gets a CRM as quickly as possible and that the product is fully integrated with all departments and internal software systems. The secondary target of the CRM implementation was to eliminate as many data isles as possible.
#1. Installing and customizing SugarCRM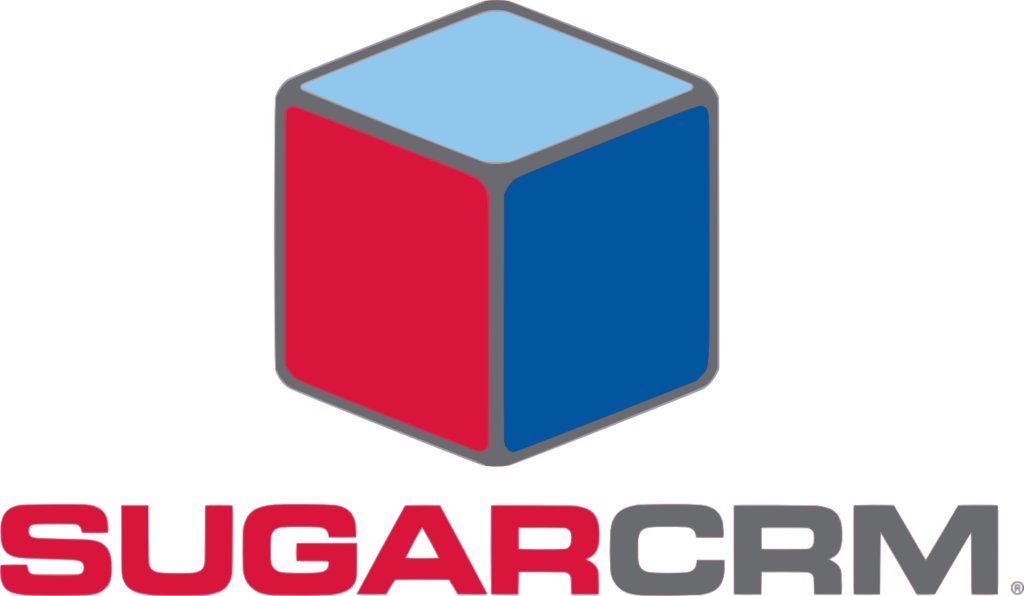 Step 1 was setting up a basic SugarCRM and customizing it to the everyday needs of Wild-East Marketing. This included the import of all existing customer data from the "Combit Address Manager," all Outlook instances, and Access databases. Internal communication was greatly improved by using a shared calendar and an Outlook/Thunderbird plug-in, which enables all employees to access a complete communications history with each customer.
Furthermore, the team at Telematika implemented and enhanced the "Projects" module, substituting "eProject." Project management is now customer- and account-related, and each CRM user can be assigned to project tasks, get notifications on every relevant change to his/her project, and so on.
#2. Creating an ERP add-on
Step 2 was developing a small business ERP package called crmXP. It extended SugarCRM Community Edition with the following modules:
Products
Product Catalogue
Price books
Quotes
Orders
Invoices
Cockpit
crmXP allows Wild-East Marketing to trace the complete customer life cycle throughout the company. The secondary target was emphasizing the distinction between B2C and B2B, which was realized by a flexible business model template engine for the "Orders" module.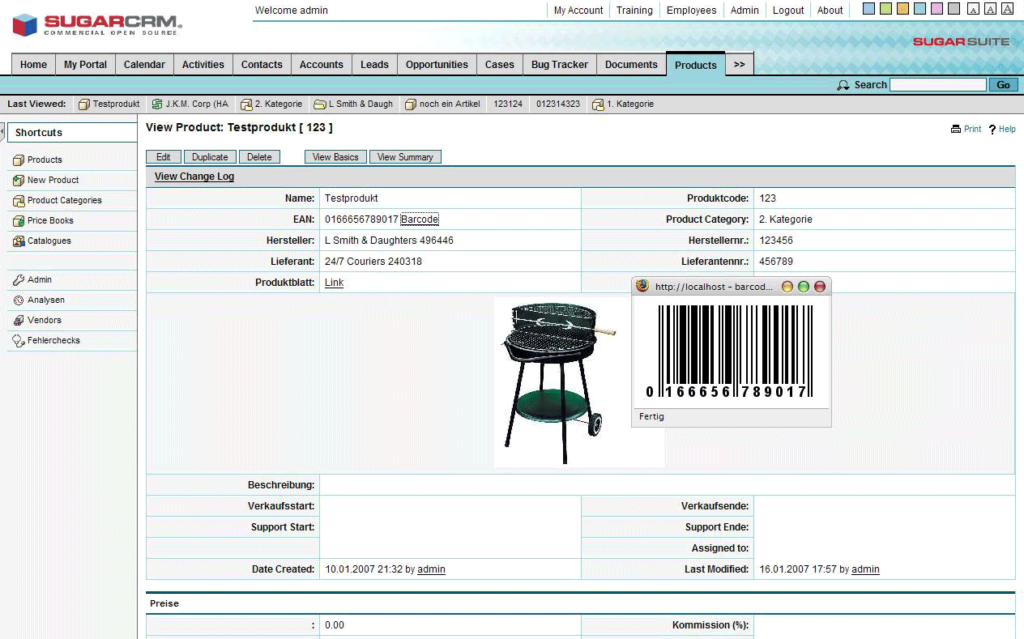 The crmXP package
#3. Synchronization
Step 3 was synchronizing the live data from Wild-East Marketings OBS with the extended SugarCRM. Besides the address data from customers, which would be organized and used for e-mail campaigns from SugarCRM, it was required to fetch all bookings, reservations (as "orders "), and invoices, so the CRM system can show "who booked what and paid when" anytime. The synchronization had to be flexible and expandable by Wild-East Marketing employees, so engineers at Telematika decided to go for an ETL solution. Compared to other tools, Apatar was preferred because of its easy-to-grasp and intuitive handling, as well as a broad range of connectors and excellent support through the Apatar team.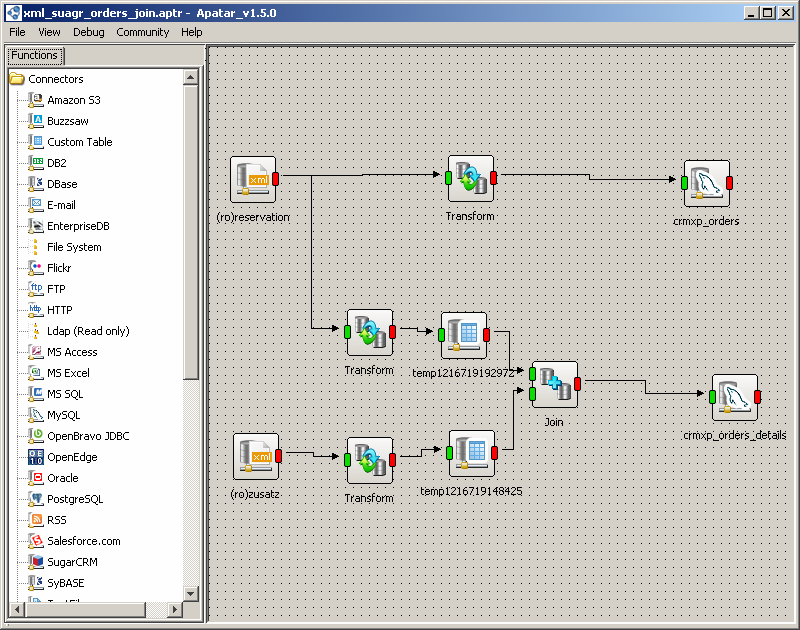 The Apatar DataMap
Apatar enabled Telematika to easily connect and synchronize SugarCRM extended by crmXP with the Wild-East Marketings DATEV system (invoicing), their OBS (online booking system), and some other MySQL and XML sources for statistics and Google AdSense.
Instead of creating one giant DataMap for all the synchronized information, the team set up a single DataMap for each module and arranged them with Apatar's scheduling tool. That way, it's easily possible for Wild-East Marketing employees to modify and update single imports if necessary.
Using the "Cockpit" module, Wild-East Marketing has a powerful business intelligence tool at hands, which can generate real-time reports with a mouse click and show conversion rate, hit rate, and ROI of campaigns, order summaries per quarter/month/year, as well as many other customer-, order-, or product-related information, and turn it into any kind of charting, which can be used as a flash object on a website, for presentations in PowerPoint or Impress, or in many other ways.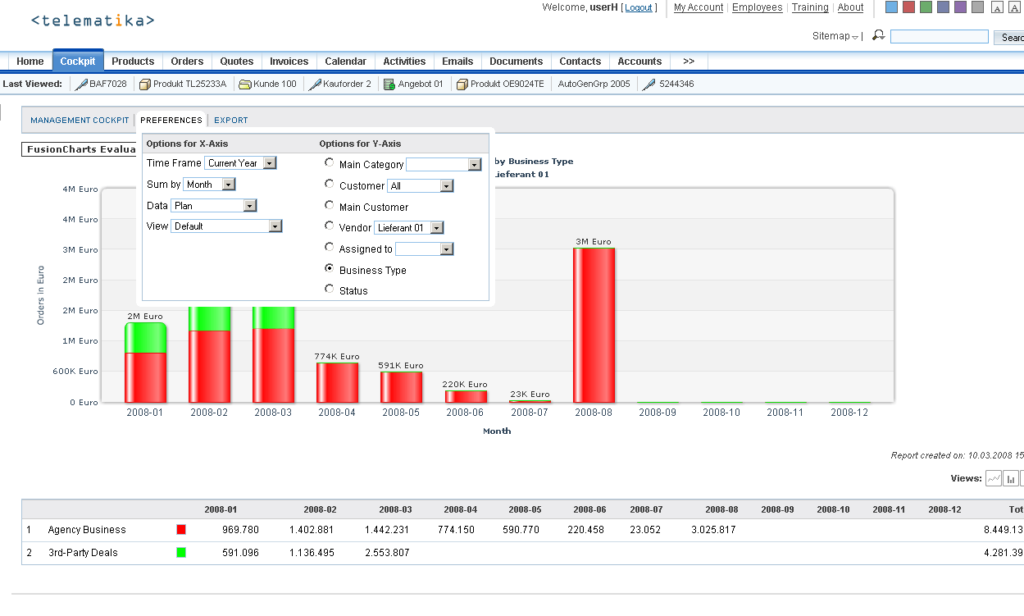 The crmXP Cockpit module
Future developments will open up the CRM to customers and enable them to track the status of their reservation. Furthermore, they will be able to file a case (i.e., complaint) into a ticketing system.
Further reading