Apatar Press Coverage, 2007–2010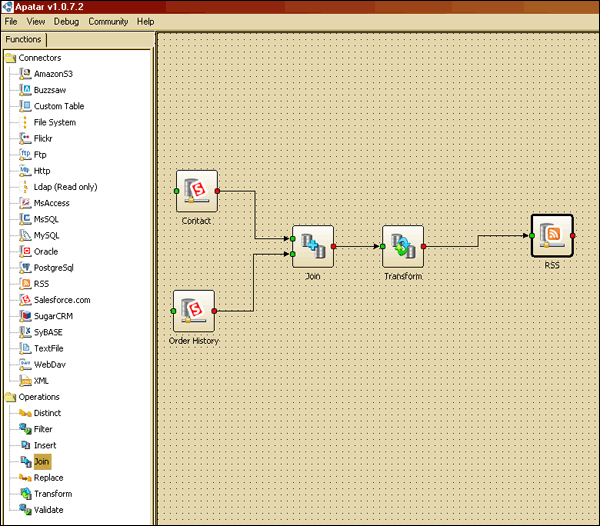 These are the main articles about Apatar, an open-source data integration product developed by Altoros. The project was mostly active during these four years.
What is Apatar? | apatar.com | Demos
2010

VAR Services with Cloud Vendors: Key Considerations
By Brian Chee and Curtis Franklin Jr., December 15, 2010
One solution that we keep hearing about from different companies is about reducing the total seat costs by using Salesforce.com for the front-line salespeople, but something like SugarCRM for the call centers. Using two separate cloud applications isn't unusual, but it does lead to the question of where the data is stored and how it is moved from one application to another. One company had a middleware data mashup product from Apatar.com periodically moving data back and forth to make sure the call center knew about recent outside sales activity.
2009

Spring Clean Your Software Licenses for Cost Savings
By Loraine Lawson, March 17, 2009
You might be able to save up to $100,000 a year by renegotiating your data integration licenses, according to this post published on Apatar's blog. Of course, Apatar is an open source data integration solution provider and has a vested interest in reminding you that you could save on licensing fees. But that number is actually from recent Gartner report, according to the post.

Enterprise Mashups on Stage at CeBIT
By Michael Ogrinz, March 12, 2009
Last week the world's largest annual computer expo, the CeBIT conference, was held in Hannover, Germany. This year, there was also a focus on the "application development" side of technology, which included a large area devoted to open-source and a number of panels on topics such as Virtual Worlds, Digital Content Distribution, as well as a panel on "Business Solutions with Enterprise Mashups." Ludmila Radzevich from Apatar (provider of an open-source data integration tool) was on hand to represent data mashups.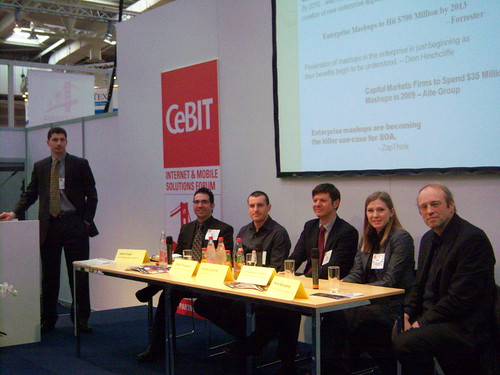 Proving the ROI
By George Crump, February 26, 2009
The backup guy, the storage guy, and the virtualization guy are going to quickly become "the guy" in many organizations. Having a separate management and monitoring application for each one of these applications isn't going to cut it any more. Tools will be needed, like those from Tek-Tools and Apatar that offer complete monitoring and reporting of storage management, data protection, and virtualization management in a single console.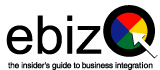 Common Data Integration Challenges: A Salesforce-QuickBooks Example
By Alex Khizhniak, February 2, 2009
This article considers the example of integrating QuickBooks with salesforce.com. However, there is more to improved QuickBooks and Salesforce integration than just saving time and effort. Quality data integration makes for better business processes, which helps accelerate sales in various lines of business. On the one hand, you have the sales department that uses Salesforce, which is always updated with customers' credit and invoice information obtained from the back office's QuickBooks. On the other hand, your accounting department is guaranteed to keep abreast of the current sales by having their QuickBooks synchronized with Salesforce.
2008

Scary Stories of Information Management
By DMReview magazine, October 31, 2008
CEO and founder of Apatar Renat Khasanshyn joines the leading data management experts in the Halloween edition of DMReview radio broadcast. The panelists discuss horror stories of information management from their own experience and exchange views on open source and the role it plays across enterprises today. It's awesome and hilarious at times and, LOL, you gotta listen to it.
Apatar Connects Open-Source SugarCRM to Other Apps
By Irina Guseva, October 30, 2008
New Apatar Connector was recently released to aid those struggling with integration of open-source suite SugarCRM with third-party applications, databases, flat files, and other CRM/ERP applications and Web 2.0 destinations. Apatar claims to be able to do it all "without coding."

Apatar Announces New SugarCRM Connector
By Shireen Dee, October 22, 2008
Apatar recently announced its official connectivity to the SugarCRM open-source suite for the construction of a new SugarCRM connector that can be deployed by all business users with no requirement for coding skills.

Apatar Unveils Integration Tool for SugarCRM
By Antone Gonsalves, October 21, 2008
Data integration vendor Apatar has introduced a software tool for connecting SugarCRM, an open-source customer relationship management suite, with third party applications.

Apatar and SugarCRM Team Up for a Data Integration Product
By David Sims, October 20, 2008
Apatar, which sells open-source software aimed at the data integration market, has officially announced connectivity to the SugarCRM open-source suite. Apatar officials say, the new SugarCRM connector is designed to integrate data between their customer relation management system and what company officials describe as "a variety of third-party data sources, allowing this data to be filtered, validated, and cleansed."

Apatar Announces Connectivity to Vertica Analytic Database
By David Sims, August 7, 2008
Apatar, a vendor of open-source tools for data integration, today announced connectivity to the Vertica Analytic Database, a grid-based column-oriented database management system used for analytics and business intelligence.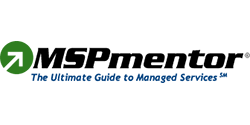 Open-Source SaaS Scores Again with Apatar
By Joe Panettieri, July 11, 2008
Software as a Service (SaaS) and open source continue to converge. The latest example is Apatar On-Demand, which now synchronizes Salesforce.com CRM and Intuit QuickBooks accounting software. Apatar specializes in open-source tools for data integration. Filling the gap between Salesforce.com and QuickBooks should be of great interest to VARs and managed service providers. Here is a bit more about some of the trends here.

MuleSource Offers Enterprise-Class Open-Source SOA Governance
By Loraine Lawson, July 11, 2008
A fan of QuickBooks and Salesforce.com CRM? Then, you might want to check out Apatar On-Demand, a new hosted integration solution that synchronizes data between QuickBooks and Salesforce.com. According to the press release, it's designed for business users and can be set up within 30 minutes via a browser.

Deceased Database Available Online
By Direct Magazine, June 20, 2008
Apatar Inc. is working with Cdyne Corp. to offer a web-based data hygiene service for removing the names of deceased persons from marketing lists and databases. The service verifies social security numbers used for customer identification against the U.S. Social Security Death Index database.

Apatar's Open-Source Data Integration and ETL
By Savio Rodrigues, May 21, 2008
I just spent some time looking at Apatar, a company that is offering an extract, transform, load (ETL), and data integration solution under the GPL (with commercial support subscriptions available also). The really cool thing is that Apatar provides a visual designer and mapping tool in order to hide the complexity of ETL and data integration from the typical (business) user. Come to think of it, Apatar reminds me of Yahoo Pipes on steroids.

Garbage In, Garbage Out
By Brad Kenney, May 16, 2008
According to analyst firm Aberdeen Group, 52% of organizations consider the "verification of data accuracy or completeness" to be one of the biggest customer data management challenges. Indeed, the principle of "garbage in, garbage out" is one with which many manufacturing IT managers continually struggle.

IBM's Mashup Suite Aims To Increase Enterprise Adoption
By J. Nicholas Hoover, April, 8,2008
One reason that's true is that until recently, enterprise mashups had been the exclusive provenance of small startups like Kapow, Serena Software, and Apatar. In the last few months, however, larger companies like Oracle and IBM have joined the fray.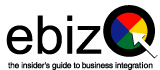 Six Ways to Monetize Your Mashup Development Skills
By Alex Khizhniak, March 26, 2008
Despite what many people tend to think, mashups are not just grabbing someone's web content. A well-made mashup is actually a brand-new information resource, which is unique, genuine, and represents a greater value than its single components. If the mashup fails to meet the above-mentioned conditions, one can write it off as a dustbin full of informational garbage. Users are willing to pay only for those mashups that are of some value, either for business or fun. In other words, the resource is worth considering when the idea of a certain mashup, the idea to combine these very components, makes sense. Nobody is interested in a mashup that transforms a number of useful websites into a huge useless mess.

CRM from Pivotal, Concursive CRM for AlphaGraphics, Apatar…
By David Sims, February 15, 2008
Apatar, a vendor of open-source software tools for the data integration market, has announced a technology and marketing alliance with EnterpriseDB, the Oracle-compatible database company. Apatar will support EnterpriseDB's Postgres-based database products as both sources and targets of data integration initiatives.

Twist on Now Familiar Tale of Independent Middleware Buyout
By Loraine Lawson, February 8, 2008
Another middleware company bites the dust. Apatar allies with EnterpriseDB. Apatar offers open-source tools for data integration. This week, the company unveiled a support agreement with EnterpriseDB, an Oracle-compatible database company. Apatar designs its tools for business users, so IT doesn't need to get bogged down in basic integration.

Open-Source Vendor Apatar Partners with EnterpriseDB in Data Integration
By Antone Gonsalves, February 7, 2008
Apatar, a maker of open-source data integration tools, has agreed to support EnterpriseDB's Postgres-based database products. Under the partnership, Apatar software can be used to integrate EnterpriseDB database with a variety of data sources, including other databases, such as MySQL, Microsoft SQL Server, and Oracle. In addition, users will be able to link information in EnterpriseDB products with information in Microsoft Excel spreadsheets and CSV/TXT files and in applications, such as Salesforce.com and SugarCRM.

Apatar Open-Source Data Integration Debuts StrikeIron E-mail Verification Connector
By Database Magazine, February 5, 2008
Apatar, a provider of open-source software tools for the data integration market, announced the availability of StrikeIron E-mail Verification connector for the Apatar open-source data integration toolset. The new feature is designed to determine the validity of an e-mail address or domain using StrikeIron Web Services.

StrikeIron E-mail Verification Picked for Apatar Toolset
By David Sims, January 28, 2008
Apatar, a vendor of open-source software tools for the data integration market, has chosen StrikeIron E-mail Verification connector for the Apatar open-source data integration toolset. The feature is designed to determine the validity of an e-mail address or domain. It lets users cleanse customer data by validating and filtering e-mails extracted from databases, files, applications, and such Web 2.0 destinations as Flickr, Amazon S3, and RSS feeds.
2007

Ten Tech Startups that Should Matter
By Julie Bort, December 20, 2007
In 2007, we designated more than 90 startups as worth watching. After a second look, we picked these 10 as offering what matters most in the enterprise—agility, seamless integration, and pervasive connectivity.

Apatar and StrikeIron Connect Open Source with Data Quality
By Manufacturing Business Technology staff, November 19, 2007
In a brand-new partnership, Apatar becomes the first company to provide open-source data-quality tools leveraging StrikeIron's verification web services. The new release of Apatar Open Source—available as a free download—enables users to extract, verify, and cleanse customer information across databases (e.g., MySQL, Microsoft SQL, Oracle); files (e.g., Microsoft Excel spreadsheets, CSV/TXT files); applications (e.g., Salesforce.com, SugarCRM); and the top Web 2.0 destinations (Flickr, Amazon S3, RSS feeds).

Apatar Data Integration Now Available on Salesforce.com
By David Sims, November 7, 2007
Apatar, a vendor of open-source data mashups, has announced the availability of the Apatar Data Integration solution on Salesforce.com's AppExchange directory.

Mobile CRM Deal for Antenna and Oracle, Castle and SalesLogix, Apatar and Salesforce.com, Cast Iron
By David Sims, November 7, 2007
Apatar, a vendor of open-source data mashups, has announced the availability of the Apatar Data Integration solution on Salesforce.com's AppExchange directory.

Dump Your Legacy CRM System for Salesforce.com Using Open-Source Tools
By Alex Khizhniak, November 5, 2007
Do you have a business application you would drop like a hot rock if you could just get your data out? Fire up this open-source drag-and-drop tool and get happy.

Migrating to SugarCRM on Linux
By JT Smith, September 25, 2007
Thanks to its use of open standards and open source, SugarCRM has emerged as a healthy and well-supported alternative to other proprietary customer relationship management (CRM) applications like Salesforce.com and Act. That said, more people now use products other than SugarCRM. So, in many cases, if you deploy SugarCRM, it will involve migrating from another product. In this article, I will discuss some of the ways SugarCRM and its partners have created solutions for migrating from other products.

Open-Source Companies to Watch
By Jon Brodkin, August 23, 2007
Сheap, robust alternatives to solutions offered by proprietary software vendors. Read this article to learn about nine open-source companies worth watching in the areas of web search, server virtualization, data integration, collaboration software and e-mail.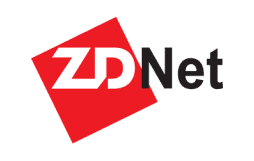 RSS Feeds Begin to Bleed into Enterprise Applications
By Dana Gardner, August 17, 2007
You've probably just gotten used to the idea of "mashups" for quickly bringing web services into applications and portals. Well, now, get ready for making novel and powerful use of content via RSS feeds in a similar way.

Amazon Pushes Data Center-to-Rent Service
By Antone Gonsalves, August 7, 2007
With EC2, the company CIO hopes application service providers can focus on adding features and not on power generators, bandwidth, and hard disk failures.

StrikeIron Announces Business Mashup Challenge Winner
By Business Wire Magazine, August 01, 2007
Renat Khasanshyn, Founder and CEO at Apatar, was awarded the prize for his mashup titled "Salesforce.com SMS Mashup using StrikeIron SMS Web Service." The mashup enables Salesforce.com users to send SMS (or text) messages to their customers and prospects from within Salesforce.com.

StrikeIron Mashups Are "Red Hot"
By Bob Brauer, July 31, 2007
Mashups have received a considerable amount of airplay throughout the entire year, but the movement now seems to be picking up more steam than ever. We recently had our second mashup contest of the year hosted with IBM and saw some really innovative entries, including the winner from Apatar, which integrated our Global SMS web service with their own technology, utilizing IBM's QEDWiki mashup platform to create a valuable Salesforce.com customer mobile communication solution.

Open-Source ETL Takes on Proprietary Intelligence
By Sean Michael Kerner, July 25, 2007
One of the pillars of business intelligence capabilities is something called ETL, an acronym standing for extract, transform and load. ETL can also be a pillar for business integration, as well.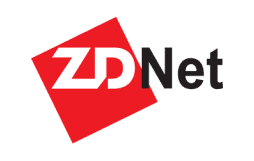 Podcast: SF Power Outage, Apple Earnings, Mashups, and more
By Dan Farber, July 25, 2007
This week, on the Dan & David Show, we discuss Apple's quarterly earnings (which were released just before we recorded the show—270,000 iPhones sold in the two—day launch before the end of the quarter) and the power outage in San Francisco that took out ZDNet, Craigslist, Technorati, Yelp, and other sites hosted at 365 Main.

Mashup Camp 4 Wrapup
By John Musser, July 23, 2007
Data is also collected from Google Local Search, Google Finance, Google Maps, AccuWeather, and tools, including Dapper and Apatar. See the screenshot below for an example. For some good notes on the variety of discussions that took place…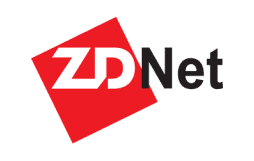 Mashup Culture Shatters Crusty, Stodgy Old Approach to Business App Dev
By David Berlind, July 23, 2007
To easily get at this data, CCA uses Apatar's data connector for extracting data from Salesforce.com. Once CCA is done presenting a list of leads for cold…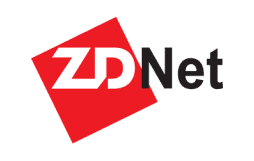 A Bumper Crop of New Mashup Platforms
By Dion Hinchcliffe, July 23, 2007
While application developers tend to roll their eyes at the concept of end-user mashups, (the latter) remain one of the more promising new trends in software development this year…Remember, business workers still spend a significant amount of time manually integrating together the data in their ever increasing number of business apps. Tools that could let thousands of workers solve their situational integration problems on the spot—instead of waiting (sometimes forever) for IT to provide a solution—is indeed an inspiring vision.

Watch a Walkthrough of Our Mashup Camp Contest Winner
By Mark Madsen, July 23, 2007
Here's a link to coverage of the mashup contest winner (me and Renat Khasanshyn—not often I get to see "me" and "winner" in the same sentence) over at ZDnet: Mashup culture shatters crusty, stodgy old approach to business app dev.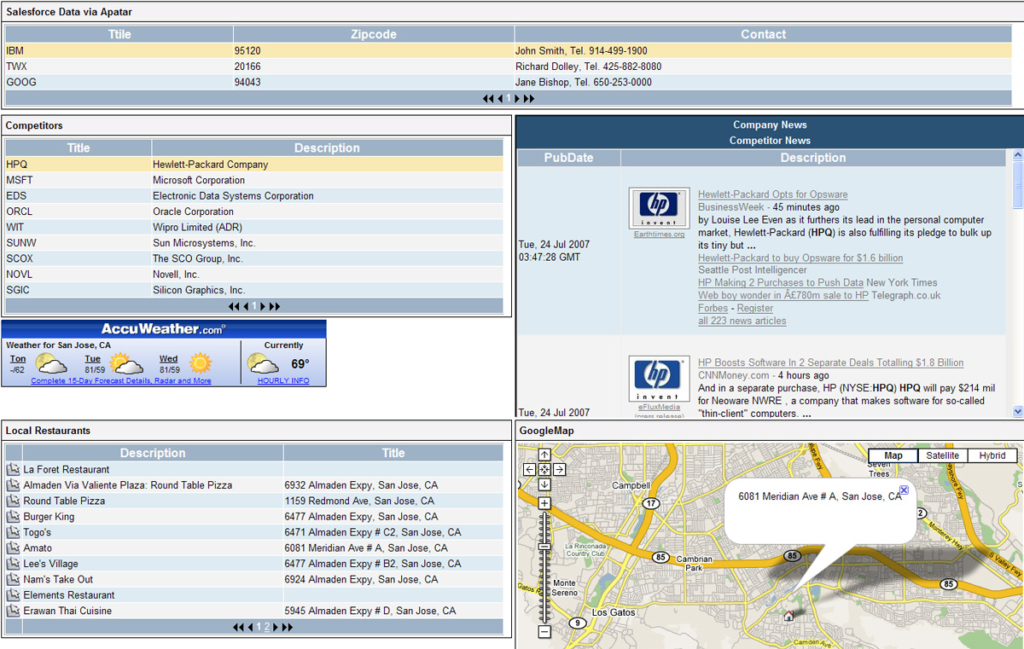 Apatar Crashes Data Mashup Party
By Jeff Feinman, July 15, 2007
There is a new player in the growing enterprise data mashup field, and its name is Apatar. The Chicopee, Mass.-based company provides a suite of software for organizations that need to move data, with tools for application integration, data migration and warehousing, and synchronization.

Young Software Exec Moves to Open-Source Model
By Christopher Calnan, July 13, 2007
He's expecting Apatar to reach profitability within 18 months if he's successful in raising $3.8 million in venture capital. Without such investment, he expects the company to take 24 months to 32 months to reach profitability.

Two Ways to Deal with SOA's Data Integration Challenge
By Charles Babcock, July 7, 2007
It's one thing to integrate data across applications in an IT infrastructure. The methods and practices are tried and true. But implementing data integration across a service-oriented architecture poses new challenges.

Two Ways to Deal with SOA's Data Integration Challenge
By Dan Farber, July 5, 2007
Open-source Apatar is being evaluated by AutoDesk, which makes computer-aided design and engineering software. It also offers collaborative construction project management in the form of software as a service that integrates data through a web portal for the contractors on a project. Major construction projects can involve 40 or more contractors.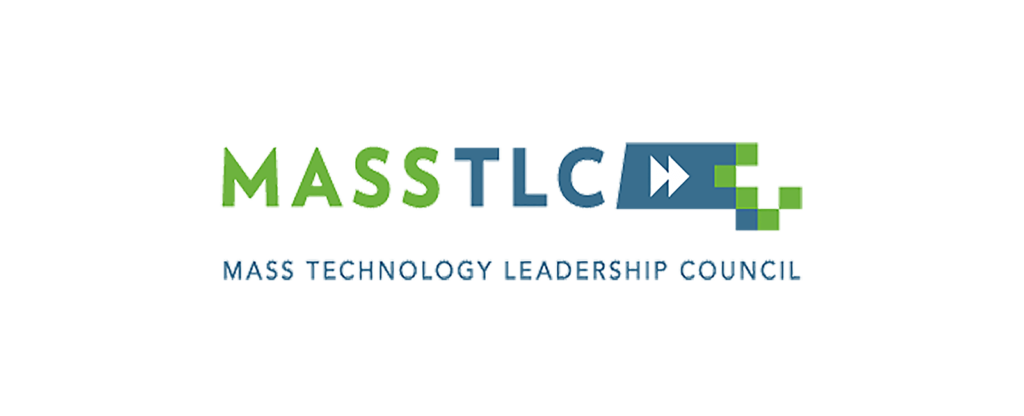 Apatar's CEO Chosen as a Finalist for Mass Technology Leadership Council's Tech
By Business Wire Magazine, July 02, 2007
Chicopee, MA—Apatar, Inc., the first provider of open source, on-demand data integration software tools and services, announced today that Renat Khasanshyn, the company's Chief Executive Officer, has been named as a finalist in the Mass Technology Leadership Council's 2007 Technology Leadership Awards in the category of Emerging Executive of the Year.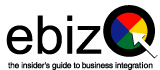 Dennis Byron's Open-Source Series: Talking to…Apatar
By Dennis Byron, July 01, 2007
Most of the ebizQ.net open-source software (OSS) "Talking with…" series has involved "established" OSS product and company structures. Of course, "established" in the OSS world is measured as anything more than 12 months.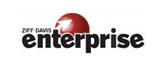 Open-Source Data Mapping: The Kid's Got It Going On
By Renee Ferguson, June 20, 2007
Sitting in the hallway outside the press room at the Web 2.0 conference here in Boston, I noticed this fresh-faced looking kid wearing blok-square glasses and a blue shirt with Apatar embroidered across the back, pacing up and down in front of me. Haltingly, he took a stab at conversation when I opened my banana. "Healthy lunch," he said. "Fast lunch," I said, looking down at my laptop to indicate my busy state of being.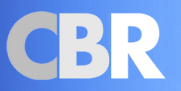 The Next Big Thing? Four Open-Source Startups to Watch
By Matthew Aslett, June 20, 2007
A group of open-source startups have appeared on CBR's radar in recent weeks. I thought it was worth taking a quick look at their credentials to see how they progress from here. They are, in no particular order: Apatar, GravityZoo, LoopFuse, and Untangle (alright I lied, they're in alphabetical order). Here's our first impressions.

Meeting the Geek Behind Apatar
By Robert Scoble, June 11, 2007
Here you meet Renat Khasanshyn, founder and CEO of Apatar, and Robert Scoble has a chat about the changes that are coming to enterprise systems thanks to Web 2.0.

Moving Data Around with Apatar
By Robert Scoble, June 11, 2007
Apatar is a way to move data between third-party applications and existing enterprise systems. Renat Khasanshyn, founder and CEO of Apatar, demonstrates his system here.

Silicon Valley Minute: Apatar
By PodTech media company, June 5, 2007
Renat Khasanshyn is CEO and co-founder of Apatar, a leading provider of open-source software tools for the data integration market.

Apatar Data Integration Tool
By Brian Chee, May 20, 2007
You MUST check this tool out. Simply put, this is not just a one time data migration tool! You can literally have your high power sales folks on SalesForce.com and then your calling center on something like SugarCRM do a join and send an RSS feed to the mobile sales force. This startup with offices outside of Boston and also Belarus is creating a shift in the way we look at data.
---
In addition to that, many thanks to Jason Pratt, D.Lambert, Marc Russel, Brian Chee, Tim Fehlman, Krishnan Subramanian, and other awesome professionals who mentioned Apatar on their blogs, spreading the word across communities.
Further reading
---
Updated in March 2020.