Cloud Foundry Summit 2016, Day 1: Ecosystem Is Growing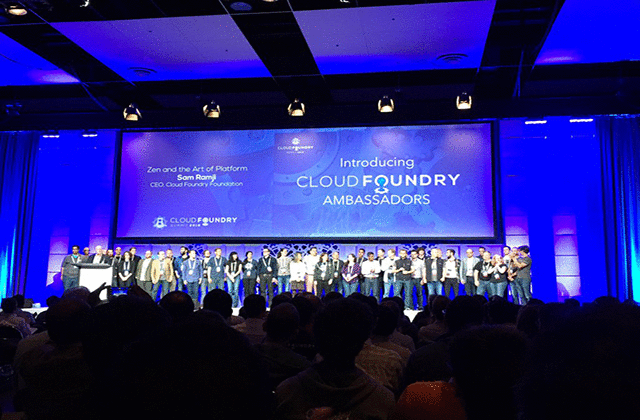 More than 2,000 people are expected to attend this year's summit, which featured several new members, a couple of new distros, and many stories of big, successful deployments.
Other recaps: Day 1 | Day 2 | Day 3 | BOSH Day | Top 100 Quotes
The Foundation's growth
The keynote room was set for 1,500 as Day 1 of the Cloud Foundry Summit 2016 opened at the Santa Clara Convention Center, CA.
Several hundred attendees took advantage of three rigorous training sessions during the morning and early afternoon, then Cloud Foundry Foundation CEO Sam Ramji delivered the opening keynote to a full room. More than 2,000 people are expected to attend the Summit this week.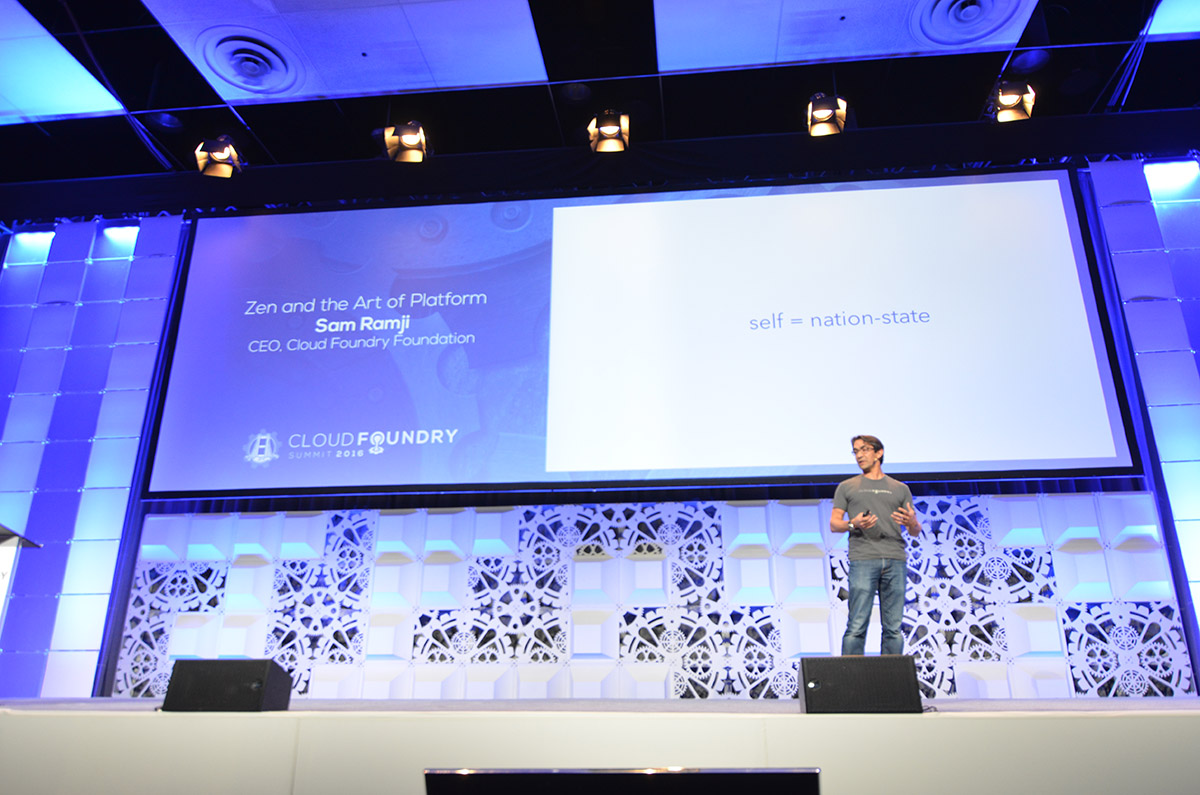 Sam noted the Foundation's recent growth, including the addition of six new members: Allstate, Dynatrace, Evoila, Gemalto, Hazelcast, and Volkswagen. Bolstered by having TIBCO join up in February, the Foundation now boasts of 63 members. Furthermore, the Cloud Foundry community now includes 173 user groups with 33,400+ individual members across 105 cities in 48 countries! Other Cloud Foundry statistics mentioned by Sam:
2,400+ patches
2,100+ contributors
130+ core commiters
25+ releases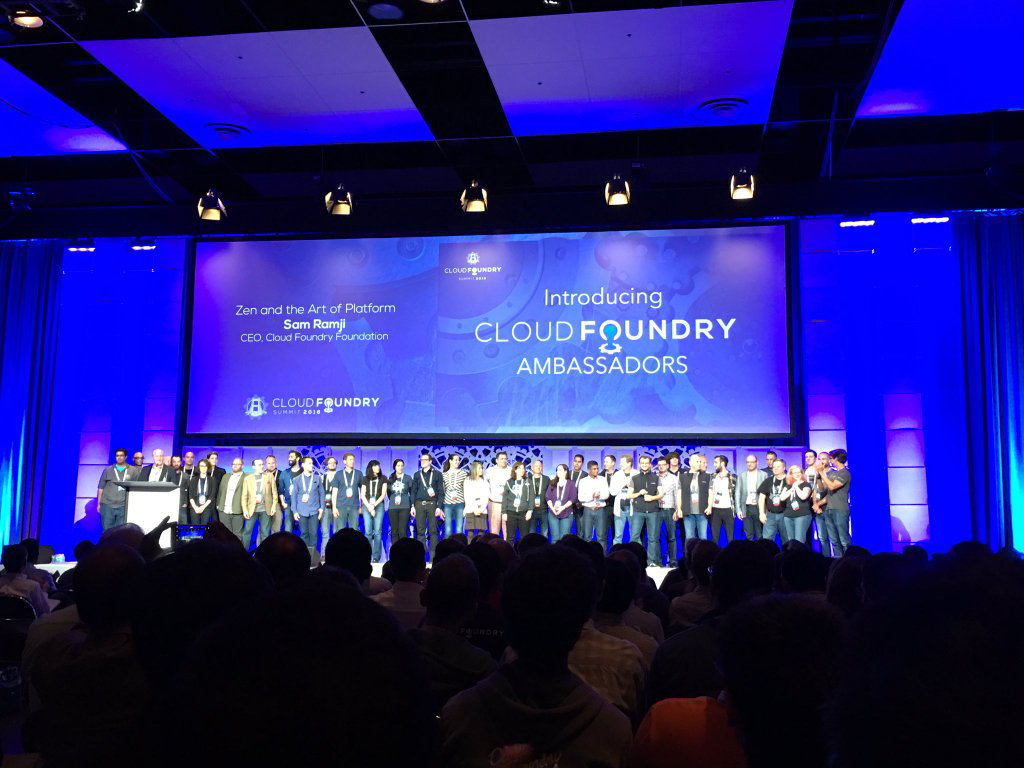 Of equal significance was the announcement that GE Predix and the French consultant Atos now offer certified distributions of Cloud Foundry, joining HPE Helion Cloud Foundry, Huawei FusionStage, IBM Bluemix, Pivotal Cloud Foundry, SAP HANA Cloud Platform, and Swisscom Application Cloud.
Three special-interest groups (SIGs) also started to take shape during special sessions at the Summit, led by Abby Kearns, who is "on loan" from Pivotal to the Foundation as Vice President of Industry Strategy. The groups are in the area of financial services, the Industrial Internet, and Service Providers.
Dynatrace and Pivotal announced a partnership to enable monitoring performance of Pivotal CF and microservices during/after cloud migration. This will be done via an application monitoring service broker tile and buildpack extensions.
Furthermore, Altoros announced its new Cloud Foundry training platform, while Stark & Wayne shared their training videos.
Success and security
Other keynotes covered success by Kaiser Permanente with IBM Bluemix, by Comcast with Pivotal Cloud Foundry, and by Gap Inc. with Gurobi and Cloud Foundry. All three case studies outlined enormous technical challenges and tangible results in areas such as customer service, content management, and vastly reduced development and deployment times.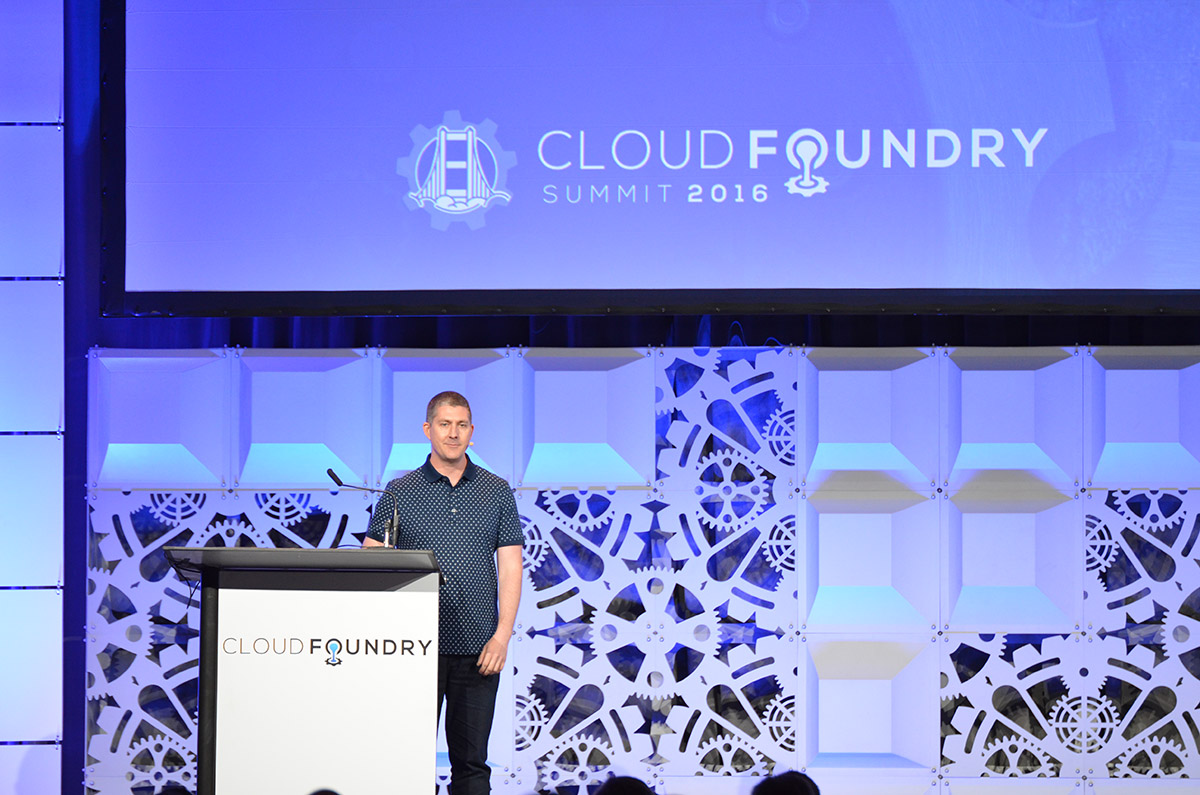 "Cloud Foundry allowed us to compress weeks of work into minutes." —Phil Glebow, Gap Inc.
There was also a fascinating presentation from Justin Smith of Pivotal on security threats and how companies must take a holistic view of the entire landscape, rather than just identifying and pulling weeds. He ended with the mantra of "Repair, Repave, Rotate" as the way to view security in an age of exfiltration and other evils.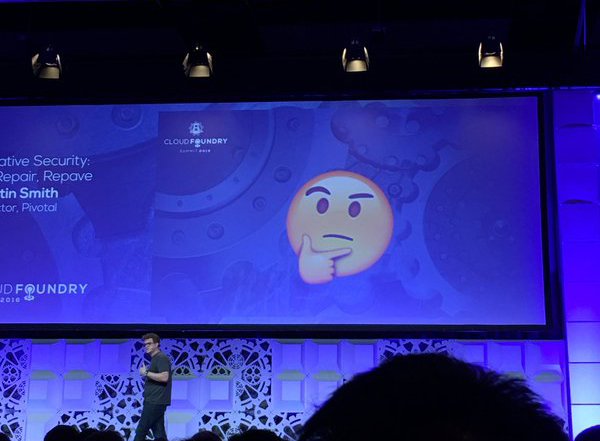 "CC (Continuous Change) is a concept that we need to embrace on the enterprise security." —Justin Smith, Pivotal
The training sessions covered Cloud Foundry for Beginners, offered up by Stark & Wayne; Microservices, offered up by Pivotal; and BOSH, taught by a group from Altoros.
#BOSH training w JP Genovese of @Altoros empowering attendees & their enterprises. #CloudFoundry pic.twitter.com/uV5CROzIwz

— Roger Strukhoff (@IoT2040) May 23, 2016
Later in the day, several 5-minute sessions covered APIs, UDP and VoIP, and a four-point plan from Altoros CEO Renat Khasanshyn to keep Cloud Foundry on course for further growth:
Incentivize industry-specific contributions
Widen workload support (UDO, metering, and embedded)
Standardize the service broker interface for the top five to ten services in major industries
Become the de facto industry standard for Smart Cities, Industry 4.0, and other big trends
The 4 point appeal from @renatco to community to make #CloudFoundry the premier cloud app platform. #CFSummit pic.twitter.com/CXqHaviZOt

— Daniel Krook (@DanielKrook) May 24, 2016
Opening of the expo floor concluded the day, with an emphasis on distros and services featured in the various exhibits. Deploying Cloud Foundry in a multi-cloud environment, at scale, is not something that is easily explained, easily taught, or easily done.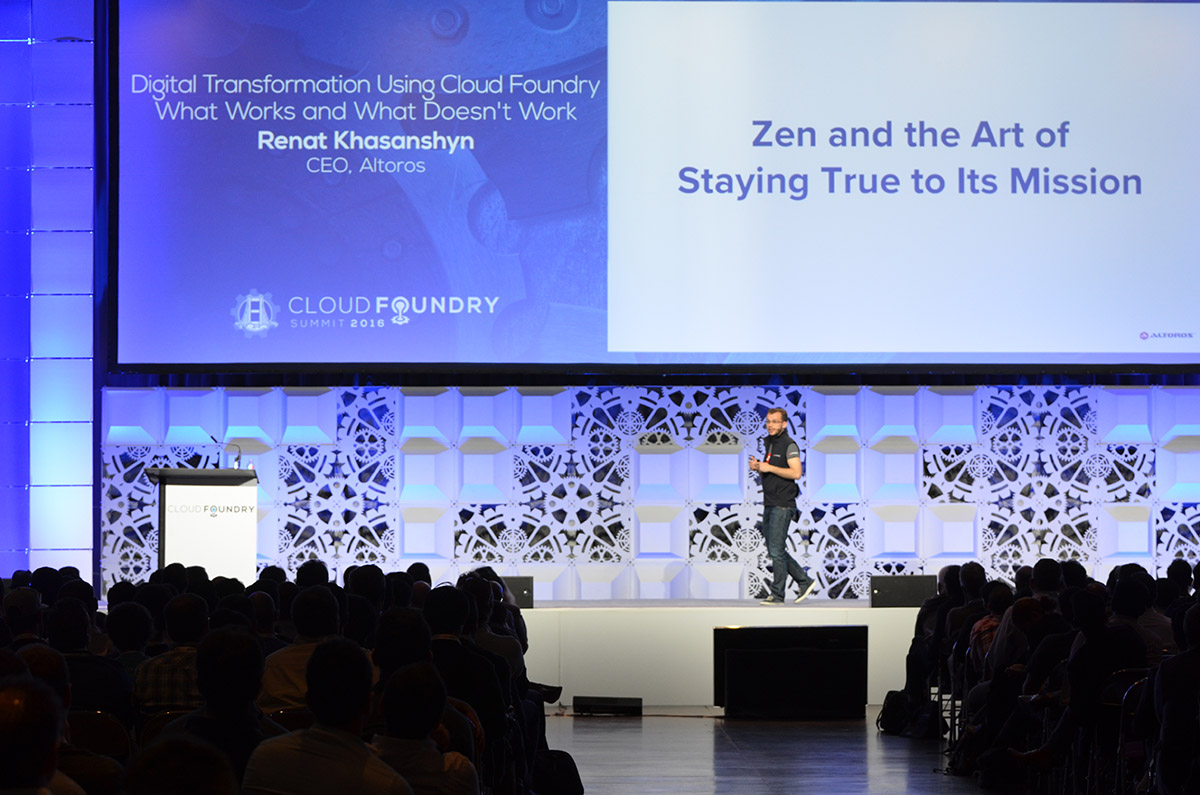 "Being a software company doesn't mean you are immune from disruption." —Renat Khasanshyn, CEO at Altoros
However, as more and more companies report quantum reductions in the amount of time they need to design, deploy, and manage their apps and services—and also report the need for distribution to myriad mobile devices and things, the vibe at this Summit seems to indicate that the Cloud Foundry platform has turned a corner and is on its way to becoming integral to modern-day enterprise IT.
All CF Summit recaps: