Cloud Foundry Advisory Board Call, Jul 2022: New Leadership and CF Day Details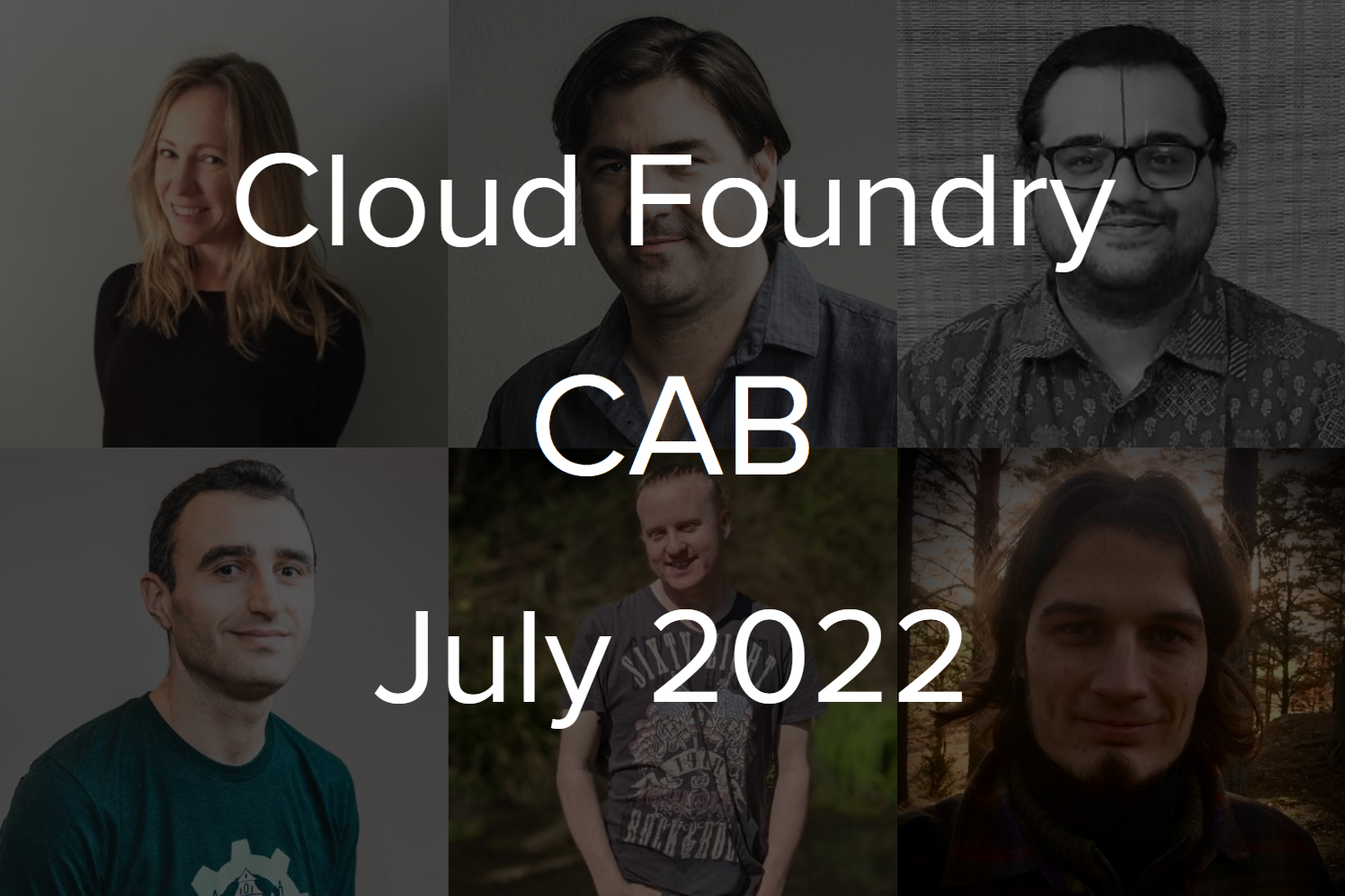 Catherine McGarvey of VMware joins the foundation's board, and new TOC members were elected. The CF Day is set for October 25 at KubeCon NA.
The Cloud Foundry Community Advisory Board (CAB) meeting in July discussed changes to the foundation's governing board. The date for the upcoming Cloud Foundry Day was also announced. The call was moderated by Ram Iyengar from the CF Foundation.
New members
Back in December, 2021, Craig McLuckie (then Vice President of Research and Development at VMware) was named the new Board Chairman of the Cloud Foundry Foundation. During the call, Ram announced that Craig stepped down from the board to make way for a new member. The vacant position will be filled by Catherine McGarvey, Vice President of Software Engineering at VMware.
"Catherine McGarvey of VMware is joining our Governing Board. She has plenty of experience as a Cloud Foundry community member. She worked for Pivotal in the past. We're happy to have her on board, and we're happy to have all those years of Cloud Foundry experience as a contributor, as somebody who's part of the engineering team, and as someone who's used to commercial deployments of Cloud Foundry."

—Ram Iyengar, CF Foundation
Ram also reiterated the results of the recently concluded Technical Oversight Committee (TOC) elections. The three new members are:
Andy was elected as the new TOC chairman. The three new members will join the TOC alongside Eric Malm of VMware and Stephen Merker of SAP, whose seats will be up for election next year.

Catherine McGarvey, Andy Hunt, Ruben Koster, and Beyhan Veli
Call for proposals is open
Chris Clark from the CF Foundation announced that the schedule for the Cloud Foundry Day has been finalized. Set for October 25, the one-day symposium will be colocated with KubeCon North America 2022 in Detroit, Michigan. The call for proposals (CFP) is now open, and the sponsorship prospectus has been published.
"We're not yet on the registration page for KubeCon, so you can't register for this event yet, but you can do that later," explained Chris. "However, the KubeCon registration pricing does jump up on August 11, so make sure to register before that and book your hotels."
"We're really excited about this. We haven't had an in-person event since 2019. It's still a tenuous time to plan an in-person event, but we're really happy to get the community together in an actual physical location."

—Chris Clark, CF Foundation
According to Chris, Cloud Foundry Day will be hybrid. Those who are not able to make it to the event in-person can still join via a Zoom webinar that will be running throughout the day. Registration will be free, and the Cloud Foundry Day talks will be available on YouTube a week or so after the event.
"We're looking forward to KubeCon. We'll have booths on the floor," added Chris. "We'll be sponsoring KubeCon, and we'll largely be promoting Korifi and Paketo Buildpacks."
"Once we're on the floor of KubeCon for the sponsorship, we'll focus on Korifi and Paketo Buildpacks. But for Cloud Foundry Day, it's not all going to be Kubernetes-based. We're going to talk about all the traditional Cloud Foundry things, and what's happening to all aspects of it."

—Chris Clark, CF Foundation
The next CAB call is tentatively scheduled for August 17, 2022, at 11 a.m. ET / 8 a.m. PT. Anyone interested in participating can join the CAB Slack channel.
Want details? Watch the video!
Before the CAB call, on July 26, the Technical Oversight Committee discussed ongoing developments, including updates to the Service Management Working Group.
---
The blog post was written by Carlo Gutierrez, edited by Sophia Turol and Alex Khizhniak.