What Makes CRM Projects Fail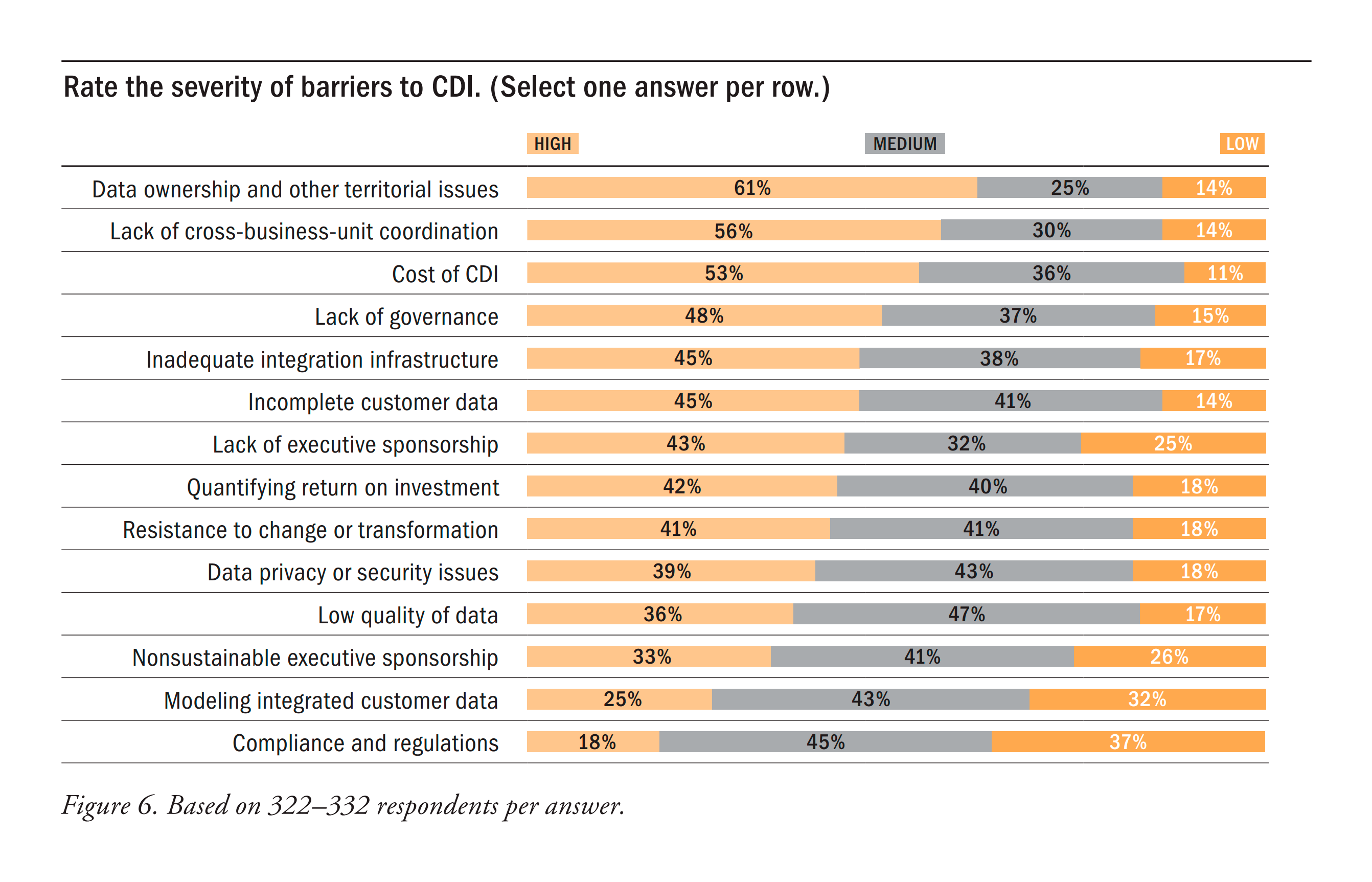 Learn why customer relationship management does not meet its goals, as well as how to improve this.
(Featured image credit: TDWI)
Wrong approaches to CRM
Customer relationship management (CRM) has become extremely popular in the recent years. Today, many companies have accepted the importance of CRM systems and have made the decision to implement these initiatives enterprise-wide. However, a great deal of CRM strategies fails.
These failures may be caused by different factors; however, here are the most typical reasons for CRM project failures:
Believing that CRM starts and ends with software. Instead, a CRM project means the right people executing the right business strategy, using the best possible tools at their disposal. (This article by Michael Krigsman at ZDnet is a good read on the topic.)
Undercommitting to a CRM initiative, which means failing to invest enough time and attention to develop a comprehensive vision for sales process reengineering, settling instead for a series of minor, tactical changes.
Considering CRM to be a part-time project. A part-time approach will not generate part-time results; it will generate no significant results at all. The reason is that CRM projects require full-time assignment of people for the duration of the project, active executive involvement, full-time commitment of personnel, accountability for results, and a process-driven budget.
Having big expectations and small budgets. Trying to implement a CRM initiative as cheaper as possible is a mistake a company will regret very soon. A low-cost approach is extremely prone to failure. Starting a CRM initiative, one should never focus primarily on price, but only on the results.
Picking wrong technology partners is a mistake that occurs when a company chooses vendors based only on product features. However, a company must think about its specific needs related to sales process functionality.
Misleading the implementation or assuming that automating your sales process will be similar to automating manufacturing or finance. The degree of complexity in customer relations and human personality is significantly higher than the other two examples, since it is not that straightforward. Budgets and other resources should be provided for necessary improvements, customization, personalization, and ongoing system maintenance.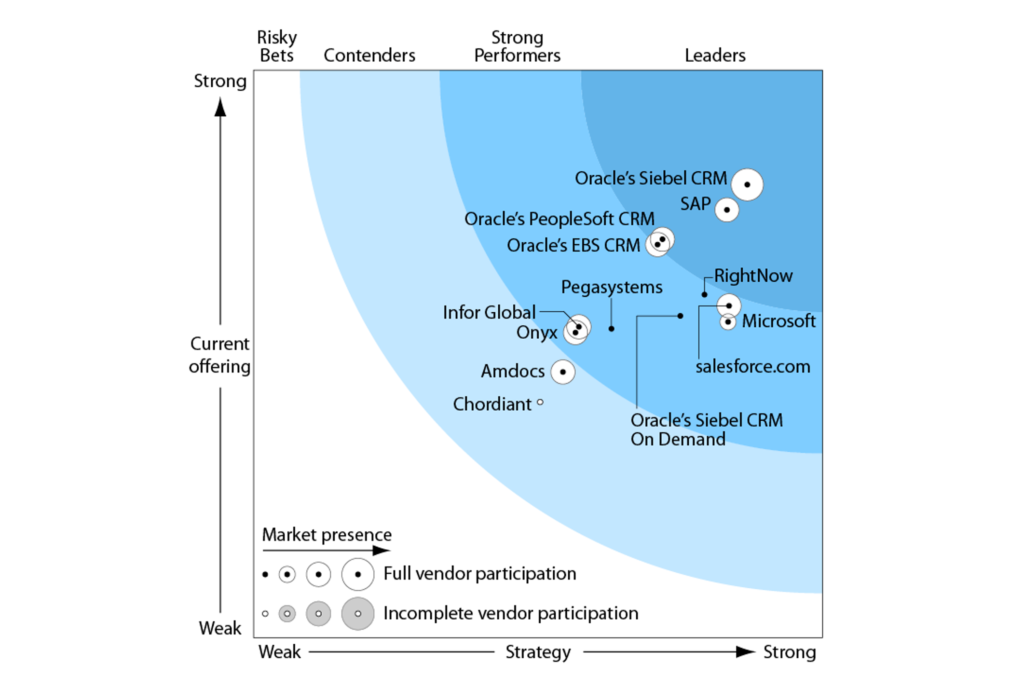 The market of enterprise CRM suites in 2007 (Image credit)
How to scale CRM initiatives
While the issues above are focused on the core goals of the CRM project, here are some factors to consider for amplifying the benefits of CRM adoption:
Foster user adoption. According to a Forrester survey cited by the TechTarget network, "companies that achieved only 30% user adoption after three years saw only 5% ROI on their CRM projects." A lot of organizations don't think about the right user training. Companies looking to maximize the benefits from their CRM investments should focus on additional user training, demonstrating how to achieve the goals of the sales team and automate the daily routines.
Build real-time systems. Access to real-time information is highly important to sales people for the sake of relevance. Make sure you select applications and integration tools that provide live data or scheduled information updates, rather than rely on batch processing that requires a lot of manual effort.
Monitor system usage. Consider monitoring the use of the system, either by soliciting user feedback—leveraging system monitoring tools included in many CRM applications—or investing in monitoring software. In addition to improving security, this will also help to understand the most important functionality that leads to success, as well as discover bottlenecks.
Employ integration experts. If you are not sure your staff is skilled enough for CRM implementation or integration, you better choose professionals to do this for you. They may help to analyze what functionality is more advantageous for company's certain business needs. Thus, it will help to avoid acquiring bulky solutions, many parts of which will never be in use.
Improve data quality. Years ago, Gartner found that "bad data is the number one reason that CRM projects fail." In addition, a TDWI survey revealed that low quality of data (as well as incomplete data) is one of the major barriers to customer data integration, which also means a failed single view of your prospects/leads. Don't wait until the information degrades, make data cleansing and data governance an ongoing process (see below for more).
Keeping CRM's data quality at its best
Data quality is very often one of the most neglected areas of CRM implementation and is one of the major pains for sales people. So, trying to learn more about the problem, I came across some practices that could help maintain and enhance the value of the customer data.
Do not ignore 'bad data' until it starts affecting your work. Keep an eye on your customer information and monitor any changes in its quality. Implement a master data management strategy.
It's a good practice to manage, normalize, format, qualify, and filter out the leads outside your CRM and then have them uploaded—so that what is not valuable does not get added.
Regular data updates are important, though they may involve a lot of manual effort and may seem time-consuming.

Common customer data issues (image credit)

Duplication is, possibly, one of the most common problems, generating redundancy as well as inaccurate reports. So, it has to be kept in check.
The same thing may be said about expired data that simply junks your CRM. The more regularly you look for expired data, the healthier your CRM is.
And, finally, if data cleansing is what helps you maintain your database quality, then data enrichment is what will help you enhance your data quality and make it more valuable to the end users.
Thus, here we go with the conclusion: the right business strategy, commitment, ongoing information management, constant data cleansing and enrichment—that's when your CRM could really become an asset and have a positive effect on ROI.
Related slides
Further reading
---
The post is written by Olga Belokurskaya; edited by Alex Khizhniak.