Key Strategies for Successful Customer Data Integration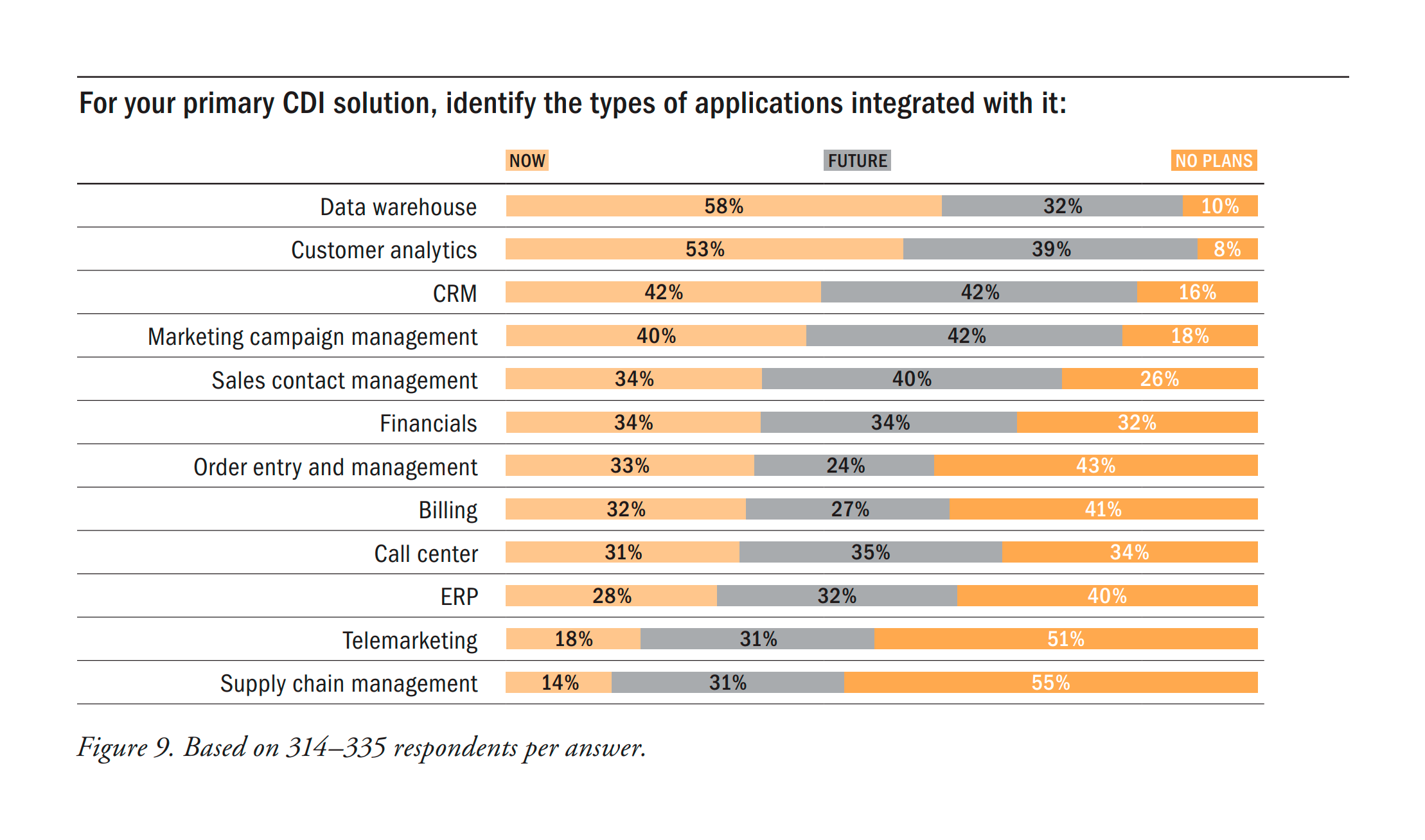 Creating a comprehensive view on your customers can help you to deliver better decision-making.
(Featured image credit: TDWI)
Enhancing and unifying data
One of the great values data integration provides is a possibility to gain a deeper insight into one's customers. It is not surprising that integrating CRM systems is one of the main efforts in an attempt to get a full picture of a company's marketing and sales initiatives.
In 2003, a survey by Christopher Barko, Ashfaaq Moosa, and Hamid Nemati explored the role of data integration for corporate CRM projects. They reviewed 115 organizations—including both B2B and B2C companies—and sorted out four data integration approaches that provide for better customer relations management:
Integrating more data sources. The research shows that the total value of CRM project increases when you integrate more data sources. As sales people are using more channels than ever before to reach prospects and customers, no wonder that data integrated from all these channels is more valuable than when stored in isolated silos.
Integrating offline data with online data gives a better picture of customer's buying habits. 62% of respondents said they integrated both data sources, while 30% did not. Not surprisingly, those who integrated the online and offline data experienced greater value from their CRM projects.
Using a centralized data warehouse (or a CRM-specific data repository) does provide a deeper customer insight. Those who used a decentralized data repository (legacy databases or operational data stores) experienced significantly less benefits than those who centralized their data storage.
Integrating external data (e.g., from news media) into the central repository. 74% integrated external data in some form, while 26% did not. The companies that practice external data integration in their CRM projects enjoy significantly more benefits.
As the number of marketing channels used to communicate with customers continues to multiply, so does the number of places used to store the data. The research reveals that the most efficient strategies focus on integrating information from multiple channels and keeping it in a central repository. In this case, marketing efforts can have a positive effect on sales.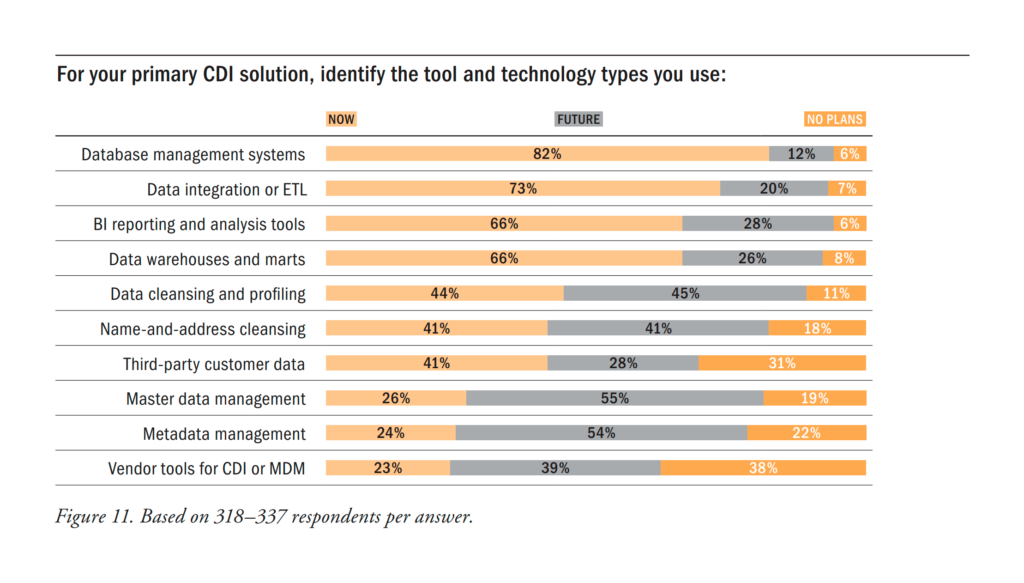 Source: TDWI
Tips and tricks
At the same time, customer data integration (CDI) is one of the most challenging tasks in the integration field. As you probably know, for example, there can be a dozen fields to represent information about a customer in a source system and they can all have a different structure. On top of that, customer integration projects very often fail to meet business expectations.
Here are some tips on how to address the issues related to business and operations.
Explain the need for customer data integration to your employees. Explain them that no matter how good the current data warehouse / CRM system is, it is not complete enough to provide the relevant information. Make sure that every person is ready to collaborate and contribute.
Formulate more than one business problem that CDI can solve. Your CDI efforts should be positioned as an ongoing program that can fit various business needs.
Set the functional requirements. Don't rush to make a list of vendors and their solutions. You have to decide what functionality you need first. Data management requires a great focus on functional requirements. Until you have your list of features at hand, you won't be able to pick up a relevant data integration solution.
Hire an expert to help you with customer data integration. Many companies are so accustomed to buying out-of-the-box applications that they don't think it is necessary to have an in-house IT specialist. Once again, customer data application is a complicated task and you are sure to need that specialist on your team.
Customer data integration ensures that all relevant departments in the company have constant access to the most current and complete view of customers. Properly conducted, CDI can become the most valuable tool of decision-making.
Innovative approaches
RSS feeds
One of the ways to improve your customer service or marketing is to keep your CRM users better informed. You probably send out e-mails to your employees when a specific event happens in CRM (e.g., a new contact or lead is added), but you can go further than that.
Aggregating RSS feeds from Yahoo! News, Google News, CNET, and other portals will help you gather additional information about your potential customers. By creating customized information flows filtered by targeted keywords and attaching the news to a specific prospect/lead/account, you can give sales people more relevant information to talk about with possible clients.
(Check out Apatar's connector for RSS to see it in action.)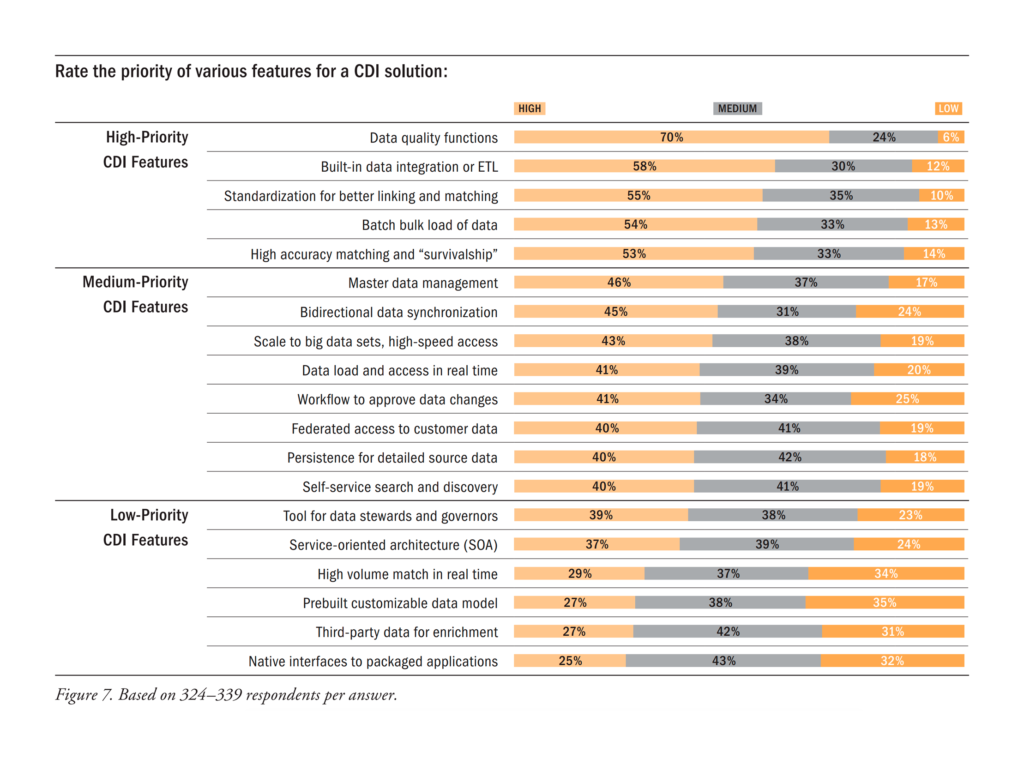 Source: TDWI

Social media
A similar approach can be applied to social media—linked to a particular prospect/contact. Social networking is growing rapidly. The large number of social networks has resulted in vast—but diverse—information about individuals. In order to put this data to commercial use, we need a smart solution to integrate all information available among different social networks. This is quite a challenging task for any data integration software, and let me explain why.
First, there are no restrictions on the amount of data a user can publish on social networks, and, therefore, integrating tons of irrelevant information may become a headache. Second, there are plenty of privacy concerns—a person may not like the idea of being monitored without his/her permission. Third, forged identity is extremely difficult to track and its prevention is kind of impossible. Anyone can create a profile for Bill Gates, Barack Obama, or Charlie Chaplin. Misrepresentation of information in social network may lead to incorrect data mapping (linking to a false account), which creates obstacles to developing a consistent, single view of customer data.
At the same time, data integration with social networks is generating a lot of interest now and is definitely a future trend. Gartner predicts that the implementation of features related to social media "will move from 0.1% of CRM application spending to 10%" by 2020. However, the commercial potential of social networks is really hard to be utilized in full. There are still too many privacy and consistency issues, which slow down the development of a comprehensive data integration solution for this purpose.
Related slides
Further reading
---
The post is written by Katherine Vasilega with contributions from Alex Khizhniak.