Six Ways to Monetize Your Mashup Development Skills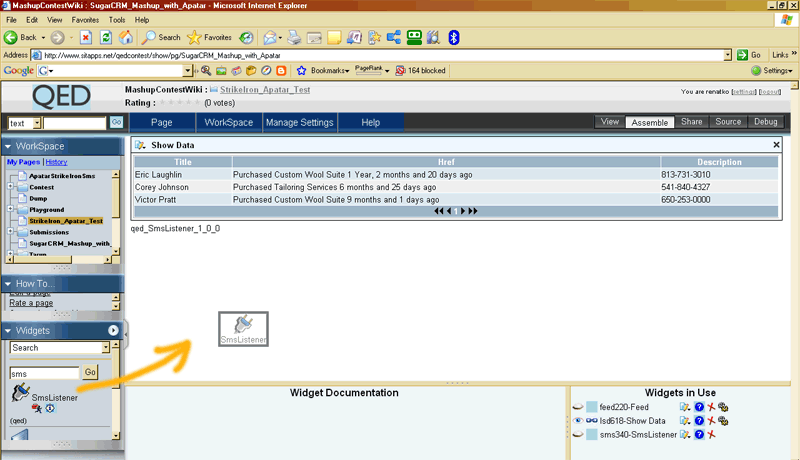 This blog post—written for ebizQ.net—explains how to build profitable mashup implementations.
More than the sum of its parts
Despite what many people tend to think, mashups are not just grabbing someone's web content. A well-made mashup is actually a brand new information resource, which is unique, genuine, and represents a greater value than its single components. If the mashup fails to meet the above-mentioned conditions, one can write it off as a dustbin full of informational garbage. Users are willing to pay only for those mashups that are of some value either for business or fun. In other words, the resource is worth considering when the idea of a certain mashup, the idea to combine these very components, makes sense. Nobody is interested in a mashup that transforms a number of useful websites into a huge useless mess.
You may ask why business users, together with venture capitalists, should consider mashups and invest their efforts into studying this phenomenon. The answer is behind the numbers. According to McKinsey & Company, a global management consulting agency, 21% of organizations are planning to use mashup apps as part of their IT infrastructure (2007). That means, every fifth company in the world is going to adopt business mashups in the near future. And it's a big deal, isn't it?
During the Mashup Camp 4 conference held in California last summer, the CEO of Apatar, Inc. Renat Khasanshyn won the prize for the best business mashup at the IBM Business Mashup Challenge. The award-winning mashup service enables to extract customer contact information from the Salesforce.com on-demand CRM system, add details about the competitors, get the latest updates about the business from RSS news, and display the restaurants around the customer's office in Google Maps. Users also get the weather forecast for a few days ahead, so that it will be easier to choose the best day for a business lunch or a golf set. This mashup gives sales managers an opportunity to keep in mind the most critical information to successfully make a deal and set an acceptable meeting date in a convenient location.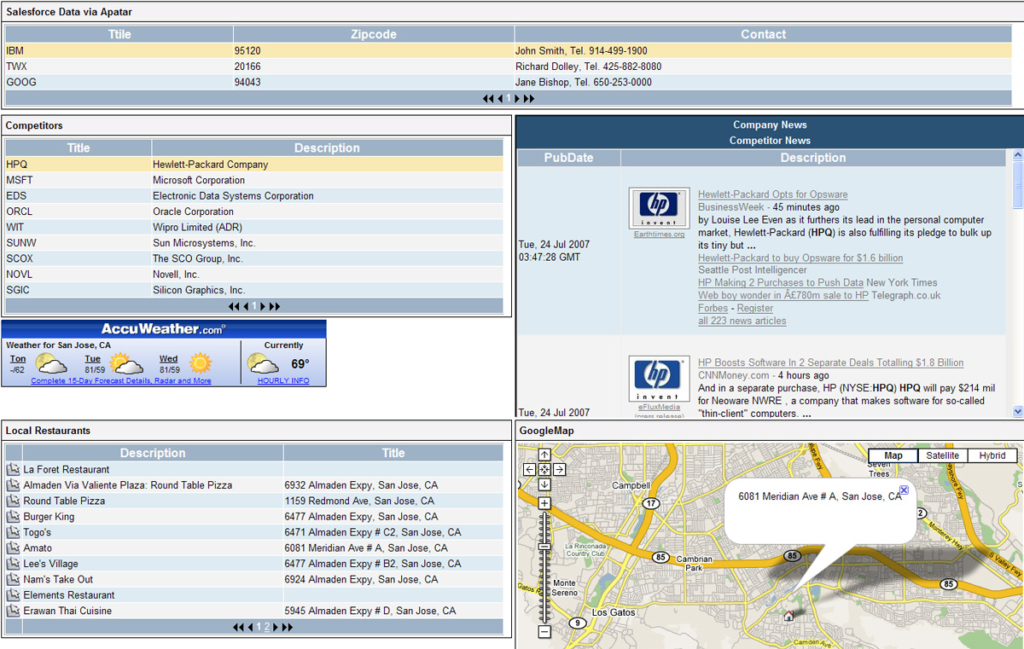 Cold Call Assistant, which won the IBM Business Mashup Challenge
So, an inventive user can combine data from various sources, add some value to it (perhaps, include additional logic or algorithms), and then offer the received results to other users or enterprises. Taking into consideration the availability of data integration applications that require no complex skills or knowledge in programming, virtually every business user can create mashups and monetize them afterwards. Provided, of course, that one has enough patience, intelligence, and creativity.
Let's now explore the ways of monetizing mashups that an adventurous integration specialist might take into consideration.
1. RSS feeds aggregation
Probably, this is the most popular and one of the easiest ways to monetize on data integration. You launch a mashup app or a web service (Apatar, Yahoo! Pipes, or whatever), connect to multiple free news services via RSS feeds, combine them, and display the aggregated feed as a single piece. This news feed can be placed on a website afterwards and generate profit with contextually targeted advertising (Google AdSense). The feed can also be sold to other websites or offered to specialized companies as targeted news syndication. RSS feeds aggregation is actively used by bloggers and news agencies.
2. Mashup interface development
Another method of monetization refers to visual mashups. Let's assume that you have information on real estate on sale in some city. Combining this data with Google Maps or Yahoo! Maps, for example, you can create a Web 2.0 service that will be in demand among real estate agencies. The mashup might display the properties on the map and, probably, even the prices. The only thing you'll have to do is to tailor this integration service to the requirements of a certain agency. To get detailed information on how to achieve that, please visit Google's documentation. One can become an adept mashup developer with patience and tolerance on his or her side. Lots of mashups like the one described here can be found in ProgrammableWeb's catalogue.
3. Specialized service development (e.g., data backup)
To understand what a specialized service is, think about the common problem of data warehousing and providing data security at an enterprise. It's a well-known fact that data is scattered among multiple applications within each company and is quite rarely kept in a single software package. It's also obvious that the most important and valuable business information should be backed up. In other words, there should be a copy of this data in order to avoid its accidental deletion or corruption.
How can a mashup specialist make money on this demand? Provide customers with data backup services. To do this, one can aggregate data from all critical business apps within the company (CRM/ERP) and save this information into backup files. After that, the backed-up data can be encoded and stored either on the company's local server or on a secure web hosting location (Amazon S3, for instance, using Apatar for file exchange management). However, it's very important to take additional precautions to avoid unauthorized leakage of valuable information.
Another example is the creation of an online service for data migration and synchronization between business applications with a one-off or monthly fee, depending on the amount of traffic and number of data sources used. For example, a data synchronization service between two or more ERP/CRM systems (e.g., several Salesforce.com accounts, SugarCRM and Salesforce.com, Oracle and Infor, Microsoft Dynamics and SAP) might be required within the companies with representative offices located in different cities. When it comes to internal corporate data migration and integration, one can also talk about synchronization between heterogeneous systems or legacy apps.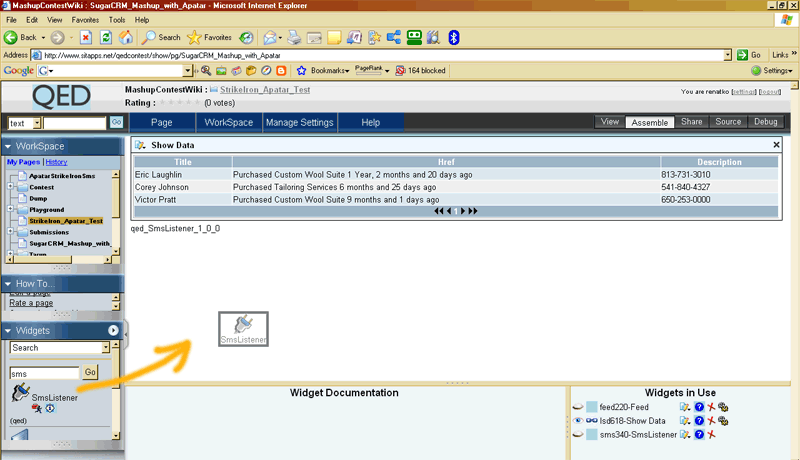 Building the Salesforce.com mashup with IBM QEDWiki
4. Advertising within a mashup
In this section, you will learn how to yield profit from ads placed inside your mashup interfaces. If your mashup becomes a popular website with a sufficient number of unique visitors, you can monetize on banners or Google AdSense, for instance. In case you created a news or informational mashup, you can sell ads as additional text lines or links accompanying each news article. If we are talking about software tools for creating mashups, it is possible to advertise your sponsors in the interfaces of the application's modules. The ICQ messenger is a vivid example of how one can make money on banners within the app.
5. Monetizing on "Data Integration as a Service"
A number of mashup tools, including Apatar, are available as open-source software for free. It means you get a free-of-charge application with an impressive list of functions, which can be used to provide companies with data integration services. Taking into consideration that many apps like that are developed as Web 2.0 solutions, they are extremely easy to use and can be deployed not only by developers but also by nontechnical specialists and business users. With zero costs, return on investment (ROI) here is very attractive.
6. Selling already customized mashup modules
Finally, one more way to generate revenue is to customize mashup modules and then sell them as prepackaged tools (as in the example with the real estate mashups on Google Maps). For instance, one can create a mashup that integrates data from several respected websites, then customize it to the needs of a specialized industry, and distribute it within a certain target group. With this approach, you can generate a bunch of mashups for real estate, finance, pharmacy, or whatever, all based on the same template. Users will only need to provide the server paths inside this scheme (adapt a mashup) and get a ready-made integration solution, as a result. All you have to do is make this process as easy as possible to ensure that your customers do not stumble on the details.
As you see, it is easier to monetize mashups than it seemed initially. Just do not forget, though, that after you create something "mashed-up," it must be more valuable, more profitable, more substantial, and more entertaining than each of its components taken separately.
Further reading