Awesome Mashups and How to Start Creating Them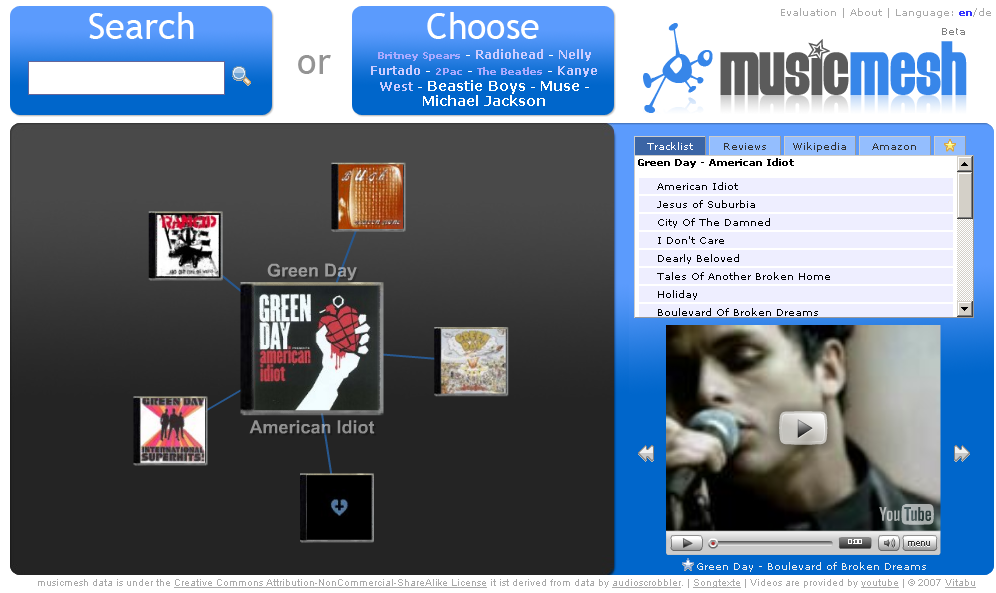 Today, you can see mashups integrating news, music...and even an umbrella using GPS.
Mashups in the news
Google and New York Times have created a mashup that shows you what's happening AND where it happening. Sweet! Now you'll be able to see the latest news for any spot in the world you want. Going on a trip to Spain? Wanna know what's been up there? Just click on Spain and there you go!
The New York Times offers geo-coded news, and Google Earth offers the platform for reading that news in a 3D browser.

To experience this new way of getting your daily dose of news, launch the latest version of Google Earth and make sure the "Geographic Web" folder is turned on. Click on a New York Times placemark and you will see the latest news and features pertaining to that geographic region. Want to see more than just headlines? Click on the "Show this layer" button at the top of the preview bubble and you'll get a list of news articles dating back one month.

Now, fly around Earth and catch up on news of your favorite places. Whether it's your dream vacation destination, a country you are fascinated with, the latest U.S. presidential primary cities or your hometown, just fly and enjoy. You can also try viewing The New York Times layer along with photos from Panoramio, videos from YouTube or any number of other options from the Layers panel to experience the full range and depth of information available to you in Google Earth.

Don't worry about staying on top of things. This layer is updated every 15 minutes to offer the latest headlines for those with a big news appetite.
Google is notorious for its mashups, that's fine, but when you see that even first-class news papers (news papers, not software companies!) like NY Times do mashups…you can't but notice this global mashup tendency…So, If you are still not a part of it, we'd recommend to brush up on your ability to mashup!

Music mashups
Did you know you could listen to your favorite song, watch the video, read reviews, related information and see what it costs on Amazon all in one interface? The Musicmesh mashup allows you to do it all. The design and speed could be better, but the idea is quite new.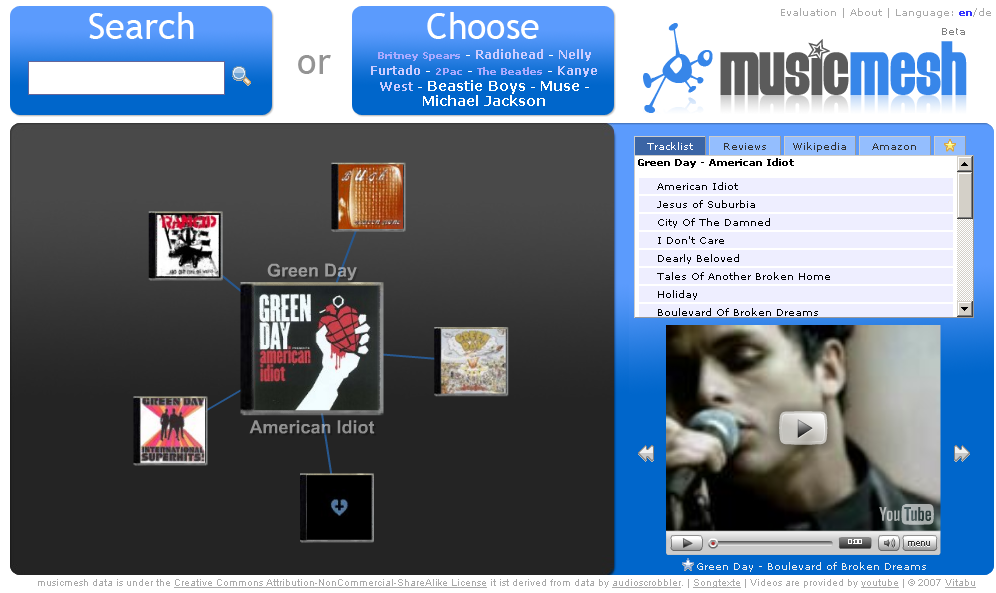 Check it out here.
Overdoing it with mashups?
Sometimes, one can also "overdo" it with mashups. Ok, here's an Internet umbrella…
Pileus is an umbrella connected to the Internet to make walking in rainy days fun. Pileus has a large screen on the top surface, a built-in camera, a motion sensor, GPS, and a digital compass, and it provides two main functions; A Social Photo-sharing and A 3D Map Navigation.
However, there are numerous challenges associated with this product. When it's raining, you usually try desperately to watch your feet so as not to step into water, so as not to trip, so as to know where you're going. Just how are you supposed to watch the umbrella and walk properly? Or are we supposed sit on a bench under the rain and enjoy it? Some may prefer going home and getting online, or using Wi-Fi in a coffee shop inside. It can be quite tricky to do this outside in the rain.
The photo function is connected to a major web service "Flickr." A user can take photo with a camera on the umbrella, and pictures are uploaded to Flickr in two minutes with context tags via a wireless Internet connection. User can also enjoy theirselves watching photo-streams downloaded from Flickr with simple operation of wrist snapping.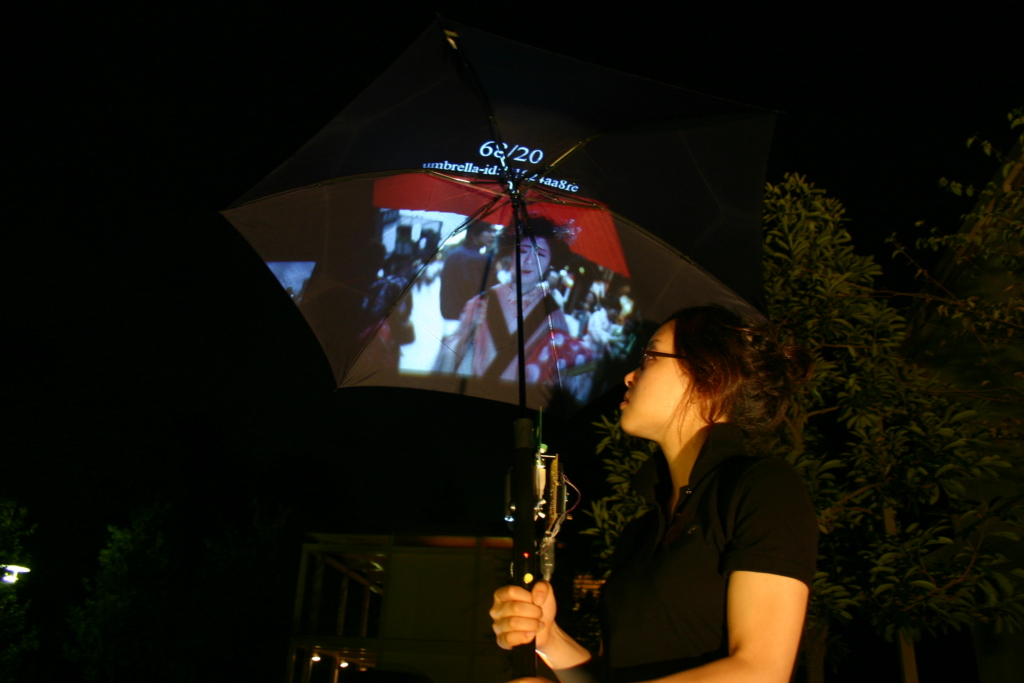 Or, just use the good old camera instead.
3D Map Navigation is powered by "Google Earth". Detecting a location data from GPS, it shows a 3D bird view around the user. User can walk-through a city comparing the 3D views and real sights, and the map is always updated by GPS and a digital compass. As it has a large screen, it create virtual reality but not immersive.
Many mobile phones have already got GPS, so it's questionable whether one should replace it with an umbrella.
Now these two functions can be switched by simply fliping a switch. As a future direction of its development, putting a context data on the Internet (e.g., geo-tags on photos), it will be able to provide social local-navigations, social local-ads, and real-time in-place communications. The product aims to provide an augmentation of everyday life synchronizing information on the Internet and the real place.
Mm…that's more like it. Wouldn't mind knowing what's around while walking in the rain…To jump inside and have a cup of coffee, wait for the rain to pass. That'd be nice.
How to mashup
Recently, we stumbled upon this article that might be quite helpful in understanding and getting into the whole mashup theme. The article chews it out for you by giving extensive examples, including architectural components and key points to consider when developing your first enterprise mashup. This is a great beginning if you're clueless about mashups.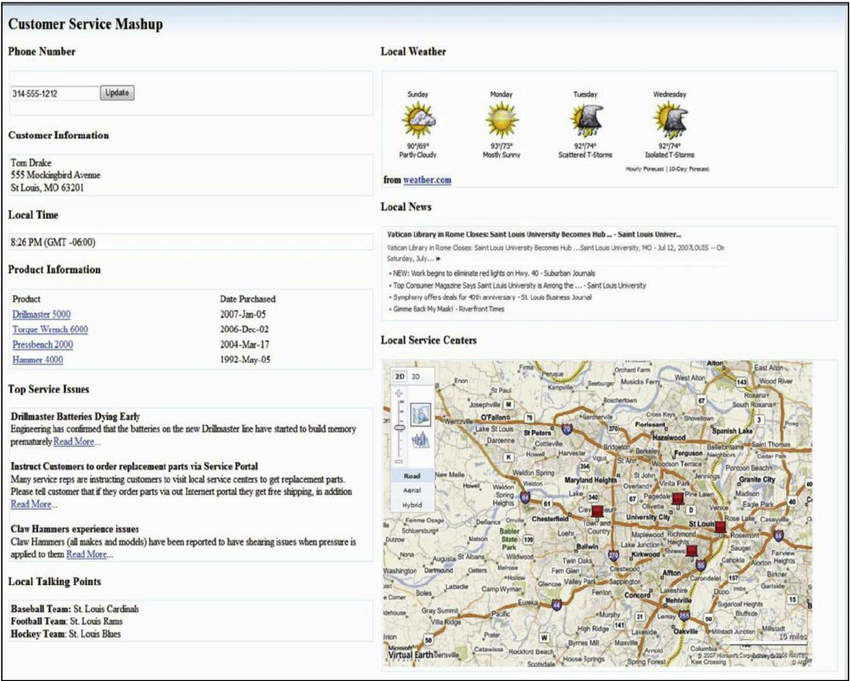 Summary: A mashup is a technique for building applications that combine data from multiple sources to create an integrated experience. Many mashups available today are hosted as sites on the Internet, providing visual representations of publicly available data. This article describes the history and architecture of mashups, and explores how you can create mashups for use in your enterprise. We also impart some wisdom gained from projects with customers and systems integrators who have implemented mashups for the enterprise.
Don't forget that, for aggregating information from multiple sources, you can use Apatar Data Integration as part of your mashup initiative.
Further reading
---
The post is written by Alena Semeshko, edited by Alex Khizhniak.