Why Altoros Joins the Cloud Foundry Foundation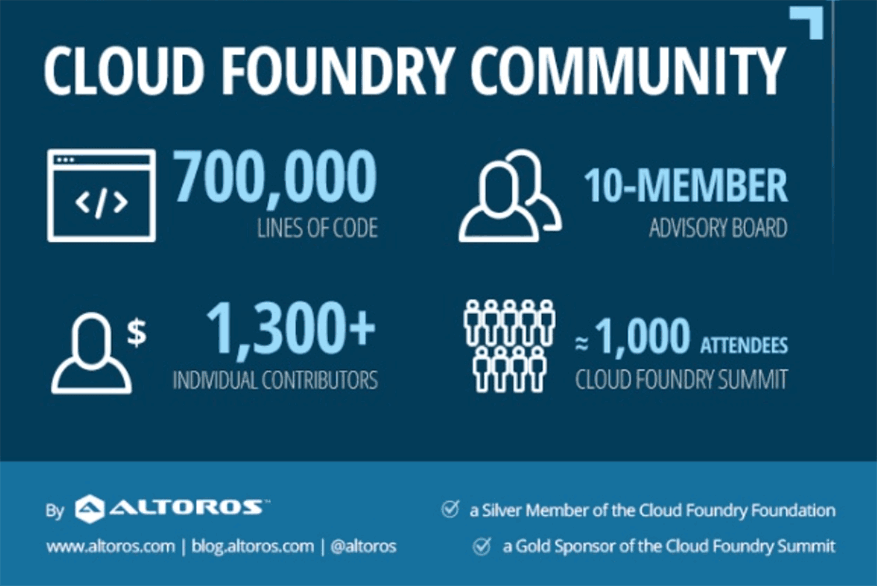 Having become a silver member of the Cloud Foundry Foundation, Altoros will reinforce its commitment to reducing release cycles of cloud-native apps.
The momentum behind the Cloud Foundry Foundation signals the arrival of an application-defined infrastructure, where an app can define the underlying infrastructure through an industry-standard API call. As a corporate sponsor of the Cloud Foundry Foundation, Altoros will continue contributing resources and code to help the foundation fulfill its mission.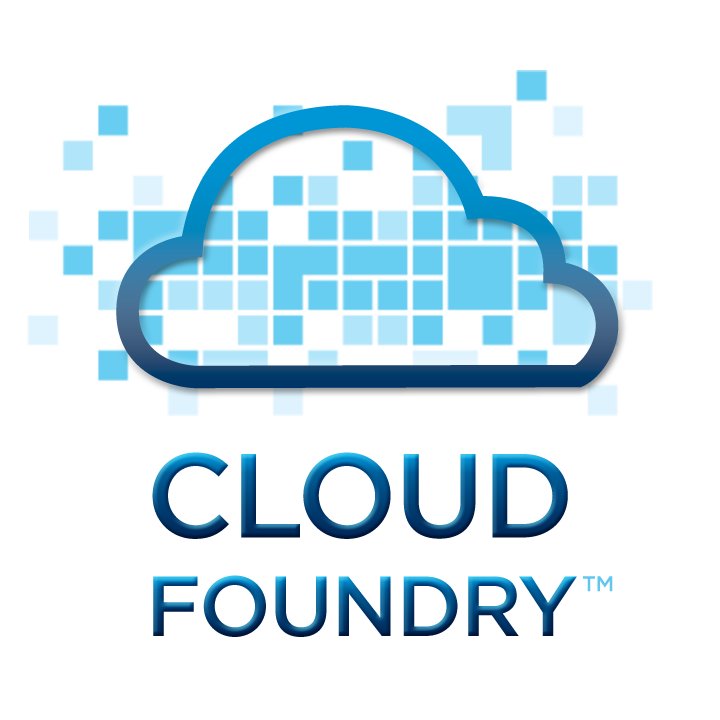 Recently, we've wrote a blog post describing what this announcement means for enterprise IT customers, why forming the foundation was necessary, and what it means for IT vendors.
We would like to congratulate our colleagues at Altoros with becoming a corporate sponsor and a Silver Member of the Cloud Foundry Foundation and congratulate our fellow foundation members, as well. We also want to describe how Altoros has helped the project so far, and how we will help the Cloud Foundry Foundation to move forward.
The facts
Today, 16 new companies have joined the Cloud Foundry Foundation (Alpine Data Labs, Altoros, Anchora, Anynines, AppDynamics, Azul Systems, Blue Box, Canonical, CloudCredo, Docker, jFrog, MongoDB, Piston Cloud Computing, Redis Labs, Stark & Wayne, and Telus) adding to the impressive lineup of the existing sponsors (EMC, IBM, HP, Pivotal, Rackspace, SAP, VMware, ActiveState, CenturyLink, Accenture, BNY Mellon, Capgemini, Ericsson, GE, Intel, NTT, and Verizon).
Welcome aboard, everyone! Lets have a blast at the Cloud Foundry Summit and celebrate!
Why Altoros joined the Cloud Foundry Foundation?
Because its all about apps. We are on a mission to slash the time and cost of application delivery. Why applications are so important? At the end of the day, information technology is all about connecting users (internal or external) to applications. This connection can be either persistent or non-persistent. We believe that everything below this connection will be commoditized.
What a journey it has been so far! Many of us at Altoros simply fell in love with the amazing Cloud Foundry project. We've had a blast all the way from contributing the Cloud Foundry Vagrant Installer, back in the days when few people had deployed Cloud Foundry v2, to contributing code to early releases of this version, from submitting bugs to Iron Foundry to building BOSH CPIs and Juju Charms.
How can Altoros help the foundation?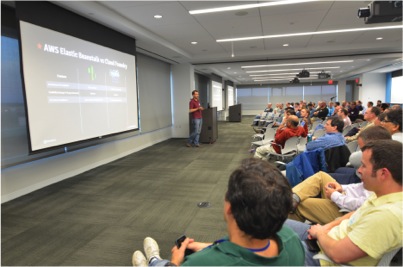 Moving forward, Altoros will continue to contribute resources and code to help the Foundation fulfill its mission. Just over the past 45 days, I've travelled twice across the US to promote Cloud Foundry at eight developer events—from Silicon Valley to Boston and New York, from Washington DC to San Diego and Los Angeles. Thank you, my colleagues at Altoros and our partners at Pivotal, IBM, EMC, HP, and Canonical for making this happen. You are amazing!
How can Altoros help customers?
By integrating solutions offered by the Cloud Foundry ecosystem, Altoros continuously perfects delivery and operation of "software assembly lines" for our customers. Altoros's team consists of engineers from each of the five building blocks necessary for large Cloud Foundry deployments—Ruby/Go, Java, .NET, NoSQL/Hadoop, and multi-cloud DevOps. We understand the difference between success and failure in implementing Cloud Foundry in large enterprises, including those in highly regulated industries. As a result, Altoros's customers discover and monetize application-driven competitive advantages sooner than rivaling companies. They get turn-key, managed "software factories" and "data lakes" built using best-of-breed solutions developed by members of the Cloud Foundry ecosystem. With 250+ employees across 7 countries, Altoros is the company behind some of the world's largest Cloud Foundry deployments.
Come onboard. Make Cloud Foundry a part of your success. Collaborate. Contribute. Make it happen. Many did, and so can you.
Further reading