The Beat Goes on with Cloud Foundry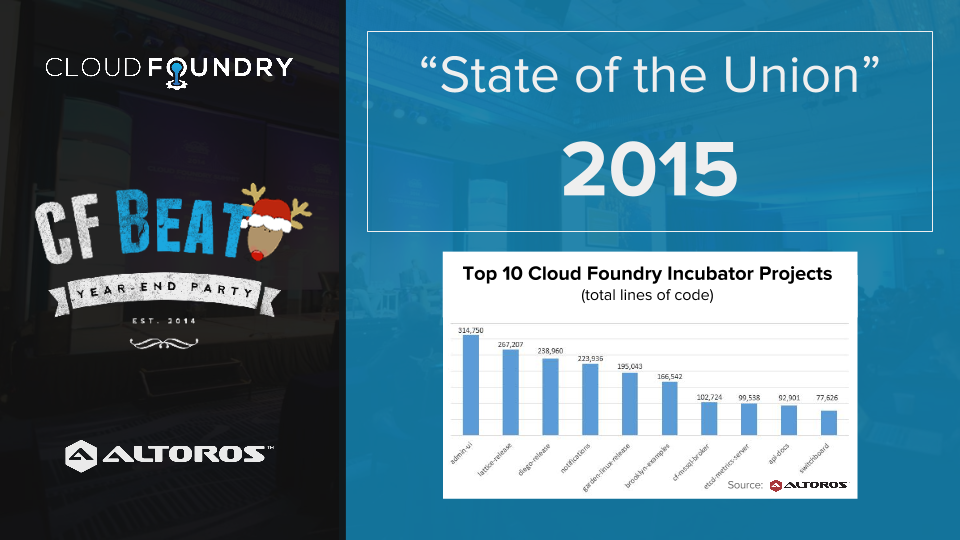 Did you know that the CF Foundation grew by 83% with 25 new members in 2015? Now, the CF community numbers more than 30,000 participants in 48 countries. Find out what the Top 10 CF incubator projects are and some more interesting statistics.
Cloud Foundry year's facts and figures
It's been a dynamic year within the Cloud Foundry community, one that can be measured in several intriguing ways. Our research staff at Altoros has uncovered several marvelous "fun facts" about what's transpired with Cloud Foundry this year.
For example, more than 3 million lines of code were written (as of December 3) within 159 projects in the incubator repositories. The Top 10 projects (total lines of code) are illustrated in the diagram below.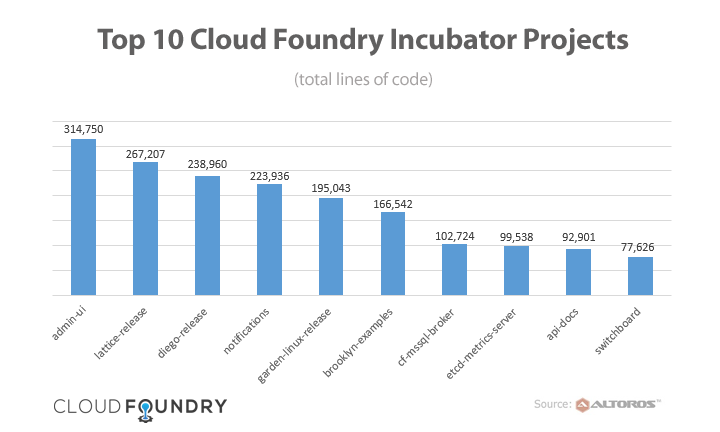 This impressive code development occurred as the Cloud Foundry Foundation's membership increased from 30 to 55 members over the course of 2015, an increase of 83%. Almost half of the member companies are based in Silicon Valley or San Francisco. North America overall has 70% of the members, with about 25% in Europe and 5% in APAC.
The overall community is a vibrant thing, with 166 meetup groups in 107 cities (in 48 countries), and a total of more than 30,000 participants.
Not just numbers
Thinking less numerically, what were some notable new projects? We see Spruce, for example, with a focus on building BOSH manifests in templates. The Azure BOSH CPI is another highly significant new project, along with CF Swagger, the work on Diego (including the Windows installer in late 2014), as well as the origins of Lattice in late 2014 with work continuing in 2015.
Meanwhile, the community's strength was apparent in a group of three Cloud Foundry Summits this year:
Santa Clara in May, with more than 100 speakers, 1,500 attendees, and a vibrant exhibition floor. Several notable general and special sessions were led by CFF President Sam Ramji, including some great use cases, and an entertaining talk by The Martin author Andy Weir. Highlights of great Cloud Foundry use cases can be found here.
Berlin in November, the first European summit, with 55 speakers and more than 500 attendees. Meetups, lightning talks, and a Diversity Lunch added to a strong, traditional program.
Shanghai in December, the first Asian summit, with more than 30 speakers and around 500 attendees, a very strong start for this event.
Cloud Foundry's successes will be celebrated on Thursday, December 17, from 5 pm to 9 pm at the second annual CF Beat event and party, to be held at HPE headquarters. Several lightning panels will address the big issues within the world of Cloud Foundry.
Altoros's CEO Renat Khasanshyn will present an overview of how the CF community evolved since last year, providing more engaging facts and figures. Be there!