A Cloud Foundry Fireside Chat with Dr. Max of IBM Cloud Labs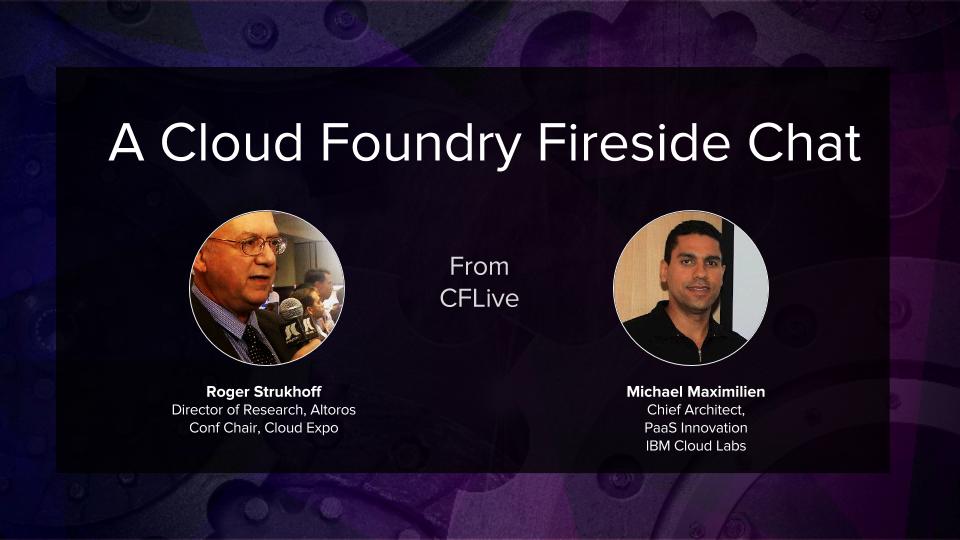 As we enter another new year, we are interviewing some key people within the Cloud Foundry community and ecosystem.
Our initial interview is with , aka Dr. Max, Chief Architect of PaaS Innovation at IBM Cloud Labs. Here's what he had to say:
CFLive: Please tell our audience (prospective users of Cloud Foundry) what you do, what you're working on, and your relationship to Cloud Foundry.
Dr. Max: I work for the IBM team responsible for working on CF. Everything we do is OSS and my role is to drive innovation in the CF community.
CFLive: What is the greatest challenge and greatest competition facing the Cloud Foundry community in 2016?
Dr. Max: Innovation. We need to keep exploring the boundaries of CF and its architecture such that we continue capturing the PaaS market and meet the needs of a broader evolving marketplace.
CFLive: What are Cloud Foundry's greatest strengths?
Dr. Max: BOSH, multi-cloud support out of the box, and workload portability between public and private clouds.
CFLive: What are Cloud Foundry's greatest weaknesses?
Dr. Max: Deployment complexity and the need to continue making the developer experience developing and running their apps as simple as possible. The platform should disappear so developers can focus on their job: building great cloud apps.
CFLive: What are two or three top improvements you'd like to see to Cloud Foundry?
Dr. Max: Allow incubation of innovative features in the platform, even those that go nowhere. And second scaling the dojo process worldwide.


Altoros Take
Cloud Foundry has built significant momentum over the past year. With the establishment of the CF Foundation in December 2014, and support by key technology providers, the platform has found itself as a core piece of cloud-driven initiatives across a wide range of industries and organizations. Dr. Max's comments here are enlightening and will help the community and ecosystem continue to develop in 2016 and beyond.