iPaaS: a New Trend in Data Integration?
iPaaS (integration platform-as-a-service) is a development platform for building integration applications. It provides a set of capabilities for data integration and application integration in the cloud and on-premises.
There are very few vendors offering iPaaS solutions at the moment. Although Gartner recognizes and uses the term, it still sounds confusing to researchers and data integration experts. So how does iPaaS work and can it benefit your data integration efforts?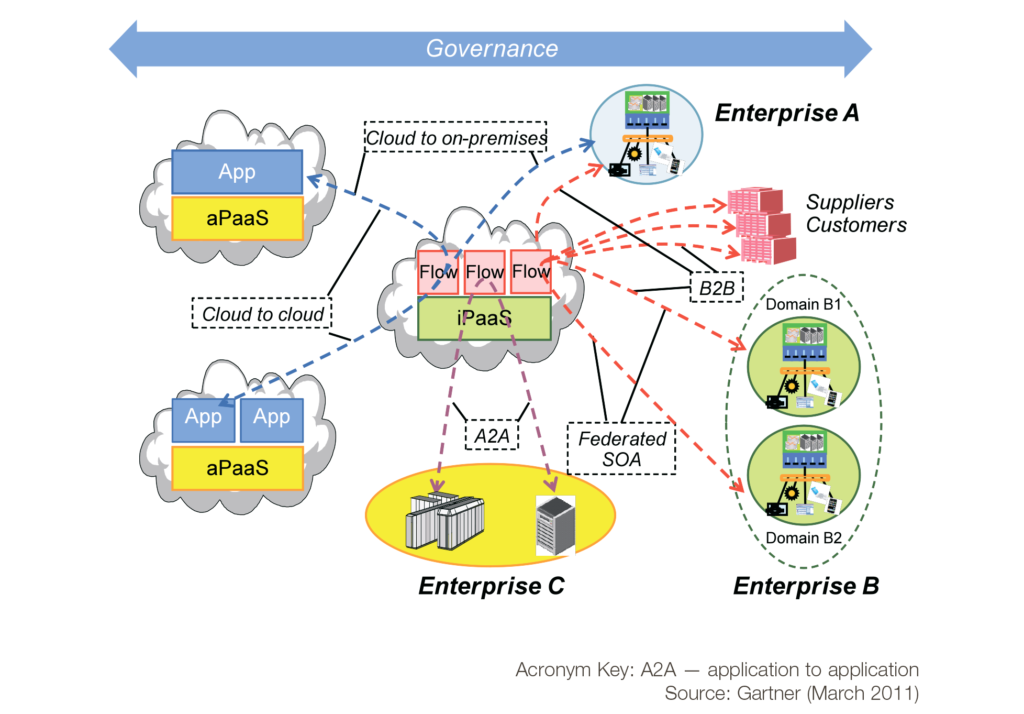 Deployment scenarios for iPaaS as viewed by Gartner (image credit)
Integration platform delivers a combination of data integration, governance, security and other capabilities to link applications, SOA services, and cloud services. In addition to basic features that a cloud solution should have, such as multi-tenancy, elasticity, and reliability, there are other capabilities relevant for iPaaS:
1. Intermediation, the ability to integrate applications and services using the cloud scenarios, which include SaaS and cloud services, on-premises apps and resources.
2. Orchestration between services, which requires connectivity and the ability to map data.
3. Service containers to enable users publish their own services using either RESTful or SOAP technologies.
4. Security covers the ability to authenticate and authorize access to any resource on the platform, as well as to manage this access.
5. Enterprise Data Gateway installed on-premises and used as a proxy to access enterprise resources.
Data integration and application integration with and within the cloud is the concept that business owners should consider nowadays. As of today, iPaaS would mostly appeal to companies that don't mind building their own IT solutions or to ISVs that need to integrate cloud silos they have created previously. It will be interesting to see whether iPaaS will become the next trend in the data integration discipline. Gartner predicts that "by 2016, at least 35% of all large and midsize organizations worldwide will be using one or more iPaaS offerings in some form."
Further reading