Digital Transformation: What Are the Challenges and Where to Start?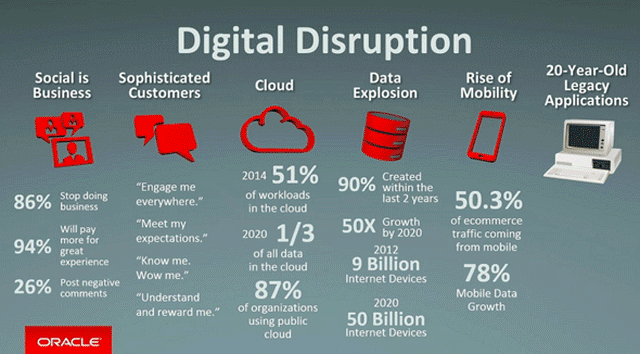 To stay competitive, enterprises need to innovate faster, so digital transformation is hitting the top of the agenda. However, related uncertainties are still numerous.
Why companies need to speed up innovation right now
'Innovating faster' is not another buzzword, but rather a matter of survival, as today's business is highly competitive across most of the industries. Established companies are threatened by startups that are more agile by their concept and design. In addition, some organizations need to maintain legacy software that is neither able to satisfy their current requirements nor holds any potential for the future.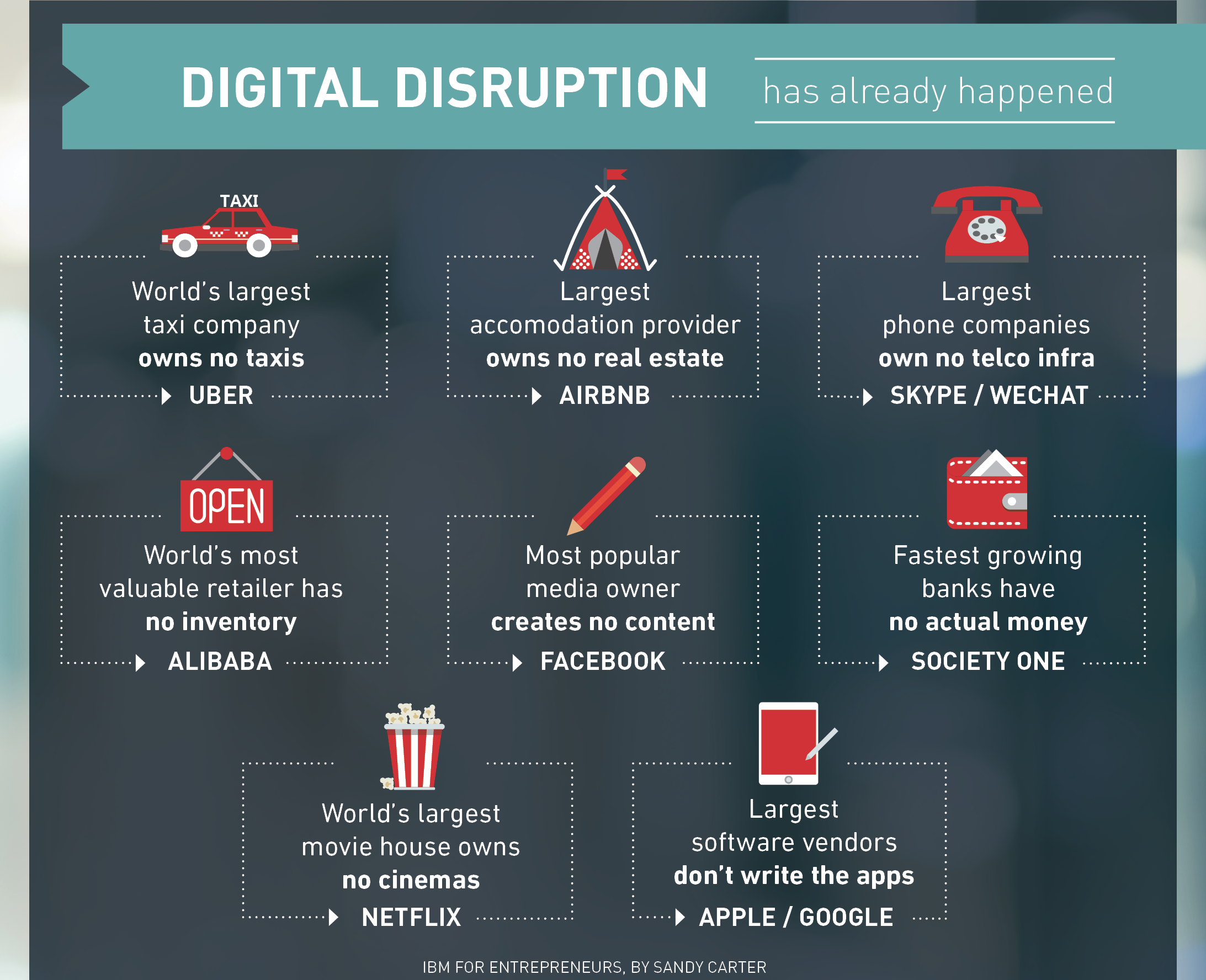 Famous industry disruptors (Image credit)
From this perspective, large organizations look up to digital transformation as a way to invoke their disruptive powers and improve performance on a large scale. Typically, they rely on emerging technologies to reduce paperwork, automate industrial workflows, release innovative products, expanding to new markets, or improve customer interaction.
The idea of creating innovation labs—mostly, implanting many of startup principles—proved to be efficient for many companies.
An innovation lab can be understood as a team within an organization, aiming to improve operations, products, or customer experience with cutting-edge technologies. Mercedes-Benz/Daimler and Honda are just a few pioneers within the automotive industry that were successful in launching disruptive projects through innovation labs. Examples from the insurance and finance sector include the Royal Bank of Canada, Liberty Mutual, and Allstate. Major retailers, such as GAP, have directed steps that way, too.
The public sector did not stay on the sidelines, either—with governments of South Korea (through NIA), the USA (running 18F), and others—allocating dedicated resources to go digital.
Nevertheless, transforming an enterprise through an innovation lab is not so easy a path as may seem at first.
Image credit
What makes transformation difficult?
Having set their minds on digital transformation, enterprises often feel confused where to start from. The situation is unsurprising, considering the array of challenges they have to address:
In addition to the issues mentioned above, many other surveys (like this one or this one) reveal additional challenges impairing digital transformation:
Difficulties with calculating transformation's ROI may lead to insufficient budget allocation.
With any new change, there are concerns about data privacy and security.
Risk management and things like compliance also need to be taken into consideration.
What can you do about it?
With all the "noise" around innovative technologies and associated challenges, an innovation lab first needs to develop a clear vision for implementation of its transformational initiatives.
The schema below is an example of how a digital transformation vision may look like for an insurance company. The diagram covers the most essential technology components needed for automating the workflows within an enterprise. The flow chart is quite large and complex (and so it should be), therefore take a look at its full-size view and an extended version for details.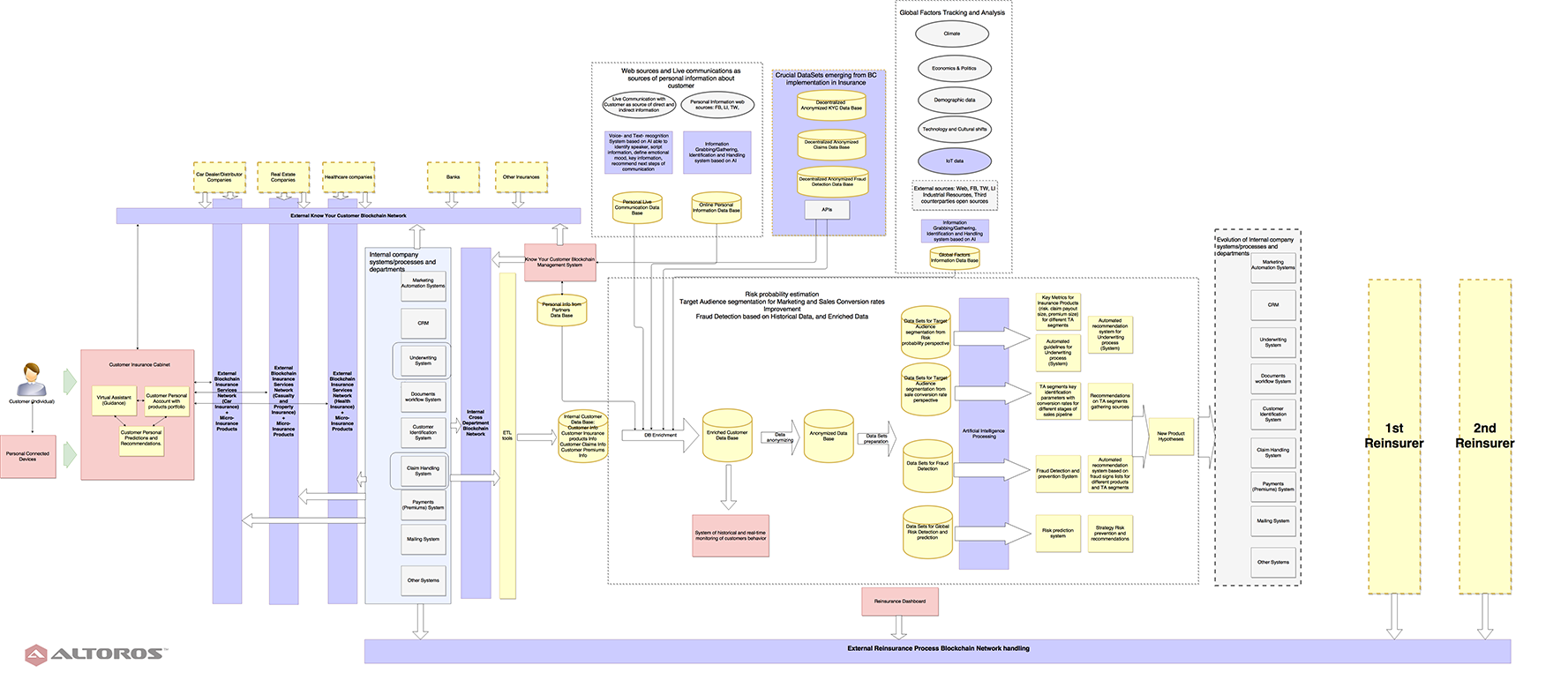 Digitizing workflows for an insurance company (view a full-size or an extended version)
Based on a clearly defined vision, one can craft a transformation roadmap, identifying specific use cases and milestones—arranged in an order of impact significance and investment priority. This will help to better understand the potential of emerging technologies, estimate the possible cumulative effect, and develop a three-year strategy—forming the necessary teams and shaping a required organizational structure.
With a strategy and a roadmap outlined, an enterprise should also adopt a proper methodology. It should specify how you proceed from an idea to releasing a product into production, as well as how to evaluate achieved improvements and return on investment.
As you can see, issues with digital transformation are almost just as numerous as opportunities it offers. However, changes are unavoidable, and the question is whether you will be fast enough to adapt or will get disrupted.
Let us know if you need more of the vision blueprints like the one presented above—we've already created some for logistics, automotive, manufacturing, energy, and retail. We are open to feedback from companies that also work in these areas—or to your ideas about other technology components that may drive a successful digital transformation.
Further reading:
---
The post is written by Alesia Bulanok and Alex Khizhniak with insights from Dmitry Orekhov and Alexis Losik.