Allstate Using Cloud Foundry to "Conceive App on Monday, Deliver on Friday"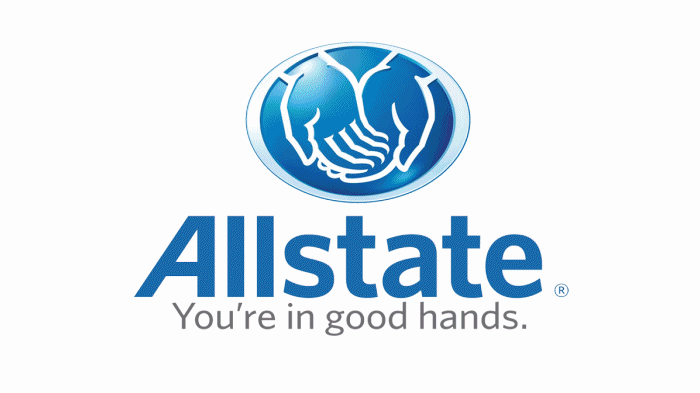 The stock price was up and revenues were better than ever at the 90-year-old company. What better time to seek dramatic change?
Why read this?
Company aims to change its entire culture toward IT-driven business and disrupt the industry.
Deployed Cloud Foundry for six months, learning that institutional traditions are formidable.
Change dev cycles from six to nine months to a matter of days.
One of the most radical potential transformations in a highly traditional industry.
One of the largest insurance companies in the US, focusing primarily on property liability. Known for the motto, "You're In Good Hands with Allstate."
The company name was originally a tire brand, chosen in a contest in 1931 by parent company Sears. The Allstate company became independent of Sears in 1995.
(Note: This use case is based on a presentation at the Cloud Foundry Summit 2015 in Santa Clara, CA by , Senior Vice President of Infrastructure Services, Allstate Technology & Operations, Allstate Insurance Company.)
Change must be absolute, in the opinion of Allstate management, with a mindset of "technology driving the business" rather than simply "technology for the business." Cloud Foundry plays a role in effecting dramatic change at the 90-year-old company.
Allstate is one of the largest insurance companies in the US, billing almost $29 billion of property insurance in 2014 out of approximately $35 billion in total revenue. The company is based in the Chicago area.
Even when large companies wish to change, they typically all lack a platform to drive it. Andy Zitney, Senior Vice President of Infrastructure Services, Allstate Technology & Operations, Allstate Insurance Company says there is a need for "a great platform to change an industry and the way a company thinks."
Allstate chose Cloud Foundry as that platform. Six months into its use, Zitney says he's getting business-line people "to sit next to developers and do things in real time. There is no more waterfall approach. There is no waiting months to launch a product. We want to get to where we conceive a product on a Monday and deliver it on a Friday."
He notes that this approach may seem counter-intuitive to a company in which "business was good," but believes that "we have to disrupt this, tear it up. Somebody is going to disrupt the insurance business, because it hasn't been disrupted for 90 years."
Allstate's business looks good…But…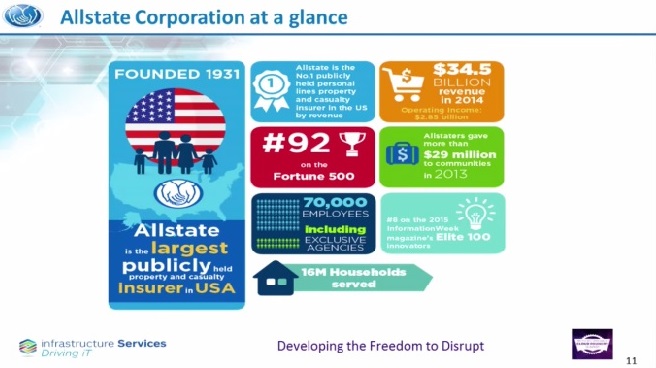 There's a strong aversion to risk in many, if not most, big companies, Zitney says. At an insurance company driven in large part by actuaries, there's a formula behind everything, trying to predict every possible scenario. There are engineering boards and architecture boards, and multiple signoffs for business decisions and technology acquisitions.
The risk aversion is accompanies by a lack of ownership and accountability, fragmentation of product ownership, unwieldy governance, and entrenched solutions for every problem, according to Zitney. He makes those points in an image (below) captured from his keynote at Cloud Foundry Summit 2015.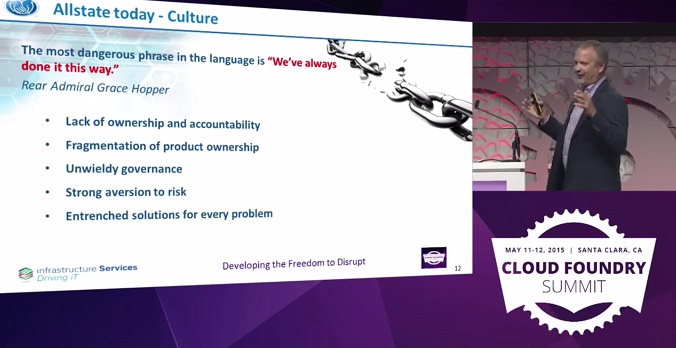 To achieve the breakthroughs it desires, Allstate is depending on Cloud Foundry, "which does what people says it's going to do," according to Zitney. "And cost is not necessarily the focus. Cost is going to fall out the back end with time savings and product innovation. The way we justified our original POC was to say that developers today are inefficient because of culture. They wait a month before they can do anything. With Cloud Foundry, I can get them working immediately."
Through Cloud Foundry, Allstate management expects to deliver process and products high in the infrastructure at a rapid pace. "We can then start to show the entire organization what the potential is," says Zitney. The transformative journey is shown in the slide below. In bullet-point form, it shows:
Waterfall development turning into Agile and Extreme Programming
Enterprise tools being replaced by open source
Ubiquitous governance migrating to empowerment for innovators
Monolithic applications morphing into microservices
Manual Development re-emerging as Continuous Delivery
A fun fact: Allstate processes 18,000 claims a day and has the largest roadside assistance program outside of AAA. "We also have data on 10 billion miles of driving," notes Zitney. "We can not only change the insurance industry but also drive new industries."
Transformation at Allstate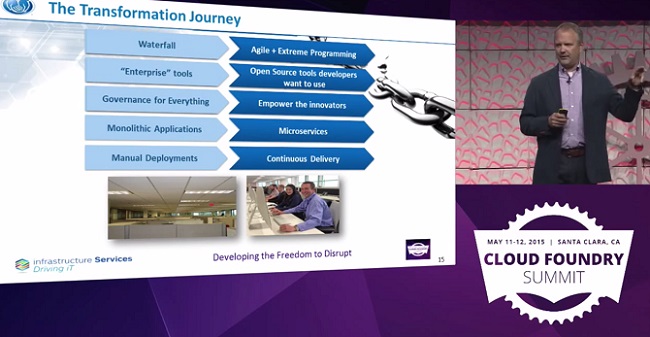 Related videos
Here is the original video presented at the Cloud Foundry Summit 2015 in Santa Clara, CA.
---
To stay tuned with the latest updates, subscribe to our blog or follow @altoros.