Honda Improves the Safety of Connected Cars with IBM Bluemix / Watson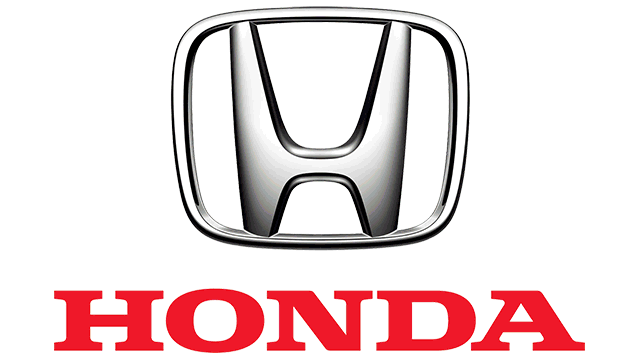 Relying on AI and IoT, the innovations include real-time vehicle analytics, cognitive assistance, autonomous driving, a mobile app, etc.
Why read this?
Connected cars: Real-time data and cognitive analytics to monitor and promote safer and more efficient driving.
New services developed with IBM Bluemix and the Watson IoT platform:
Driving Coaching System
Real-time analytics for Formula 1 engines
A mobile app—Honda Connect
Honda is now also using data mining and analytics to better understand vehicle performance, improve analysis of documents, and take actions upon customer feedback.
IBM Bluemix, IBM Watson IoT, IBM Watson Content Analytics, IBM SPSS Modeler, IBM Predictive Maintenance and Quality
More than 100 Honda R&D engineers are now trained in big data analytics techniques.
Honda is on of the world's largest manufacturer of motorcycles, automobiles, and internal combustion engines. Honda R&D is the organization's research and development arm. This branch is responsible for innovating new ideas, quality assurance, and integrating customer feedback.
In 1981, the Honda Accord became the first commercial automobile to feature a navigation system. Though not quite as high-tech as modern-day GPS, it used a gyroscope-based system called the Electro Gyro-Cator.
Safety for all drivers
Driver safety is a concern anywhere around the world. According to Honda, most automobile accidents involve drivers above 75 years old or drivers below 29 years old.
By leveraging IBM Bluemix and the Watson IoT platform, Honda has been able to move further along its connected car initiative set for 2020. Honda has not only improved its products and services, but also transformed the processes within the organization.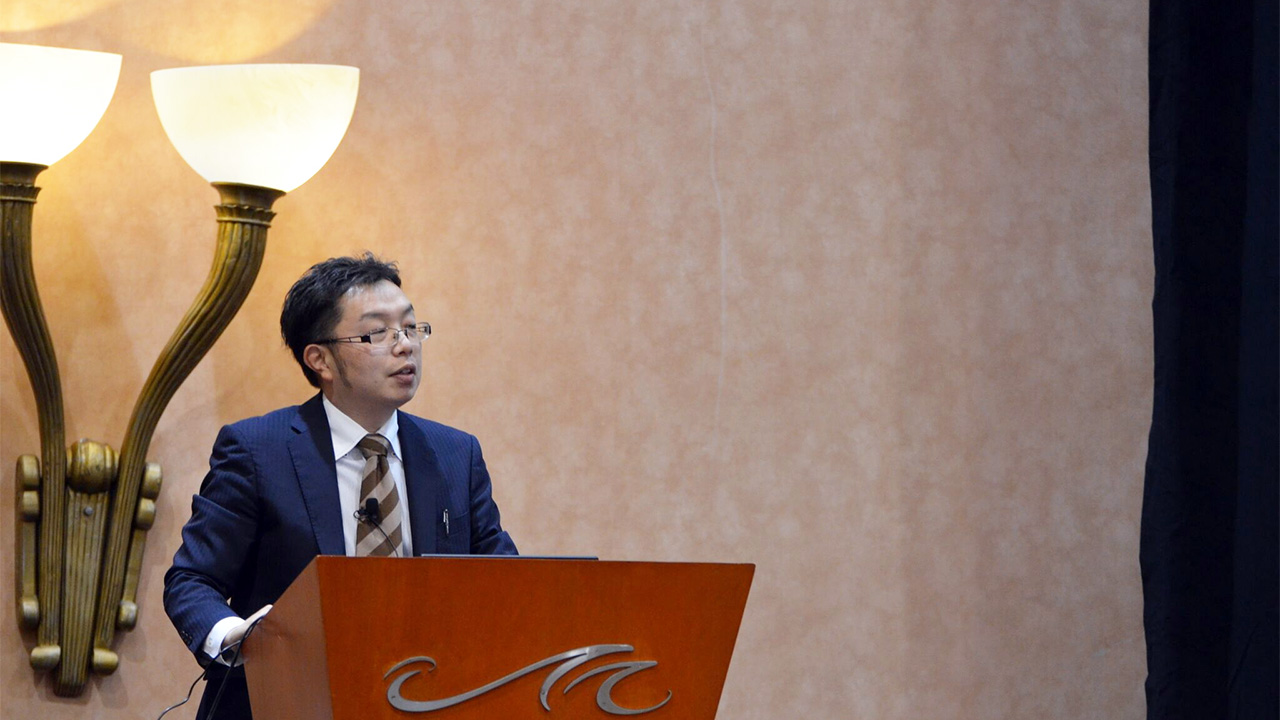 Takahiro Inagi on using Watson Explorer and Bluemix to innovate QA, InterConnect 2017
(Photo credit: Altoros)
These improvements all add up to a safer driving experience. These include a connected car mobile app, a cognitive driving assistant, and real-time analytics in race cars.
Honda Connect: a mobile car app
One of the current trends in automobile manufacturing and development today is the connected car. Honda is also working with IBM to further enhance its already existing connected car app in India—Honda Connect.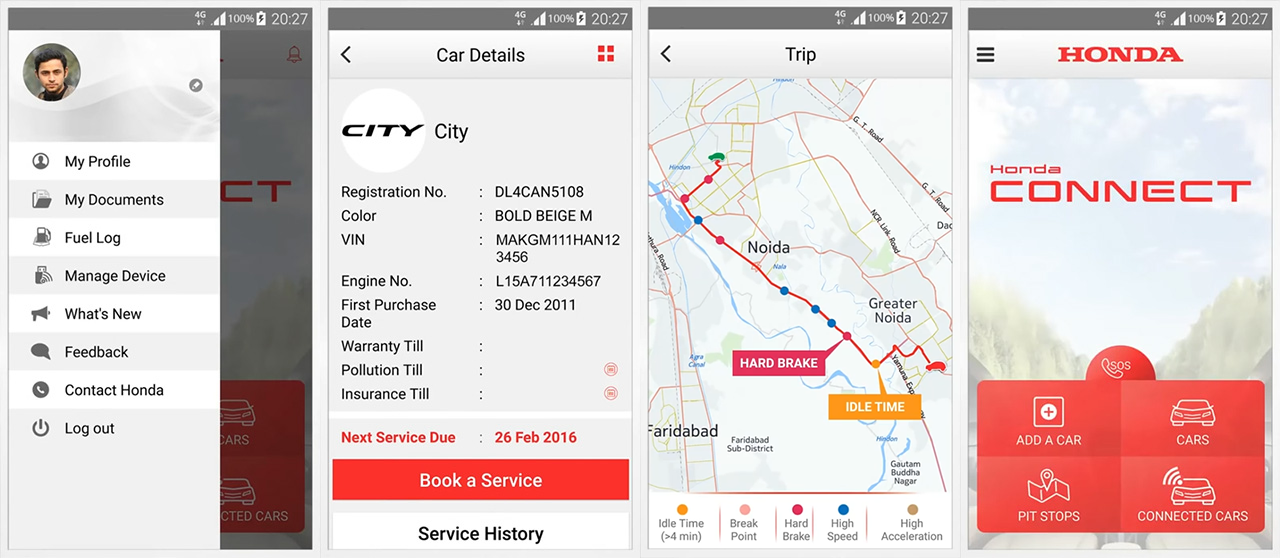 Honda Connect app (Source)
Currently, the Honda Connect mobile app has the following safety, security, and convenience features:
monitoring vehicle engine and battery health
locating the nearest fuel pumps and Honda dealers
keeping track of your car invoices
booking and tracking your car service history
locating your car and navigating to it
optimizing routes
calculating fuel economy
getting alerts on insurance renewal
sending automated alerts to your service provider upon airbags deployment
sending manual alerts to your emergency contacts
Using the IBM Watson IoT platform, Honda plans on improving the app with more emphasis on analytics and security.
Driving Coaching System: a cognitive assistant
Through the combination of IBM Watson Data Platform and IoT technology, Honda has created the Driver Coaching System prototype, built on the Bluemix platform. According to Honda's Yoshimitsu Akuta, the application is capable of coaching drivers of all ages and experience levels through conversation.
Experienced drivers might seem completely inexperienced if they are driving with an unfamiliar vehicle, driving in an unfamiliar location, or both. The Driving Coach System can detect this through continuous monitoring via sensors. The app is targeted at drivers within the two main groups—below 25 years old and above 75 years old—prone to vehicle accidents.
"Our efforts to address the most common cause of all accidents within these two age groups were at the center," says Yoshimitsu.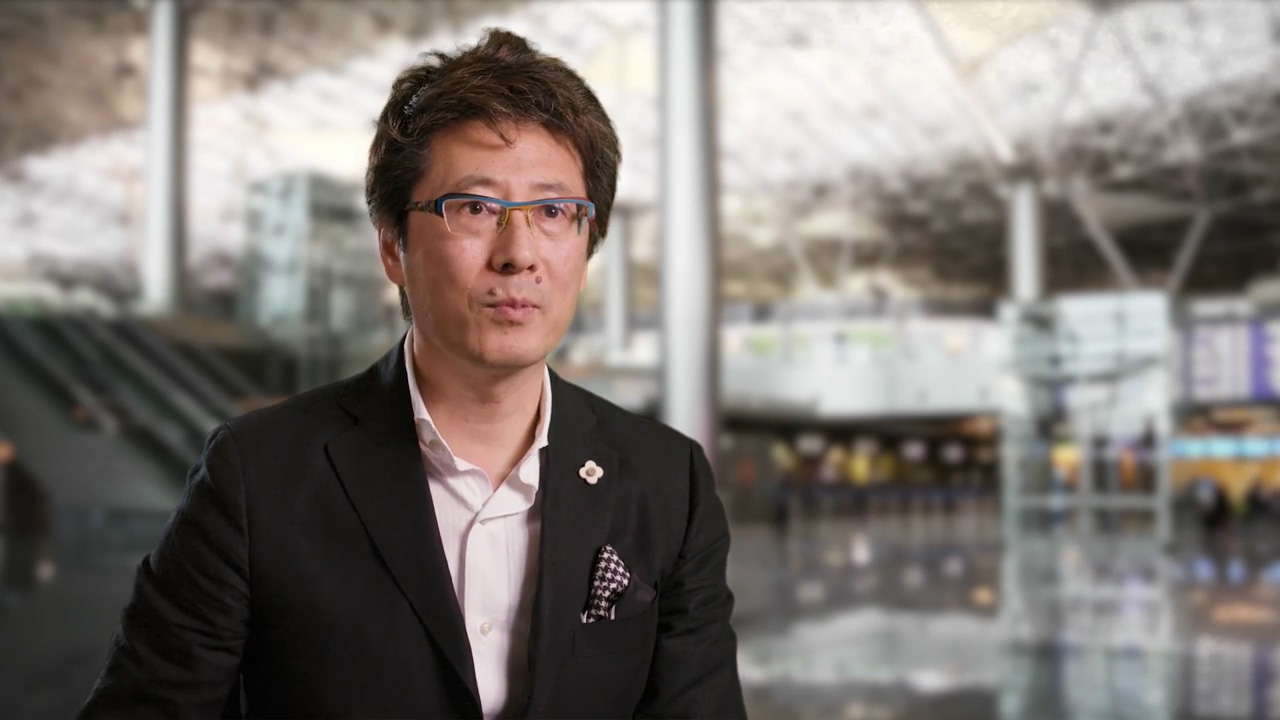 Yoshimitsu Akuta, Honda (Source)
"We needed it to be durable, scalable, and most importantly, secure. For this, the Driver Coaching System relies on the IBM Watson Data Platform." —Yoshimitsu Akuta, Honda
The Driving Coach System is able to capture data based on:
distance to other vehicles
distance to other objects
vehicle placement on the lane
break distance and timing
driver behavior
Using this information and real-time analysis, the Driving Coach System can adapt and adjust coaching to fit any driving behavior. The system is able to protect drivers through early warnings of dangerous situations.
"IBM Watson can help us to understand the behaviors, skills, and judgement that take place in real time as experienced drivers encounter dangerous scenes." —Yoshimitsu Akuta, Honda
Real-time analytics for F1 engines
In 2016, Honda and IBM worked together to bring real-time analytics to the world of Formula One (F1) racing.
Fans of the motorsport are no strangers to how much split-second reactions and decisions have long-lasting impacts in a race. Through the IBM Watson IoT platform, Honda is able to monitor and analyze data gathered from 160+ sensors on a single F1 car.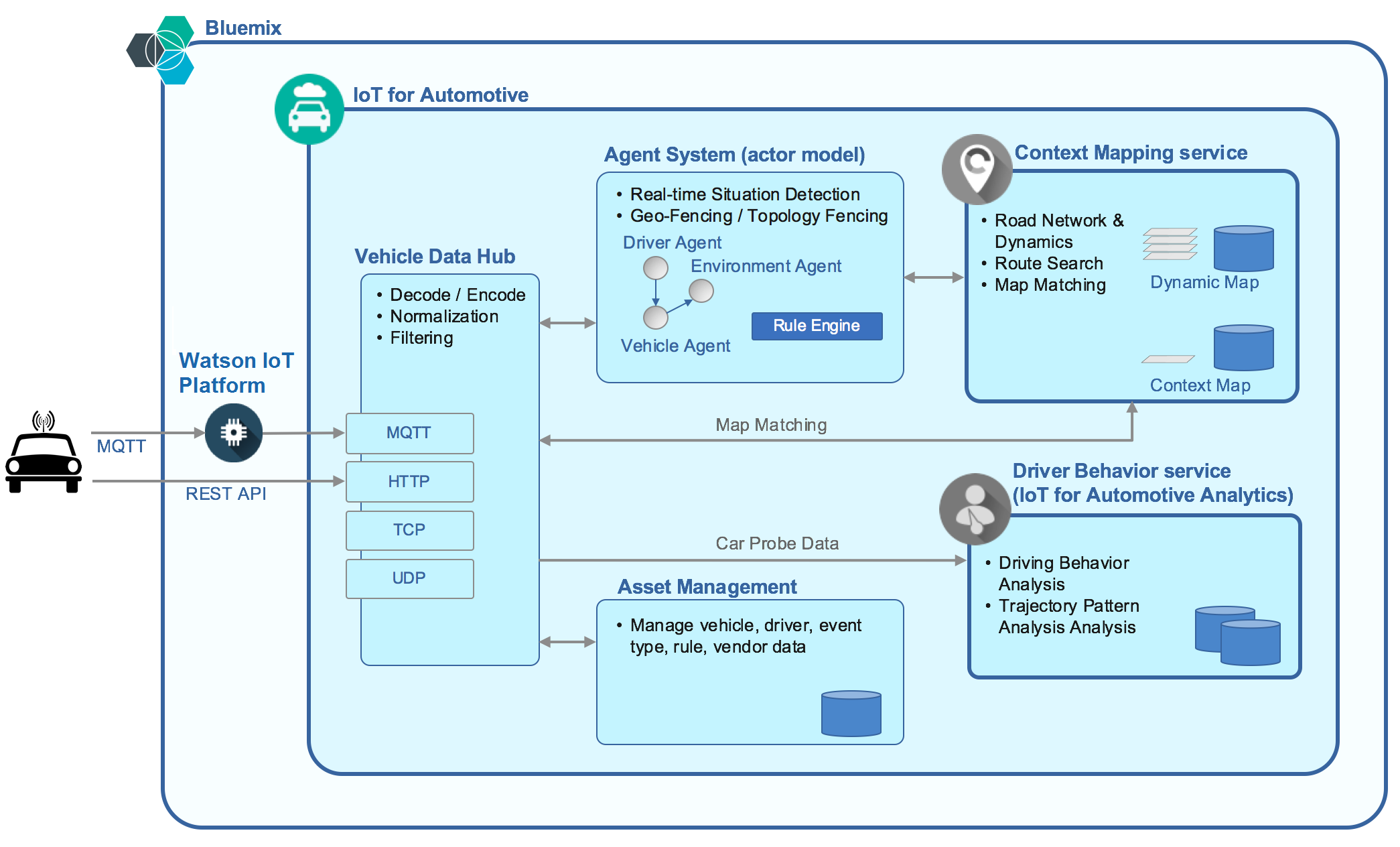 IoT for Automotive architecture (Source)
Through these sensors, Honda is able to monitor and gather over 270 data points such as engine pressure, temperature, and velocity. The sensors are also able to pick up on harder to discern variables such as wind efficiency and track wetness.
All of this information is sent through to the cloud for real-time analysis which then prompt the necessary alerts to both drivers and pit engineers so adjustments can be made during a race. Not only does this make it safer for the driver, but it also extends the lifespan of expensive equipment.
Honda's F1 engines are also capable of storing heat from the brakes and exhaust to add more energy to the vehicle's battery.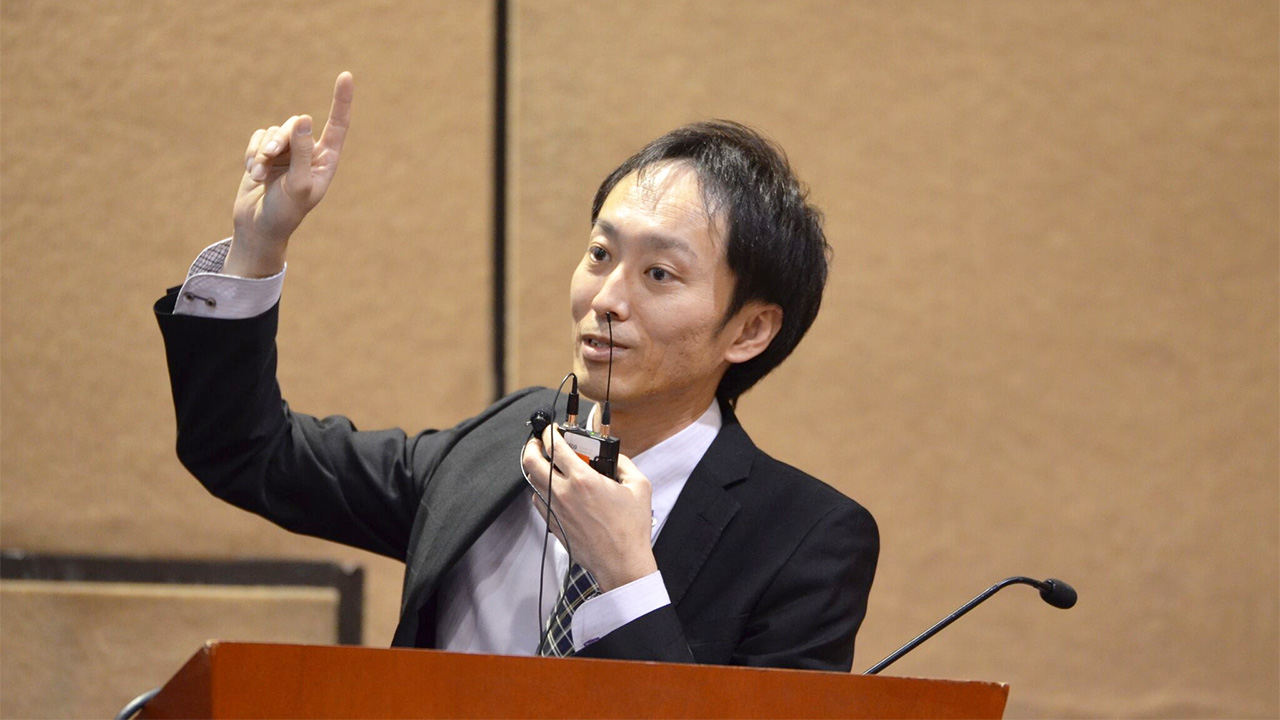 Masaki Okumoto on using IBM SPSS and Bluemix to quickly collect and analyze data from vehicle sensors, InterConnect 2017 (Photo credit: Altoros)
Getting insights with data mining and analytics
Back in 2015, Honda made use of IBM Watson Content Analytics, SPSS Modeler, and PMQ to get insights from all of the company's data gathered from vehicle diagnostics, smartphones, biometric sensors, and also from customer surveys.
According to Honda's Kyoka Nakagawa, by getting a better analysis of all the data, their engineers could get a more realistic grasp of how both drivers and vehicles performed in real-world situations.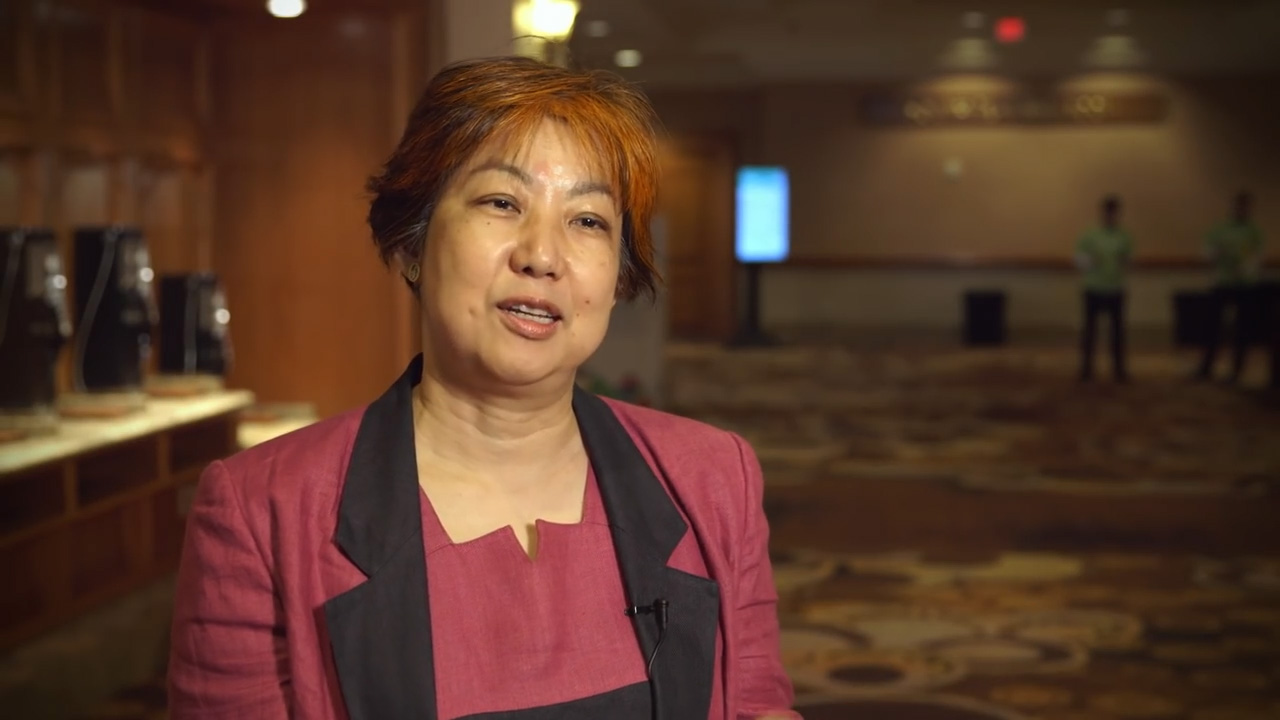 Kyoka Nakagawa, Honda (Source)
"Learning about big data analytics has also helped some of our engineers to think outside the box. Instead of simply analyzing the parameters that they think are important, they can use data mining techniques to uncover patterns and clues that they might never have thought about."
—Kyoka Nakagawa, Honda
"We thought we knew how customers drive cars but in this era, we do not know how each person drives or responds to a vehicle," said Kyoka. "Because of the vehicle sensor data, we could only see a portion and (not the entire picture) to understand the correlative situation."
Now, 100+ Honda R&D engineers are trained in big data analytics techniques. These engineers are capable of analyzing millions of documents and highlighting relevant information in a matter minutes.
"We recently had a meeting where an executive asked a question about a feature of one of our cars. We logged into Watson Content Analytics, analyzed over a million records in the NHTSA data-set, and within 10 minutes we had found three or four examples of relevant feedback from customers. This is the kind of analysis that would be almost impossible to perform manually." —Kyoka Nakagawa, Honda
As an example, Kyoka and her team were able to gather and analyze NHTSA records wherein several drivers in the US complained about accidentally hitting the engine start button with their knees. "This was a big surprise for us, because it is only possible if you put the car into cruise control, take your feet off the pedals, and fold your legs up on the seat," she said. "We had never imagined that people would actually choose to drive like this. It was a valuable insight for our product design teams."
Honda is now targeting 2025 as the release date for its new goal of developing SAE Level 4 (autonomous driving in most situations) vehicles. This builds up from their previous 2020 target for SAE Level 3 (autonomous driving in freeways) vehicles and an onmi-directional safety system involving people, vehicles, and infrastructure to reduce collision incidents by 50%.
Nevertheless, the company's strategy spans beyond engine analytics and self-driving. Honda has recently just opened one of the most advanced public charging stations for electric vehicles in Offenbach, Germany. The 940V charging station is powered by solar energy using photovoltaic carport canopies. This development is a huge step in Honda's commitment of providing electrified powertrains in two thirds of European cars sold by 2025 and the organization's overall green initiative.
Related videos
Related reading
About the experts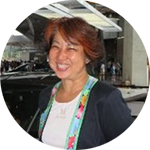 Kyoka Nakagawa
is Director at Honda R&D. She is involved with the company's corporate strategy in using big data analytics. Kyoka also functions as a mediator in representing user needs to IT experts. Her recent activities include text mining of internal or external non-structured data, data mining, and data analytics. Koyaka is also involved in educational and personal development programs for Honda R&D activities.
Yoshimitsu Akuta
is Chief Engineer at Honda R&D. His experience and responsibilities include vehicle dynamics analysis and chassis control system research and development. Yoshimitsu's interests lie in predictive driving behavior modeling for autonomous vehicles and advanced driver assistance systems.
---
The post was written by Carlo Gutierrez and Alex Khizhniak.