Automotive Blockchain: from Manufacturing to Security to Insurance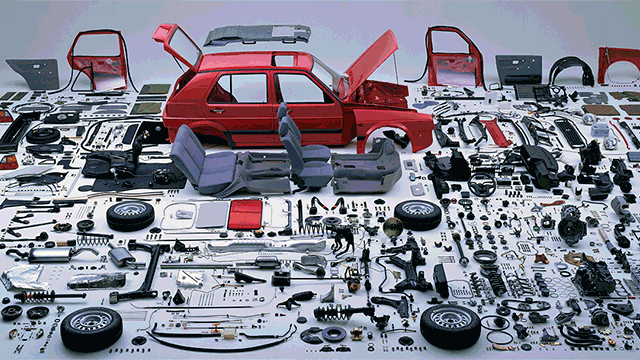 The distributed ledger technology may be used to track provenance of car parts, enhance vehicle security, implement dynamic insurance policies, and more.
Where does blockchain come in?
In 2015, the global automotive industry allocated about $37.9 billion on IT spending. By 2025, Frost & Sullivan predicts this value to increase to an estimated $168.8 billion. Of this amount, the research firm believes that 0.6% will be spent on blockchain.
There are many layers in the automotive industry and each of these can leverage individual capabilities of blockchain. The areas to be improved include tracking provenance of individual car parts (or even cars themselves) to mitigate counterfeits or imitations, securing vehicles and connected apps, accelerating the autonomous driving initiatives, implementing dynamic insurance policies, etc.
Now, let's go on to these scenarios in detail.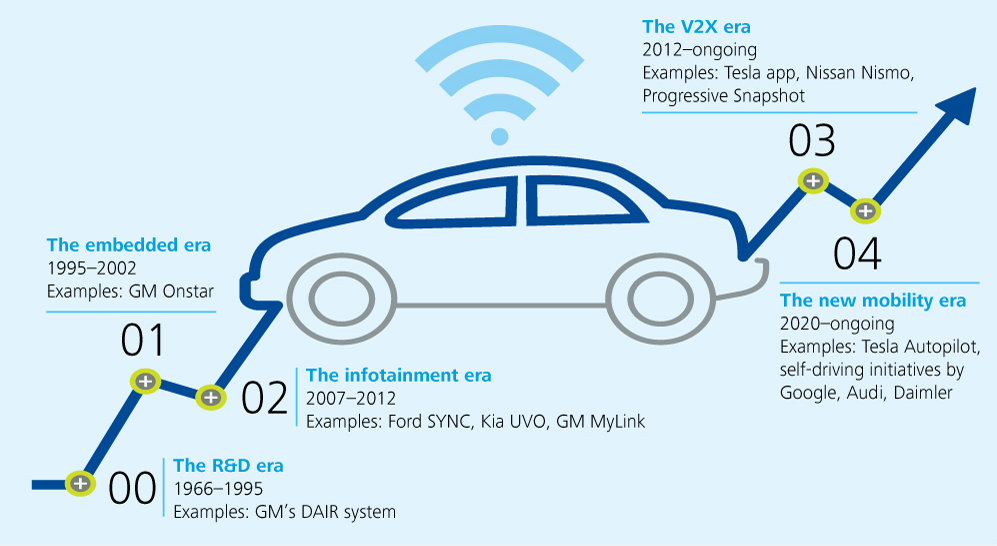 The eras of digital transformation for the connected car (Source)
Providing provenance for car parts
Earlier this year, over 500,000 counterfeit car parts were seized in a raid in Abu Dhabi. Valued at over $5.4 million, the fake parts were supposed to get shipped to Australia, placing lives there at risk.
When it comes to manufacturing and supply chains, having the ability to track provenance and being able to declare something as genuine is of high priority. In the automotive industry, fake parts will not only devalue the price of vehicles, but more importantly, will also compromise driver safety.
"We have large groups of importers bringing in what looks like genuine parts, but it's unknown if it's a genuine part. We don't know the source, we don't know where it comes from. A lot of these parts are used in the collision repair industry. The parts are bought through large importers, and we are concerned about our customers' safety." —Peter Gillam, Nissan
While law enforcement units do their job in the fight against counterfeiting, automobile manufacturers can take additional precautions to ensure that parts being used are genuine. By assigning unique RFID tags to each individual component and then registering this ID on a blockchain, provenance can be tracked during every step in a vehicle's life cycle from manufacturing to disposal and every time ownership changes.
In addition to preventing fraud, having the capacity to track parts enables more transparency in supply chains. The same RFID tag used to prove the authenticity of a car part can also be used to track its location as it moves along the supply chain. This improved transparency can enable manufacturing plants to streamline production operations.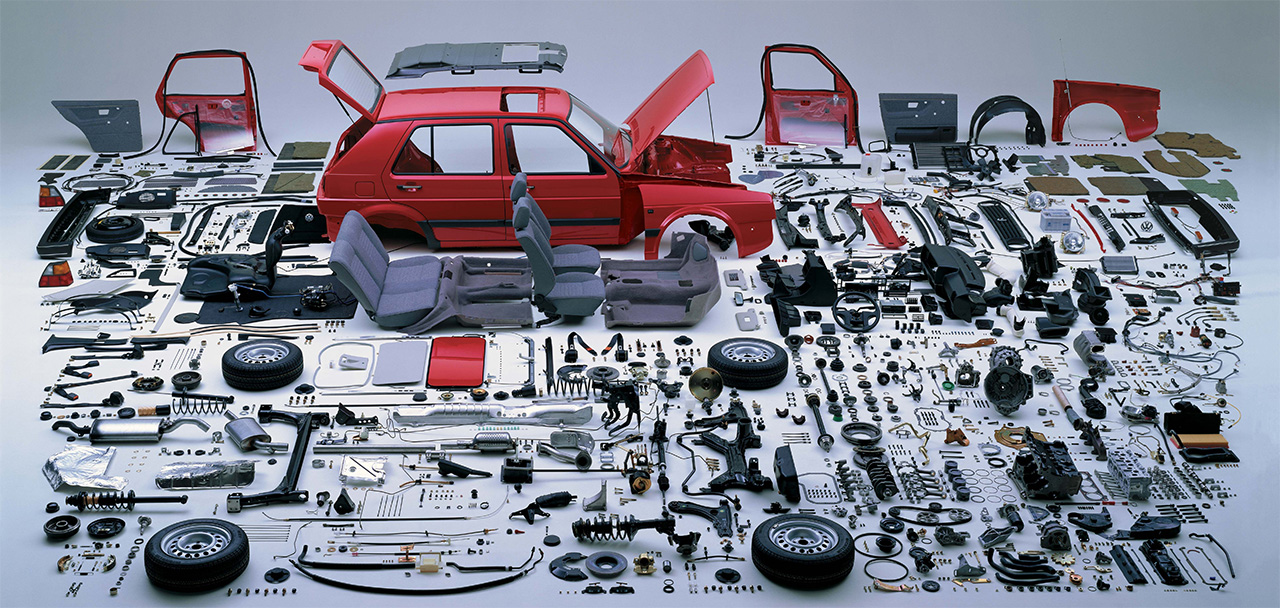 6,843 individual parts of the 1988 Volkswagen Golf Mk2 (Source)
Matthew Jones of IBM also highlights that using blockchain for tracking provenance can help to significantly cut expenses around recall activities. When a manufacturer identifies any car part as defective, the company should issue a recall to notify car owners that they need to turn a service center and check on it or replace it.
To understand where the defective part belongs, the manufacturer needs to check specific car models delivered within a particular production year. This can actually amount to thousands of vehicles, not all necessarily being stuffed with such a part. It results in disturbing thousands of car owners—with no actual need and extra money spent during the process. Blockchain may help to automate the process and enable a manufacturer to notify only relevant owners.
Protecting smart cars from hacks
In 2015, security researchers Charlie Miller and Chris Valasek demonstrated the vulnerability of smart cars against the Jeep Cherokee hack. Since then, the duo have published a collection of papers on car hacking and security.
As smart cars continue to develop, the number of IoT devices in the ecosystem also increases, potentially leaving more vulnerabilities open to attack. A recent paper—created by experts at CSIRO, University of New South Wales, and Virtual Vehicle Research Center—addresses car security using blockchain. The research suggests that smart car connectivity should adopt a decentralized model to avoid issues associated with a single point of failure.

Securely sharing data between manufacturers, software providers, and smart cars (Source)
The proposed architecture is based on the overlay network including smart vehicles, service centers, vehicle assembly lines, cloud storages, end-user devices, etc. The transactions on the public blockchain are verified by overlay block managers (OBM), falling into two categories:
A single-signature transaction. The members of a network can generate a transaction, which are then validated against the transaction generator's signature.
A multi-signature transaction. Within this scenario, two overlay node signatures are needed to validate a transaction. An OBM stores two lists of keys—updated by the members of a network—and then compares transaction keys against these lists. On receiving a multi-signature transaction, an overlay block manager decides whether the transaction should be sent to the members of its cluster, or gets forwarded to other OBMs instead.
In this manner, the system can securely exchange data between a vehicle, smart home, software vendors (enabling trusted updates), etc., as well as provide car owner privacy (such as location). Here, blockchain ensures proper access control, identity management, and data integrity.
Securing car apps
Today, there are thousands of car applications. These apps enable users to accomplish a multitude of things—including remote monitoring and management, car sharing, ride sharing, route sharing, and much more. Many of these rely on information that is gathered and shared by users.
In this case, storing data on a blockchain or developing decentralized apps can ensure data security and reliability through the technology's immutable and distributed nature.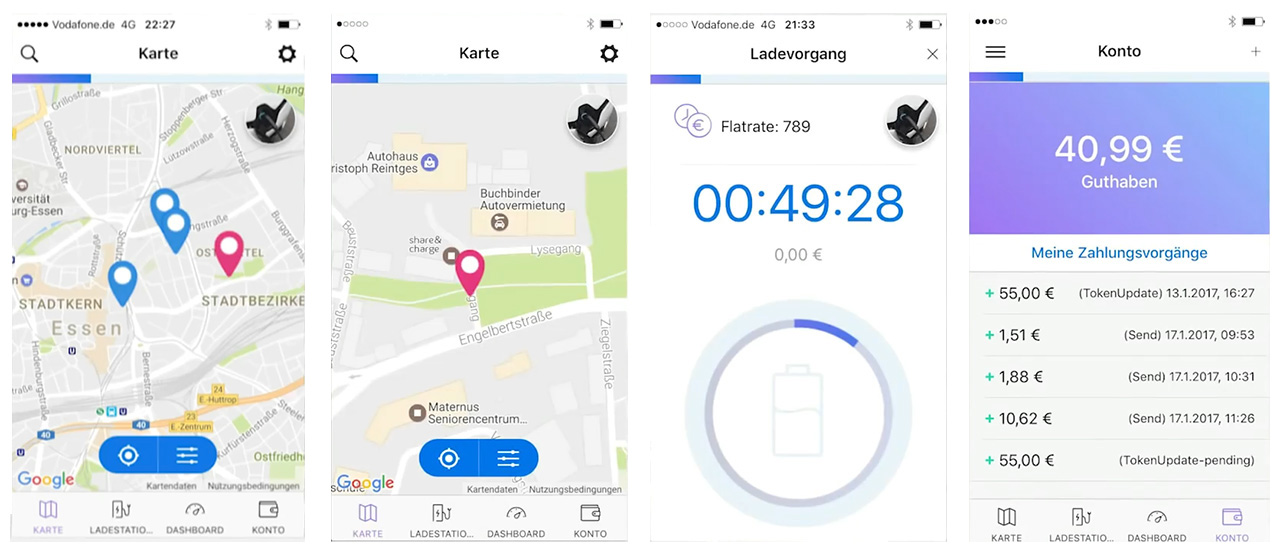 Shared car charging stations (Source: Share&Charge)
One app that has embraced both blockchain and electronic car technology is Share&Charge. The decentralized application enables users in Germany to share their private car charging stations and set their own rates for usage.
Accelerating autonomous driving
These days, many automotive manufacturers have a goal of developing fully automated cars. To accomplish this, it is necessary to utilize the IoT technology in and out of the vehicle in the form of cameras and sensors.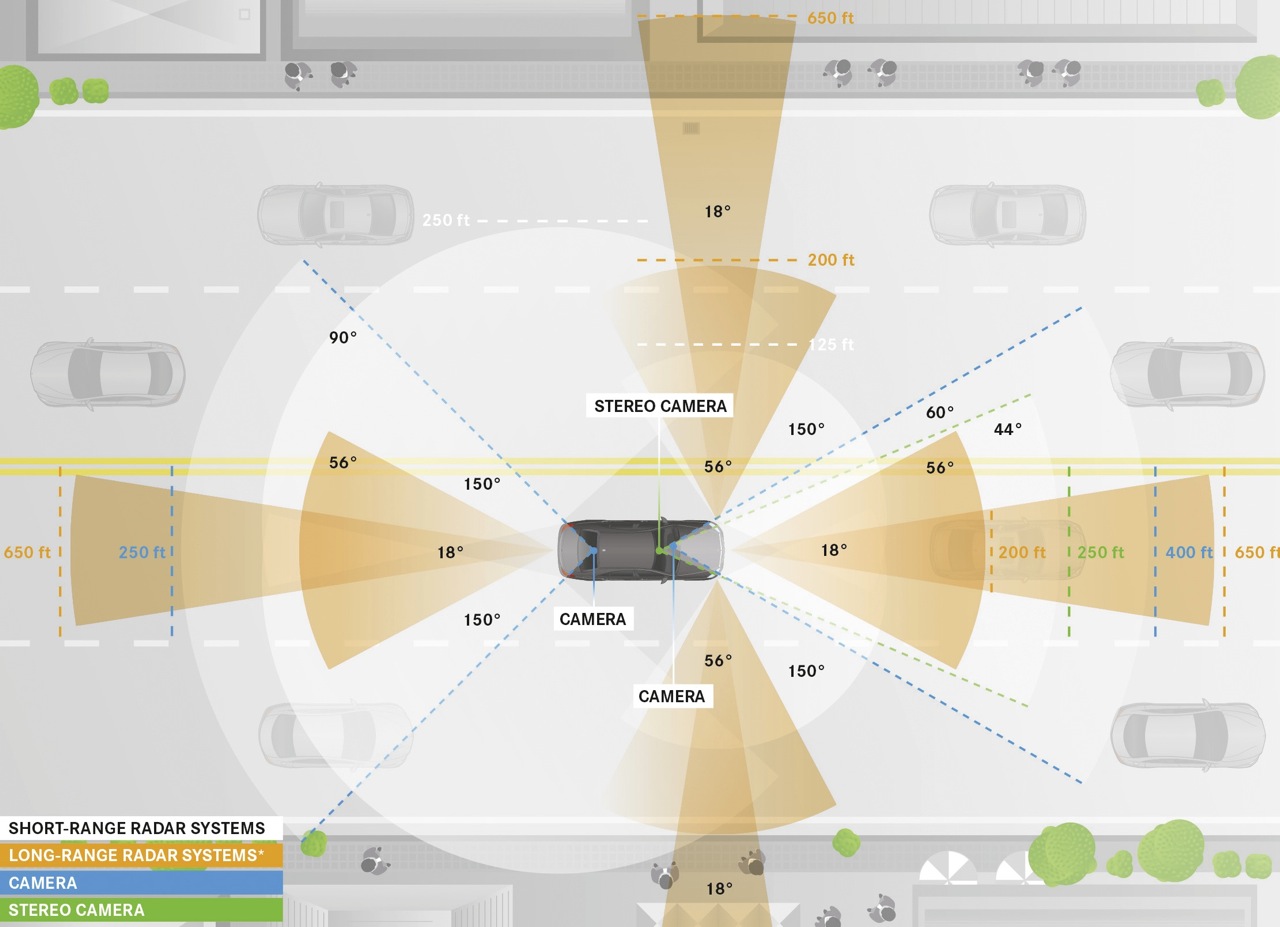 Multiple IoT devices capture data needed for automated driving (Source)
According to the Toyota Research Institute, it may be possible to speed up this development timeline with blockchain. By enabling multiple users to share information while driving, the amount of data needed can be gathered much more quickly.
"Hundreds of billions of miles of human driving data may be needed to develop safe and reliable autonomous vehicles. Blockchains and distributed ledgers may enable pooling data from vehicle owners, fleet managers, and manufacturers to shorten the time for reaching this goal, thereby bringing forward the safety, efficiency, and convenience benefits of the autonomous driving technology." —Chris Ballinger, Toyota Research Institute
The scenario is highly relevant, since the speed of processing this IoT data is extremely important for improving car safety. There are cases when seconds or even millisecond could save human lives.
Dynamic car insurance and financing
In a study published by Deloitte, the research company outlines how insurers can make use of blockchain to implement adaptive policies and to verify customer data. The same practice can be applied to the automotive industry.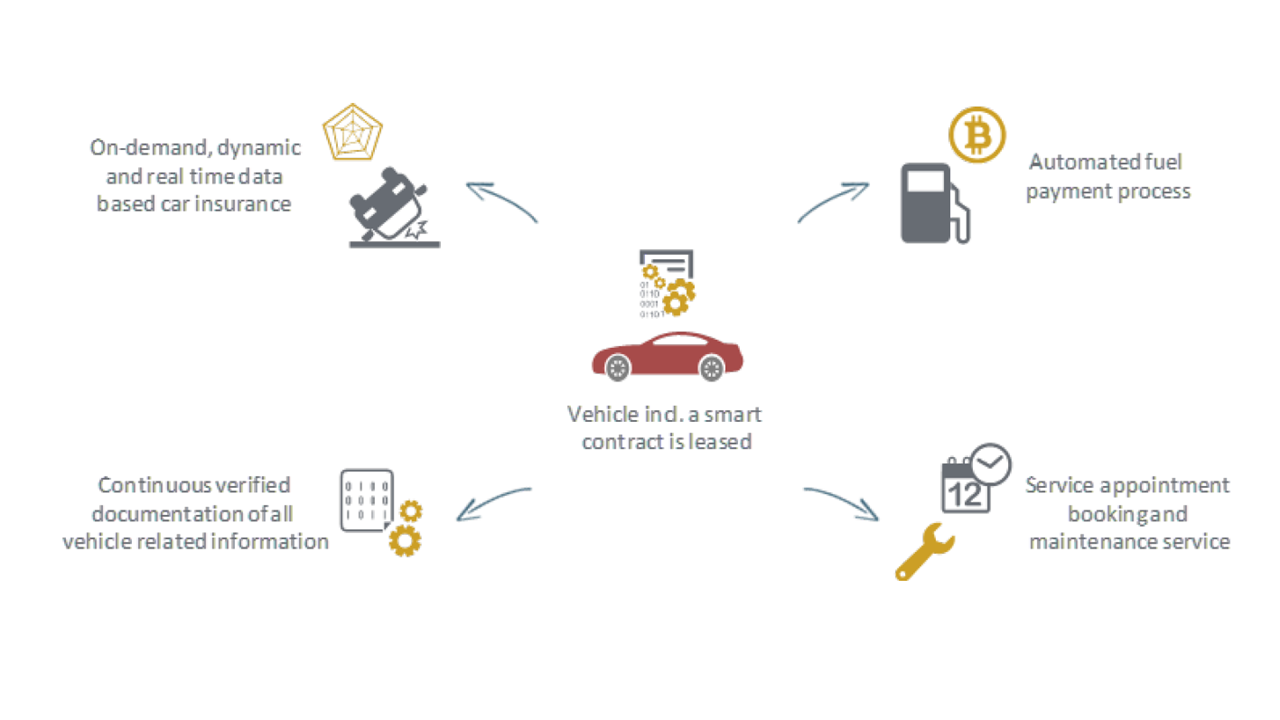 Car leasing life cycle events affected by blockchain (Source)
If data points relating to maintenance (mileage, impact alerts, service events, etc.) and driver behavior (age, number of car accidents, etc.) are written on the blockchain, it is almost unfeasible to change it. So, car insurers, leasers and financers can adopt a dynamic pricing model that reflects that reliable information. This also indirectly encourages vehicle owners to drive safer and to routinely have their cars checked.
More scenarios to come
Examples of the industry leviathans considering and adopting blockchain are already a few. For instance, Groupe Renault has recently teamed up with Microsoft to deliver a blockchain-based app saving all vehicle information to a streamlined, tamper-proof, and secure digital car maintenance book. At the same time, Porsche has announced a contest for startups to obtain external input on the disruptive potential of blockchain.
Who knows? If automotive manufacturers could share their research and work together, they could probably reach the goals described above even faster.
Further reading
---
The post is written by Carlo Gutierrez, edited by Sophie Turol and Alex Khizhniak.