Governments Can Improve Transparency and Data Reliability with Blockchain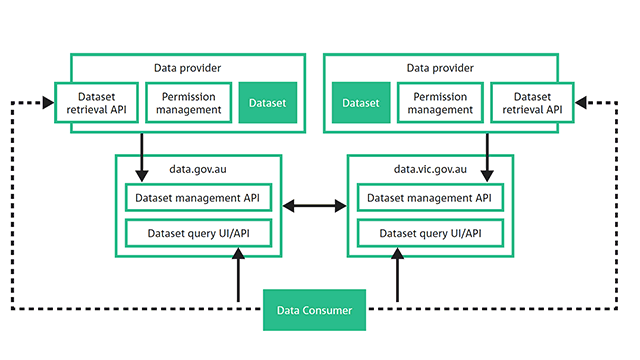 The blockchain technology is already responsible for digital transformation of multiple industries. What can it do for governments?
Blockchain in the public sector
Governments often provide open data—information that is publicly available—to its citizens. This can be government activities, such as payments and procurement, that have to be accessible to all for transparency purposes. It can also be information provided by government services like registries that collect and manage authoritative lists pertaining to certain types of information.
Governments usually have registries for the following:
a civil registry for recording significant events of a person's life (birth, marriage, and death)
a land registry for keeping track of land ownership
a registry of motor vehicles for administering and keeping record of automobile registrations
Aside from these registries, governments also provide open data through archives and databases. The Texas Department of Public Safety allows users to search for missing persons and individuals who have criminal records in the state. The National Oceanic and Atmospheric Administration provides access to historical weather and climate data.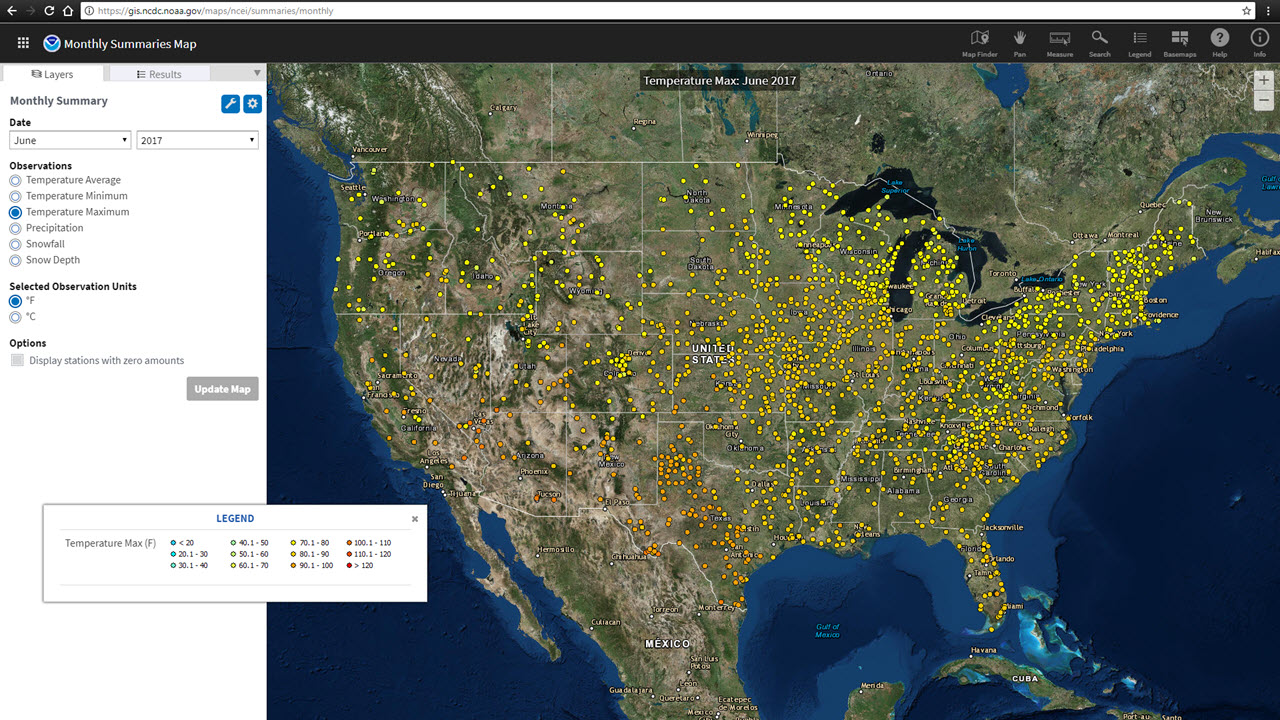 June climate data for the US (Source)
These government agencies aren't always reliable, because their data is usually stored in one place, so a single point of failure can crash the system. In some cases, you don't know how long it takes to get the information you requested.
In a recent study, Australia's Commonwealth Scientific and Industrial Research Organisation (CSIRO) explored the prospects of using blockchain by governments. Data61—a research unit within CSIRO—investigated into how the technology could help to manage the data of government agencies and make access faster and more reliable.
How blockchain can help
Based on the CSIRO's study, government bodies that implement blockchain can resolve some key issues:
Data integrity. Without a central authority keeping all the data, validating nodes in the blockchain have to agree on a universal truth.
High availability. Having data in a blockchain opens the architecture to redundancies, removing the risk of a single point of failure.
Interoperability. Data in a blockchain share infrastructure, so referencing data is made easier.
Reduced latencies. Blockchains can have local nodes, so data transfer is faster.
Ease of adding providers. In a public blockchain, providers are able to join the network independently.
In addition to improving open data availability, blockchain can help governments in providing more transparent voting, procurement, and other activities where intermediaries could be eliminated.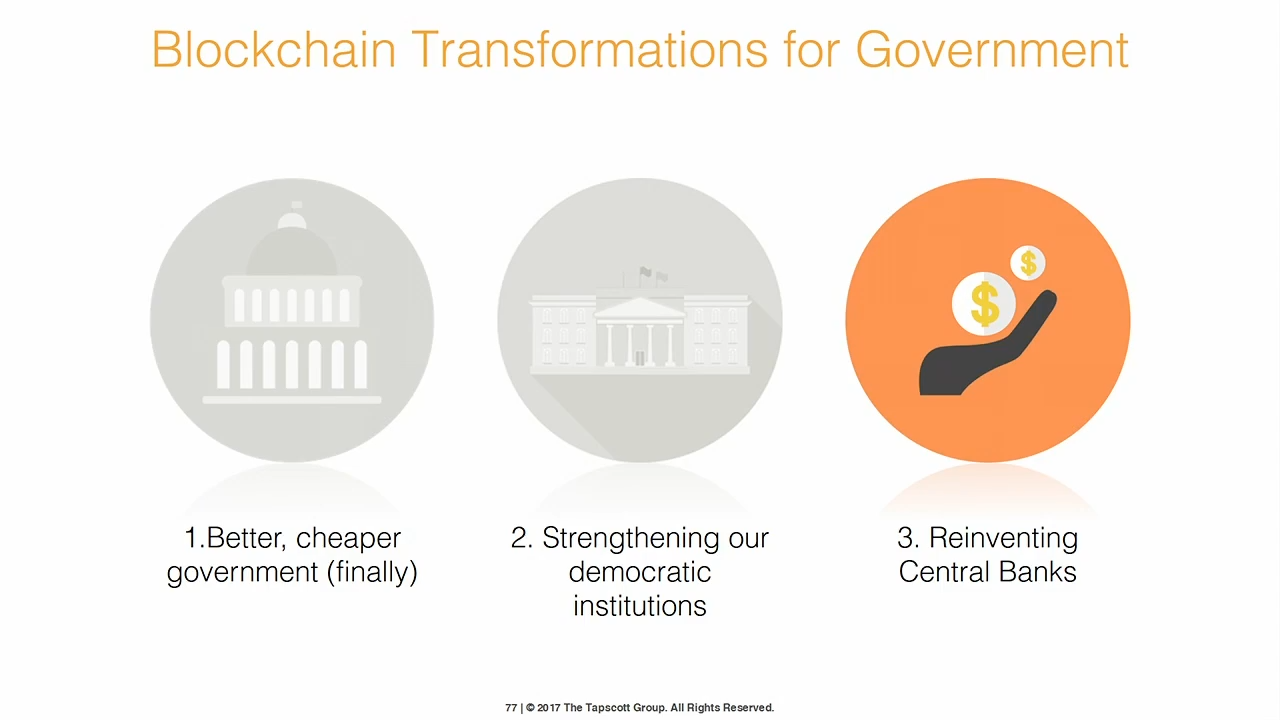 What else blockchain can do for governments (Source)
It is also important to note that there are some limitations as well:
Blockchain is not a silver bullet. The technology is not a solution for everything and should be used as a component for a much broader system.
Immutability. Transactions written in a blockchain cannot be deleted. Normally a positive characteristic, this can be an issue in scenarios when a court orders to remove some details on the blockchain.
Nevertheless, depending on a scenario, blockchain's immutability can turn into a positive trait. This is certainly true for industries that rely on supply chains, such as agriculture. In these cases, blockchain enables the tracking of provenance, assisting the customs and border authorities in enhancing biosecurity. Distributed ledgers can improve the ability to trace consignments and movements of plants and animals, thus mitigating the risks of pests, as well as animal and plant disease outbreaks.
Governments already using blockchain
Though there are still some hesitation associated with blockchain, there are already more than a few governments that have embraced the technology.

Estonia is perhaps at the forefront of blockchain development and adoption at the government level. The country's digital identity system is powered by Guardtime KSI Blockchain, which was developed in Estonia. Access to public services, healthcare, and financial services are tied to this blockchain-powered ID card.

Last year, Georgia became the first government to use blockchain to secure land titles, despite the risks usually associated with new technology. Earlier this year, they double downed on the blockchain initiative and expanded the project.

Lantmäteriet, Sweden's land registry, has just recently started using blockchain to record land ownership. As a result, real estate transactions have not only become faster and more efficient, but also transparent to the public.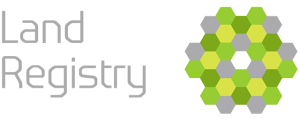 On that same note, Her Majesty's Land Registry in the UK has just released its annual report, revealing the possibility of using blockchain for digital transformation. Along with the technology, the agency will also explore how artificial intelligence can help to digitize the existing assets.

Ukraine's State Land Cadastre has adopted blockchain with plans for a land registry trial in October. With the technology, Ukraine intends to digitize all state land auctions to increase competition and transparency while mitigating the potential for corruption.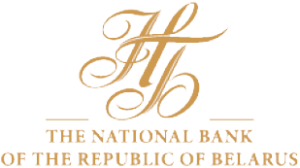 The National Bank of the Republic of Belarus has set up an information network based on blockchain. Currently, the central bank oversees the network and has successfully used it to issue guarantees. Moving forward, the bank plans to expand blockchain into the securities market.
Possible implementation for registries
To show how a blockchain-based approach changes an ecosystem, CSIRO referenced data.gov.au's existing architecture. With the current design, all of the data is managed by a single entity. Data consumers interact and retrieve data from providers through various web interfaces, while data sets of different agencies reference each other through metadata.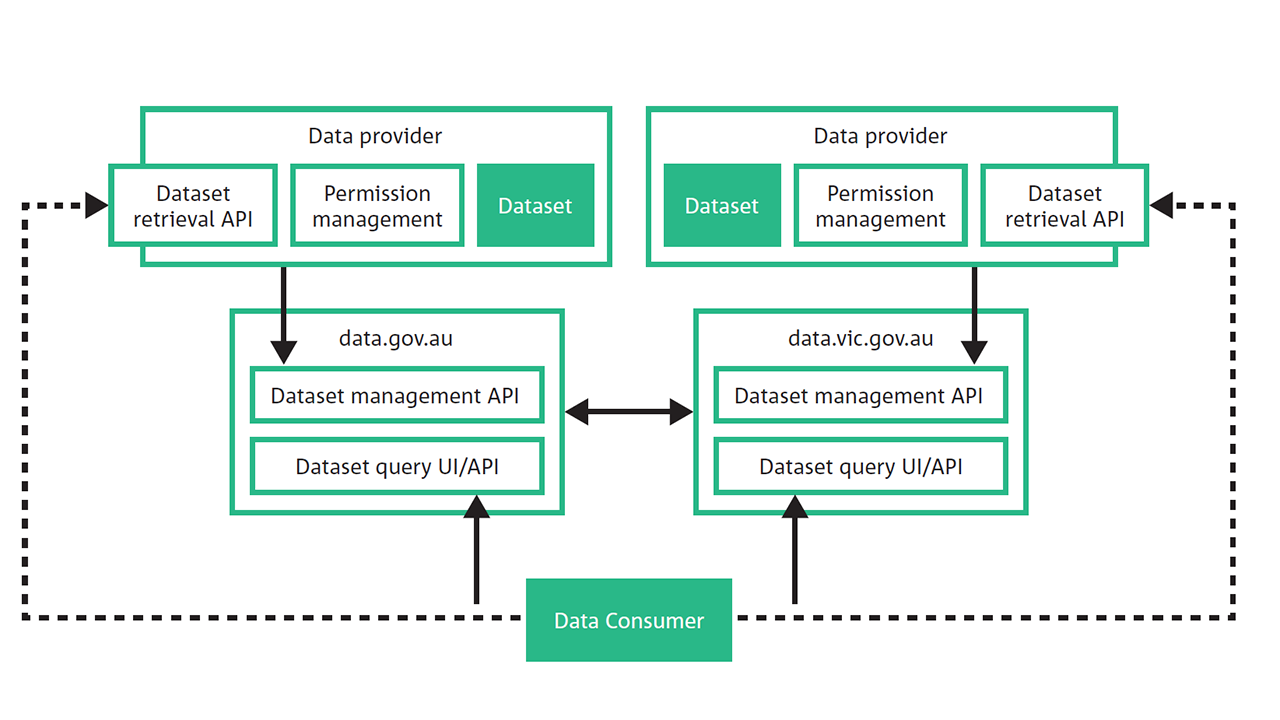 Conventional design for Australia's open data directories (Source)
The CSIRO's study came up with two blockchain implementations. The first design replaces the traditional back-end registry implementations with a private blockchain of data providers. Data consumers access data on a shared blockchain through a single web interface. Not all data has to be stored on the blockchain. Registries can have a separate database due to user restrictions.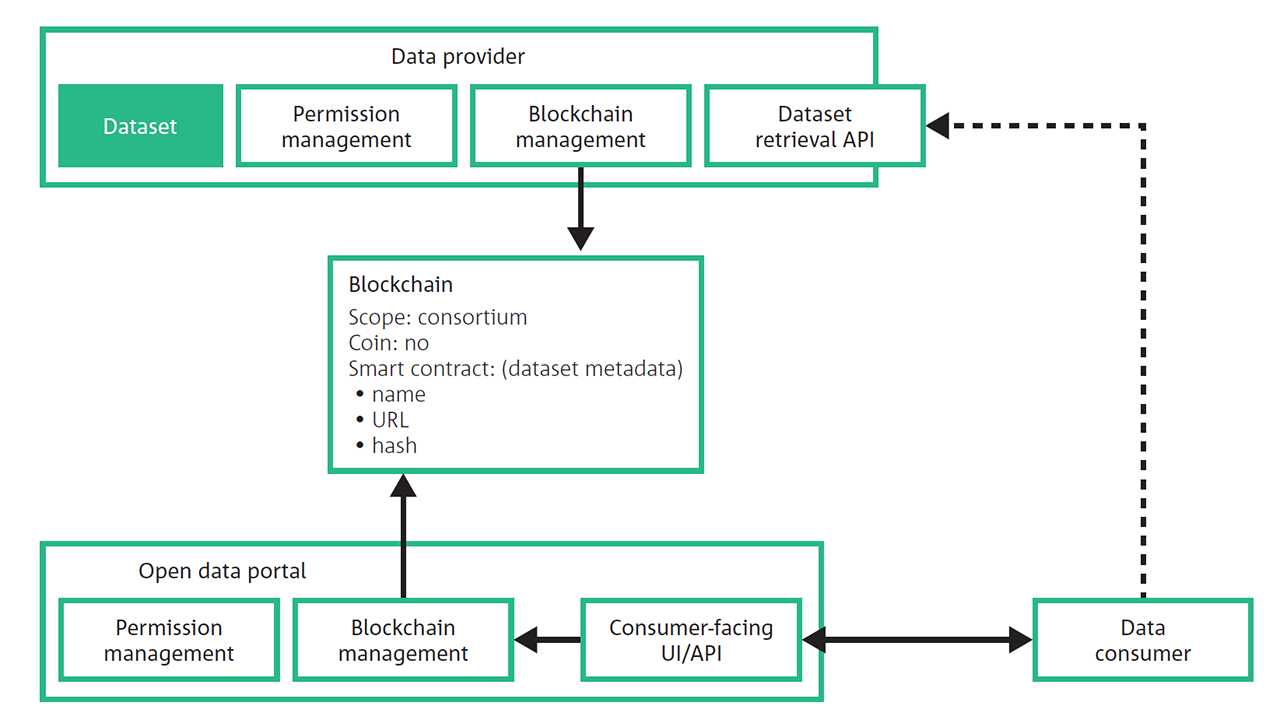 Design implementation using a private blockchain (Source)
The second blockchain approach makes use of a public blockchain. In this decentralized model, no single register has control of the blockchain. Data consumers interact with the blockchain directly, using decentralized apps (DApps). Data providers record metadata on the blockchain independently.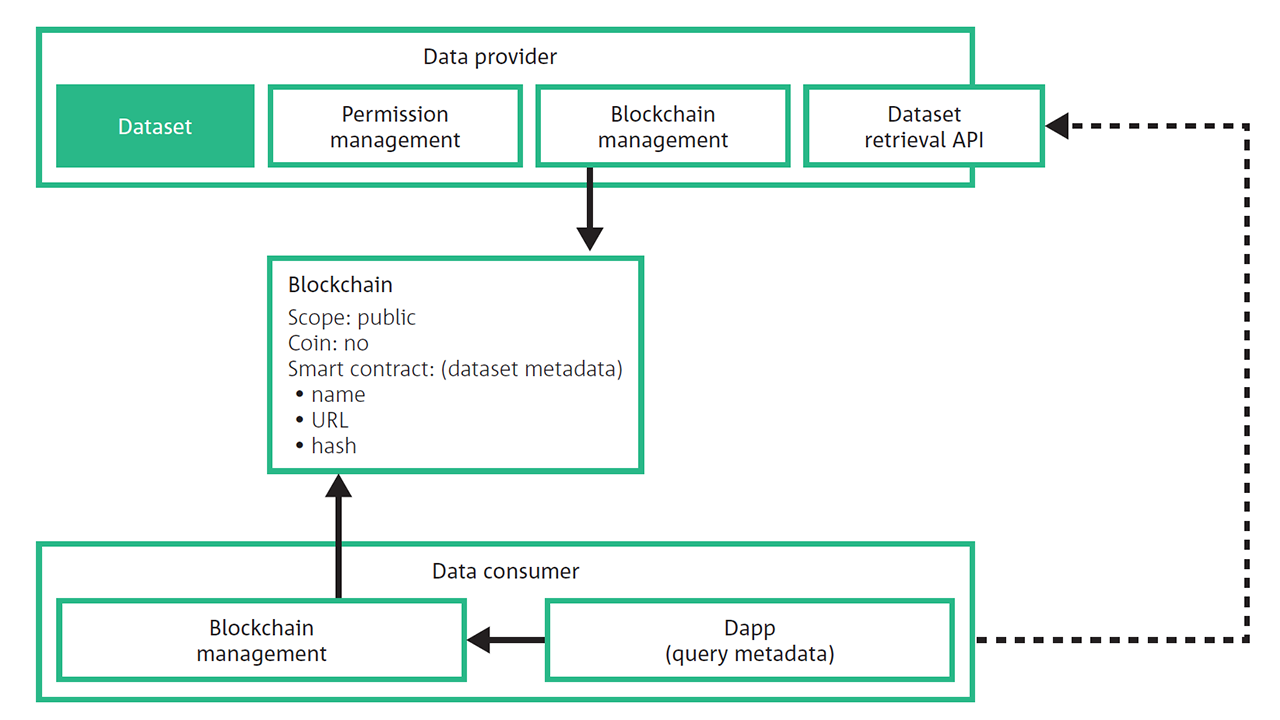 Design implementation using a public blockchain (Source)
Though the CSIRO's study considers blockchain as a nascent technology, the government agency believes it will have a role in Australia's future. With how much digital transformation blockchain has already caused in different sectors including financial institutions, that's a reasonably safe bet.
At the same time, the more governments will be adopting blockchain, the faster it will be expanding to other domains. The technology's potential is already being evaluated by the governments of France, Canada, UAE, and South Korea.
Related reading
---
The post is written by Carlo Gutierrez and edited by Alesia Bulanok and Alex Khizhniak.