Data Cleansing and Validation Using StrikeIron Services and Apatar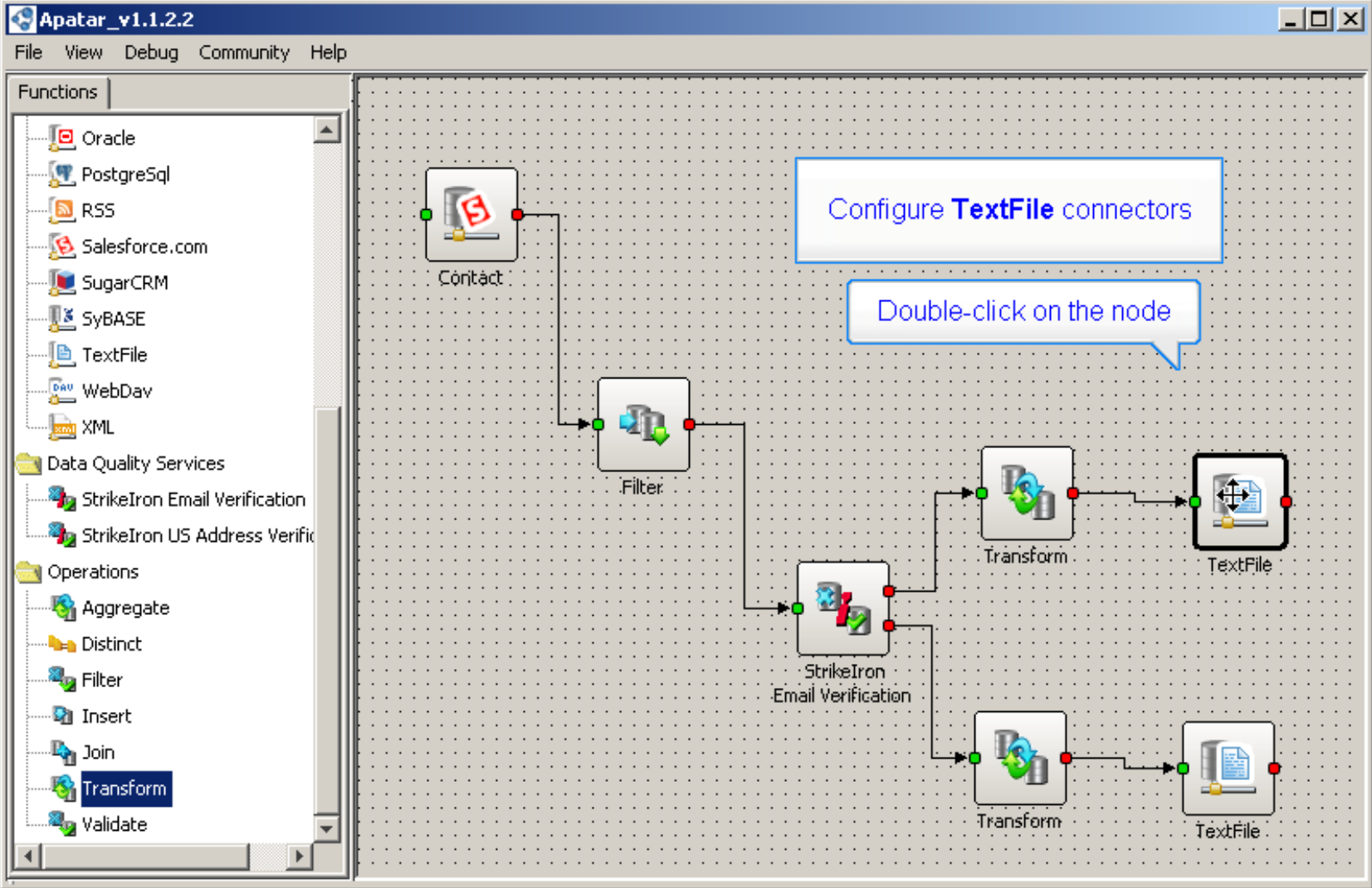 Two new data quality connectors will enable integration experts to automatically verify US addresses and e-mail accounts within their CRM/ERP systems.
The need for verified data
52 percent of organizations consider the "verification of data accuracy or completeness" to be one of the biggest customer data management challenges, according to Aberdeen Group research.
With an ever-increasing amount of customer information coming from various sources, you are sure to face data quality issues. Should you maintain a huge database of contacts and send notifications, sales offers and other documents to all of them? Isn't it way too time-consuming and cost-ineffective? Wouldn't it be smarter to check which contacts do have a potential of becoming your customers and whether they really exist at all?
It's obvious that data is the key player in business decision-making. Good clean data provides the platform for wise decisions, which put the company's profits onto an upward curve. Gartner estimates that Global 2000 companies will spend an average of $1.2 million on Customer Data Integration (CDI) in 2006–2008.
Maintaining the quality of data, however, is not always as simple as it seems. The techniques are many, but the effect from them doesn't always meet the expectations. That's where data cleansing technologies come in place. This kind of software filters the initial data, making it more precise, useable, and up-to-date. Techniques used in data cleansing, among others, include:
merging data
eliminating outdated information
matching and synchronizing records
converting data types and formats
data segmentation, etc.
When implementing these initiatives, an integrated approach is the key to success.
StrikeIron US Address Verification
An example that is often used in this regard is name and address data. Personal customer information is the quickest to get outdated and easiest to get wrong. Of course, there are directories and yellow pages that you can always check…but if you do it by hand each time you encounter a mistake, that's an impermissible luxury in that it takes way too much time.
That's pretty much the reason data quality services like StrikeIron emerged. They process personal data, verify it, and return a valid data set with all possible mistakes eliminated (e.g., misspellings, wrong street type extensions, city and state names, etc.).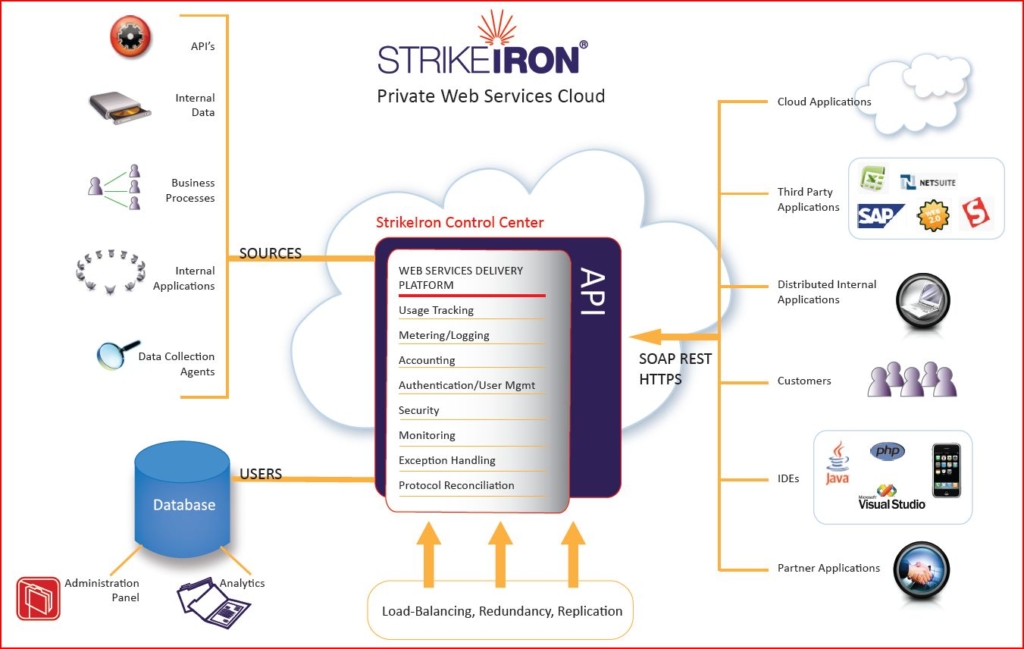 A private web services cloud built on top of StrikeIron (Image credit)
For instance, by employing sophisticated matching and data synchronization technology, StrikeIron US Address Verification first closely inspects each address to ensure its validity and then updates incorrect addresses according to postal standards. It inspects house/apartment numbers, street names/types/directions, and P.O. boxes to ensure the accuracy of each value. It also adds ZIP+4 data, specifying congressional districts, carrier routes, location latitude/longitude, etc.
This way, the service cleans customer data before it gets into CRM/ERP systems or databases, providing the means to validate any shipment address in advance to avoid costly returns and late delivery.
"Quality data is the life blood of all business processes," said Renat Khasanshyn, CEO and founder of Apatar. "Every organization depends on reliable customer information. However, too often, the quality of data doesn't keep pace with the development of business processes and doesn't live up to corporate requirements for effective, reliable, and controlled data. The StrikeIron US Address Verification connector can assist you in the process, creating a competitive working environment."

StrikeIron US Address Verification: sample input and output (Image credit)
A quick reminder: as a result of a recent partnership agreement with StrikeIron, Apatar released two connectors to StrikeIron's data quality services: StrikeIron US Address Verification connector and StrikeIron Email Verification connector. These data quality services from Apatar and StrikeIron ensure the validity of your data, increase productivity, improve sales strategies, and improve customer service by providing faster and more accurate responses.
The solutions can be used to verify both a single address and a large set of addresses in batch mode.
"Customer data is only useful when it is accurate," said Bob Brauer, President and CEO of StrikeIron. "Apatar's data integration software application combined with StrikeIron's web services brings a powerful set of capabilities to users wanting to access the highest quality of data in all of their applications."
StrikeIron Email Verification
Another service, StrikeIron Email Verification, enables users to instantly determine the validity of an e-mail address or a domain. It reduces spam by blocking e-mails sent from invalid addresses and ensures that account's addresses are validated before they are entered into a database or before a mailing is sent.
The new data quality connectors were created as a result of a partnership agreement with StrikeIron, Inc., signed in November 2007.
"The Email Verification web service reduces the time wasted on processing bad leads," said Bob Brauer, CEO and President of StrikeIron. "Delivered directly into the intuitive Apatar application, the StrikeIron Email Verification connector enables users to easily integrate customer data with corporate CRM/ERP applications, websites, databases, files, and interactive services without custom coding."
In real time, StrikeIron Email Verification connects to the prospect's SMTP server to validate an address without actually sending a letter. This lowers the marketing costs associated with nonexistent e-mail addresses and reduces overall server bandwidth.

StrikeIron Email Verification: sample input and output (Image credit)
"Business users are starving for reliable customer information," said Renat Khasanshyn, CEO and founder of Apatar. "E-mail verification will allow filtering contacts before they enter your on-premises or on-demand CRM/ERP system, such as Salesforce.com or SugarCRM. Having customer data clean and consistent will help marketing and sales departments improve decision-making and consolidate their efforts on the most promising prospects."
Data cleansing tools of this sort are indispensible in business today. They enable companies to increase productivity, improve sales strategies, and deliver a better and more accurate customer service. Address and e-mail verification ensure enhanced data quality, which results in more efficient marketing and advertising, and, eventually, increases your revenue.
Here's a demo of using the StrikeIron Email Verification service with Apatar. You may also check out the Salesforce.com–StrikeIron mashup, which won the Business Mashup Challenge last year.
Further reading
---
The post is written by Alex Khizhniak and Alena Semeshko.
---
Note: In this article, you may find both spellings, "e-mail" and "email,"
since the latter is used by StrikeIron within its services,
while the former is recommended by our style guides.