Improving Customer Data Quality with CDYNE Services and Apatar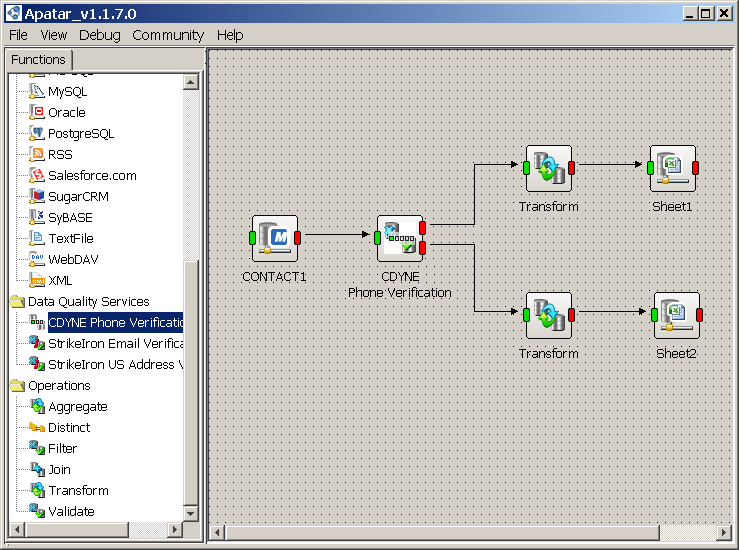 Three new connectors enable CRM users to add missing demographics data to your customer databases and verify contact details such as phone numbers.
Customer data hygiene as a B2B priority
Over half of B2B marketers plan to put more resources against creating marketing databases, cleaning up customer data, improving sales force automation and CRM integration, according to Forrester Research in its "B2B CMO Investment Priorities for 2008" report. The reason is that there's been a growth in user-generated content lately, and companies have loads of customer information scattered all over different resources.
Very often, it's next to impossible to have it all in one place and look at it from a bird's eye view. In many cases, the information is incomplete, missing the most critical details, or redundant.
"Marketers we interviewed agreed that more comprehensive customer data help them address prospects directly, understand specifically how they buy and more accurately measure marketing's impact on business," noted Laura Ramos (VP, Principal Analyst, at Forrester Research) in a recent interview.
To address the issues marketers face today, Apatar and CDYNE have delivered three data quality connectors aimed at helping marketers clear up and enhance customer information. Read on to learn what kind of missing or inaccurate information these connectors can help to improve.
CDYNE Demographics
There is a number of services like CDYNE Demographics, which gather statistical data on your customers and provide you with a whole set of information that you can use in your marketing. You don't need to look for that data in different web sources, imroving your customer profiling, personalization, telemarketing, and cross-selling on the go. If tools like that are used wisely and integrated into your CRM, this unstructured data can become a global value for your company's growth.
This integration is now possible with the CDYNE Demographics connector for the Apatar Open Source Data Integration toolset. The new connector delivers statistical data about customers and enables organizations to identify the ethnic and socioeconomic makeup of their current customer base or purchased marketing lists. In addition, the connector can be used with any contacts database to determine age, race, income, as well as type of residence, median income, median house value, or median number of vehicles—all without coding.
"By appending demographic information to contact lists, you can determine when and where advertising should be placed to achieve maximum results," said William Chenoweth, VP Director of Marketing, CDYNE Corporation. "Using Apatar's new data quality service, statistical data from CDYNE Demographics can be integrated with your customer database to determine the statistical characteristics of your contacts. It is imperative that an advertiser has the tools to get the most results for their money."
Whether you need to build customized marketing campaigns and determine ethnic or socioeconomic information, this new data quality service from Apatar and CDYNE can be used to tweak your product offerings or advertising messages to reach your desired target market. Non-profit organizations or companies relying on donor support can use this data to match other groups or geographic areas to these traits in order to expand membership base and increase donations and support.
The CDYNE Demographics web service can help companies better select target groups and learn more about their customers. The connector is a perfect fit for data modeling, as well as for direct and online marketing.
"For a business, efficient and profitable marketing campaigns are determined by the quality of customer data," said Renat Khasanshyn, CEO and founder of Apatar. "The CDYNE Demographics web service can help companies better select target groups and learn more about their customers. With Apatar's visual drag-and-drop interface, this source of useful socioeconomic information can be integrated with your database or CRM system in minutes."
CDYNE Death Index
Have you just issued credit to a dead man? According to CIFAS, impersonation of the dead is the fastest growing identity theft crime. Whether your business offers credit or relies on Social Security numbers to verify incoming payments, another CDYNE's data quality service enables you to implement fraud control. The service instantly checks the Social Security number and notifies you if the customer is deceased, providing information about the date of death, date of birth, and zip code of last known residence. All of the information cross-references with CDYNE's Death Index master file, which is updated directly from the U.S. Social Security Administration once a month.
By having up-to-date customer data, companies can also prevent embarrassing sales and marketing calls or mailings to the recently departed. The Direct Marketing Association estimates 22 million items of direct mail are sent to dead people each year. Verifying and cleansing customer information, Apatar's CDYNE Death Index connector can prevent companies from losing thousands of dollars to credit fraud or delivering goods and services to individuals who no longer exist.
"CDYNE's Death Index web service is widely used by credit and collections companies, attorneys, and other service providers to scrub and flag accounts, which have recently deceased. With this web service, you can implement fast and easy fraud control or make sure you file your estate claims promptly and accurately. This simple, but effective, solution has saved companies millions of dollars in fraudulent transactions." —William Chenoweth, VP Director of Marketing, CDYNE Corporation
Using the CDYNE Death Index service, Apatar eliminates the possibility to use a deceased person's identification. The data integration toolset checks the legitimacy of social security numbers extracted from corporate apps (such as Salesforce.com and SugarCRM) or databases (MySQL, Microsoft Access, Oracle, etc.) and allows for this data to be filtered or cleansed.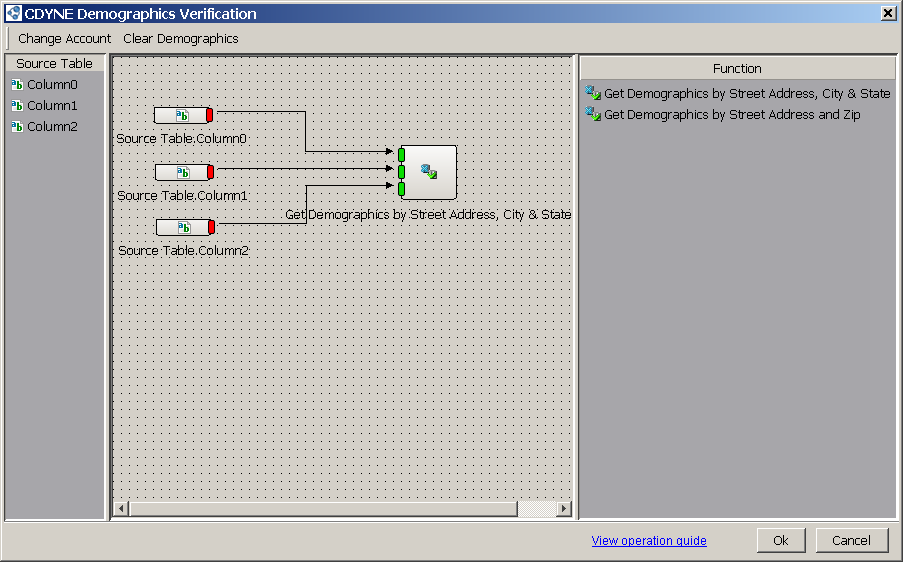 Configuring the CDYNE Demographics connector
CDYNE Phone Verification
The combination of contact data from many sources introduces myriad opportunities for error. There is the bulk of databases with data entered at different periods of time, and you have to trust that all of it is correct and still up-to-date. However, humans are prone to error, right? Because the records in each database were entered by different people, each person may have introduced typos, placed data in an incorrect field or used different conventions for addresses, phone numbers, and abbreviations.
Checking the validity by the hit-and-miss method can be inefficient. Already tired of dialing from your CRM and hearing that you've got the wrong number? Well, you don't really have to anymore. The new CDYNE Phone Verification connector from Apatar can automatically verify and filter customer phone numbers before they enter CRM applications. It doesn't matter where your data came from, whether it's databases (such as MySQL, Microsoft SQL, Oracle), files (Microsoft Excel spreadsheets, CSV/TXT files), applications (Salesforce.com, SugarCRM), or top Web 2.0 destinations (Flickr, Amazon S3, RSS feeds, etc.).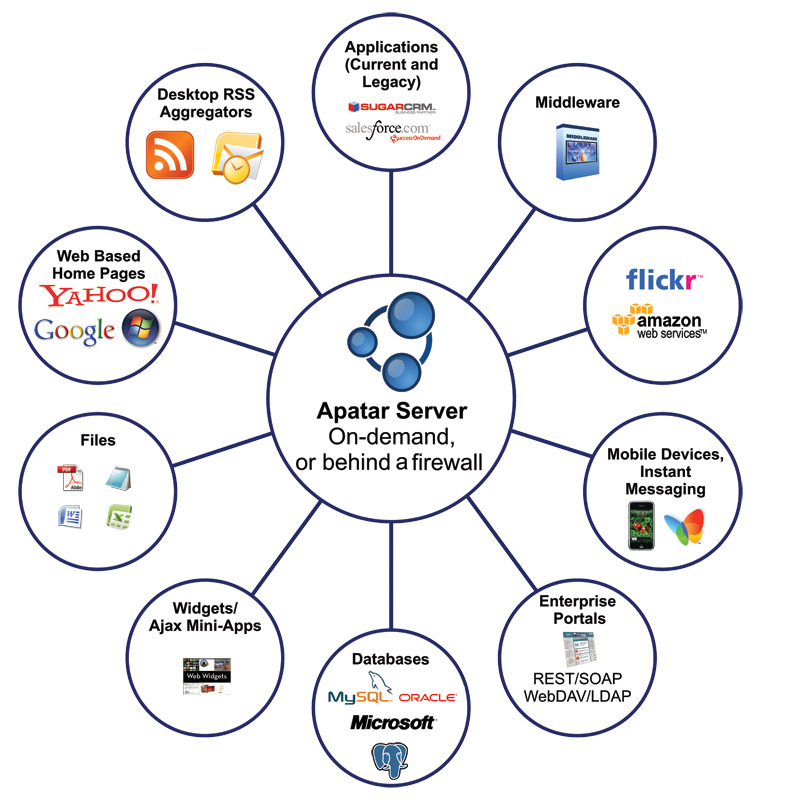 Apatar: combining multiple data sources
"Data management is one of those thankless but necessary jobs. Data degrades, gets dirty, or becomes obsolete. This new Apatar Connector provides customers the ability to automate their every day data management duties with scheduling features and visual drag-and-drop interface. The more automated the data cleansing process, the less expensive and more consistent the end result will be for your company." —William Chenoweth, VP Director of Marketing, CDYNE Corporation
Whether you need to assure your customer data is healthy or your marketing contact data is reliable, this new Phone Verification Connector from Apatar and CDYNE enables quick and accurate verification and correction of the area code and prefix portions of U.S. and Canadian telephone numbers. This service identifies the phone numbers in your list that have new area codes following a NANPA split and replaces incorrect area codes. If the area code is incorrect or missing, Phone Verification can be used to identify the error or return the corrected one to update your data.
Data integration with demographics-focused solutions and phone verification software ensures enhanced data quality, which may result in better customer service, more effective marketing and advertising, and, eventually, increased revenues.
"It's obvious that data is the key player in business decision-making," said Renat Khasanshyn, CEO and founder of Apatar. "The new connector provides companies with clean data, identifies land line and cellular numbers instantly, and provides carrier information making this service a must for telemarketing companies."
Check out this tutorial for more.
Further reading
---
The post is written by Alena Semeshko and Alex Khizhniak.