Cloud Foundry Summit Europe 2016 Begins with Special Interest Groups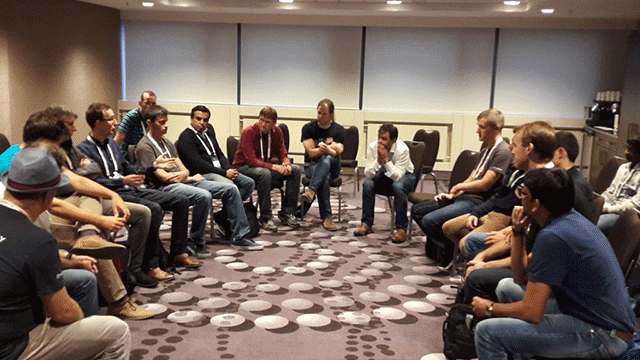 A combined Special Interest Group (SIG), a meeting of ISVs, and a late-day unconference highlighted the gathering, which is expected to draw 600+ Cloud Foundry developers and operators over three days.
The Unconference | Day 1 | Day 2 | Top 100 Quotes
Activity was brisk on the opening day of the Cloud Foundry Summit Europe 2016, being held in Frankfurt, Germany. The combined SIG meeting led by Abby Kearns comprised members of separate IoT, Service Provider, and Financial Services groups.
Standing room only at the #cloudfoundry unconference! pic.twitter.com/l4sRvF7Irn

— Stormy (@storming) September 26, 2016
In a city that is often referred to as "Bankfurt," an emphasis on financial services was no surprise. Members from the US-based company Fidelity, for example, noted how the firm has been using Cloud Foundry for many years.
Major announcements
As the unconference day of Summit Europe kicked off, a number of community announcements were made. Firstly, five more members are now a part of the Foundation: Bosch, Acetti Software, Comcast, Hexad, and QiO. As for the Foundation residents, SAP has opened the first Dojo in Germany in Walldorf.
And good news for enterprises, which now can enjoy a multi-cloud, serverless experience—as Iron.io now supports Diego for workloads on Cloud Foundry. Favoring all things education, the Foundation also launches summit-style Cloud Foundry Days across the Asia-Pacific region.
Altoros joined the newsmakers' crowd and introduced a Cloud Foundry CLI plugin for managing Predix Analytics Catalog.
To learn more about the announcements delivered, read the overview posted by the Cloud Foundry Foundation.
Here comes the Industrial Internet and the IoT
However, demonstrating the raison d'etre for the combined meeting, the Cloud Foundry Foundation's newest member, QiO, is a UK-based company focused on industrial agility in the "Industry 4.0" era. The company provides "anticipatory intelligence at a systemic scale through the fluent digitalization of design, manufacturing, operations, and supply chain."
Company Security Director Scott Taggart said "Cloud Foundry is a key part of our strategy. We (in fact) have a cloud-agnostic, cloud-native approach." The end result of the company's mission is, of course, more efficient operations and opportunities for new revenues for its customers.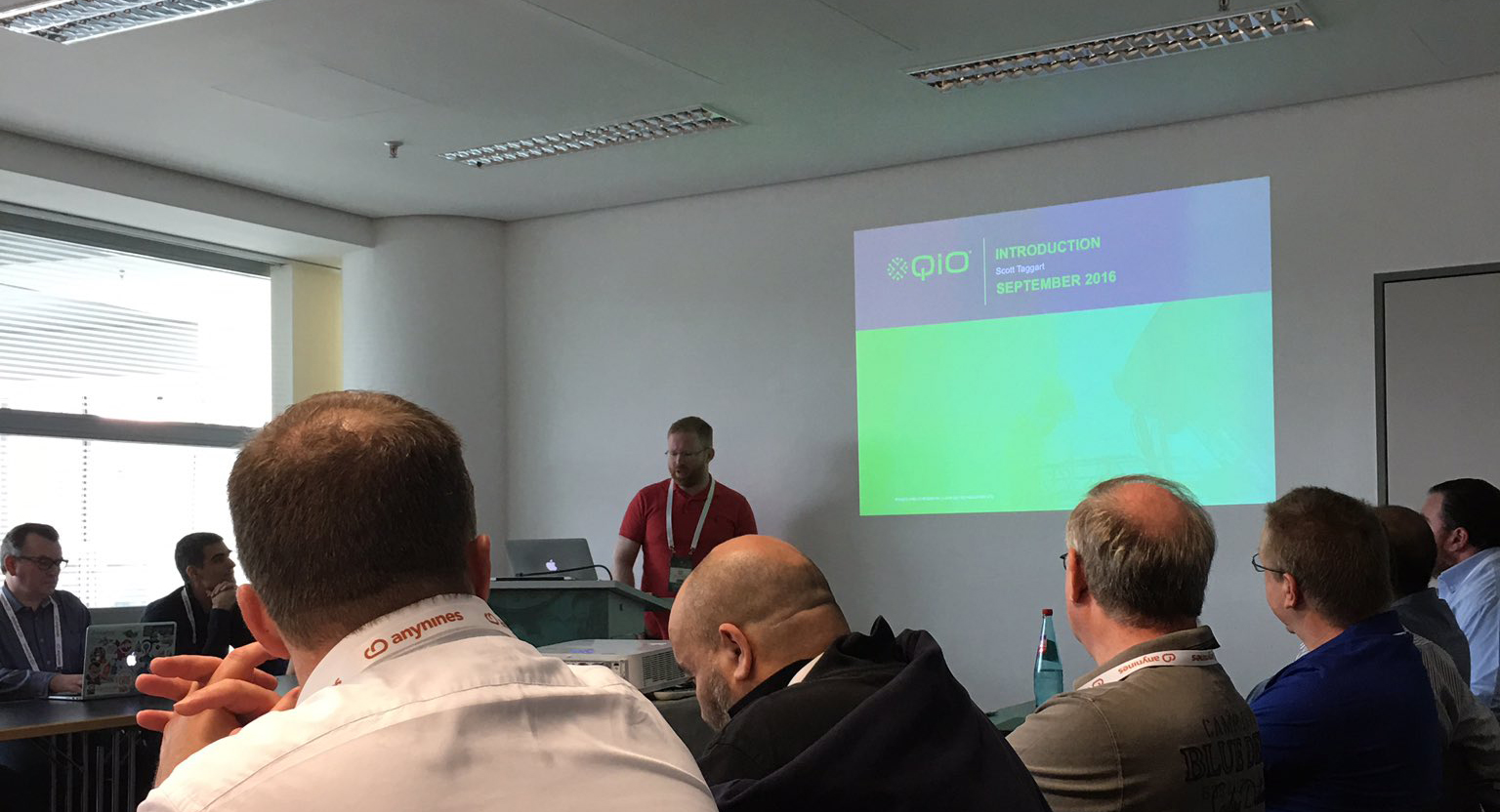 The Internet of Things (IoT) and the data analytics IoT deployments are part and parcel of this new industrial revolution, according to QiO, while noting there is a very large number of device types, data formats, and standards discussions. The company is taking an open approach to these challenges, saying it "is very big on open source and using 70 different technologies" in its initiatives.
"There is no single architecture for IoT. It is all about piecing things together."
—Scott Taggart, QiO
Docker running atop Cloud Foundry is in the mix, and the company is doing some work with blockchain technologies. "We use blockchain by signing and verifying every other message from the end device," says Scott.
Open platforms and foundations
Speaking of open source, Eclipse Foundation Executive Director Mike Milinkovich spoke of current IoT-focused efforts to interact with the physical world and collect, exchange, and analyze data; and to bridge the physical world to the Internet via TCP, UDP, and MQTT. He noted that "devices should be as cheap as possible (albeit) very specialized" and cited regulatory environments, particularly in Europe, as potential traps for successful deployments.
Mike presented Eclipse IoT, "an open open source community aimed at building and promoting open source software and open collaboration models needed to create an Open Internet of Things."
According to Mike, the Eclipse IoT community already numbers:
2.2 million lines of code
26 projects
170+ developers
110K monthly visitors
One of the active Eclipse IoT users is Bosch, a newly added European member of the Cloud Foundry Foundation. The company also participates in the Eclipse Foundation and recently announced its Bosch IoT Suite—available as a PaaS.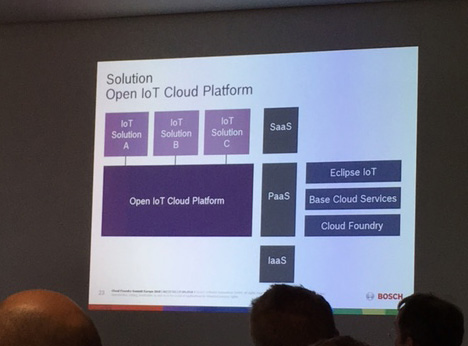 Meanwhile, meeting attendees from Germany noted the increasing deployments of the Internet of Things (IoT) in their country, with Cloud Foundry serving as the platform.
Some technical discussion ensued, focused on topics, such as the need for Cloud Foundry's TCP route to support port sharing, missing UDP support, better integration with services, and container networking.
In essence, the good news is that enterprises in Europe are taking Cloud Foundry seriously, but a tremendous amount of new work needs to be done to match developer expectations.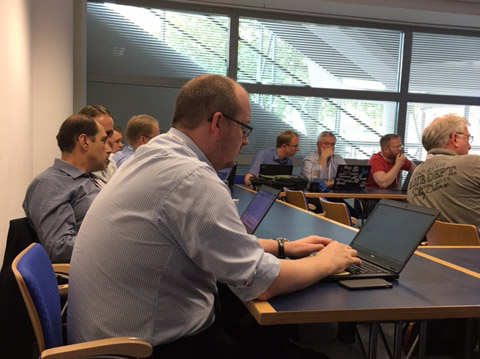 Time to work harder
The ISV meeting had 23 companies in attendance, with some questions focused on to what degree Cloud Foundry offers opportunities for the service market. There was also talk of Cloud Foundry versus Kubernetes, a pesky topic for the Cloud Foundry community that is only going to get more pesky.
Certification for ISVs was brought up as "the most tangible" form of support (and reward), but discussion pointed out the need for a list of certified providers (assuming everyone agrees on what certification specifically entails) and cross-Cloud Foundry compatibility lists.
There's a lot going on in that last sentence, so those in attendance at this meeting proposed having future, monthly (if sometimes virtual) meetings to push (so to speak) things forward.
A lot of insightful things could be heard during a workshop organized by Pivotal and Dell EMC.
"Without DevOps things get thrown over the wall between teams…including blame."
—Matt Jeffries, Pivotal
Lively panels included Ian Andrews, Brian Gallagher, Scott Monson, and others.
"Right now, organizations are deciding what the platform looks like to run their cloud-native apps for the next 15 years." —Ian Andrews, Pivotal
This one-minute video shot in the afternoon shares the latest updates from the DELL EMC team and highlights their plans for the summit. "It's all about adrenalin and caffeine."
Lightning talks and evening discussions
The unconference gathered a full house with five lightning talks delivered. Eric Johnson and Evan Brown of Google overviewed the latest updates made on Google BOSH CPI.
Amazing work by @evandbrown and @erjohnso on @googlecloud BOSH CPI! pic.twitter.com/h0IOtY96az

— Ferran Rodenas (@ferdy) September 26, 2016
From the talk by Colin Humphreys of Pivotal, the attendees could learn what Cloud Foundry has to do with nuclear warheads. According to him, even Cloud Foundry cannot be saved from disasters sometimes. So, he called out for keeping Cloud Foundry HA architecture simple.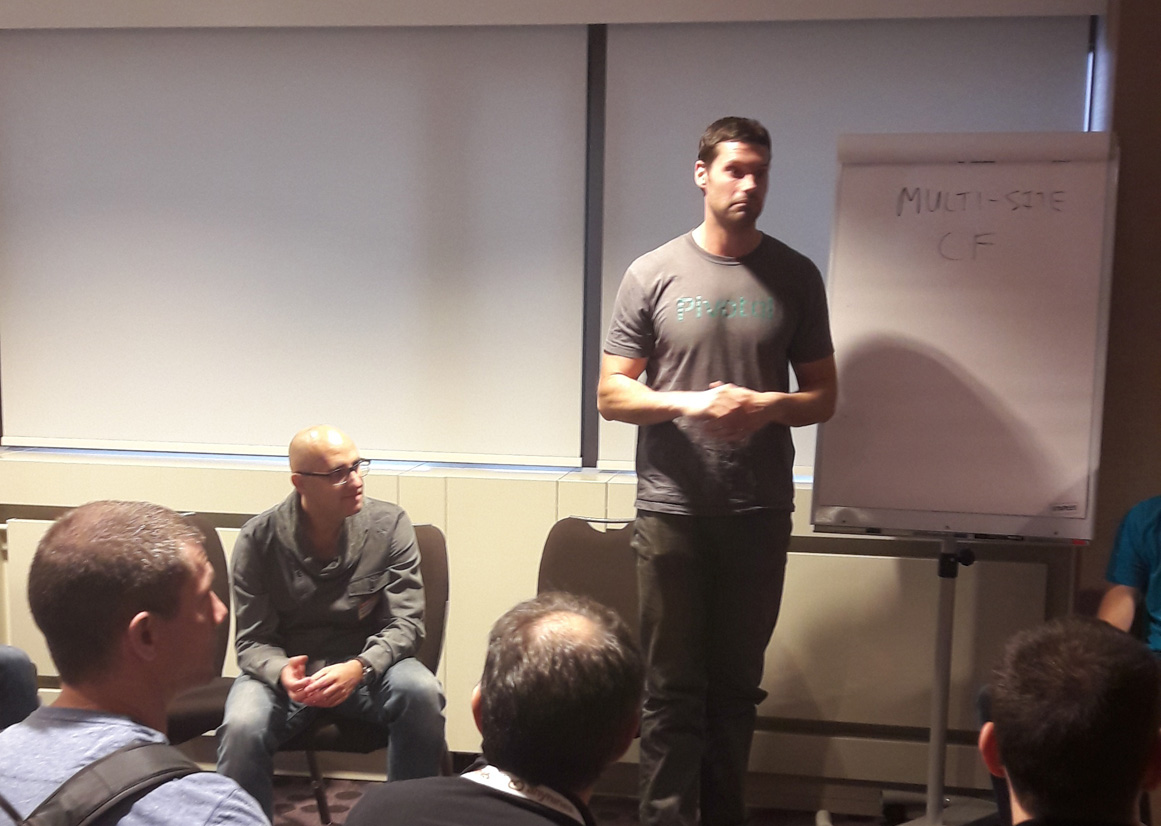 Julian Fischer of Anynines confined his thoughts on shared and dedicated data service instances. Michal Maczka of Swisscom talked about steam pumps and smart watches. One more talk was delivered by Amarkuni.
At the breakout discussions, the attendees talked about the challenges businesses face when trying to adopt Cloud Foundry (push-backs and ways out), multi-site strategies, serverless architectures, etc. For many of the attendees, it was nice to get together with old friends and the awesome community that Cloud Foundry is.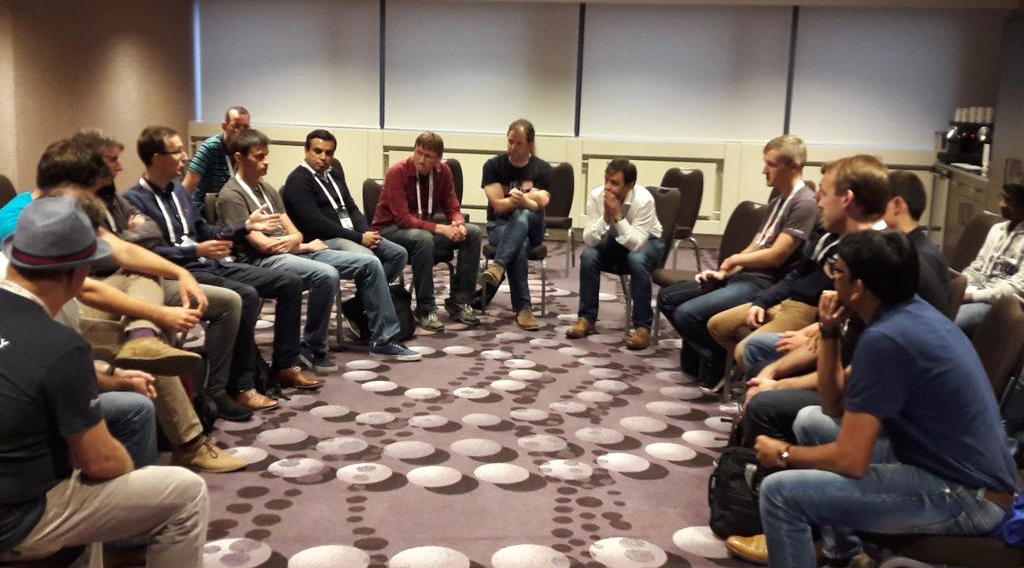 Other CF Summit recaps:
---
This recap is written by Roger Strukhoff, Alex Khizhnyak, Carlo Gutierrez, and Sophie Turol
with assistance from Igor Aksinin.