A Panel: How Soon Will We See Blockchain in Finance?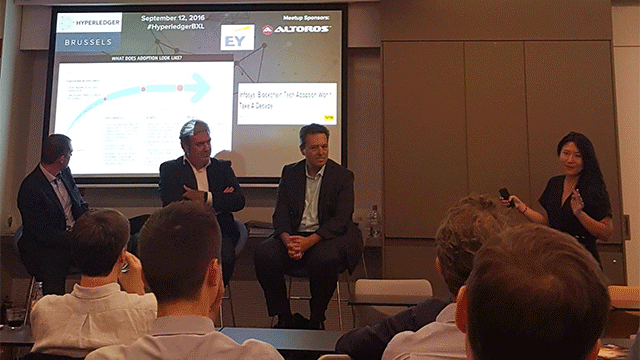 Is there a timeline for the adoption of blockchain in finance? Where does blockchain provide value? What are the issues in adoption? What about regulations?
Held in Brussels, a recent panel of finance experts discussed requirements and bottlenecks for blockchain adoption in the finance industry. Moderated by a consultant Yiseul Cho, the discussion included Dirk Hermans (KBC Bank), Francis Chlarie (BelPay), and Olivier Roucloux (finoryx).
Adoption timeline: two years, five, or 20?
After an introductory presentation on Hyperledger, the first issue tackled was the timeline of adoption for blockchain in the finance industry.
Dirk pointed out that the timeline for adoption would depend entirely on the kind of changes companies would want out of blockchain.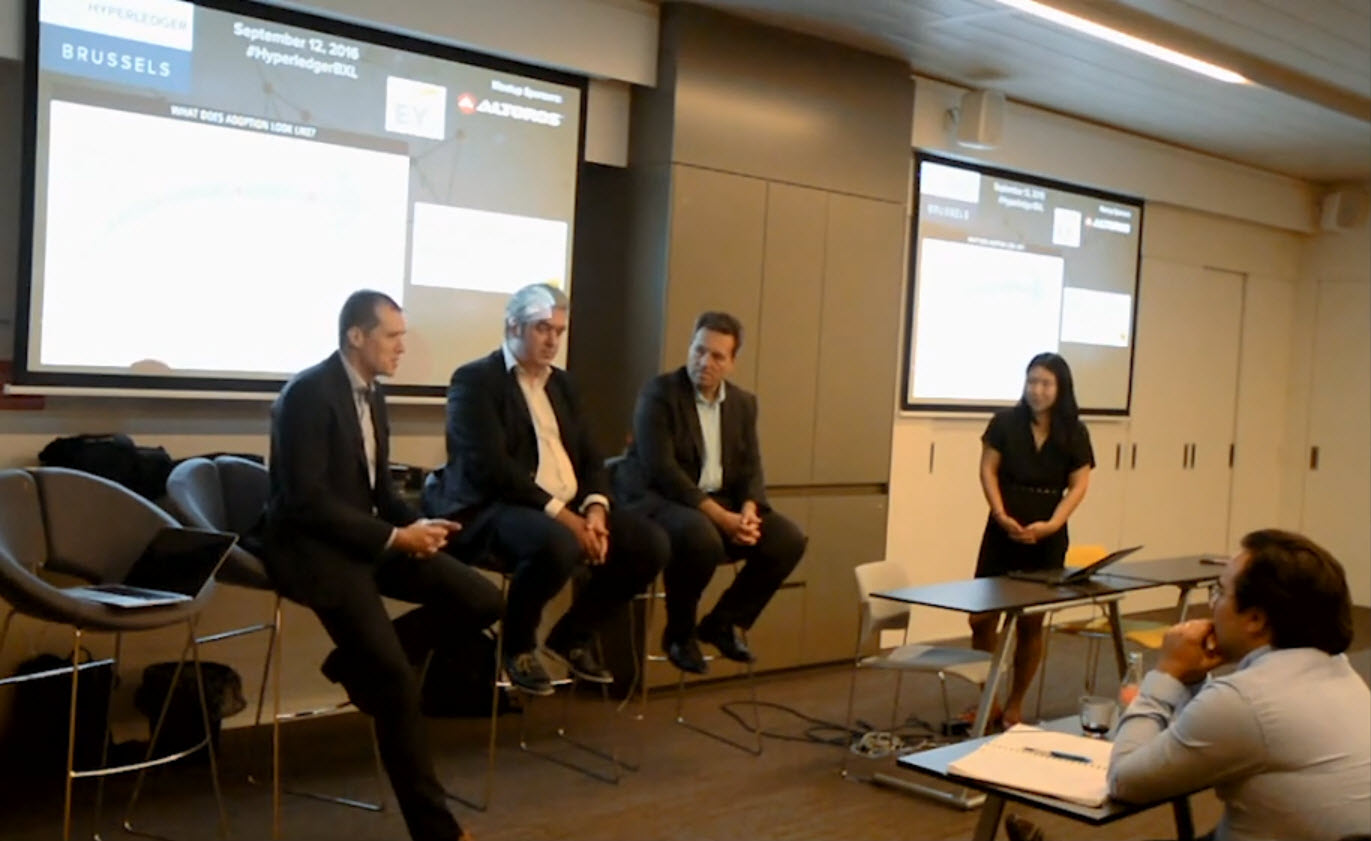 "If you take current existing processes and improve them with blockchain, you will have to go to deep integration with your core systems which will take more time," said Dirk. "There are processes that do not yet exist (that) can deliver benefits of new services to customers which can start off earlier and for which integration with the back-end system is less necessary."
As far as processes that do not exist yet but could be integrated much faster, he highlighted the importance of niche blockchain use cases. (Back in July, Olivier also said that niche technologies will drive blockchain adoption and elaborated on the role of prototypes in the process.)
"Niche applications can launch earlier." —Dirk Hermans, KBC Bank
Francis noted the challenges around the two key aspects of blockchain:
Transactions. Language is simply too immature and "there needs to be a good foundation in the transaction layer."
Smart contracts. They need to be carefully approached because of all the legal aspects surrounding it.
"Smart contracts are like the holy grail that solves everything." —Francis Chlarie, BelPay
He gave an estimate of five years before blockchain would see widespread adoption in finance.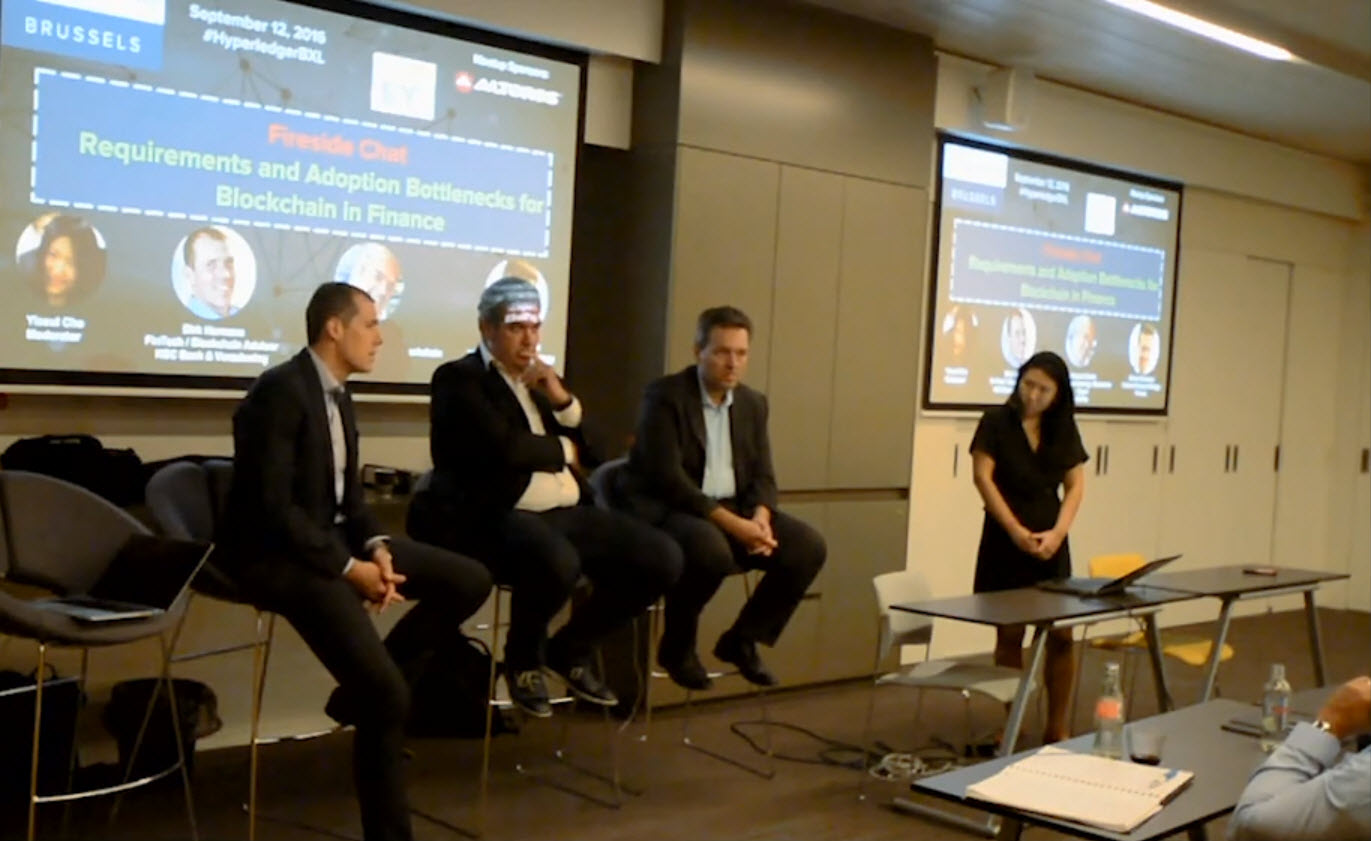 To Olivier, the time frame in which blockchain would be adopted is of secondary importance. Before anything happens, blockchain must first provide value.
"Success is when we have an application that brings value to the user that underlie the blockchain. That will be the key for adoption. It can be in two years, it can be in twenty years."
—Olivier Roucloux, finoryx
Where's the value?
As Olivier pointed out, the key factor driving blockchain's adoption will always be value. Adding to this point, Dirk listed two areas where blockchain could have significant effect—payments and trade finance.
Blockchain is all about streamlining and making processes efficient. "Blockchain can be helpful for speeding up the process and reducing cost of operations for audits," added Dirk.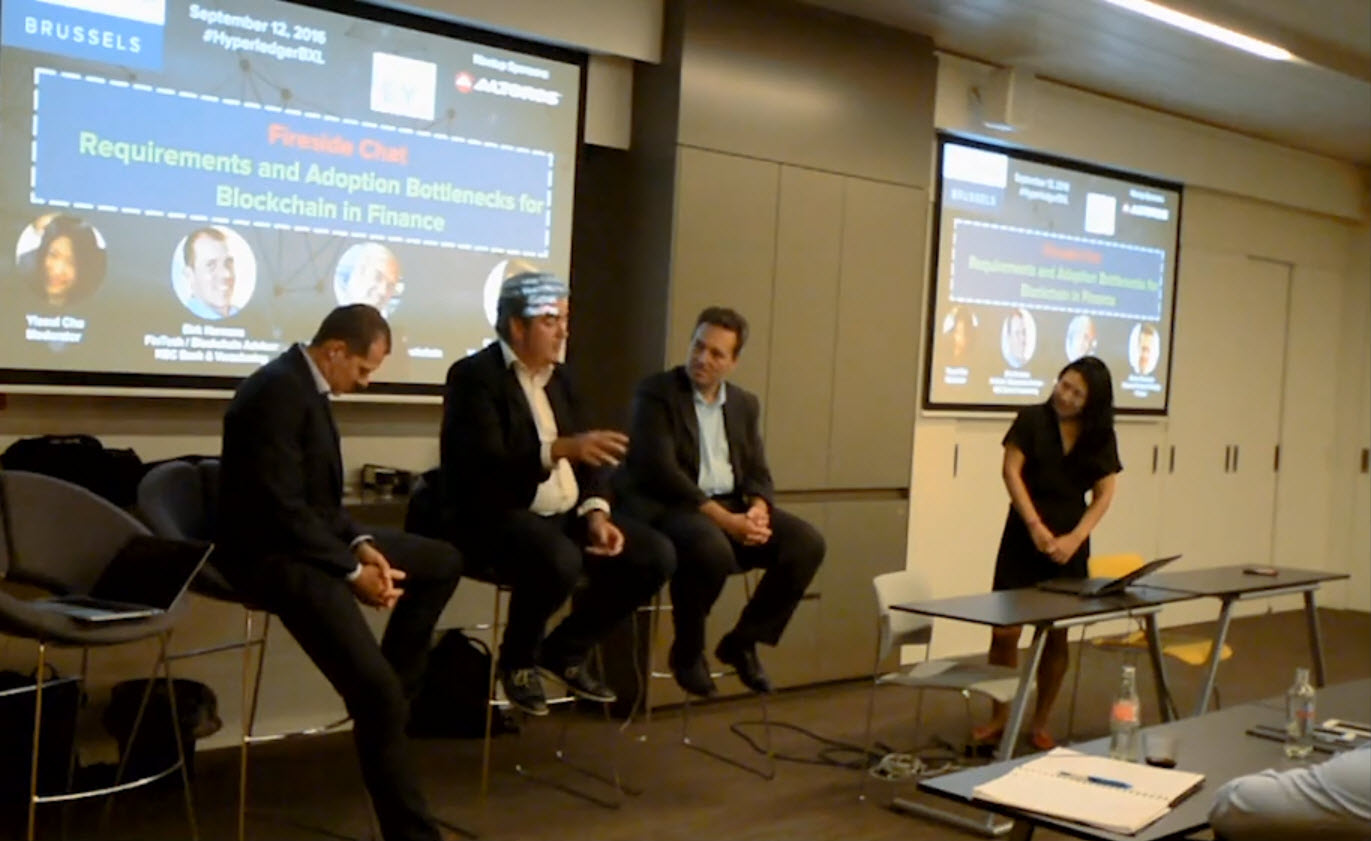 According to Olivier, companies will have to rethink their business models and apply them to different parties that would be involved in a blockchain infrastructure. There is no point in adding another layer because that would only add cost and provide no value.
Another element that blockchain brings is trust. (Read our recent post on managing risk and building trust for blockchain in finance.) One of the reasons that traditional financial institutions today still exist is trust. As Dirk put it, "as much as we hate banks, we still trust banks."
"You can build systems internally yourself, but the true value of blockchain is creating that trust between multiple parties." —Dirk Hermans, KBC Bank
What about regulations?
To conclude, the panel ended with regulations being a prime bottleneck for blockchain adoption. Olivier mentioned the European Securities and Markets Authority (ESMA) which published a paper back in June on how blockchain and Distributed Ledger Technologies could be applied to the securities market and what would be the benefits, risks, and challenges in doing so.
Dirk was more optimistic, implying that regulators would benefit greatly from blockchain because data on a blockchain network is always stored and cannot be deleted. This allows for the checking of transactions without worry of any tampering.
#blockchain #hyperledger meetup at EY , Brussels discussing requirements and adoption bottlenecks #HyperledgerBXL pic.twitter.com/HsssCsd0cw

— Dina Fatkulbayanova (@dfatkulbayanov1) September 12, 2016
At the end of the day, once a working blockchain for finance is established, it's not that which regulators have to worry about. Dirk summed it up nicely when he said, "blockchain is just a technology. It's what you do that is regulated, not the technology you use."
Want details? Watch the video!
Related slides
Here's an introductory presentation on blockchain and Hyperledger—delivered prior to the fireside chat by David Smits of IBM.
Related reading:
---
About the panelists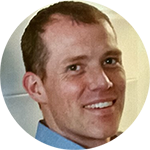 Dirk Hermans
is a FinTech and Blockchain advisor at KBC Bank & Verzekering. With 10 years of experience in IT and another 10 years of financial business experience, Dirk enjoys surfing the current FinTech waves. With an IT Background in the International Cash Management Business at ING, Dirk started at KBC within the Payments domain as a Performance Manager, followed by a COO function in Trade Finance. Attracted by the Financial Markets domain, he joined Internal Audit in which took several assignments in Financial Markets and Securities for the KBC Group Entities (Belgium, Czech Republic, Hungary, Slovakia, Singapore, Hong Kong).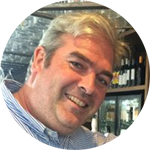 Francis Chlarie
is blockchain expert at BelPay. BelPay offers comprehensive and cost-effective solutions for international trade, supply chain management, corporate treasury and various functions related to payment services in international transactions. At BelPay, Francis organizes blockchain and distributed ledger bootcamps, private hackathons on blockchains and smart contracts. He has expert business knowledge in virtual currencies, virtual accounts, collection factories, Cross-Border payments on behalf of international trading mid-corps and banks.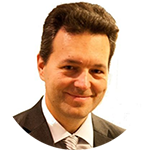 Olivier Roucloux
is a FinTech and innovation enthusiast with 20 years' experience in financial markets. He is the founder of finoryx, a solution company leveraging the blockchain concept to increase operational efficiency in the financial services industry. Before being an entrepreneur, Olivier held senior positions in innovation, business development, strategy, or product management. He worked for Euronext, SWIFT, Euroclear, and couple of service providers; with experience in diverse working locations including Brussels, Paris, Luxembourg, and London.