Blockchain Adoption: Industry Requirements and the Role of Prototypes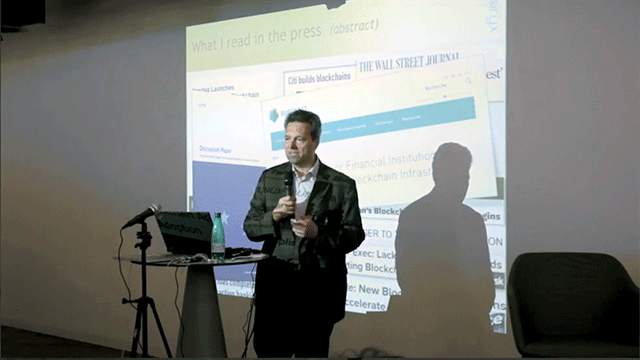 What are the success criteria for a perfect blockchain technology? What does blockchain bring to the table, not only in FinTech? Finoryx's Olivier Rouclox answers the questions and suggests the ways to drive blockchain adoption.
Niche blockchain solutions leading the way
"We are in an evolution where a lot of companies are creating a niche," said finoryx's Olivier Rouclox as he opened the floor at a recent Hyperledger meetup in London.
"When you look at the [blockchain] adoption, you can look at the past. You can see that a lot of very small initiatives happened, nothing major. There is no revolution." —Olivier Rouclox, finoryx
Olivier believed that the future of blockchain banked on the prevalence of niche technologies, stating "the future will be a consolidation of all the niche that will increase to make something that has a business value for the community."
Olivier Roucloux talks about evolution not revolution in #Blockchain #FinTech #HyperledgerLDN pic.twitter.com/fsKZbmWrd4

— Gary Nuttall (@gpn01) July 19, 2016
He later explained the role of prototypes in this process.
"DLT" or "blockchain"?
But first, Olivier emphasized the importance of using the term Distributed Ledger Technology (DLT) instead of blockchain, because "a lot of integrators are mad about the fact that you don't have bitcoin on the blockchain."
He then lauded European Securities and Markets Authority (ESMA) for publishing a paper on DLT and for their understanding of the technology, its impact, and its effect on existing regulations.
Why blockchain?
Olivier points out some key aspects of blockchain (or DLT) that is critical to any industry and not just financial services.
Transparency. All members of the ecosystem can see what's going on.
Permanence. All actions conducted in blockchain are lasting.
Collaboration. All members are expected to contribute to blockchain as a community.
Business continuity. Distributed process ensures continuous and uninterrupted processing.
Security. A combination of proven unbreakable cryptotechnology together with a distribution of security enforcement processes at different endpoints.
Operations harmonization. Joint processes using smart contracts and similar open-source technology at all endpoints.
"It's interesting to ask yourself, 'should I follow the hype of the technology or should I really think in terms of business value for blockchain?'" —Olivier Rouclox, Vision and Product Strategy, finoryx
A successful DLT-centric model
To Olivier, the perfect blockchain technology would have the following attributes:
It would have to be community-driven.
It would have to be launched by a major infrastructure like a group of banks.
It would have to be configured using recommendations from market representatives, working groups, and committees.
It would have to use business standards edited by the most recognized bodies, implemented within autonomous smart contracts.
It would have to be accessible to all members but with different levels of accessibility.
"You really need credibility behind your initiative, because if you don't have any credibility, you don't have any adoption." —Olivier Rouclox, Vision and Product Strategy, finoryx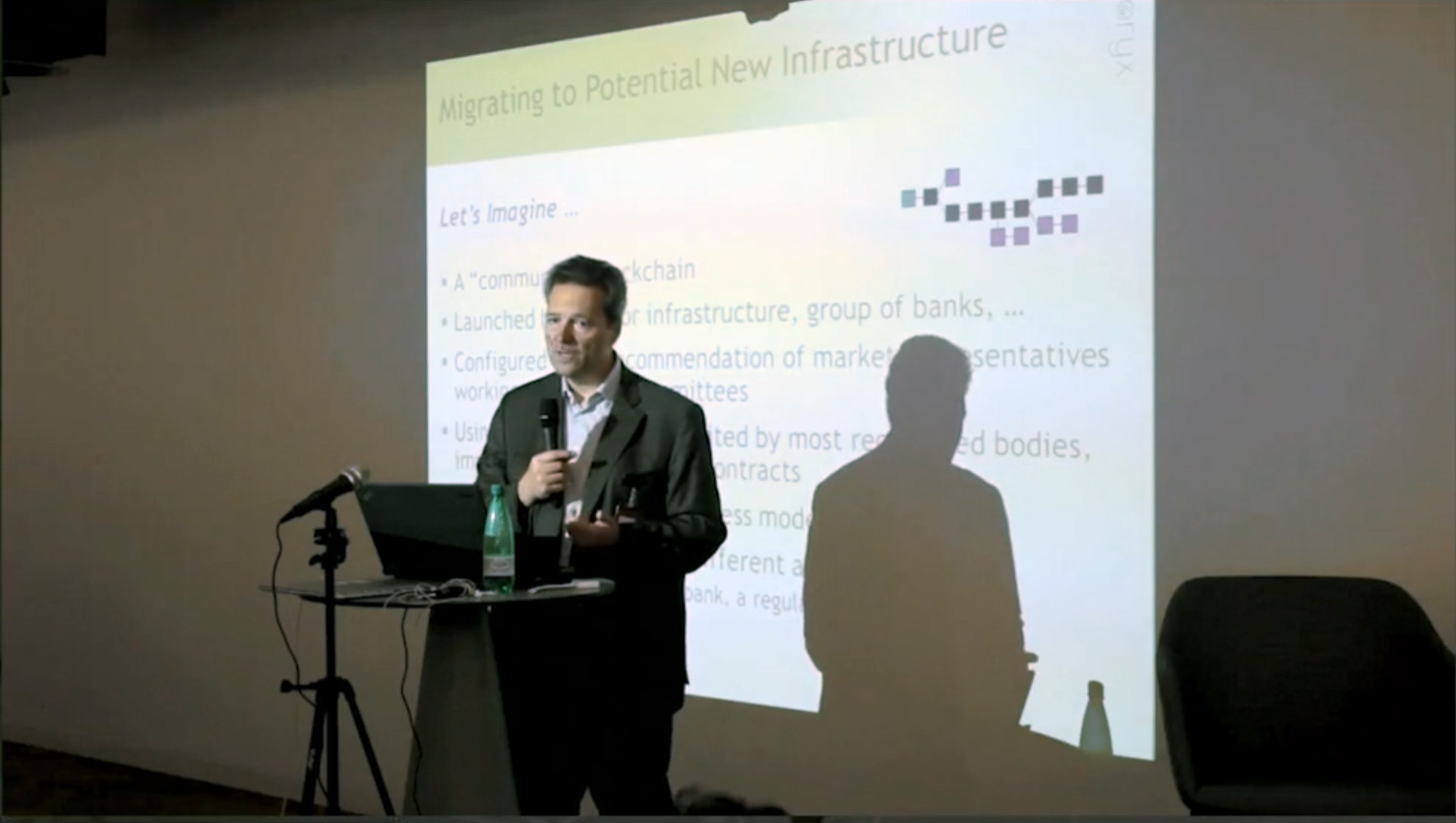 DLT in action: European implementations
Olivier cited some cases where the tangible benefits of the DLT were being explored.
Seven major financial institutions have started a collaboration to develop a blockchain infrastructure for SMEs in Europe.
In Luxembourg, 12 banks have joined forces with a Big Four company to create an infrastructure for bookkeeping of investment funds in Luxembourg.
KBC, a Belgian bank that has an e-banking platform with crowdfunding, has added a secondary market for crowdfunding which is essentially a safe keeping market infrastructure for post-trade based on blockchain.
Driving adoption
Olivier states, "there is no one-stop-shop solution." There is no single blockchain solution that fits the whole ecosystem. So, to drive DLT adoption, Olivier suggests to learn what's going on and build prototypes. "Don't wait, do something," he said.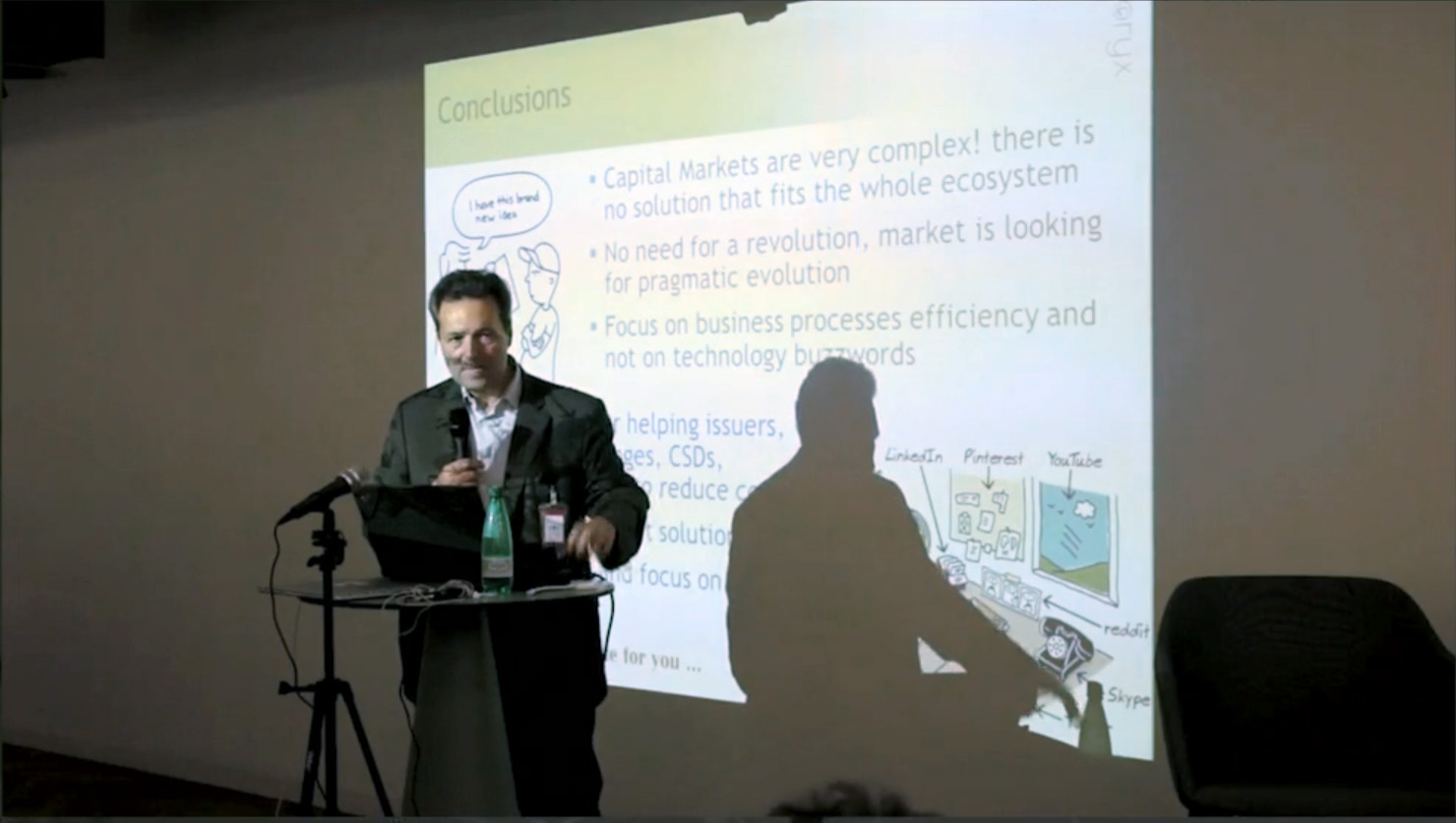 Proof of concepts may never become products, but if you don't start with a proof of concept, then you will truly never have a product.
Want details? Watch the video!
Related reading
---
About the speaker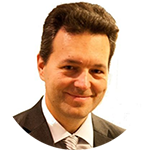 Olivier Roucloux
is a FinTech and innovation enthusiast with 20 years' experience in financial markets. He is the founder of finoryx, a solution company leveraging the blockchain concept to increase operational efficiency in the financial services industry. Before being an entrepreneur, Olivier held senior positions in innovation, business development, strategy, or product management. He worked for Euronext, SWIFT, Euroclear, and couple of service providers; with experience in diverse working locations including Brussels, Paris, Luxembourg, and London.