2016–2017 Trends: Global Innovation Is Number One
With opportunities granted by software and its low barrier of entry, all the nations of the world are leveraging their unique strengths in global innovation.
This post is a part of the series that reviews the Top 10 trends in enterprise IT for 2016–2017:

All Trends | A "Varietal Cloud" and PaaS | Neo-AI and Neo-Luddism |
Blockchain | Smart Cities | Industry 4.0 | Open Source | Global Innovation
Trend #1: Global Innovation
Innovation's the byword in the technology business, and all the world's a stage for it. Traditional technology development areas, led by Silicon Valley, remain strong. However, with a modern focus on software and the consequent lowered barriers of entry, innovation is now found, well, everywhere.

A look at venture capital
The San Francisco Bay Area still attracts 40% of the venture capital (VC) in the US, followed by New York and Boston (each with about 10%), and many also-rans.
Venture Capital in the US. Source: Citylab.com
Over a fairly recent (and typical) eight-year period, the US grabbed almost 70% of the world's venture capital, according to the World Economic Forum (WEF). The usual suspects grabbed almost all of the rest of it.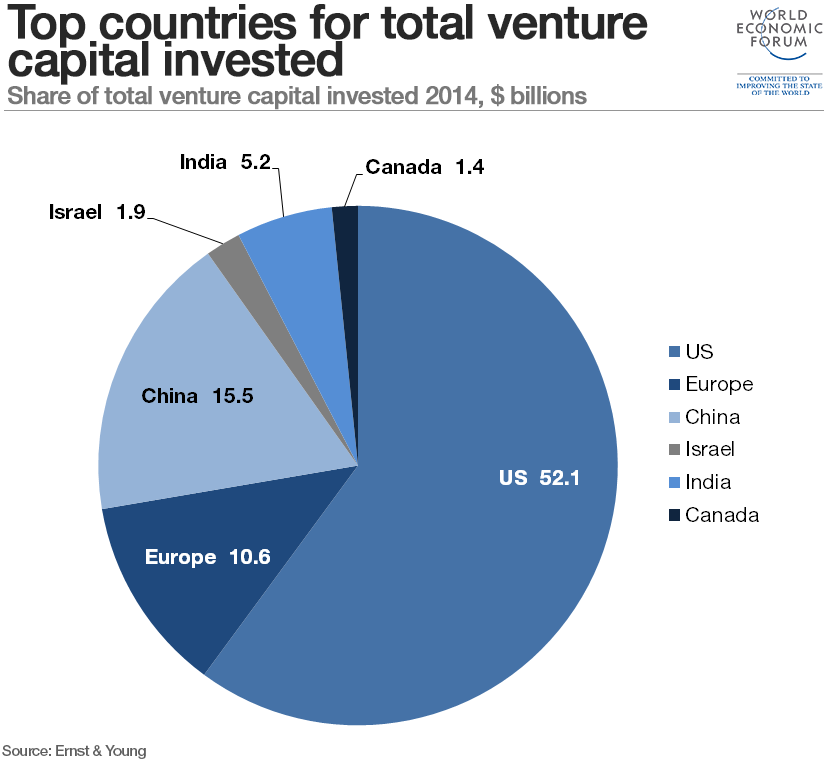 Latin America attracted almost $600 million in 2015, according to one report, about 60% of the total invested in India annually, if we sync things up the WEF report. Africa, on the other hand, receives only a few millions of dollars of venture capital each year, according to the report.

Looking beyond venture capital
This post is not meant to be a comprehensive VC report, and venture capital is not the only way to measure the dynamism of an innovative scene.
In the US, for example:
Source: Entrepreneur

A look at global innovation
Outside North America, innovators just keep on innovators. We know obvious examples like Linux from Finland, Skype from Estonia, Viber from Israel/Belarus, and the Worldwide Web protocol from Switzerland by way of the UK. We're also aware of ongoing progress throughout India.
Beyond this, there are vibrant technology scenes and supporting organizations in all the regions of the world. It's not possible to cover them all in this brief post, so here a few of my favorite examples:
The E27 group in Singapore. These folks host meetings and competitions throughout Southeast Asia and attract a polyglot group of investors from throughout the world. Its Techstars program is sponsored by Global 100 companies like GE and Bosch, who see the great opportunities in this region of 700 million people.

E27 events in Singapore draw a broad audience. Source: E27.co

MoMo Manila has been hosting vibrant meetings and hackathons for several years in the Philippine capital. I've attended several of them, and am always struck by the innate concept of teamwork (they have a word for it) in this country that's not found in most Western cultures. The events are part of a vast network of 100 or so similar events throughout the world.

Bonifacio Global City (a frequent site of MoMo Manila meetings). Source: KMC MAG Group

VC4Africa, a diverse, high-powered crew that is bent on wringing opportunity out of this underserved continent. One of this group's innovative ideas is an unpaid mentorship program, with strict guidelines that allow those interested from throughout the world to get involved. This community now stretches to 159 nations.
The city of Barcelona has emerged as a cosmopolitan conference location. Unlike the case with most European cities, big Barcelona events draw attendees from throughout Europe and the world at a big event there. A vibrant local startup scene has emerged, as well.

Barcelona as a Smart City and a European Center of Innovation. Source: eu-smartcities.eu

The Global Innovation Fund, a London-based team that's supported by the US and UK governments along with some private equity.

A Global Innovation Project, launched by Kathryn White, a speaker at a recent Altoros-sponsored blockchain meetup, and previously with the Royal Bank of Scotland. Kathryn has embarked on a global tour of innovative regions throughout the world. She's written a few reports that are now posted at the website, and will be writing several more.

More developments, everywhere
Every day brings new developments to my Twitter feed, LinkedIn account, and e-mail inbox. I'm sure the same holds for our readers. A few recent, random items include:
A large FinTech conference in Paris, as that city and France look to capitalize on any possible slippage by London in the wake of Brexit.

A Hyperledger blockchain meeting in Saudi Arabia, to gauge the potential of this technology in the complex energy business and other areas ripe for innovation.
An innovation campus in Riyadh to hold a Hyperledger meetup. Source: KACST.edu.sa
This is just a small sampling, and we haven't even touched upon the vast world of technology incubators. Perhaps, some other day we will.

The message heard around the world
So, the clear and obvious message here is that innovation is now truly global. It embraces all of the key technologies we've been covering in our trend series: cloud computing, platforms, artificial intelligence (AI), blockchain, big data, smart cities, Industry 4.0, and open-source ecosystems.
Separate research I've been doing for the past few years has uncovered many countries that stand out from their regional peers in terms of their national commitment to IT infrastructure. Within that context, it's important to consider the cost of labor in a positive way, for both developing and developed countries.

A developing-nation example
I can use the Philippines as a developing-country example. I lived there for a few years, and have a family there. Its economic development falls in the middle range of developing nations. As such, a provincial business there that generates US$100,000 per year is big enough to employ 10 to 20 people. A $1 million business can employ 100 to 200 people.
In the US and other highly developed nations, small businesses like this employ far fewer people, but they can capitalize on the highly developed infrastructure and educational systems to create jobs in the more advanced "Q sectors" of the economy.

Business and ethical sense
A widely distributed culture of innovation intuitively seems like a good idea. It should alleviate brain drains and generate local progress throughout the world. It should allow people to use whatever unique thinking their society might provide in delivering innovative products and services.
It makes business sense, and I would argue ethical sense, to create "knowledge-industry supply chains" that provide many good jobs at the lower end of the continuum in a place like the Philippines, and fewer very high-paying jobs in developed countries like the US. Places such as vaunted Silicon Valley, with very expensive living costs, are best suited for the high end in today's global economy.
Googleplex. Source: VisitCalifornia.com
This does not imply that there should be no really good jobs in the developing world, but does imply that each nation has its own unique potential to leverage local labor conditions in a positive way. This principle of a comparative advantage has provided the economic bedrock of global development for two centuries. Why not build on its past success in a 21st-century world of technological innovation?
Please feel free to provide your favorite examples in the comments section or drop me an e-mail.
Now, go create something innovative and great!
Related reading
---
The series is written by Roger Strukhoff and edited by Sophie Turol, Carlo Gutierrez, and Alex Khizhniak.