2016–2017 Trends: A "Varietal" Cloud and the PaaS Revival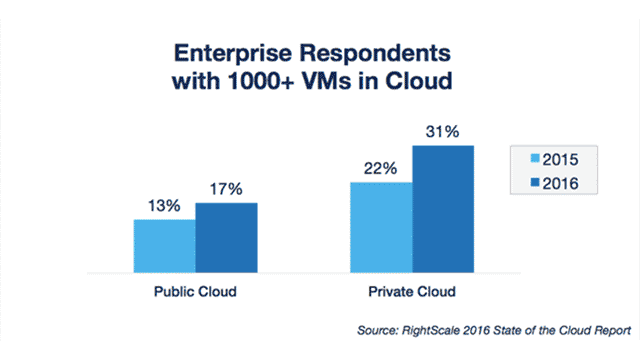 It's been a wild, historical year, so let's recall Top 10 Issues in Enterprise IT for 2016. Today's agenda: varietal cloud and PaaS revival—in numbers and facts.
This post is a part of the series that reviews the Top 10 trends in enterprise IT for 2016–2017:

All Trends | A "Varietal Cloud" and PaaS | Neo-AI and Neo-Luddism |
Blockchain | Smart Cities | Industry 4.0 | Open Source
A year in a nutshell
The year 2016 is going down as an annus horribilis (i.e., "horrible year") for much of the world. It may over the long run be considered in the context of the revolutionary years 1848 and 1968.
A few of its developments include:
A tediously long string of the deaths of iconic individuals, many of them transformational in their own ways
Horrendous violence in parts of the world as the rest of the world watches
Serious political upheaval in the UK, Europe, the US, and other countries including Brazil, South Korea, the Philippines, Venezuela, and even the small country of Gambia
The year may also be seen as one of several inflection points in the technology industry, involving issues that are certainly less tragic than the big geopolitical stuff and unwanted death, but nevertheless important enough to evaluate. The issues can be expected to continue in 2017.
Thus, I launch into a look at what I see as the Top 10 Issues in Enterprise IT in 2016-17. In this post, I cover numbers 9 ("varietal cloud") and 10 ("The PaaS revival"), with the rest to come in similar paired fashion over the next few days.
Trend #10: "Varietal" cloud
Cloud is now a cliché. The word is thrown around with abandon, tossed out there as the remedy to all enterprise IT ills and the answer to all digital transformation questions.
There are a couple of contradictions at work here. The first is that despite the ubiquity of its hyping (and as Conference Chair of Cloud Expo, I've done some of this myself), cloud computing still commands perhaps 10% of enterprise IT workloads worldwide.
The second is that despite the belief that its overuse has rendered the term meaningless, the reality is that cloud computing is offered in a number of very specific varieties, and it behooves enterprise IT analysts and adopters to understand them all.

Hybrid is the intuitive approach
Within the context of cloud computing, the so-called hybrid cloud is intuitively the safe way to proceed. It doesn't mean pushing all your chips to the center of the table on one bet, yet it recognizes the need to at least test the features, cost, and reliability of AWS, Microsoft Azure, Google Cloud, or some of the others hanging in there in the public-cloud market.
Research from the cloud management provider RightScale demonstrates this principle. Its Cloud Survey 2016 found that enterprises are using an average of six clouds (!)—three public and three private—in their monkeying around, er, testing of cloud-computing infrastructures.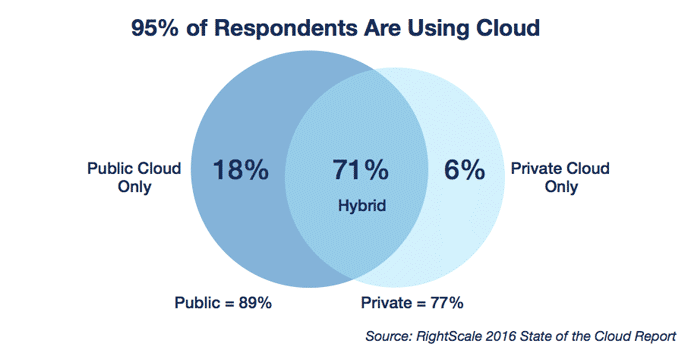 The survey asked 1,060 IT professionals about their adoption of cloud infrastructure and related technologies. 42% of the respondents represented enterprises with more than 1,000 employees. A growing number of these enterprises are getting aggressive with cloud computing, as shown in this graphic from the survey: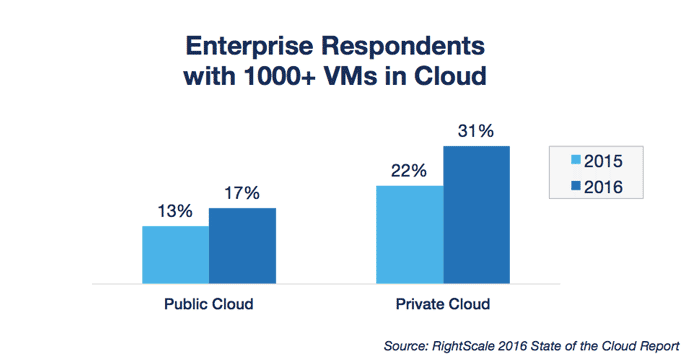 Going all-in with public cloud
There are some notable examples of companies contradicting this conventional wisdom. Netflix heads the list of enterprises going all-in with public cloud, and Netflix is one of the largest users of bandwidth in the world. Other examples include Expedia, Pinterest, and The Guardian.
There is also the Warner Music Group, which found too many performance issues with a private approach and went all-in with AWS. (This is an OpenStack deployment, by the way.) An irony with this deployment is its use of Cloud Foundry as a platform—a technology that was originally designed for private, not public, cloud.

Let's call it a "varietal cloud"
So, here's where I prefer the term "varietal" over "hybrid," as I think it better describes the tremendous diversity we will see with cloud deployments in coming years. Today's debate still seems stuck on a blunt, "either or" decision of whether to go hybrid or not.
Thinking in terms of varietals, we can imagine an enterprise that is 99% on-premises, with 65% of that virtualized, and 1% of budget devoted to proofs-of-concept (PoCs) on Amazon. That may seem like a preposterously conservative approach to many analysts and conference speakers. However, there's at least one big enterprise out there that looks just like this. Contrast this with a 100% all-in AWS shop, and imagine everything in between, and you have the picture of a varietal cloud.
There is really no end to the combinations and permutations (i.e., the varietals) that can be developed under the rubric of cloud computing.
If you know your Pinot Noirs from your Malbecs, your red table wines from your private reserve Cabernets, your grape-growing regions all over the world, not to mention your white wines, then you can appreciate the challenge in learning as much as possible about blending on-premises, co-located, and outsourced (public) cloud infrastructures on the one hand; with virtualization, microservices, and containers on the other.
Looking again at the RightScale survey, we find the statement, "in the twelve months since the last State of the Cloud Survey, we've seen strong growth in hybrid cloud adoption as public cloud users added private cloud resource pools. (For example), we now see 77% of respondents adopting private cloud, up from 63% last year. As a result, use of hybrid cloud environments has grown to 71%. In total, 95% of respondents are now using cloud, up from 93% in 2015."
I think we all understand that many enterprises still count routing their e-mail through Gmail as a cloud-computing service, which helps explain the seeming dichotomy between 95% of enterprises using cloud versus 5–10% of actual workloads on cloud.
The trend towards varietal cloud will continue to create such seeming contradictions, while at the same time achieve a slow but inexorable transformation of enterprise IT.
Trend #9: The PaaS revival
The increasing diversity of cloud varietals has played a role in what I see as a nice development: a great PaaS revival. Just two years ago, the "PaaS Is Dead" headlines were easily found.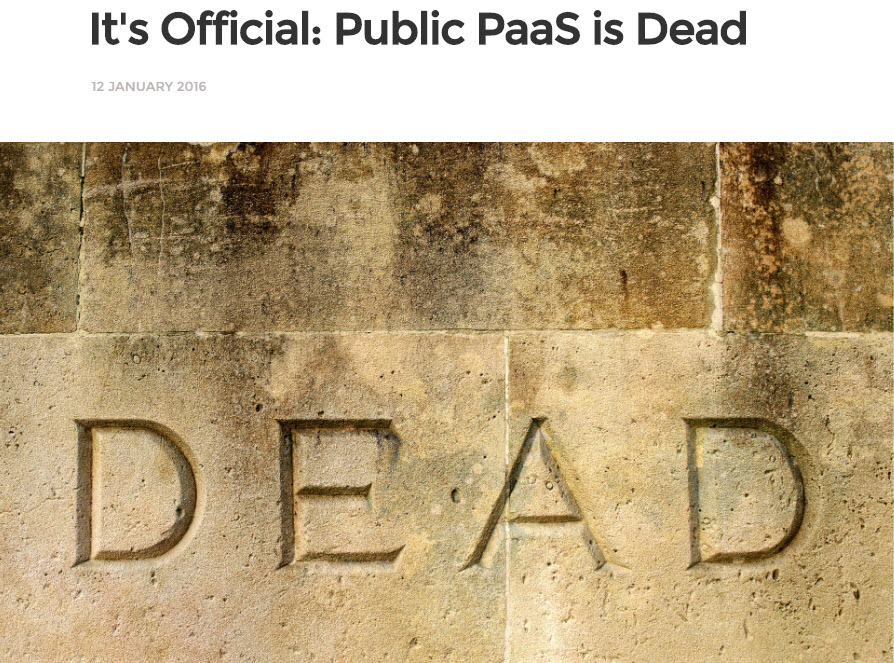 Image credit: blog.cloud66.com
A report from 451 Research led this charge, arguing that PaaS was being squeezed by more sophisticated public infrastructure offerings on the one hand, and more complete SaaS solutions on the other.
Another famous piece of the argument came from the idea that the OpenStack and PaaS had become mortal enemies. (Note the mention in this piece of ecosystems, a big topic that will appear on this list before we reach the end of it.)
The quick, surprising rise of Docker in 2015 led to further talk of nails in the PaaS coffin, though this article from The Register reflected ambiguity on the issue. (Later, this panel was wondering whether Docker would "eat Cloud Foundry's lunch.")
And a general counterargument was mounted by a noted analyst Krishnan Subramanian, who at the time worked for Red Hat. Krishnan argued that PaaS was, in fact, in an evolving state at the time, handling services so smoothly it seemed to disappear on the one hand, while handling the new-ish container deployments on the other.
Yet the "PaaS is Dead" idea has lived on, so to speak, into 2016.

But, but, PaaS is not dead!
Meanwhile, Cloud Foundry continued to develop. Its new Diego 1.0 implementation, which simplifies much of the previous version's complexity, was cranked up to 250,000 simultaneous containers in testing and was formally released in November.
Additionally, the Cloud Foundry Foundation reported continued strong growth throughout the year, adding TIBCO Software, Armukani, and Fidelity Investments as new members. The number of certified providers also grew from six to 11. OpenStack and PaaS (in particular, Cloud Foundry) are no longer considered enemies by rational observers.

A spirited Reddit discussion on the topic in January 2016 yielded a lot of positive comments from everyday IT pros about the benefits of specific platforms, including Cloud Foundry. The essence of this conversation was expressed in practical terms by one commenter: "Just use a PaaS where it makes sense and that's it."
Then, in December, the big news hit: Google joined the CF Foundation, and a collective effort among leading contributors to Google Kubernetes, Cloud Foundry, and Red Hat OpenShift announced a new era of cooperation, with the Open Service Broker API initiative. IBM, Fujitsu, and SAP have also joined this party.
Even as everyone involved realizes they will be aiding their competitors, they also agree that competing for pieces of a much larger pie is in everyone's interest. This seems to be the rare example of humans successfully solving a Prisoner's Dilemma.
So, PaaS has gained grand new momentum as the year is closing.
I like to refer to the layer as simply "the platform" rather than PaaS. In my (perhaps incorrect) opinion, use of "platform" removes the recondite, abstruse aspects of the term and concept. Everyone wants to build their structure on a platform, right? Semantics are not everything, but they are important to technical discussions, as a clear understanding of what is going on and why is never a harmful thing.
Understanding and use of the platform can be extended beyond what we think of as traditional cloud deployments, as well. There's a ZettaStructure revolution going on in the world of data centers, too (which will be featured on a Top 10 post to come), and the platform is that critical layer "above the rack and below the stack." Data center operators will be thinking less about electricity and cooling, and more about software, as their industry transforms before there eyes.
So, over the next couple of years, the term PaaS may start to fade and ultimately fade away, but the platform looks to be stronger than ever.
Next up: Issues #7 (Neo-Luddism) and #8 (Neo-AI).
Related reading