Zurich Insurance Group Incorporates RPA to Achieve $1B of Savings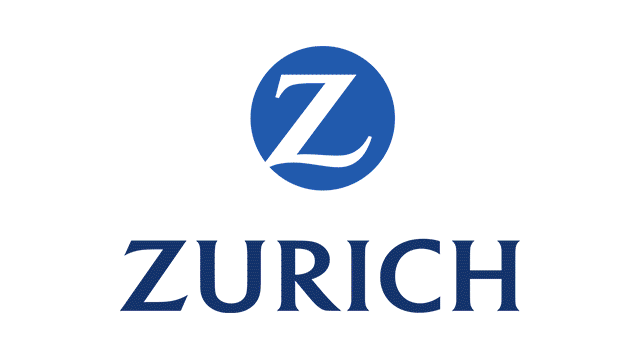 With robotics process automation, Switzerland's largest insurer has already digitized 48 app flows, while reducing some of its operational costs by 51%.
Automating manual operations with AI
Robotics process automation (RPA) is an emerging domain of artificial intelligence, which aims to replicate repetitive human activities. Industries with plenty of manual back-office and customer-facing processes are prime candidates for RPA.
In insurance, these manual operations are often the reason why application and claims processing becomes time-consuming. In some cases, it can take several weeks or months to complete. (Read our research paper on this.)
Employing RPA in insurance has the potential to not only improve operational efficiency by up to 80%, it can also ensure 100% compliance with the existing regulations when coded properly. Additionally, automation can reduce the cost of processing insurance claims by as much as 30%.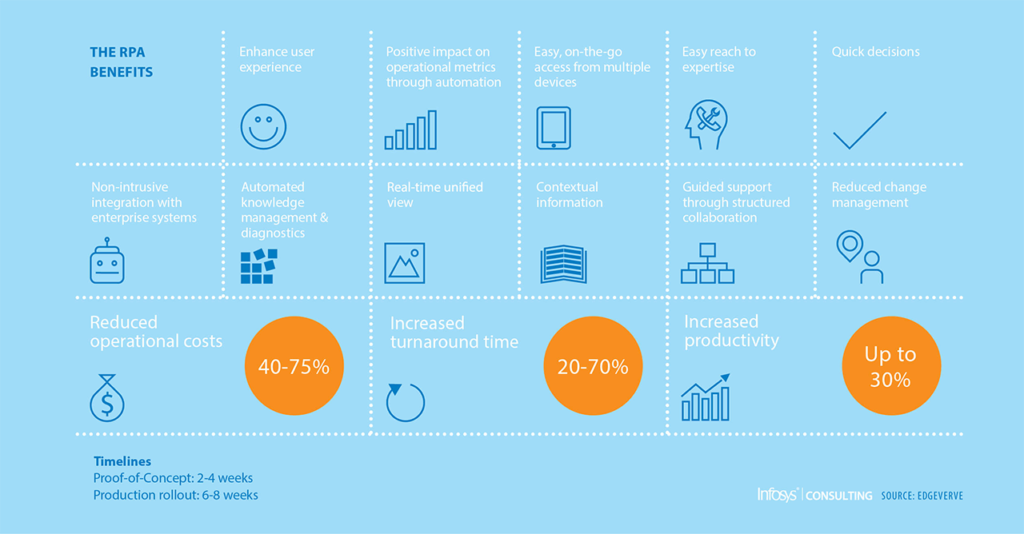 RPA benefits in insurance (Image credit)
A couple of years ago, Zurich Insurance Group, Switzerland's largest insurer, saw the potential in RPA. The company set in motion a plan to incorporate RPA to enhance their services and achieve more than $1 billion of cost improvements by 2018.
Reducing costs with RPA pilots
In December 2014, Zurich Insurance Group worked alongside Ernst & Young to create a proof-of-concept pilot involving RPA. By June 2015, the project was deployed within the group's global life business. It provided the insurance company with the following benefits:
51% cost reduction to the automated processes
released 25% of the operational team capacity
accelerated delivery of changes on existing platform development road maps
"We basically redesigned the claims process for Zurich (Insurance Group)," said Chris Lamberton, EMEIA RPA Leader at Ernst & Young. "The key part of this was over 70% efficiency in changing the process to be digital with RPA at the core. It only took us four weeks with two analysts to build that. That's the power of RPA, the power to interact with five different legacy systems."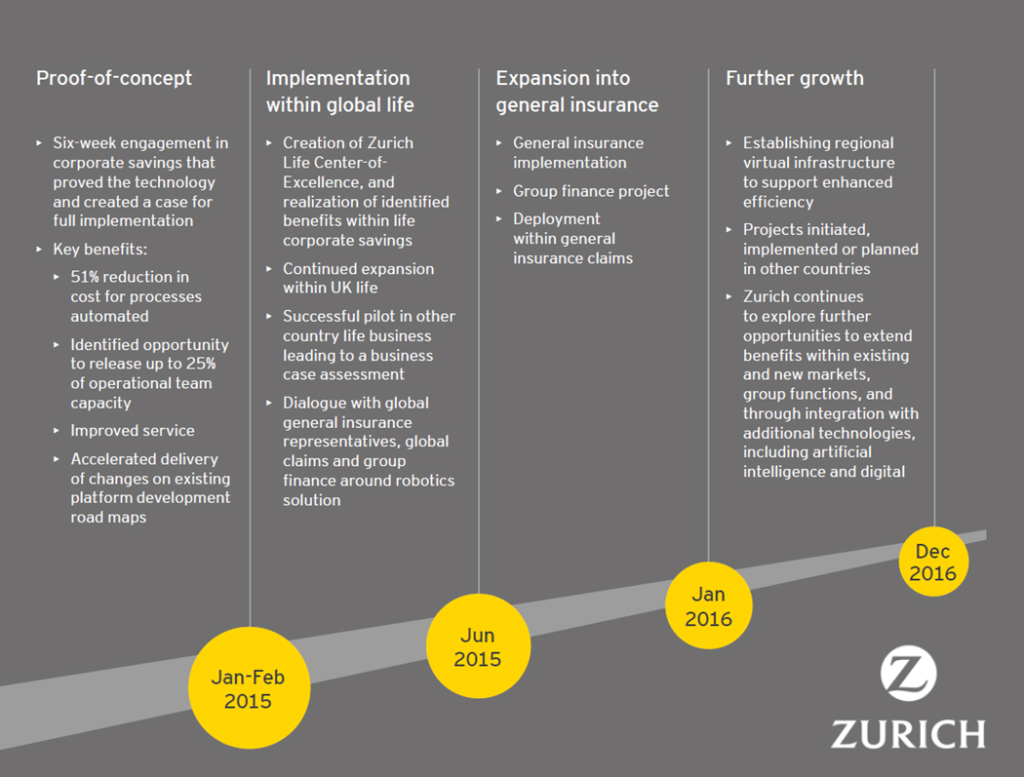 Zurich Insurance Group's RPA roadmap (Image credit)
Additionally, the insurer created a robotic center of excellence at this time. Primarily staffed with members of the freed-up operation team, the center of excellence delivers new automated processes on a 2–4 week release cycle.
"It now takes less than a week to pay claims compared to the industry average of 50 days. They're also reserving less cash to pay actual claims. That's a massive cashflow benefit to the business. There's all sorts of benefits to fundamentally changing the process." —Chris Lamberton, Ernst & Young
In January 2016, RPA solutions were expanded to also include the company's general insurance business.
Using bots to issue policies
In July 2017, the insurer won the Information Services Group Paragon Award for its RPA projects. The delivered programs made use of Blue Prism's end-to-end process automation platform, which provides a scalable digital workforce consisting of software robots. This has enabled Zurich Insurance's commercial service teams across Europe to focus on complex policies, while software bots issue standard policies.
"Our robots are set in motion, as soon as our internal policy administration system is notified of an incoming policy," explained Joyjit Gorain, Head of Operational Performance Management at Zurich Insurance Group.
According to him, the robots perform a set of data validations to align master and local policy terms, as well as book the complete policy details in the administration system. The bots then issue an invoice, draft policy documents in a standard format template, and finally issue policy documents to a handler for a quality review.
The RPA programs have enabled Zurich Insurance to automate six applications flows per country, totaling 48 applications overall.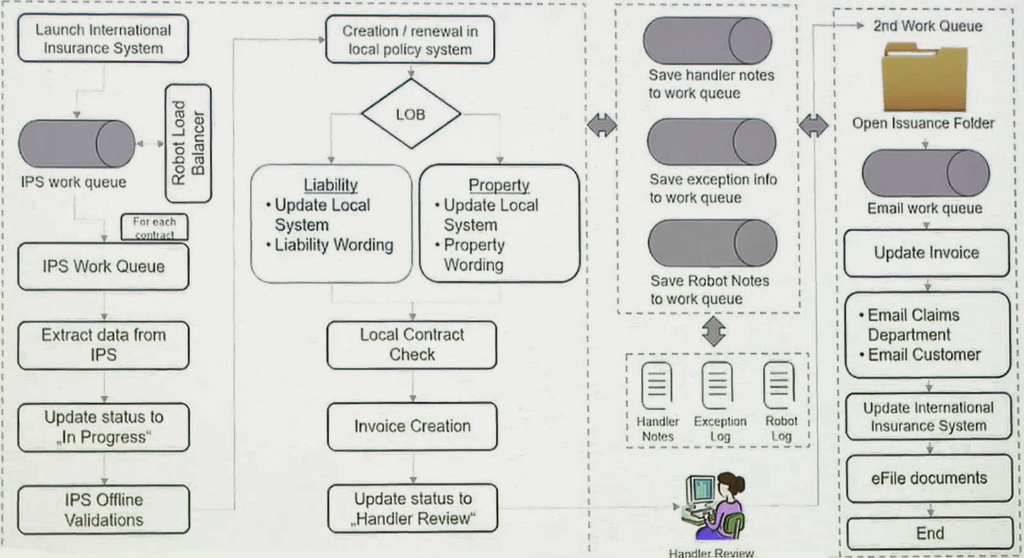 RPA issuance solution diagram (Image credit)
RPA also allowed the insurer to implement bots for its end-to-end process chain, where only 30–40% of transactions follow a "straight-through" path, with no human intervention required.
"We found that the issuance process for policies followed this pattern, but 60–70% of the workflow would often deviate from the standard route and follow an alternative logic tree. This could result from specific customization or missing data and information."
—Joyjit Gorain, Zurich Insurance Group
In these scenarios, a bot resolves the process in one of the three ways:
It resets or re-calibrates the process flow on its own, according to a predefined 'exception' handling logic, and continues with the transaction.
It continues with the rest of the process, requiring only partial manual intervention at the point of exception.
It completely terminates the transaction, requiring a full manual intervention.
Regardless of the outcome, a bot leaves a predefined messaged with the corresponding transaction ID in its error logs. This makes troubleshooting simpler, as specific cases can be tracked and analyzed.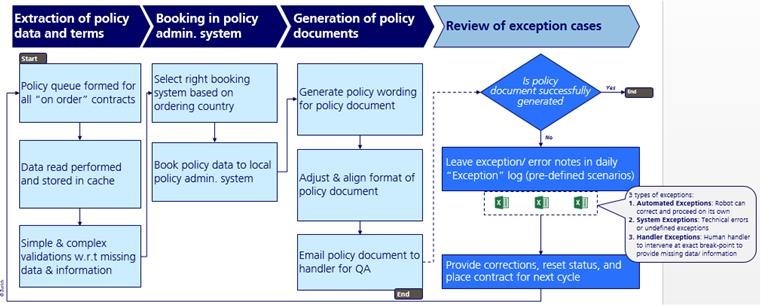 The process architecture with 'exception' handling (Image credit)
Incorporating machine learning
During Blue Prism World in June 13, 2018, Chris and Jason Cripps, Global Head of Operational Excellence and Automation (RPA) at Zurich Insurance Group, detailed a new development in the partnership's RPA journey that began in 2014.
Zurich Insurance Group alongside Ernst & Young worked on the challenge of applying artificial intelligence to the insurer's existing life insurance claims business. "What could this artificial intelligence do?" posed Jason. "Can we apply it to disability claims with medical reports?"
"It's not just about automating the process. This is a really important moment of truth in life insurance. You want a point where there's human contact with the customer, so you can provide empathy. We made sure not to remove that human element that's required at that particular moment in truth." —Jason Cripps, Zurich Insurance Group
"Ernst & Young invested significantly in the last 18 months building a tool specific to machine learning OCR for getting unstructured information like doctor's notes or death certificates," said Chris. "We built our own tool called SIRE that can allow robots to fully enact the human readable stuff that we find very easy that robots can't really deal with. This allows us to create an entire capability on top of Zurich Insurance Group's existing systems."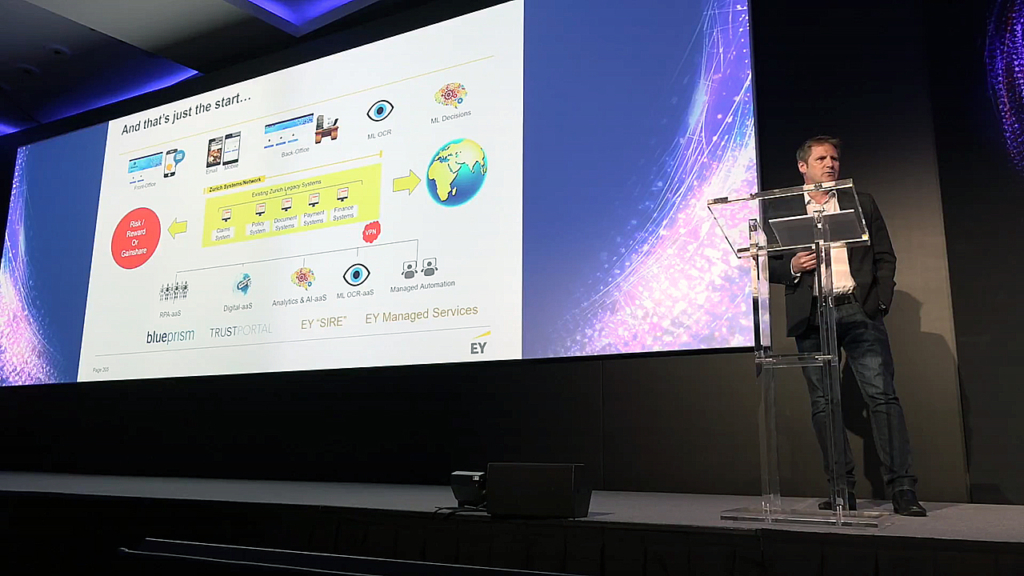 Chris Lamberton at Blue Prism World 2018 in London (Image credit)
The results and lessons learned
Since automating policy issuance, Zurich Insurance Group has seen the following improvements:
Average actual touch time per policy transaction reduced to 40–80 mins from the previous 4–5 hours
70% effort saved for straight-through processes
20–30% effort saved for exception processes
"We did not approach RPA as a means to substitute machines for people. We wanted to build a new system where humans and technology coexist, where a robot will help a human with faster and quality delivery. At the same time, the robots will help to divert human capacity to more productive tasks, all of which will add to the improved services for our partners and customers." —Joyjit Gorain, Zurich Insurance Group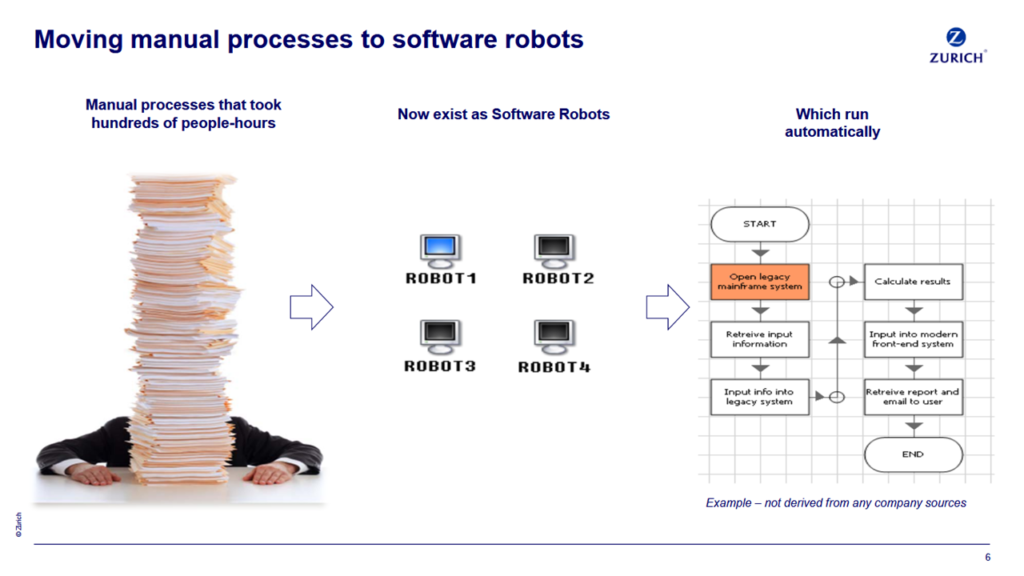 Bots saving hundreds of man-hours (Image credit)
Joyjit shared the following guidelines for other insurance companies looking to implement their own RPA programs:
ensure an end-to-end automated design instead of picking single tasks (or a set of tasks)
maximize the automation of exception flows to ensure greater benefits through a larger robot throughput
prepare a robust testing strategy upfront
Automation is starting to play a major role not just in manufacturing (see Industry 4.0), but in multiple other sectors—such as insurance, finance, or banking. Gartner estimates the RPA software market will grow by 41% until 2020. While Zurich Insurance Group is already reaping the benefits of RPA, no doubt, we will soon see other insurance providers follow suit.
Further reading
Want details? Watch the videos!
Jason Cripps and Chris Lamberton talk about the process of implementing intelligent automation for aggregating life insurance claims at Zurich Insurance Group.
Hubert Van Goor and Joyjit Gorain explain how the RPA technology was used to deploy bots that can issue insurance policies.
About the experts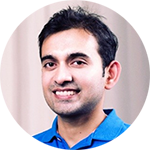 Joyjit Gorain
is the Head of Operational Performance Management at Zurich Insurance Group. He currently handles large implementation programs in the insurance space with specific focus on maximizing operational efficiency and improving customer experience through RPA. Joyjit has an extensive background in business consulting and analytics.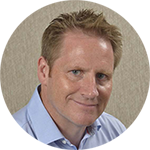 Chris Lamberton
is the Robotic Process Automation Leader at Ernst & Young. He is also a partner who leads the company's RPA/software robotics center-of-excellence and practice building across Europe, the Middle East, India, and Africa. Chris helps customers to digitally transform, dramatically increasing revenues/profits, reducing costs, as well as creating an agile organization through RPA implementation across digital and traditional channels.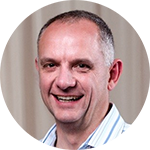 Jason Cripps
is the Global Head of Operational Excellence and Automation (RPA) at Zurich Insurance Group. He is a senior executive commercial and inspiring operations leader with strong international experience who enjoys creating and establishing high performance business operations through developing individual talent and effective teams. Jason brings a disciplined approach to business and has a strong track record of establishing new and transforming the existing business operations to deliver outstanding employee and customer satisfaction, while optimizing sustainable margin and profit growth.
---
This post was written by Carlo Gutierrez, edited by Sophie Turol and Alex Khizhniak.
---