KLM Handles 2x More Customer Requests with Artificial Intelligence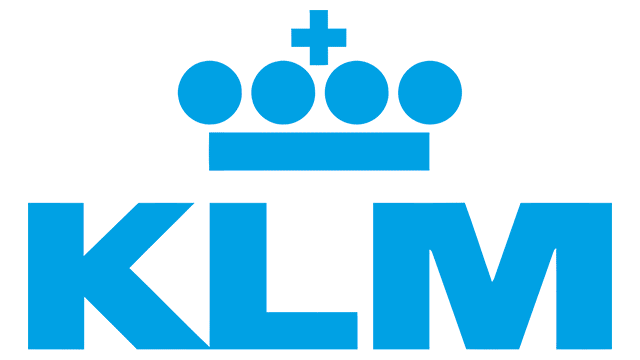 The oldest airline operating today transforms with AI by automating its customer interactions, language interpretation, and ground operations.
Millions of clicks saved with AI
In 2010, Iceland experienced volcanic eruptions which spanned from March to June. During April 14–20, volcanic ash fall covered large portions of Northern Europe, effectively disrupting air travel for millions of people. KLM Royal Dutch Airlines was one of several airlines forced to postpone flights. KLM has a fleet of more than 160 aircrafts and employs over 32,000 people worldwide. The airline had a record 32.7 million passengers aboard its flights in 2017.
At that time, the airline's customer service hotlines proved insufficient as stranded passengers bombarded their Facebook page with flight delay concerns. This served as an eye-opener for KLM—since then, the company has put more focus in using social media as another channel for customer service.
While the expanded social media presence was successful, it also put a strain on the airline, explained Martine van der Lee, Director of Social Media at KLM Royal Dutch Airlines. "We have a big costly problem because we can't keep on adding full-time employees to answer all these customer concerns," said Martine during AI Expo 2018 at Amsterdam. "How do we cope with this increase in volume and expectations?"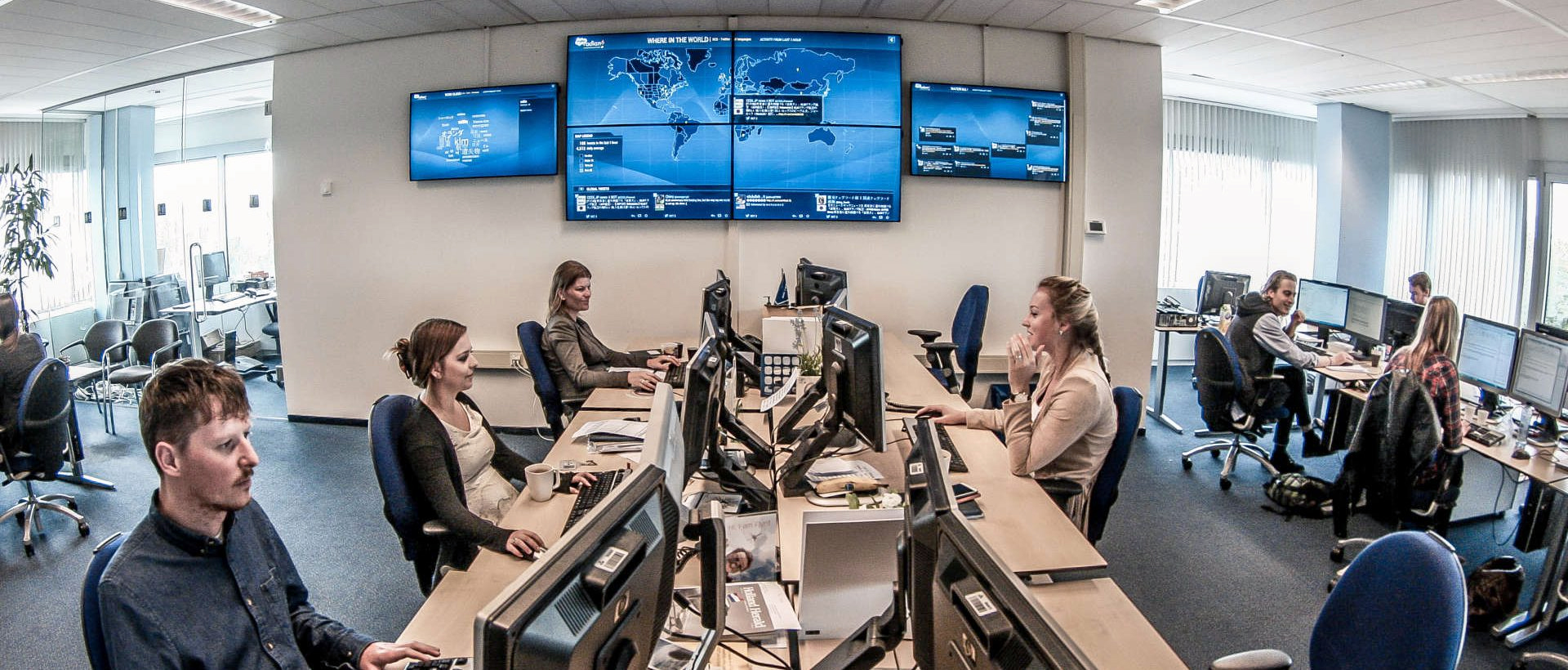 KLM's social media team (Image credit)
Instead of scaling the social media team even further, KLM turned to artificial intelligence (AI) for a more sustainable solution. In addition to automating customer requests, KLM also relied on AI to create a chatbot to help travelers book flights and pack bags, as well as introduced 'Connected Seats'—which can translate different languages—and other tools to improve the airline's operations.
The company claims that more than 5 million clicks have been saved by automated forms in the last five years.
Automating customer requests with AI
In April 2016, KLM teamed up with DigitalGenius to incorporate AI onto KLM's Salesforce-based social media operations. The integrated AI platform uses NVIDIA TITAN X GPUs to train deep learning model on years of historical data such as routing history, metadata history, and chatlogs. The GPUs are run in the AWS cloud and accelerated with the CUDA parallel computing platform.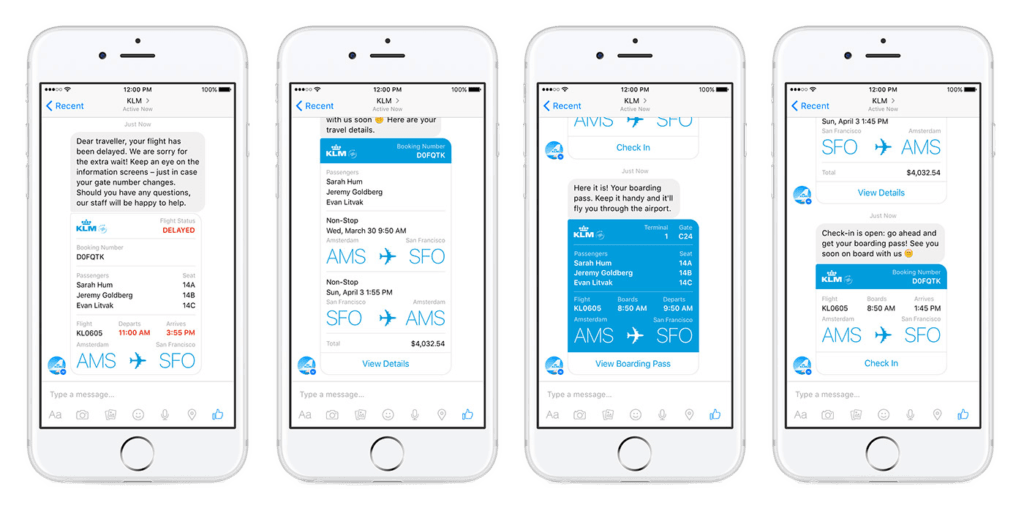 KLM chatbot on Facebook Messenger (Image credit)
Currently, KLM is able to use AI to automate customer queries in a few ways:
Automated classification and routing of customer cases
Suggested answers for agents which can be sent out right away or edited if needed
Chatbots for simple repetitive tasks like filing out forms and getting boarding passes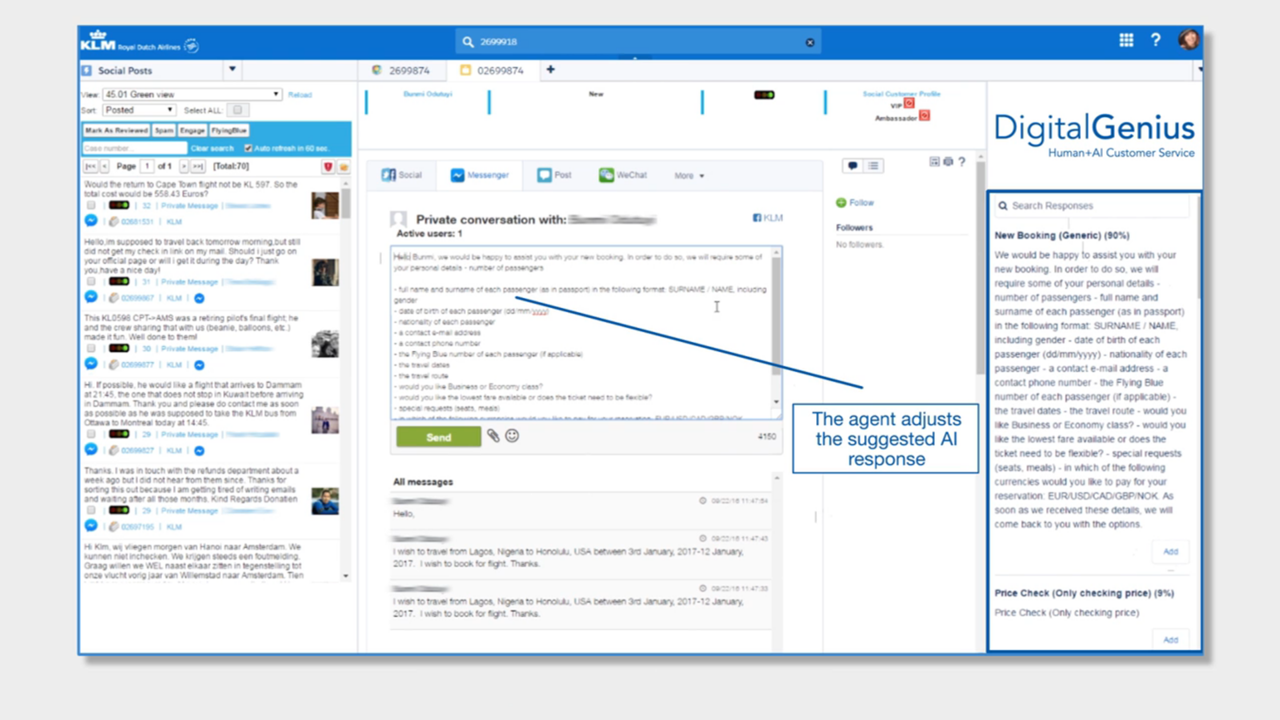 Customer service agents are free to edit the AI's suggested responses (Image credit)
According to Martine, the AI solution has an accuracy growth rate of about 2.2% per week. "We've seen a 55% accuracy improvement since January (2018)," she said. "To us, this is a strong signal that AI is working and that it is learning over time."
"AI is a very powerful technology to take away a lot of simple repetitive tasks for our customer service agents. It allows them to free up time to do what they've been hired for—to engage with our customers and solve problems." —Martine van der Lee, KLM
Their social media presence now extends to various platforms, including Facebook Messenger, WeChat, WhatsApp, and Twitter. 60% of KLM customers receive their boarding pass on one of those platforms, 30% use them for online booking confirmation, and 70% for to receive flight and airport updates.
Fast forward to today, KLM's social media service operation now consists of 300 employees working in tandem. Each week, they get 180,000 mentions and around 35,000 customer cases.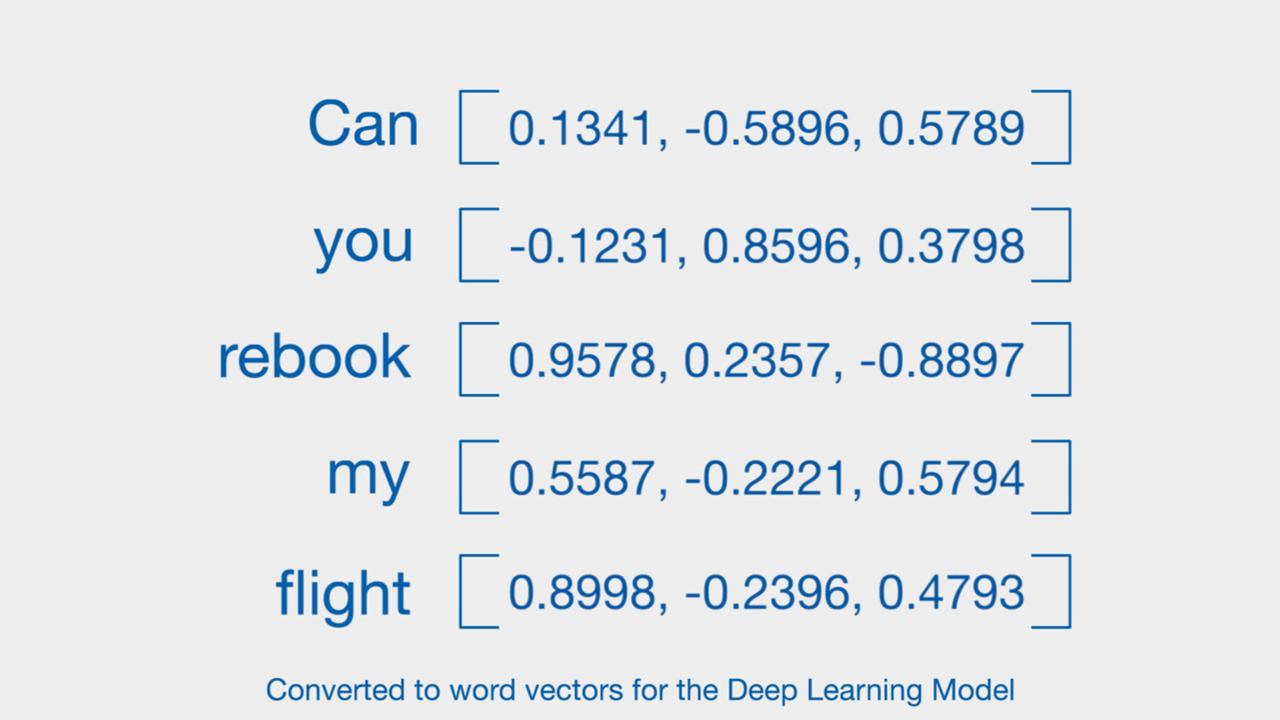 Converting words into vectors for natural language processing (Image credit)
According to Martine, since the adoption of AI, KLM has seen quite a few improvements:
50% of all customer interactions are supported by AI
More than 5 million clicks have been saved by automated forms in the last five years
100% increase in case volume
Most importantly, AI has enabled KLM to speed up customer interaction by 50%, freeing up the customer service team to provide help where needed.
A chatbot helping to book flights and pack bags
In September 2017, KLM expanded its services with Blue Bo (BB), an AI service bot. On Facebook Messenger, Blue Bot can help customers to book their flights, while on Google Assistant, it can help with packing the bags.
"BB will guide you through everything you need to bring to your destination and for the length of your trip," explained Martine. "She asks all the right questions such as if you need to arrange for a visa, or if you need to bring medicine so travelers are prepared for their trip. Based on the weather forecast, she will check if you need to bring extra clothes or an umbrella.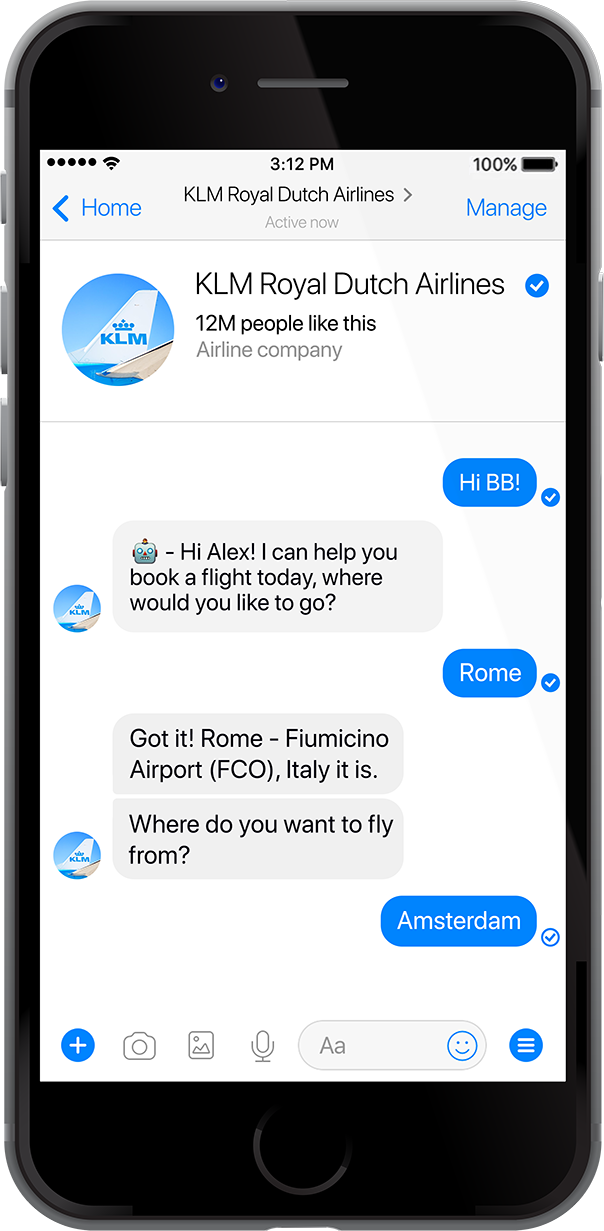 Blue Bot booking a flight (Image credit)
After testing several machine learning frameworks, such as TensorFlow, KLM chose Dialogflow as the core natural language processing technology for Blue Bot.
"We really love Dialogflow. It has really strong natural language understanding capabilities, which meant we were able to automate a large part of the conversation. Dialogflow was very easy for our developers to use. We were able to build and ship the experience really quickly." —Martine van der Lee, KLM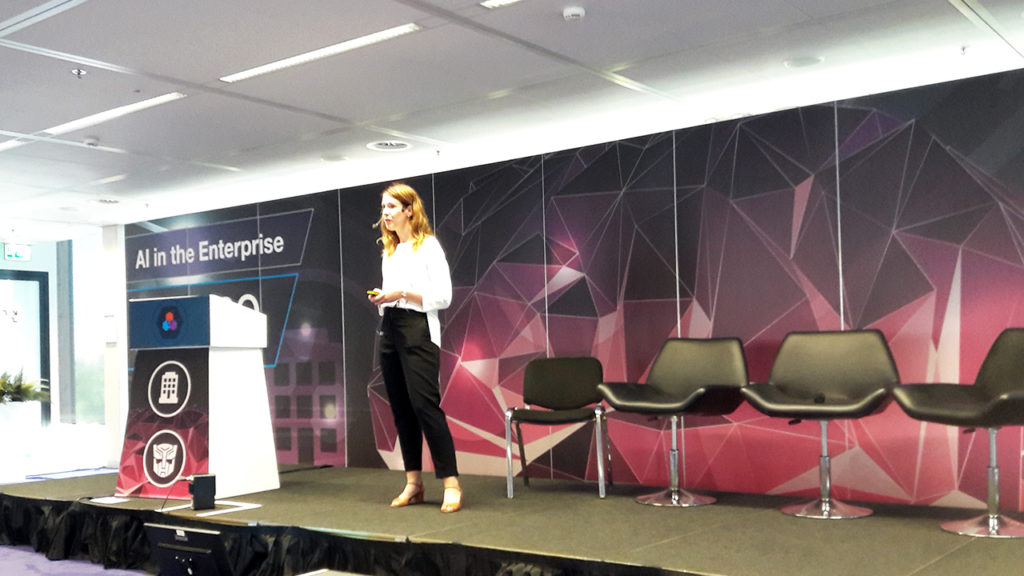 Martine van der Lee at the AI Expo 2018 (Photo credit: Altoros)
BB was later integrated with Google Home—this video demonstrates how the system works. Currently, KLM plans to merge Blue Bots booking and packing assistance functionalities to further help travelers to focus on planning their itineraries instead of travel logistics.
"With every single case, we see approximately 50% reduction of time spent in the interaction when we can use AI. We want to make sure that when interacting with KLM, you have all the right information with you and we solve issues before you even detect them."
—Martine van der Lee, KLM
Smart seats and other AI initiatives
In the spirit of bringing people together, KLM installed Connecting Seats at the Amsterdam Airport Schiphol (in collaboration with DDB & Tribal Amsterdam). These seats enable travelers of varying nationalities to communicate with one another regardless of language.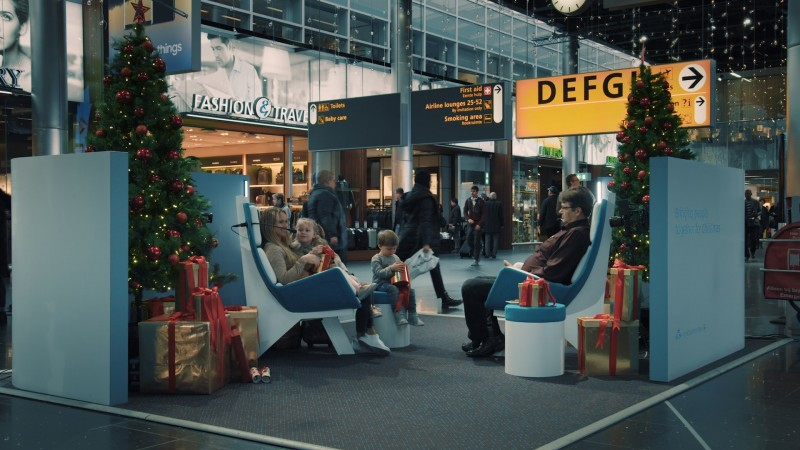 Connected Seats at the Amsterdam Airport Schiphol (Image credit)
The seats make use of Google Cloud's Speech API, Translation API, and Web Speech API.
KLM is also seeking to extend its AI customer service capabilities with automated rebooking in case of flight cancellations. The airlines has also been collaborating with the Boston Consulting Group since the start of 2017 to deploy AI solutions to improve airlines operations. According to KLM, these AI tools will help in tackling the most complex decisions pertaining to fleet, crew, ground services, and network.
Evaluating blockchain
In 2019, KLM will be celebrating its 100th anniversary. Adopting new technologies such as AI can only serve to further ensure the airline's continued growth and longevity. With this in mind, KLM opened its Digital Studio in April 2016 with the goal of seeking out the latest technology trends. At the start of 2017, the blockchain technology was added to the agenda.
In March 2018, the first proof of concept for blockchain technology in engineering and maintenance was finalized—having a single shared view of the data generated by aerospace components throughout their life cycle. Some details of these project were presented by Linda Bos and Tobias Disse of KLM at Blockchain Expo Europe 2018 in Amsterdam several weeks ago.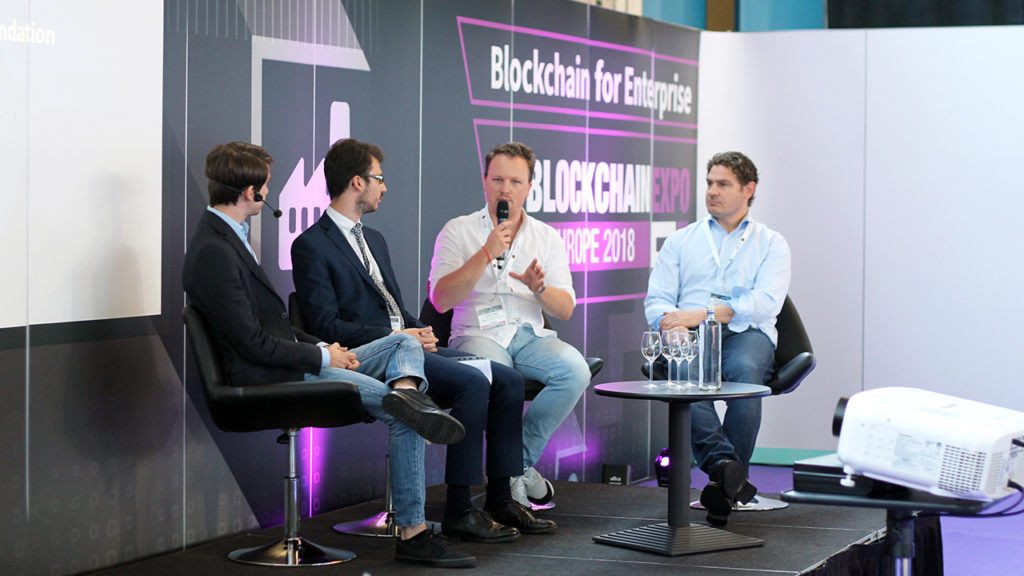 Tobias Disse of KLM at the Blockchain Expo 2018 (Photo credit: Altoros)
"We've been working on a project where we track a component moving through different organizations. We're creating a passport for components." —Tobias Disse, KLM
The initiative looks similar to how Boeing improves their supply chain and manufacturing process with blockchain. "What we try to do is keep track of all the data generated by the component during its life cycle," said Linda Bos.
Moving forward, KLM will also be working with UTC Aerospace Systems to create an Ethereum-based blockchain consortium, according to Linda.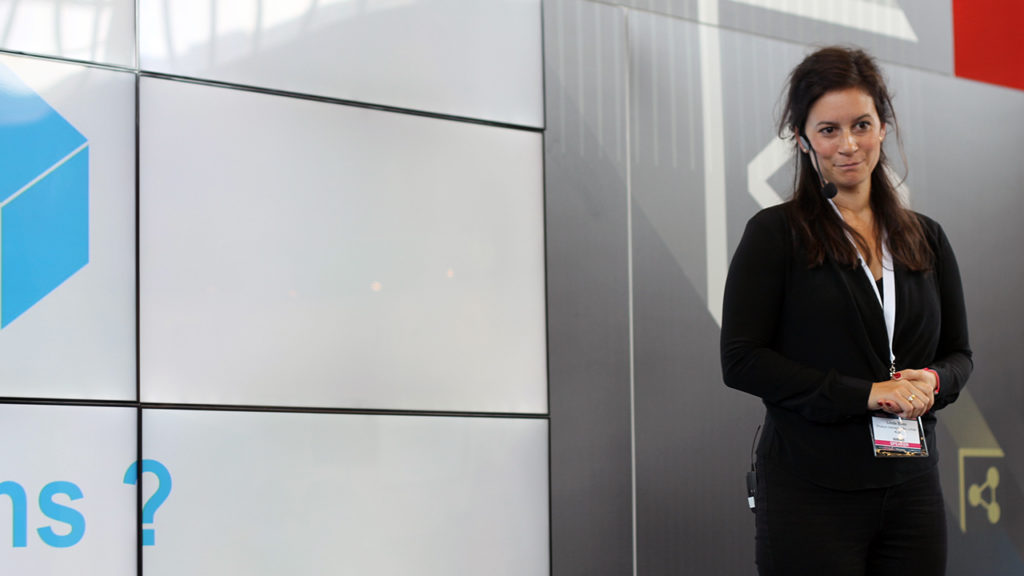 Linda Bos of KLM at the Blockchain Expo 2018 (Photo credit: Altoros)
With blockchain, we are able to create this platform where we have all these parties equally sharing. To realize this, we need to have a consortium with all the parties involved."
—Linda Bos, KLM
With the successful adoption of artificial intelligence, it will be interesting to track the airline's progress with blockchain technology. Will KLM be able to combine the two technologies along its journey of digital transformation? We'll find out soon.
Want details? Watch the videos!
Further reading
About the experts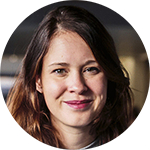 Martine van der Lee
is the Director of Social Media at KLM where she responsible for the organization's social media strategy—including service, brand, commerce, and development. She has pioneered the launch of award winning services for the airlines on various social media platforms such as Facebook Messenger, WhatsApp, WeChat, and Twitter. Previously, Martine served as a policy advisor for the Association of Universities in the Netherlands.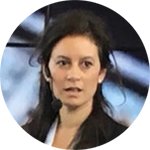 Linda Bos
is the Blockchain Lead at KLM where she is responsible for experimenting with blockchain technology, building a blockchain center of excellence, and driving forward conversations regarding consortium thinking. Linda is passionate about the airline industry and has a strong interest and execution power in the blockchain space.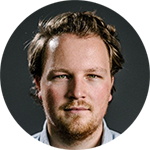 Tobias Disse
is a Blockchain Product Analyst at KLM. He is also a Co-founder and CEO of Kryha. Previously, Tobias served at Proof, Inc., Dynamic View, and Berenschot.
---
This post was written by Carlo Gutierrez and edited by Alex Khizhniak.