Orange Labs Test Massive Cloud Migration with ElPaaso Add-on to Cloud Foundry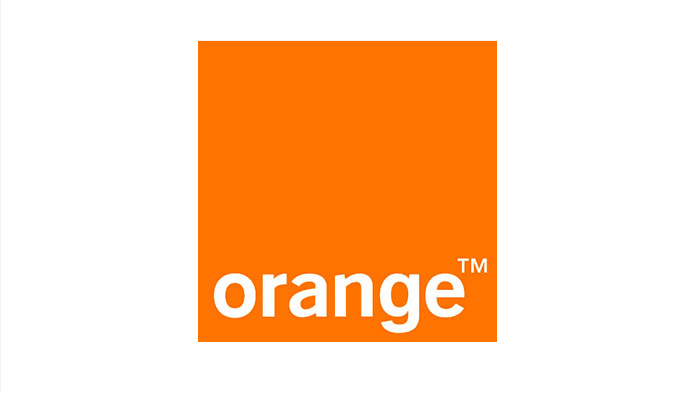 Internal IT is developing best practices and methods to get development and operations working together in an extended CF environment.
Why read this?
Multi-national telco working to achieve "massive" migration to the cloud.
More than 1,000 apps and services for an internal IT department migrated to a cloud environment, reaching 240 million customers.
Operations buy-in is essential. A test lab, "playground" environment is the best way to proceed. Unique aspects of a particular company must be addressed specifically, and the use of CF must conform to the company, not the other way around.
vCloud, Spring, Splunk, OpenStack
Multi-national deployment that reaches 29 countries.
European-based telco with $50 billion in revenue and 240 million customers.
Separates and supports specific lab activities in a facility based in Grenoble, France.
(The following use case is based on presentations made by , a member of the ElPaaso team at Orange Labs. He is based at the company's facilities in Grenoble, France.)
The French telco Orange is leveraging Cloud Foundry as "a playground for cloud-native architecture" within its Orange Labs subsidiary, aiming to ease the adoption of the PaaS within the company's internal IT.
Orange has revenues of around US$50 billion, serving 240 million subscribers in 29 markets. It has leveraged CF into an environment called ElPaaso to pave a path for widespread adoption of Cloud Foundry within a "federated environment that provides individual businesses with lots of local autonomy," according to ElPaaso team member Guillaume Berche.
"More than an out-of-the-box Cloud Foundry instance"
Orange realized a few years ago that simply migrating to IaaS as a cloud strategy would "not be a silver bullet," according to Berche. The question then arose as to how PaaS could handle "massive cloud migration," he says.
The company also discovered that meeting its goals would require "more than an out-of-the-box Cloud Foundry instance," Berche says. It now has a dual-hosting mode, with raw CF and its forked implementation with the ElPaaso add-on. A high-level view of the architecture is shown in the following slide: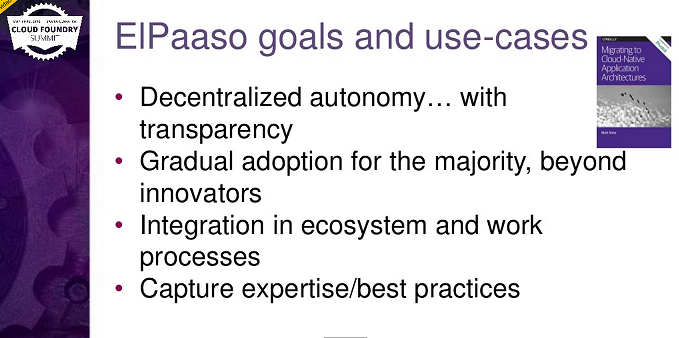 The ElPaaso team has several higher level goals as it works through its process:
Gradually adopting the PaaS for the majority of users in development and operations, beyond the initial innovators

Integration of the PaaS into the company's internal IT ecosystem and work processes

Capturing expertise and best practices along the way

Creating Stable interfaces to isolate projects from changes
Working within an on-prem, private cloud instance, the team utilizes an impact mapping process that addresses fundamental questions, such as why the lab team is doing what it's doing, how it can measure if/when its goal is reached, and who can help the team reach its goal. "The map is quite large," notes Berche. vCloud, Spring, Splunk, and OpenStack are also present within the test lab environment.
Challenges met on the way
A couple of unsurprising key issues have emerged: integration of legacy apps and buy-in by operations. "We have many legacy apps that we are taking time to transform and adapt," according to Berche. "We must always see if we can get existing apps to transform to the 12-factor apps (demanded by Cloud Foundry)."
Berche also notes "there are gaps in culture between developers and operations, and the tools they use." He says the team will be successful "only when operations accepts it," and only when things are proven to be able to run in a multi-datacenter, multi-region environment. Moving toward operational buy-in, Berche says the team is working to establish a common baseline in operations "so there is less specificity among apps."
There is much customization being done and remaining to be done. "We have a lot of work to do on logs," says Berche as just one example. Berche provides a detailed explanation of the iterative process involved, and several specific technical areas of interest in the Slideshare deck listed at the end of this article.
In the bigger picture, the ElPaaso team is working to extend CF through many "hooks," as Berche refers to them. A list is included in the following slide: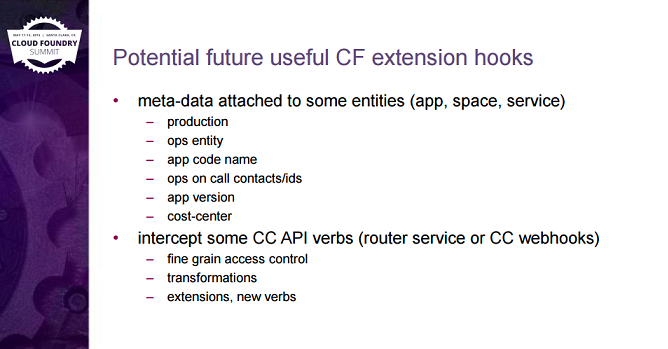 "We are working to capture what apps support in terms of environment variables," says Berche "thus making this information explicit, so that the intimacy between developers and operations gets introduced with this explicit configuration."
Bonne chance!
Want details? Watch the videos!
Guillaume Berche made a couple of presentations on the topic at the Cloud Foundry Summit 2015 in Santa Clara, CA.
Related slides
Here is a presentation by Guillaume Berche on the topic at SlideShare: