VMware to Ease Modern App Development with Pivotal Acquisition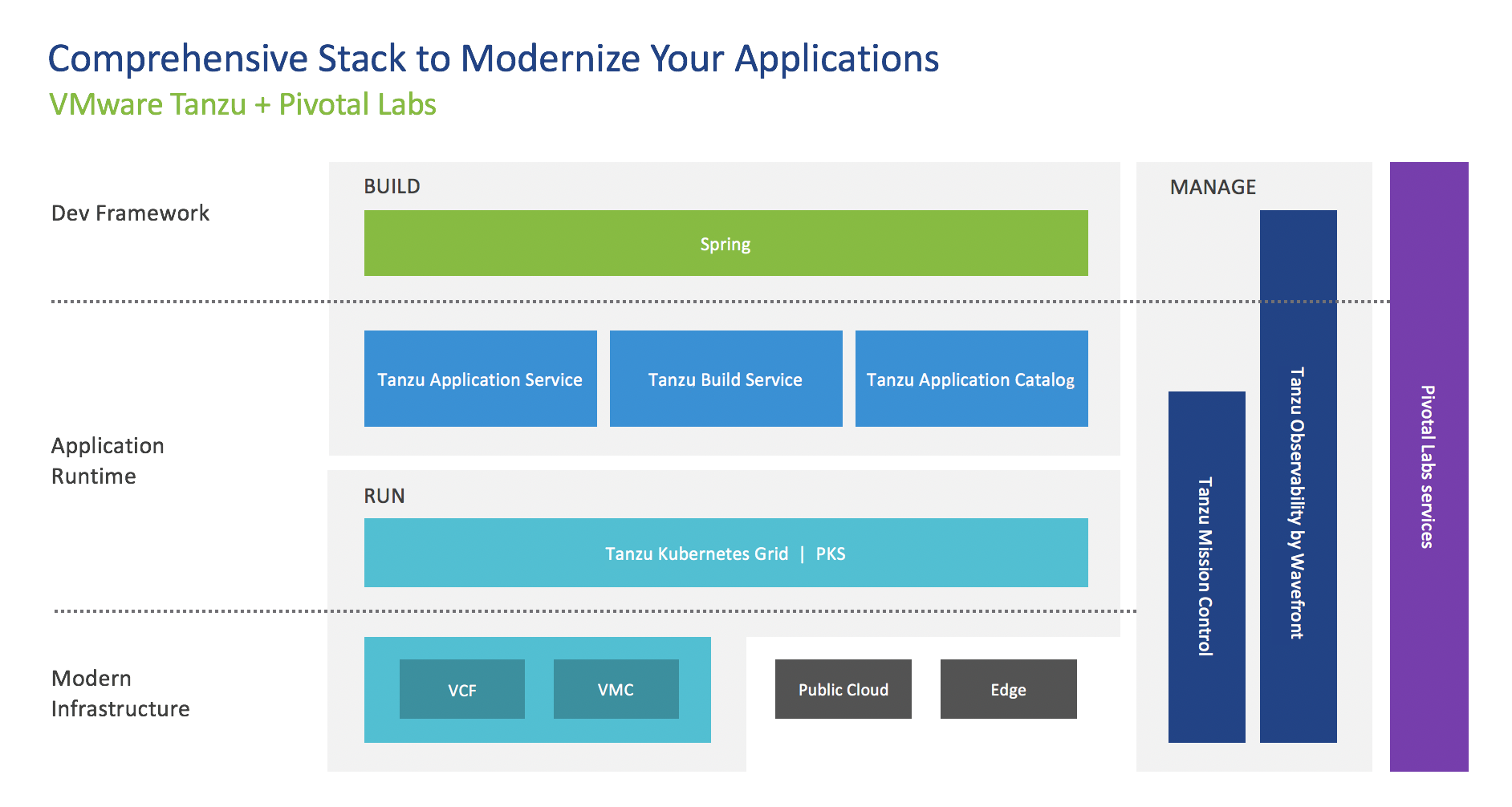 Bolstered by Pivotal's stack, VMware aims to simplify multi-cloud operations and enable developers to build modern apps faster.
Why VMware acquired Pivotal?
Last year, VMware acquired Pivotal as it aimed to strengthen its emerging portfolio of developer and application products and services. Craig McLuckie, VP of Product at VMware, and Ian Andrews, VP of Marketing at VMware, highlighted pertinent details about the acquisition in a recent webinar.
Pivotal Application Service (PAS) and Pivotal Container Service (PKS) are foundational to this stack and this strategic move enables VMware to help enterprises deliver modern applications with enhanced agility, security, and efficiency. While the company has great infrastructure products, they wanted to have more tools and capabilities that cater to development teams.
Closing the gap between Devs and Ops
By combining VMware's infrastructure technologies with the newly acquired Pivotal's stack, the company unveiled VMware Tanzu, a new portfolio aimed at simplifying multi-cloud operations and providing developers with resources that help to build apps more rapidly.
The VMware Tanzu portfolio includes:
VMware Tanzu Mission Control, to help enterprises centrally manage and secure containers and clusters across data centers, public clouds, and the edge
VMware Tanzu Kubernetes Grid, to enable a consistent operation and application portability on Kubernetes
VMware Tanzu Application Service, a secure and scalable platform for running Java, .NET, and Node.js applications offering the cf push simplicity, turnkey support for microservices, continuous delivery, and horizontal scale, familiar and beloved to the users of Pivotal Application Service
VMware Tanzu Application Catalog, a customizable selection of open-source software from the collection of Bitnami
Pivotal Lab's expertise in transformation services will assist in building cloud-native applications with Spring, migrating legacy software, and operating app platforms. Additionally, VMware's new stack makes use of Observability by Wavefront, an application monitoring and analysis platform for improving code in production.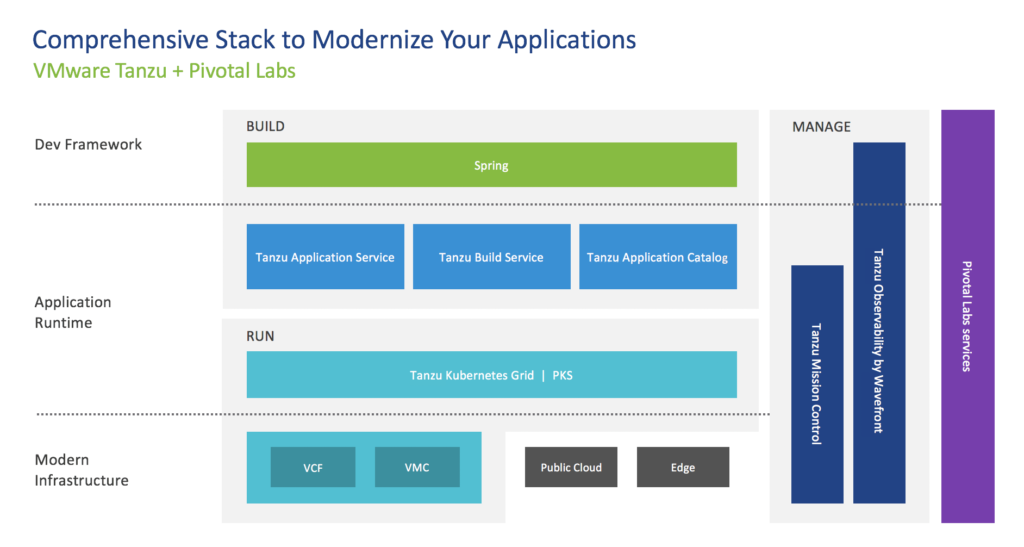 The combined VMware Tanzu stack (VMware Copyright 2020)
What's in it for the customers?
For end users, VMware Tanzu will provide speed, stability, and security in their modern, multi-cloud software delivery efforts. This will mean faster app development and easier infrastructure management. Additionally, the combined portfolio of products will enable different teams of an organization to do more.
Developers can take advantage of modern dev frameworks, such as Spring Runtime and the Tanzu App Catalog, to build their cloud-native applications and microservices. They can take advantage of the automation and security built into the processes and get code into production more efficiently.
IT teams can deliver on the promise of multi-cloud, while enforcing security and compliance policies across multiple regions, clouds, and remote site locations. They can enable easier and broader consumption of Kubernetes and manage those environments more consistently, thus reducing risk.
Enterprises can now deliver new revenue-generating applications to customers much faster, while safely adopting open-source innovation and transferring the improvements reliability and costs to their customers.
What about existing deployments?
Moving forward, VMware Tanzu Application Service will be treated as a top priority. Support for workloads on Windows is being extended, as the company invests in offering the same core cf push–like capabilities on Kubernetes as it does on VMs today.
In addition, VMware intends to preserve BOSH capabilities to provide automated cluster and operating system life-cycle management, as well as extend these capabilities to a broader array of workloads including Kubernetes.
"We at Altoros, being a system integrator for Cloud Foundry and a partner for Pivotal during the last six years, have witnessed that Pivotal's stack of products delivers to its promise in terms of functionality, reliability, and performance. Multiple implementations we took part in demonstrated how enterprises running PAS obtain strong competitive advantage by accelerating release cycles and empowering software developers. We are excited to see that VMware is continuing to invest and innovate on this great product now available as VMware Tanzu Application Service." —Andrei Yurkevich, CTO, Altoros
Commenting on VMware's announcement, Andrei Yurkevich believes that Pivotal's customers can expect their investments—made during the last years—will be respected. VMware is standing behind PAS, BOSH, and Spring, promising to maintain and develop these products for the foreseeable future. As part of the Tanzu ecosystem, it is truly exciting to see how Pivotal's stack of products will blend into the broader VMware Tanzu portfolio, making it, probably, the most robust and mature multi-cloud Kubernetes-based offering on the market, Andrei noted.
Further reading
---
The post is written by Carlo Gutierrez; edited by Sophia Turol and Alex Khizhniak.