Quotes and Thoughts from Cloud Foundry Summit Europe 2017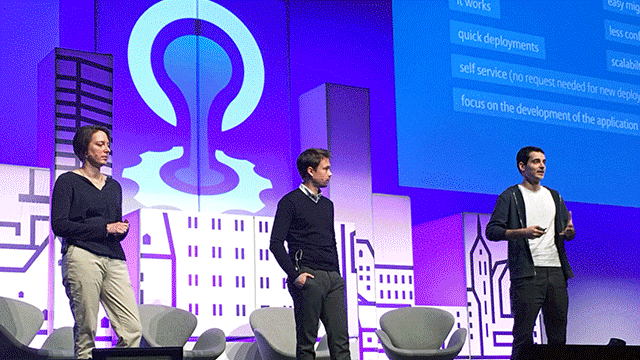 End users from multiple industries provided insights into the stories of their success. Kubernetes, containers, and microservices have also got into the limelight.
Cloud Foundry Summit Europe 2017 saw more growth of its ecosystem with 93,085 commits, 6,296 pull requests from non-dedicated committers, 482 public repos, and 2,783 contributors. 865 registered attendees were present during the summit with speakers eager to share insights.
p.s. Video recordings of the sessions have just been uploaded by the Foundation.
New end-user stories
According to Abby Kearns of the Cloud Foundry Foundation, "over half of the Fortune 500 are using Cloud Foundry." End users now represent over 40% of the Cloud Foundry Foundation members. At the summit, adopters of Cloud Foundry across different industries presented their stories of success, including Allianz, Volkswagen, CSAA Insurance, KONE Corporation, Dormakaba Group, Orange, and others.
Talking about the perks of using Cloud Foundry as a platform for cloud-native development, the Allianz team highlighted those things that they absolutely like: easy migration, quick deployments, less configuration needed, self-service, etc. "Cloud Foundry gives us freedom and independence," said Simon Neusser of Allianz. Echoing him, Sarah Heldt backed up the thought by noting "we're really happy with our Cloud Foundry platform, because it enables us to move a lot faster. It gives us freedom and flexibility."
"The great thing about Cloud Foundry for us is that it empowers us as a team to just push new stuff to production whenever we want to. We don't have to wait for it, we can do it immediately. It speeds us up by a lot." —Simon Neusser, Allianz
Cloud Foundry appeared to be a reliable choice for Allianz. Seems like there is no room for panic in case something goes wrong, if it does.
"The resilience of Cloud Foundry is very handy because whenever the API should crash—which never has happened—Cloud Foundry will spin up a new application instance automatically."
—Simon Neusser, Allianz
Furthermore, the platform ensures stability, while allowing to concentrate on those things the team wants to.
"Cloud Foundry just works. In the year that we've been using this on production, we never had any real issues with the platform. Cloud Foundry allows us as developers to just focus on our real job, which is to build applications and not the platform." —Simon Neusser, Allianz
Simon's colleague Denis Kostic outlined what is important for the team: "For us, the number one priority is to provide further value in the app. To do so, we need the most advanced state-of-the-art software we can get."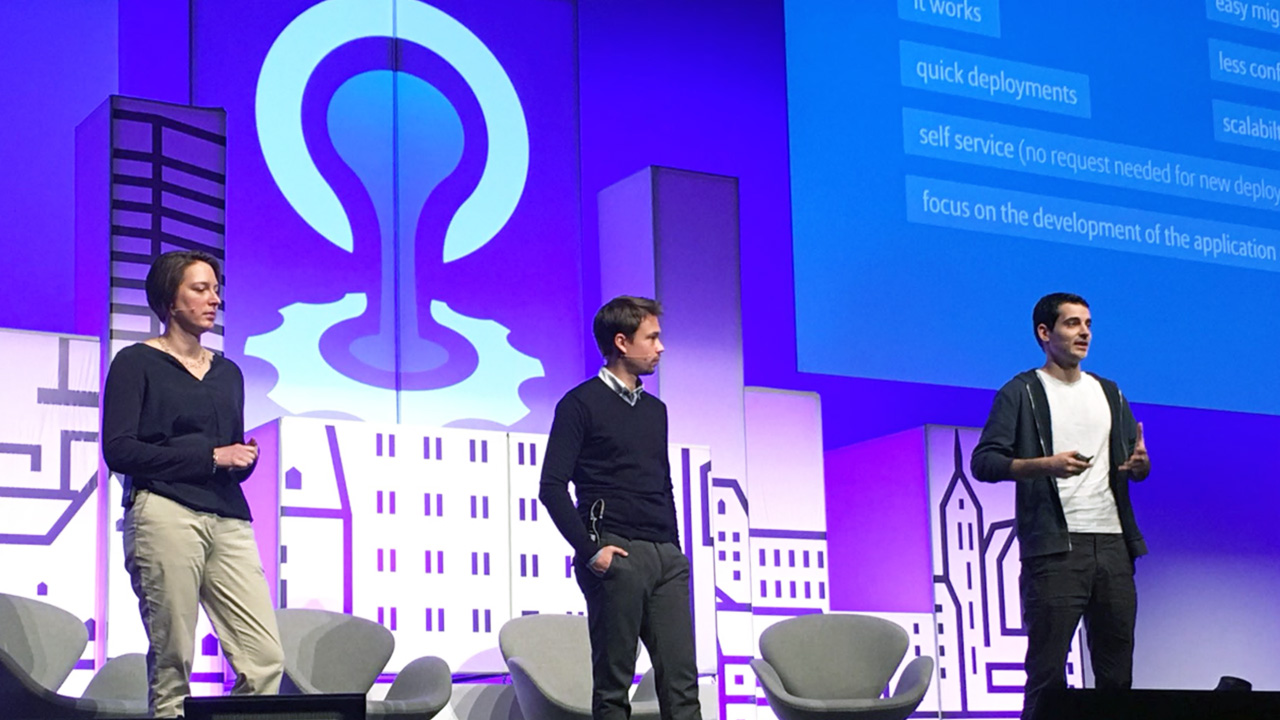 Sarah Heldt, Denis Kostic, and Simon Neusser (Allianz)
Simon also talked about the importance of choosing a tool set. "We are in charge of the tool stack. We as a team decide which tools fit best for the way we work. We follow the DevOps mindset. After we build it, we also must be able to run it."
The Allianz team also emphasized the ease of use Cloud Foundry furnishes one with. As Simon put it, "anybody can learn to use Cloud Foundry in a short period of time."
"Cloud Foundry is really easy to use. You don't have to be an infrastructure specialist or anything like that to just use Cloud Foundry and get it up and running really fast." —Simon Neusser, Allianz
Finally, adopting Cloud Foundry enabled the Allianz team to shift from waterfall to lean software development. This model encouraged smaller teams and gave more weight to the opinions of individual team members. "Every team member should have their own say," explained Denis.
"People should be allowed to learn and improve themselves continuously in order to deliver excellent quality." —Denis Kostic, Allianz
The automotive industry was represented by the Volkswagen team. The Volkswagen Group comprises 12 brands from 7 European countries: Volkswagen, Audi, SEAT, ŠKODA, Bentley, Bugatti, Lamborghini, Porsche, Ducati, Scania, and MAN. The company is using Pivotal Cloud Foundry on top of OpenStack, as well as relies on CI/CD technologies. Carsten Schade noted: "You start with small teams and you share your successes."
"Digitalization doesn't bring Internet into cars, digitalization brings cars into the Internet."
—Carsten Schade, Volkswagen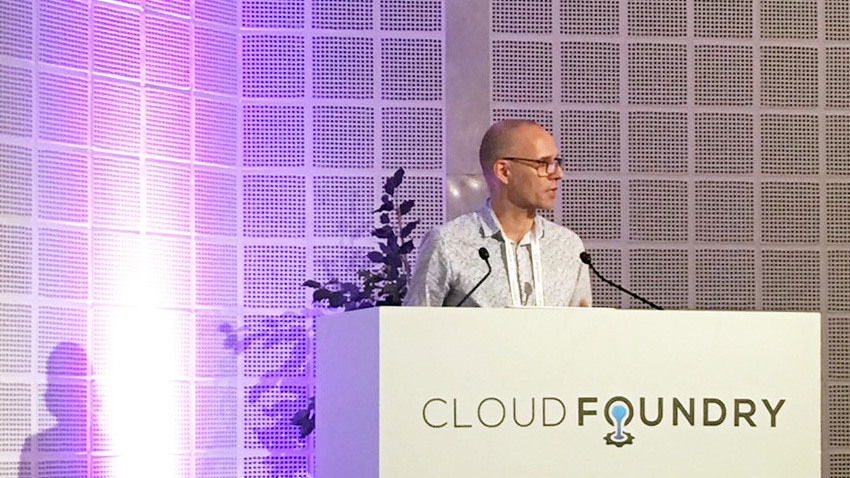 Carsten Schade, Volkswagen
Representing the insurtech sector, Kyle Campos of CSAA Insurance urged the attendees: "Your rapidly increased velocity will send shockwaves through orgs and processes. Be prepared."
"From three months lead time for dev infrastructure to getting Pivotal Cloud Foundry up on a public cloud in one week." —Kyle Campos, CSAA Insurance
As part of the Industry 4.0 domain, KONE Corporation is building an IoT platform based on IBM Bluemix to enable connectivity for the field equipment like elevators, escalators, and automatic doors. Fareed Ahmed of KONE Corporation at the summit illuminated the idea of a close interoperation with the company's partners.
"We are working directly with our partners and API users. We are trusting them to be part of the ecosystem to build applications." —Fareed Ahmed, KONE Corporation
Dormakaba Group, a provider of security and access solutions—such as door hardware, entrance systems, etc., also views establishing working partnerships as essential.
"Digital transformation is a lot about partners. You have to find the right partners to do what your business demands or what your customers need." —Andreas Häberli, Dormakaba Group
Andreas Häberli of Dormakaba Group thinks "technology is a challenge to use not just to change the old way of doing business, but also to question your own business model and bring sustainability to life." As Abby Kearns nailed it, "you too can have your door locks managed by Cloud Foundry."
Orange, a major player on the telco market, also had its story to share. According to Fabien Guichard, the company employs multi-datacenter federated Prometheus, the Terraform platform, and Concourse for managing operations.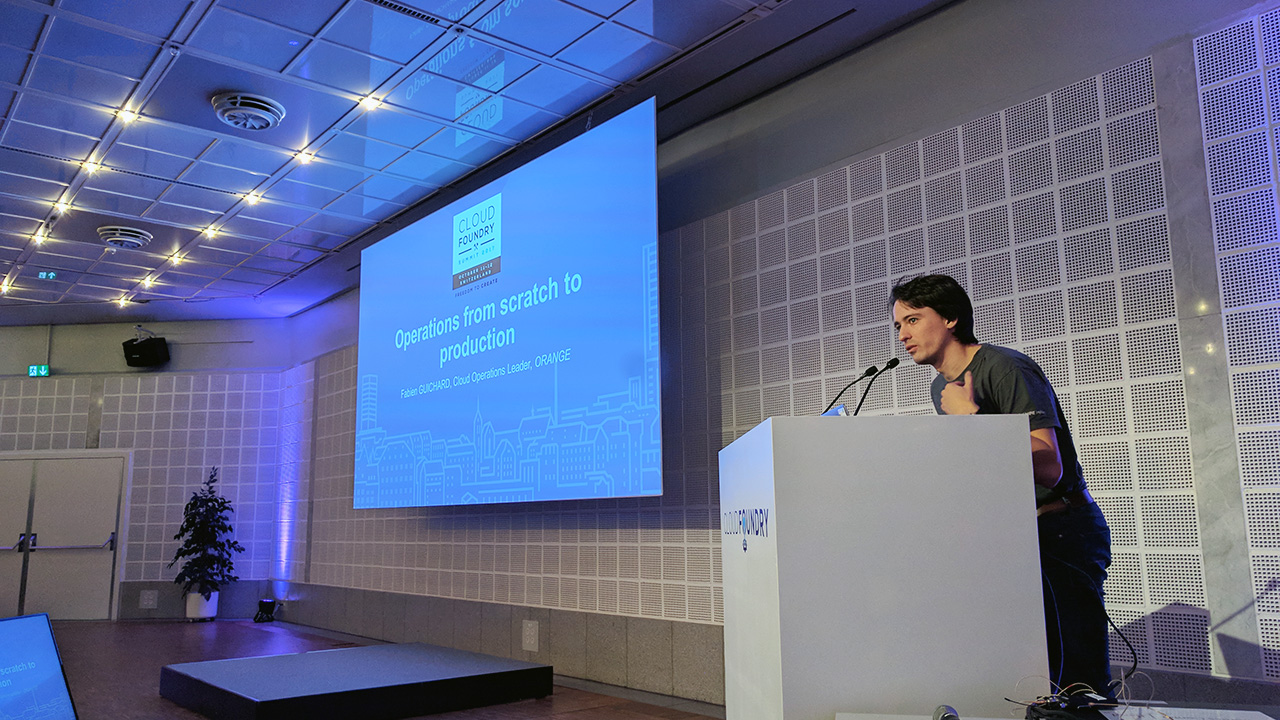 Fabien Guichard, Orange
Fabien presented a couple of Cloud Foundry tools built by Orange, such as a Terraform provider for CredHub, cf-ops-automation, and CF WebUI offering a web interface for Cloud Foundry based on AngularJS and Bootstrap, while there is no an open-source alternative.
"People doing on-premises Cloud Foundry should never underestimate the amount of training in GitHub operations." —Fabien Guichard, Orange
Customer-centric digital transformation
When transforming, the enterprise should not only concentrate on changing the old ways of development, but also take into the account what it means for end customers, how it will affect them, and what they can get out of it. This very idea was widely discussed at the summit.
Marc Geall of SAP highlighted the thought that being both an adopter of the technology and provider of services based on this technology, the enterprise wants the best it can get. "We're 'customers first' at the end of the day. We want to take advantage of best in class scalability and availability. We take our 40 years of industry experience and deliver it as microservices that can be reused, so our customers and partners can innovate using the industry best practice."
"Platform as a business model is ecosystem-driven. There is no value without innovation occurring in the platform." —Marc Geall, SAP
What else the users of SAP need? As Marc said, "multi-cloud is super important to our customers. We need to provide them that choice." The figures revealed by Abby Kearns compliment the thought: "53% of Cloud Foundry users are utilizing the platform to make multi-cloud real."
"Our strategy is very much about how do we help our customers to innovate, how do they take advantage of digital transformation themselves. Our strategy and our approach is to take our 15,000 partners, help them with that journey to the cloud, and also take advantage of the platform-based business model." —Marc Geall, SAP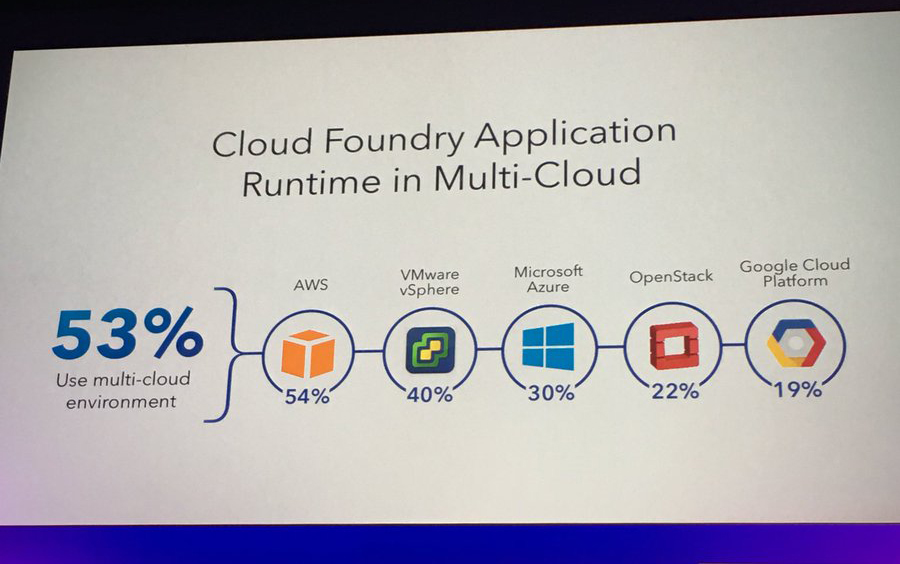 In this transformation journey, open-source technologies like Cloud Foundry are definitely a game changer in many ways. Marc noted, "open source is critical. It helps us to help our customers…to build better software (for them)."
"We see open source as a differentiator for us, because we want to take advantage of that ecosystem and diversity." —Marc Geall, SAP
There were thoughts voiced on the role of technologies underlying the transformation process, their impact both on the product delivered and company's self-positioning. Michael Miller of SUSE said "we think of ourselves now not as a Linux distribution vendor, but as provider of software-defined infrastructure and application delivery technologies." He also added that "SUSE acquired OpenStack and Cloud Foundry talent from HPE. We saw that as a great opportunity to bring great people and great technology into SUSE and help to accelerate our existing plans and roadmaps."
"We checked all the open-source solutions and by far Cloud Foundry is the most mature, has the better quality of code, and the best community." —Thomas Di Giacomo, SUSE
The customer-centric approach also works well for Swisscom, which builds a multi-cloud architecture to provide failure tolerance and HA for its customers. One of the biggest challenges for the team was connectivity engineering, since the deployments are stretched over different OpenStack and VMware installations across several data centers.
"We abuse the isolation segments to allow customers to have different versions of Gorouter." —Fabio Berchtold, Swisscom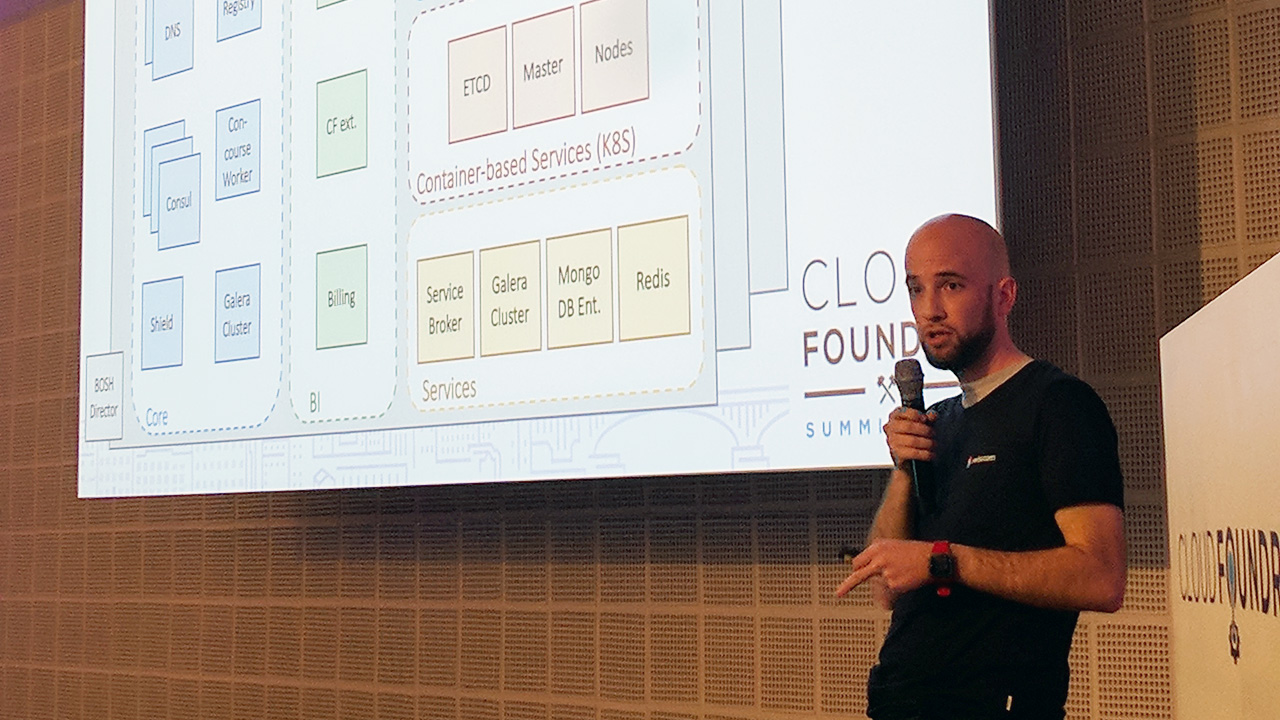 Fabio Berchtold (Swisscom) talking about multi-cloud
BOSH, containers, and Kubernetes
At the summit, it was announced that the updated Kubo project was renamed into Cloud Foundry Container Runtime (CFCR). Now, it offers a default Cloud Foundry approach to deploying containers using Kubernetes and BOSH. So, naturally, there was a lot of talk around the related technologies.
BOSH has gone a long way from what it was and what it is now. As a true fan of BOSH, Dr. Nic Williams of Stark & Wayne shared his vision of the tool.
"My relationship with BOSH is one of abuse. I was in love with BOSH since five and a half years ago. I had all these problems in my head…and then BOSH came out and that's all solved. If you looked at Cloud Foundry BOSH five years ago and wrote if off, look again." —Dr. Nic
He also noted that "Engine Yard had spent dozens of millions to solve what BOSH solved."
"I see a space, where we have developers building what they need using the tools they need…we have a much more composable system. Cloud Foundry BOSH can run Kubernetes, application runtime, and container runtime, or you can run Kubernetes on top of OpenStack, Azure, or Google Cloud Platform." —Sarah Novotny, Google
Talking about the former Kubo project, speakers praised its role in bridging the worlds of Cloud Foundry and Kubernetes. According to Sarah Novotny, "Kubo brings two great communities together—Cloud Foundry and Kubernetes." Her colleague, Meaghan Kjelland added, "Kubo, or Cloud Foundry Container Runtime, is a project that brings the power of BOSH to Kubernetes."
"Container Runtime in Cloud Foundry is not a Kubernetes distribution, but pure Kubernetes…Cloud Foundry now offers platform-constructed and developer-constructed containers."
—Ian Andrews, Pivotal
Indeed, why not joining the forces?
"When I think of Kubernetes and Cloud Foundry, I think about peanut butter and chocolate. While they're both great separately, together they're amazing…You can never have too much love or chocolate." —Abby Kearns, Cloud Foundry Foundation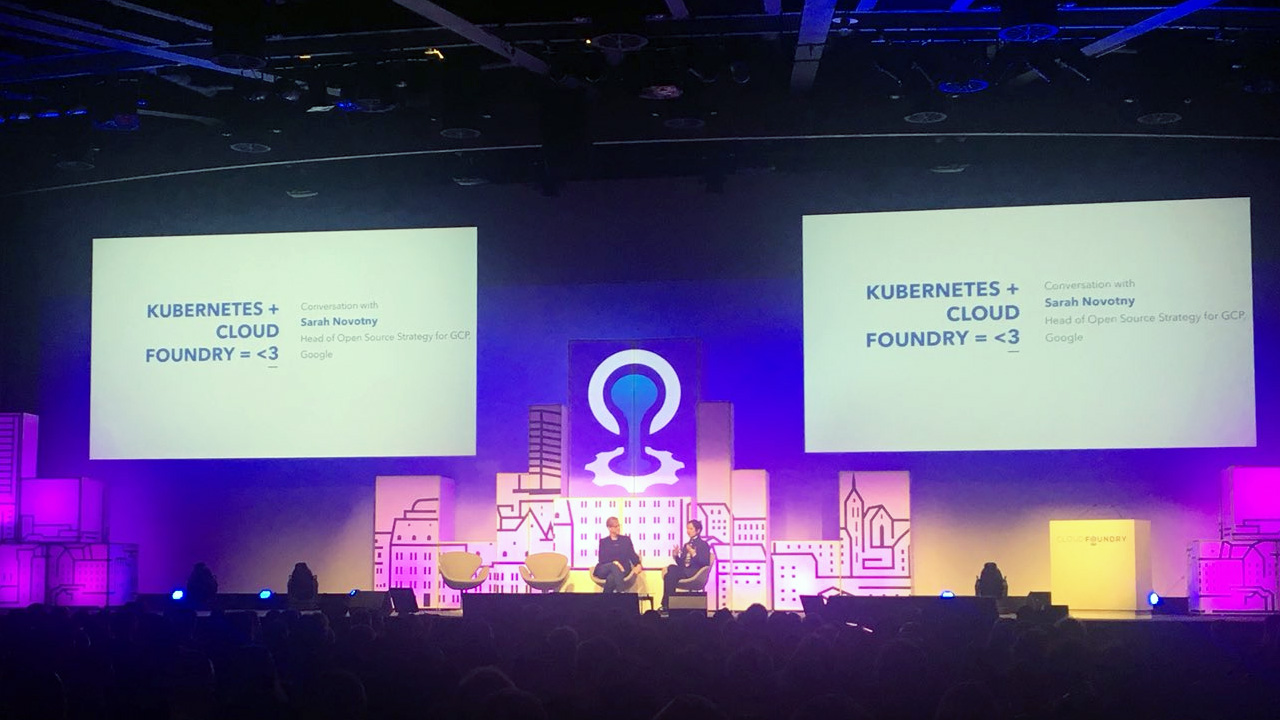 Abby Kearns (CF Foundation) and Sarah Novotny (Google)
Julian Fischer of anynines marked, "when building data services, I don't want to have to care if the app is in containers, VMs, or cloud instances."
"The future involves finding a common way to describe the life cycle of software without having to care about implementation." —Julian Fischer, anynines
In terms of abstraction, Mark Peek of VMware mentioned that "Cloud Foundry offers developer choice to choose right level of abstraction for different needs."
"It's not a choice of I'm using one platform and everything should go on it. There are different abstractions that are valuable for different reasons." —Chip Childers, Cloud Foundry Foundation
Community, open source, and diversity
A lot of attention was paid to open source during the summit, paying tribute to the very essence of Cloud Foundry.
"Most of the digital transformation journeys start at the enterprise side walking towards the open-source side of things." —Julian Fischer, anynines
So, Abby Kearns reminded the attendees of that saying "let's not forget that Cloud Foundry isn't quite three years old yet as an open-source technology. We've had a tremendous amount of potential here and this is just getting started…We're one of the fastest growing open-source projects in terms of velocity and that's just going to continue."
"We want to make sure that Cloud Foundry evolves to embrace best-of-breed technologies."
—Abby Kearns, Cloud Foundry Foundation
Chip Childers of the Cloud Foundry Foundation noted, "we harvest innovation throughout the entire open-source ecosystem. All these projects are upstream for us."
"One of the best parts of open source is that we can find those intersection points, those surface connection points where the different projects work together and find ways to interconnect…If you are working in a different open-source community, share the ideas that you see in these events and cross-pollinate. It's a huge help." —Sarah Novotny, Google
According to Abby Kearns of the CF Foundation, "digital transformation and the power of open source are causing more and more companies to not only want to leverage software and become software companies, but also to participate in open source."
Abby also encouraged the expansion of the community, "grow the community, join in, and participate either through being a full-time committer, a contributor, or by being a vocal advocate."
"We can't rely on someone else to be a hero, everyone in the community has a responsibility." —Joshua McKenty, Pivotal
Being part of the community imposes responsibilities that should be distributed and shared. Abby's vision is that "building a viable and successful culture should be tied to the CEO all the way down."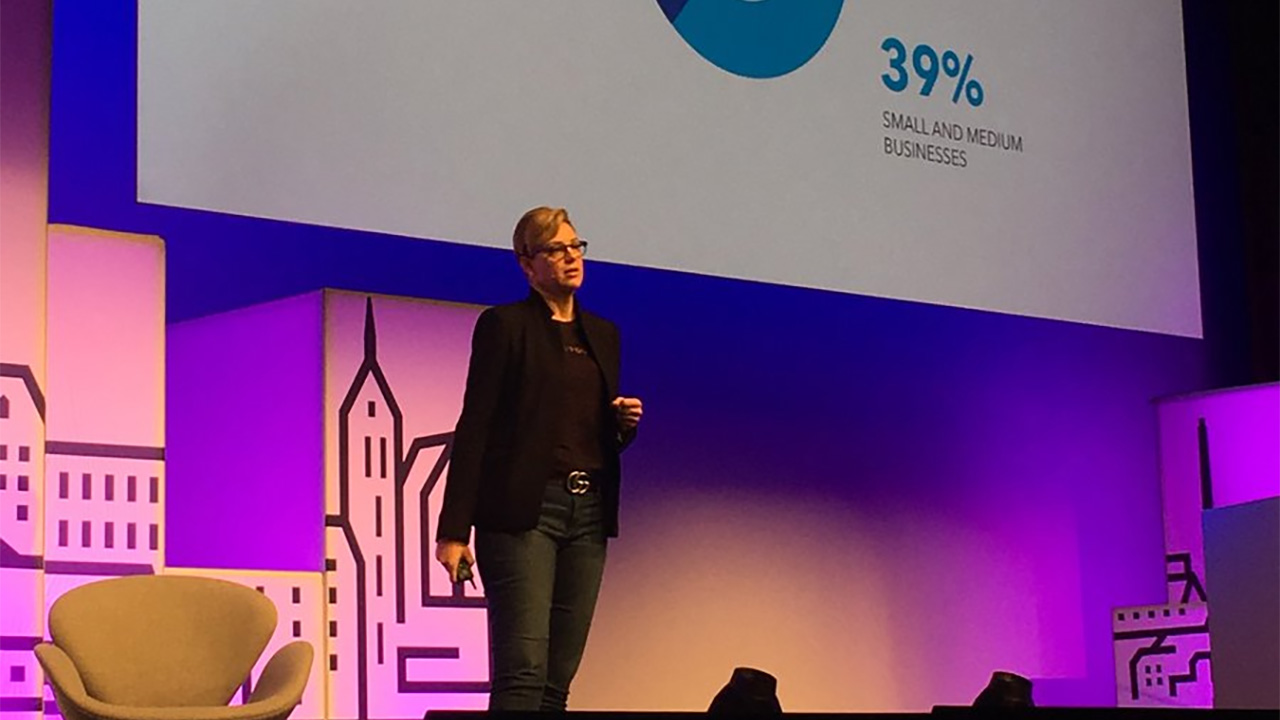 The idea of diversity also got into the limelight. As Abby said, "in the last five years, it's (community) changed dramatically. We talk about diversity and inclusiveness."
"How do you hold companies accountable for diversity quotas? MBOs for senior executives."
—Abby Kearns, Cloud Foundry Foundation
At the same time, "we need to recognize that we are all role models," suggested Emamurho Ugherughe of SAP. So, what is a role model to look up to?
"Dads can be important role models for encouraging women in technology."
—Swetha Repakula, IBM
The vital thought of equality in any life / career domain found its way, too. Sarah Novotny noted, "I'm not here to be a woman in tech. I'm not here to change the culture. I'm here because I love what I do." Keaty Gross of Pivotal shared her opinion saying "when we pitch the appeal of working in tech by perks and bouncy castles, we don't engage everyone."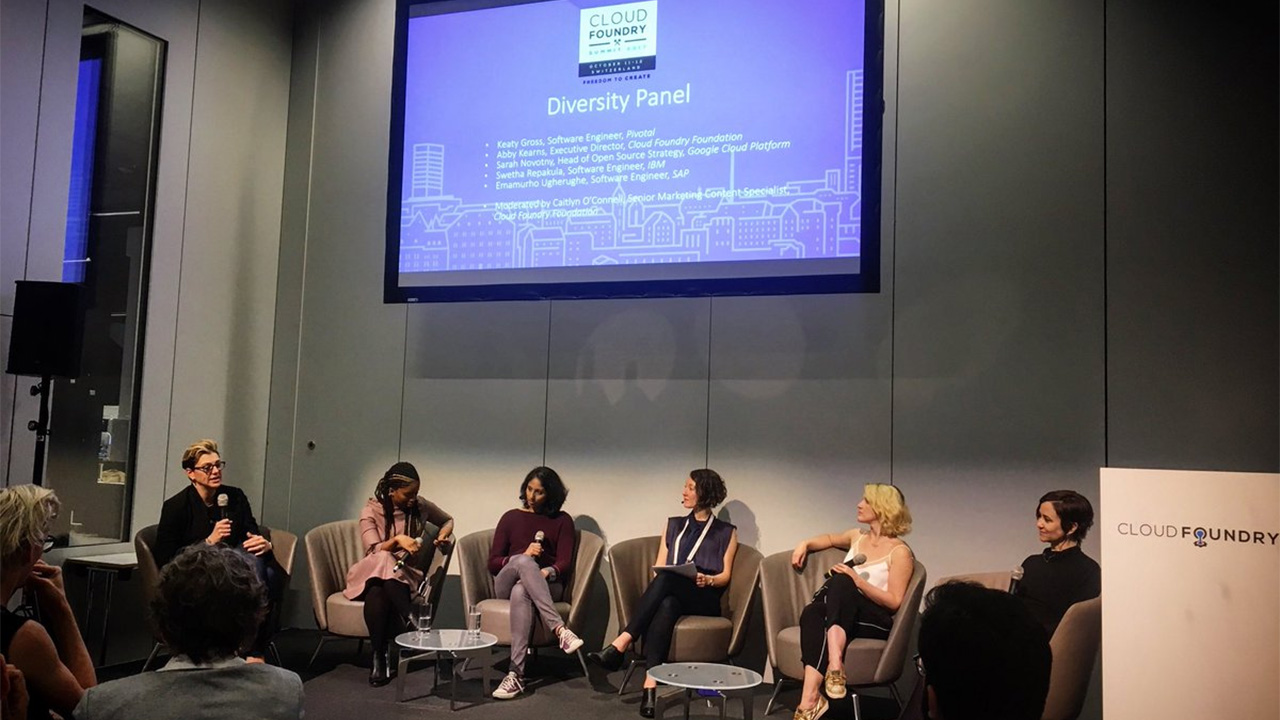 Abby Kearns (CF Foundation), Emamurho Ugherughe (SAP), Swetha Repakula (IBM),
Caitlyn O'Connell (CF Foundation), Keaty Gross (Pivotal), and Sarah Novotny (Google)
Microservices and APIs
Microservices have proved a reliable approach when developing cloud-native solutions as an alternative to monolith-based architectures. And Cloud Foundry fits into this approach perfectly. For instance, Marcel Walker of Swisscom noted "we use it to establish our microservices-based software development. The overall PaaS platform, Cloud Foundry is a very important piece for us."
"Monoliths are like riding public transport: we're all taking the bus, but the release schedule only comes four times a year." —Kenny Bastani, Pivotal
Prithpal Bhogill of Google noted that "the API life cycle needs to be a core competency for building microservices."
"Open Service Broker API spun from Cloud Foundry, and we say thank you for that. The potential is huge." —Sarah Novotny, Google
As part of his session on Open Service Broker API, Joshua McKenty of Pivotal was building a sample broker live and also joking about the chosen means to do it. "I get excited about making things boring," admitted Joshua, "it means the community understands how to use the tech."
"I did it in Python. It's not the only perfect language. It's just the one I know." —Joshua McKenty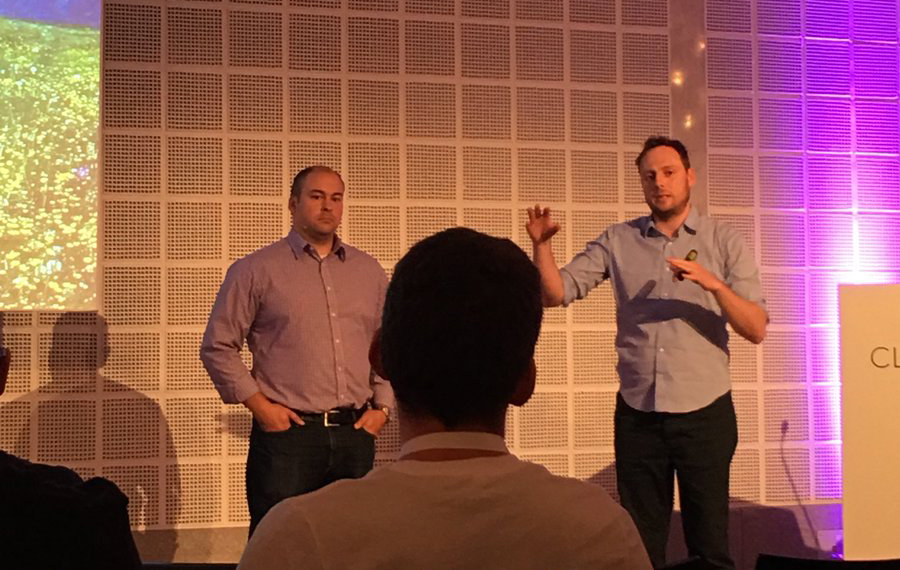 Joshua McKenty, Pivotal
Tony Erwin of IBM thinks that "microservices are a practice and you only get the full benefits after the practice and culture are installed." He also noted that "you can't run a microservice-based system without monitoring." This topic was elaborated deeper by Anton Soroko of Altoros. When covering his tips and tricks, he marked the role of simulations in full-stack monitoring, which "will help you to ensure that your deployment won't let you down at the time of a real-life failure." According to Anton, ideal scenarios to simulate include VM crashes, data center outages, and network issues.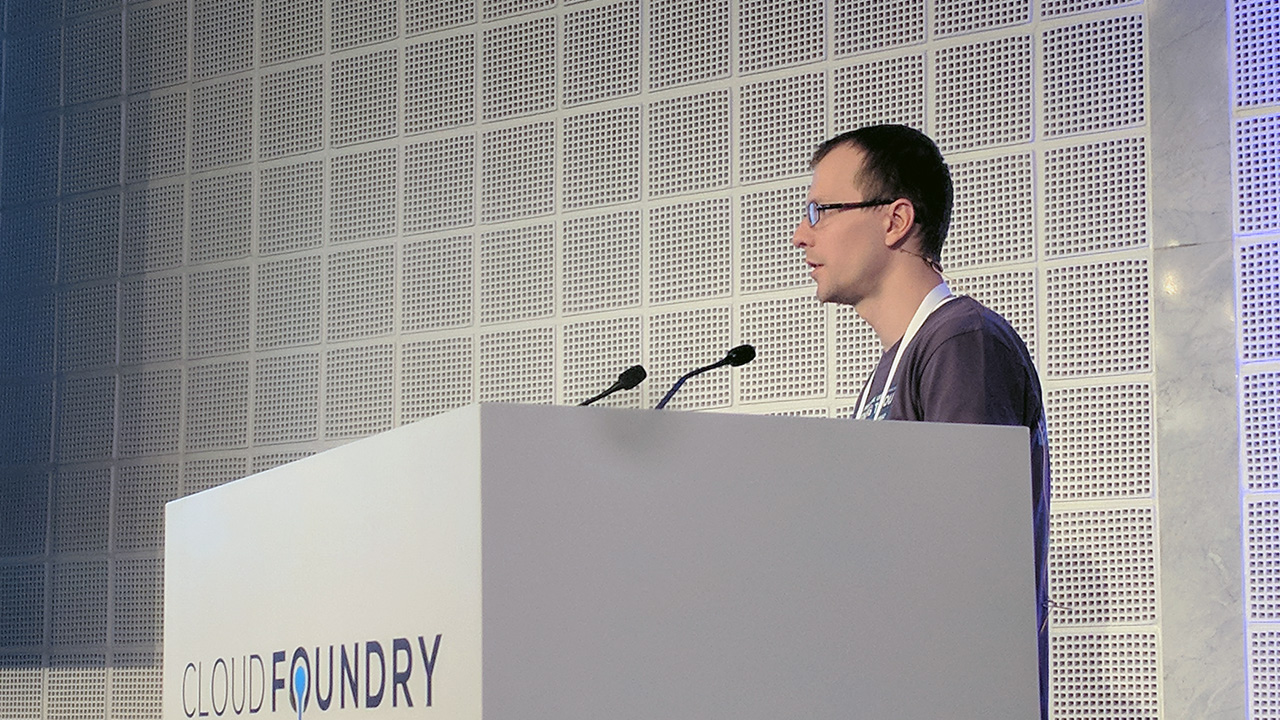 Anton Soroko, Altoros
When adopting a technology, one has to be aware of the associated risks. As Dr. Nic noted, "any time you build a business based on a new technology, you take a risk that the technology becomes irrelevant." However, watching the Cloud Foundry community flourishing, we also see the platforms's potential of adapting to the changing enterprise needs. Let's hope this level of innovation and collaboration will still be there next year—during the next summit.
More from the summit:
---
The post is written by Carlo Gutierrez and Sophie Turol, edited by Alex Khizhniak and Alesia Bulanok.
(Photos courtesy of Altoros.)