Why Is Oracle Betting on Cloud Foundry and Blockchain?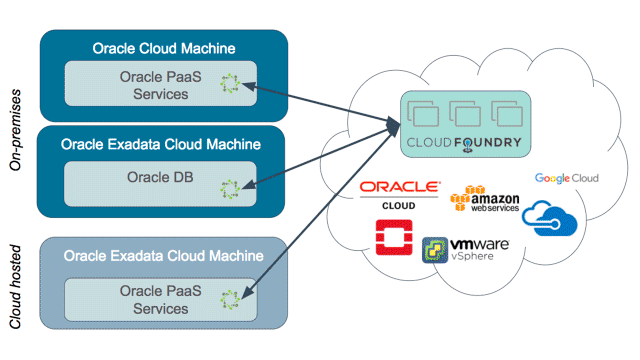 The company has developed a BOSH cloud provider interface and two service brokers for Cloud Foundry, looking into blockchain capabilities, as well.
Oracle services on Cloud Foundry
Last year, we were suprised by the decision of Oracle to focus on building its own PaaS instead of joining forces with existing successful initiatives. This year, we are suprised again. We should now welcome Oracle into the Cloud Foundry ecosystem, given its recent joint announcement with Pivotal. The IT giant is constructing a cloud provider interface (CPI) to enable Cloud Foundry users access the company's public and private cloud services.
"Oracle Cloud has a large ecosystem of platform services that can be used to augment Cloud Foundry applications or, conversely, Cloud Foundry can be used to extend Oracle services in new ways." —Michael Lehmann, Oracle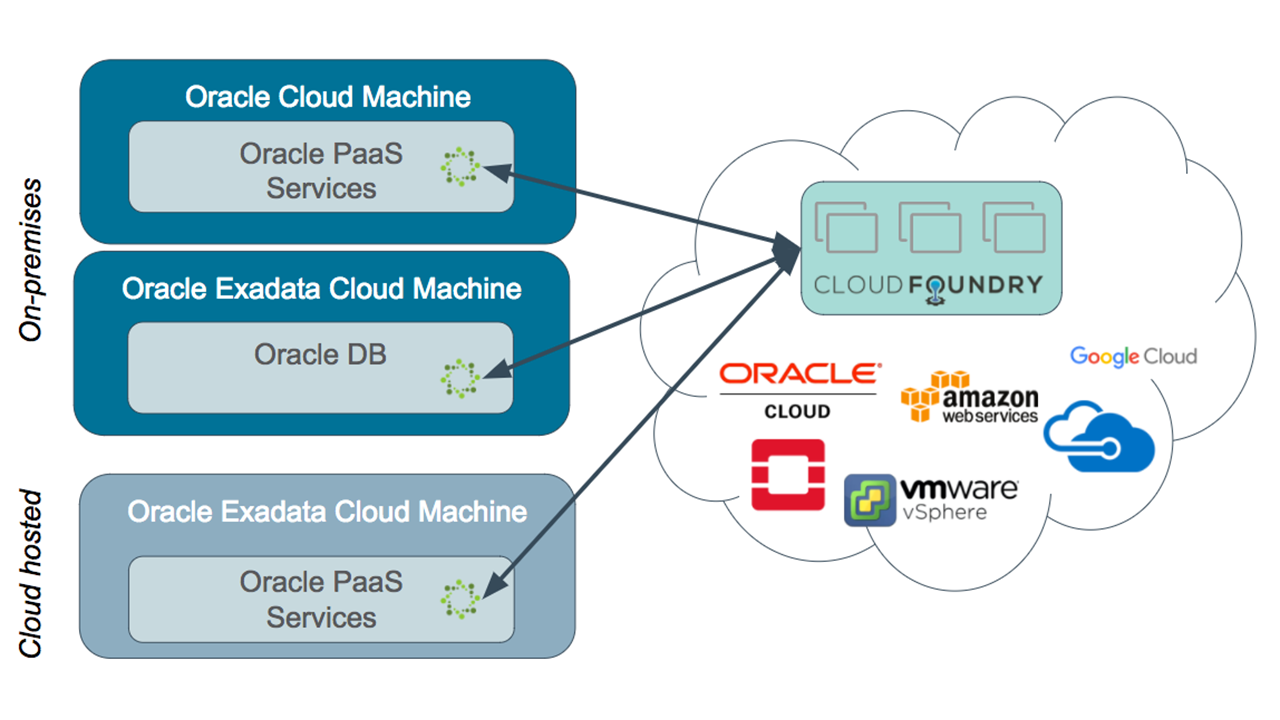 Service brokers for Cloud Foundry (Source)
Working on the BOSH CPI, Oracle expects the integration with Cloud Foundry to fall within three types of deployments:
Everything in the Oracle Cloud and nothing will be run on premises.
Hybrid deployments using service brokers integrating remotely with Oracle Cloud services.
Everything on premises with Oracle Cloud at Customer that enables Oracle Cloud services to be run in customer data centers.
Apart from the provider interface, Oracle has designed two service brokers. The first one—for Oracle Cloud Platform PaaS services—enables Cloud Foundry to interact with Database Cloud Service, Java Cloud Service, MySQL Cloud Service, DataHub Cloud Service (Cassandra), and Event Hub Cloud Service (Kafka).

A service broker for Oracle Cloud Platform PaaS services (Source)
The second service broker—for the Oracle Cloud Infrastructure capabilities—can be installed and configured in Cloud Foundry to give direct access to Database Cloud Service and Object Storage.

A service broker for Oracle Cloud Infrastructure services (Source)
Cloud is still growing slowly
There is nothing radical to see within the Cloud Foundry announcement, but rather it shows the quintessential proprietary enterprise technology company forcefully working to hang onto its $37-billion business. Hey, SAP is doing the same sort of thing, and even offers a Cloud Foundry distro as part of its effort to maintain its own €22-billion business (which includes the Sybase database customers these days).
But don't you sort of get the feeling that the cloud revolution was based on the idea of having friends over and playing your own wild music, while Mom and Dad went away for the week-end? And now they've surprisingly returned early, but instead of being mad they start trotting out their own music to show your friends how cool they are?
So, having Oracle crash this party adds no fun to it. However, maybe it will help to make Cloud Foundry and cloud computing in general more popular. After all this time, I keep hearing that only 10% to 15% of all enterprise workloads are in some sort of a cloud. A recent analysis by a well-respected data center and cloud expert Mark Thiele, CTO of Apcera, shows cloud workloads reaching only 17% over the next five years.

A projection of IT infrastructure distribution in 2022 (Source)
In addition to my work for Altoros, I serve as Conference Chair of Cloud Expo and as a Co-Chair of numerous other tech events around the world, but even wearing my spiffiest cheerleader outfit I often find it difficult to give it the old rah-rah-rah for cloud.
There's simply too much installed iron, too much corporate inertia, too many excuses from organizations to migrate to the cloud more purposefully. For every great all-in story, there are at least 100 organizations that are still sticking their toes in the water, forming committees to figure out a PoC, and the like.
Maybe having Larry tell everyone to move to the cloud, even if it's Oracle's very own special cloud, can be a good thing for the industry. Certainly, the public pronouncements from Pivotal and from the Cloud Foundry Foundation sound optimistic.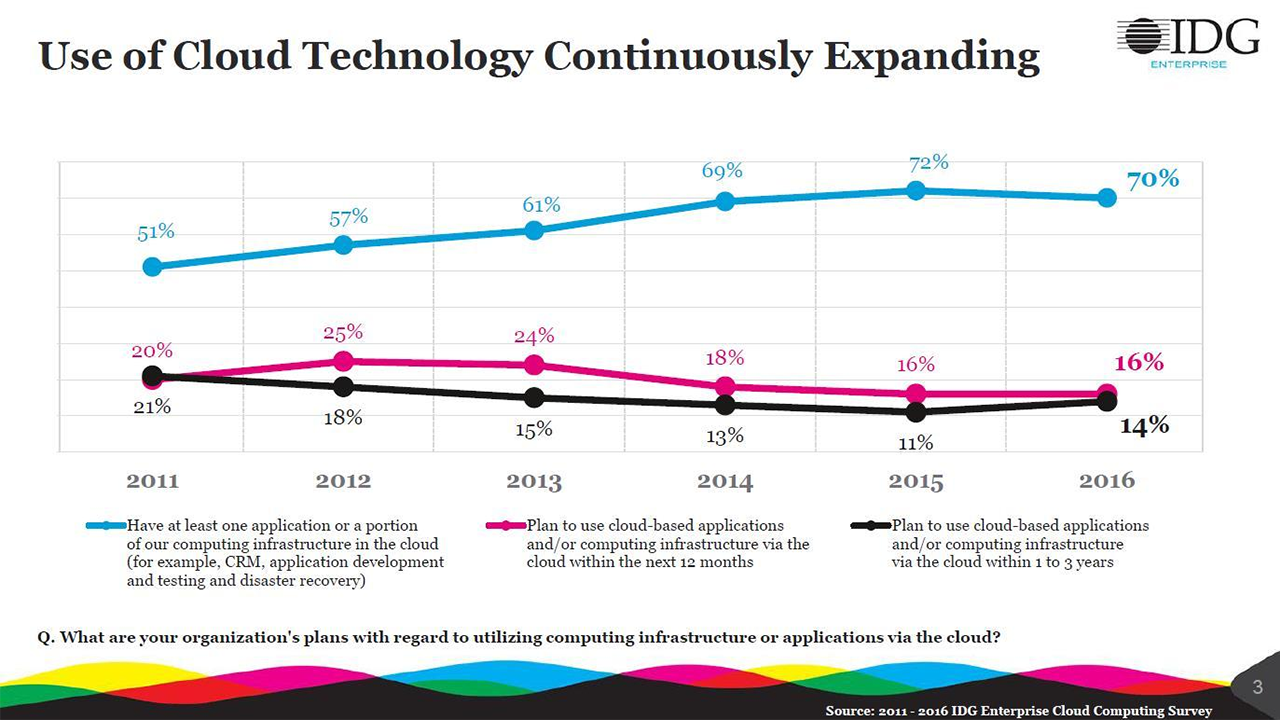 A cloud adoption rate since 2011 (Source)
Onto the blockchain bandwagon
Meanwhile, the company also announced its further work in blockchain, specifically within the Hyperledger Project. Following the announcement, Oracle now offers an enterprise-grade blockchain platform that is available through the company's PaaS.
According to Oracle, the Blockchain Cloud Service delivers the following functionality and possibilities:
Secure access in a permissioned blockchain protected by Oracle Identity Cloud Service with single sign-on and key management services.
Smart contracts make it possible to conduct non-repudiable transactions and introduce tamper-proof ledger updates—one can verify account balances before transferring funds, check that a proposed sales order complies with certain standards, etc.
REST APIs simplify integration of cloud-based or on-premises applications. With single sign-on, one can also add Oracle SaaS applications identity domains.
The UI console is responsible for simplifying administration, monitoring, and troubleshooting in real time. One can view the network topology and monitor the peer, orderer, and network component statuses, as well as monitor channel and ledger metrics.
"Oracle Blockchain Cloud Service provides enterprise-grade blockchain capabilities and is able to accelerate innovation for on-premises ERP and cloud-based SaaS and PaaS customers."
—Amit Zavery, Oracle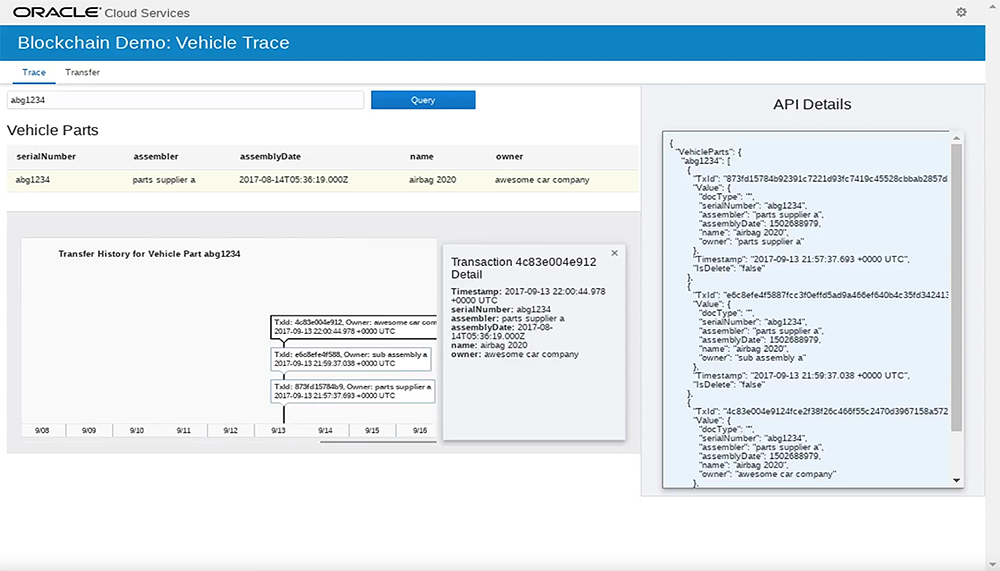 The Oracle Blockchain Cloud Service interface (Source)
Oracle's entry to the blockchain space could likely mean competition later on for IBM Blockchain, which is available within Bluemix, one of the Cloud Foundry distributions. Another competitor here is Microsoft's blockchain on Azure—built with Ethereum.
451 Research notes on the reasons behind this move: "Oracle arrived late to the cloud party, and is making sure that does not happen with blockchain. The company is among the early believers, and is committed to making it easy for enterprises to experiment with blockchain via its recently launched industry-neutral blockchain cloud service."
A battle for the enterprise
Looking at the announcement, the decision of running Cloud Foundry was driven by the platform's popularity among Oracle's users. Another factor was the potential combination of Cloud Foundry applications and Oracle platform services.
So, what has Oracle really announced? Its partnership with Pivotal was included in a flurry of announcements it made at its recent, very large Oracle OpenWorld event in San Francisco.
The flurry included lots of new hardware stuff. More germane to Cloud Foundry, it included new developments with the Oracle Cloud Infrastructure. The company managed to start a little playground battle with AWS over costs, but I see no point in that discussion. Amazon and Oracle are two different animals. However, it does seem as if Oracle is posing a challenge to Microsoft Azure as part of a decades-long battle for enterprise business.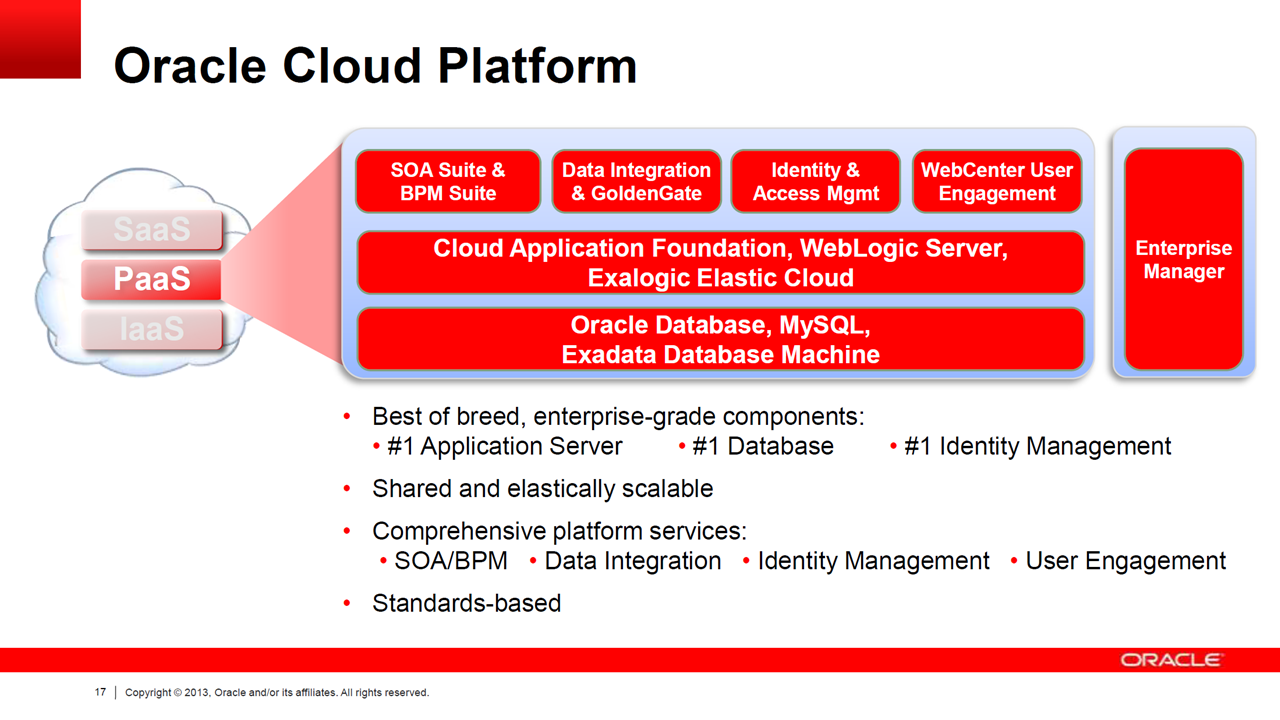 The Oracle Cloud's PaaS architecture (Source)
Oracle's infrastructure announcement was full of talk of migrating workloads, the role of data centers, achieving agility, and other contemporary hot-button enterprise issues. There was lots of speeds-and-feeds stuff, too.
This shakes out to mean simply, in my opinion, that Oracle has progressed from cloudwashing to a me-too strategy. It wants to remain your preferred vendor until the end of time, and it will go through the exercise of a tedious, complete overhaul of how it prices things to maintain the status quo.
As far as the Oracle's blockchain strategy, at least the company doesn't have a history of bad-mouthing it before embracing it. Oracle joined the Hyperledger Project in August, and now says all the requisite things about the blockchain technology, including its potential to "fundamentally transform how business transactions are conducted."
That said, the proof in this pudding will be demonstrated by how much the company contributes to Hyperledger in the future, as opposed to being just a part of it, and if it offers its own unique ideas to the world of blockchain in general.
Further reading
---
The post is written by Roger Strukhoff; edited by Sophie Turol, Carlo Gutierrez, and Alex Khizhniak.