Cloud Foundry Advisory Board Meeting, Apr 2019: Eirini Readiness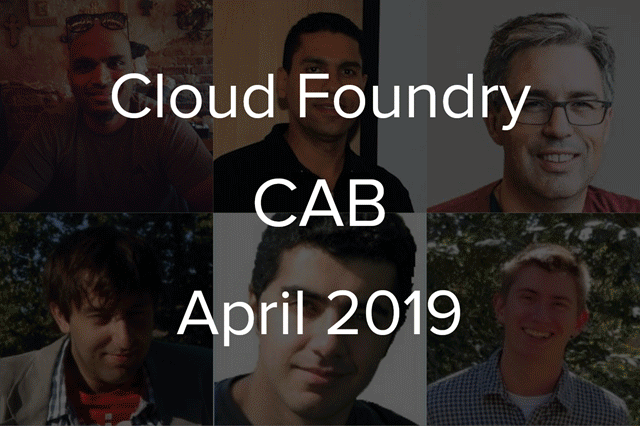 This month's call—held right at the summit in Philly—was mostly centered around Kubernetes integration with Project Eirini.
Moderated by Michael Maximilien (Dr. Max) of IBM, the Cloud Foundry Advisory Board (CAB) meeting of April 2019 had no set agenda this time around. Still, the conversation focused mainly on two things: ongoing efforts to integrate Kubernetes through Project Eirini and the momentum of Cloud Foundry.
The CAB meeting in Philadelphia (Source: Zoom live streaming)
Kubernetes and Project Eirini
The point of interest carried over from the previous summits is the ongoing integration between Cloud Foundry and Kubernetes through Project Eirini. At the first day of summit, the Cloud Foundry Foundation announced that Eirini is under core functional testing that validates CF Application Runtime releases. Plans are to ensure total production readiness of Project Eirini and further test the solution against hosted managed Kubernetes environments from various public cloud providers. Eirini provides developers with the cf push experience that makes it easy to deploy an app to production on top of Kubernetes.
While there weren't many details revealed about the project during the CAB meeting, those involved with it did speak out positively about the upcoming developments. Some of these contributors included Matthew Broomfield of Google who was interviewed by Nimesh Bhatia at the exhibit booths.
"We continue to work on our Cloud Foundry integrations. In the past couple of months, I've had the privilege of working with the Eirini team to make the project better in all ways."
—Matthew Broomfield, Google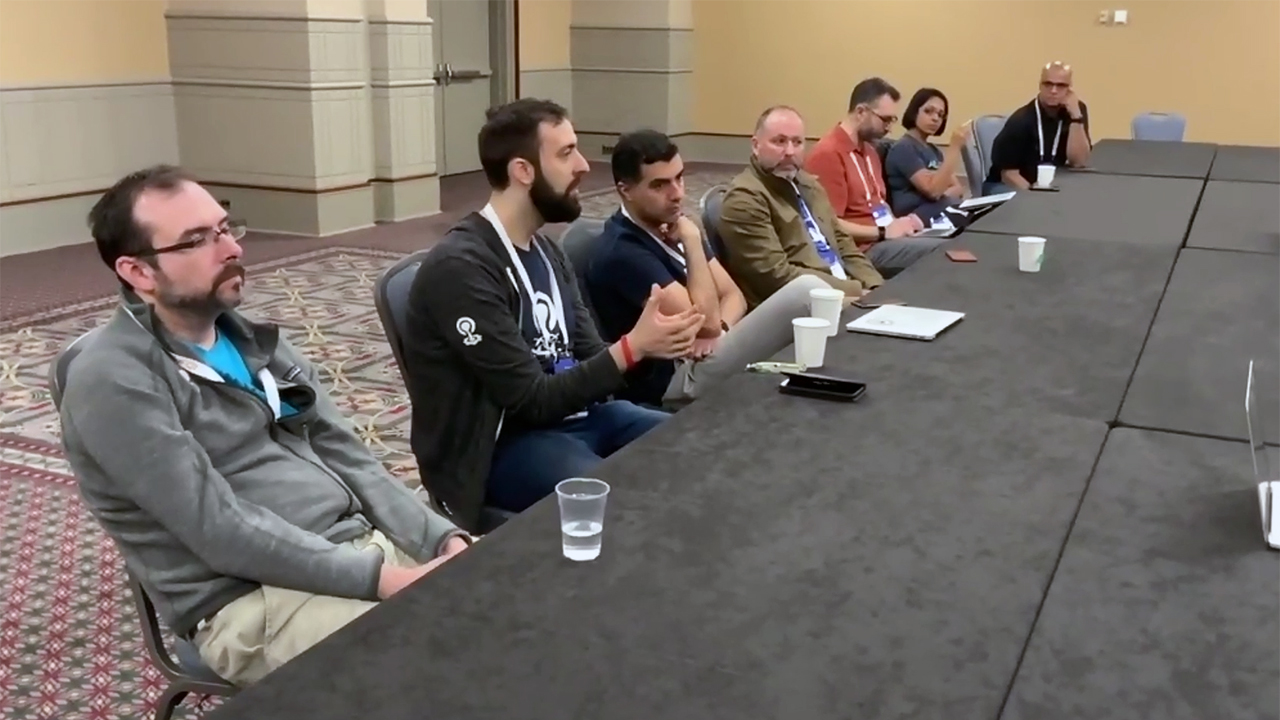 Dr. Julz at the CAB meeting (Source: Zoom live streaming)
Dr. Julz who spoke about Project Eirini in a keynote session just before the meeting, promised that there would be more details forthcoming in the next CAB call. Dr. Max also offered some assurance about Eirini's future, given Pivotal's involvement with the project.
"If you work with Pivotal, when they say they are starting something like this, they are very cautious. What you also learn very quickly is that it'll move quite fast. Part of the reason is they start, and there's no stopping, until some decision happens. I'm guessing, in a month or two, you'll hear much better details." —Dr. Max, IBM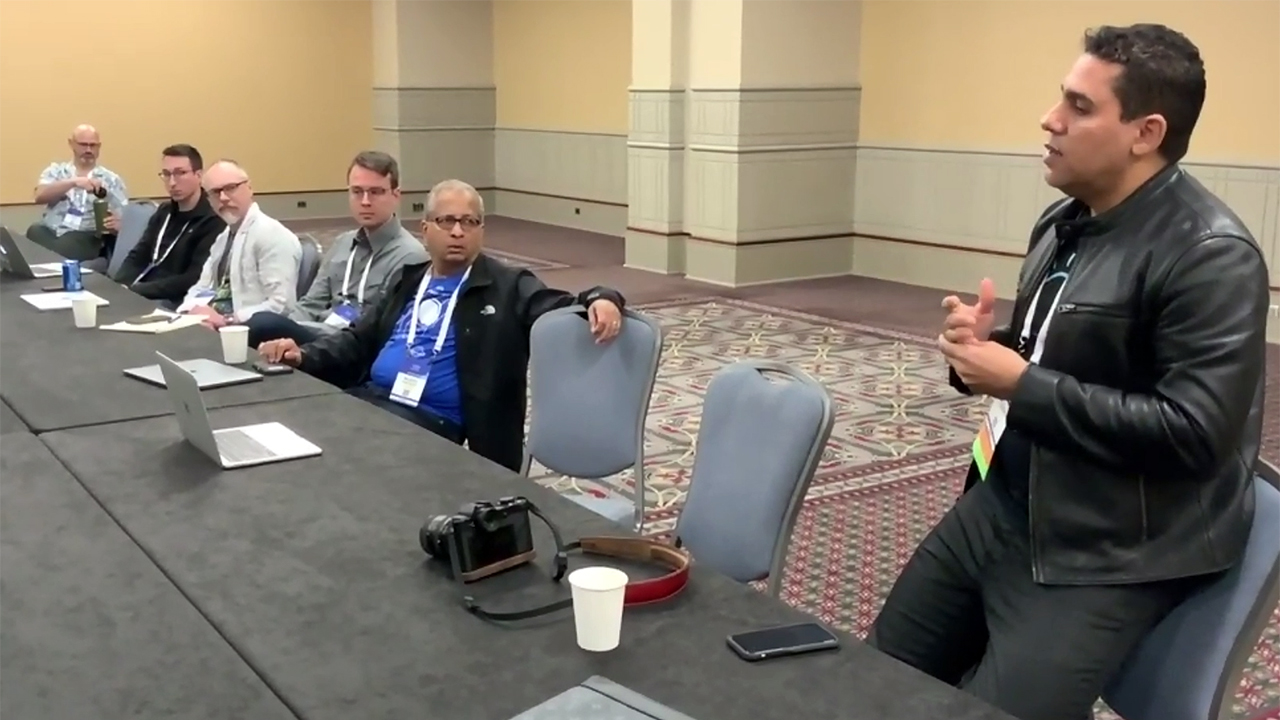 Dr. Max, the moderator of the meeting (Source: Zoom live streaming)
Cloud Foundry is only getting stronger
Nic Williams (Dr. Nic) of Stark & Wayne initiated the discussion around the balance between rolling out new features and the enthusiasm coming from the community and product managers.
"Cloud Foundry is huge, so it's not really going to be one person's job to be excited about all the cool things." —Dr. Nic, Stark & Wayne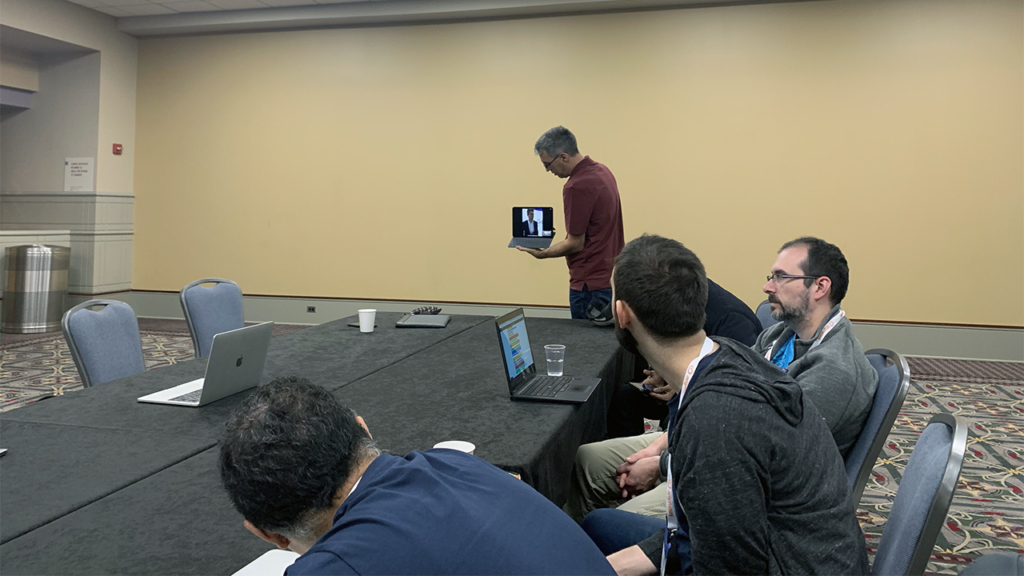 Dr. Nic at the CAB call (Source: Altoros)
The summit veterans, such as Julian Friedman (Dr. Julz) of IBM, acknowledged stable interest in Cloud Foundry coming from those unfamiliar with the technology. "It has a good size, and there's a lot of people that I recognize, but there's also a lot that I don't recognize," commented Dr. Julz.
"At the Unconference the other day, Daniel Jones asked how many people were new to Cloud Foundry, and there was a really nice proportion of new people. People who actually bother to go to the Unconference are people who are usually excited about the technology. The fact that a good portion of those who aren't old hands is a good thing." —Dr. Julz, IBM
First-time summit attendees like Saikiran Yerram of Pivotal liked the intimate atmosphere where it's easier to initiate conversations.
"It's been great. It's the right size. I've been to other conferences where there are 20,000–40,000 people, and it's very hard to maneuver, but the momentum there is very high, so there's a trade off." —Saikiran Yerram, IBM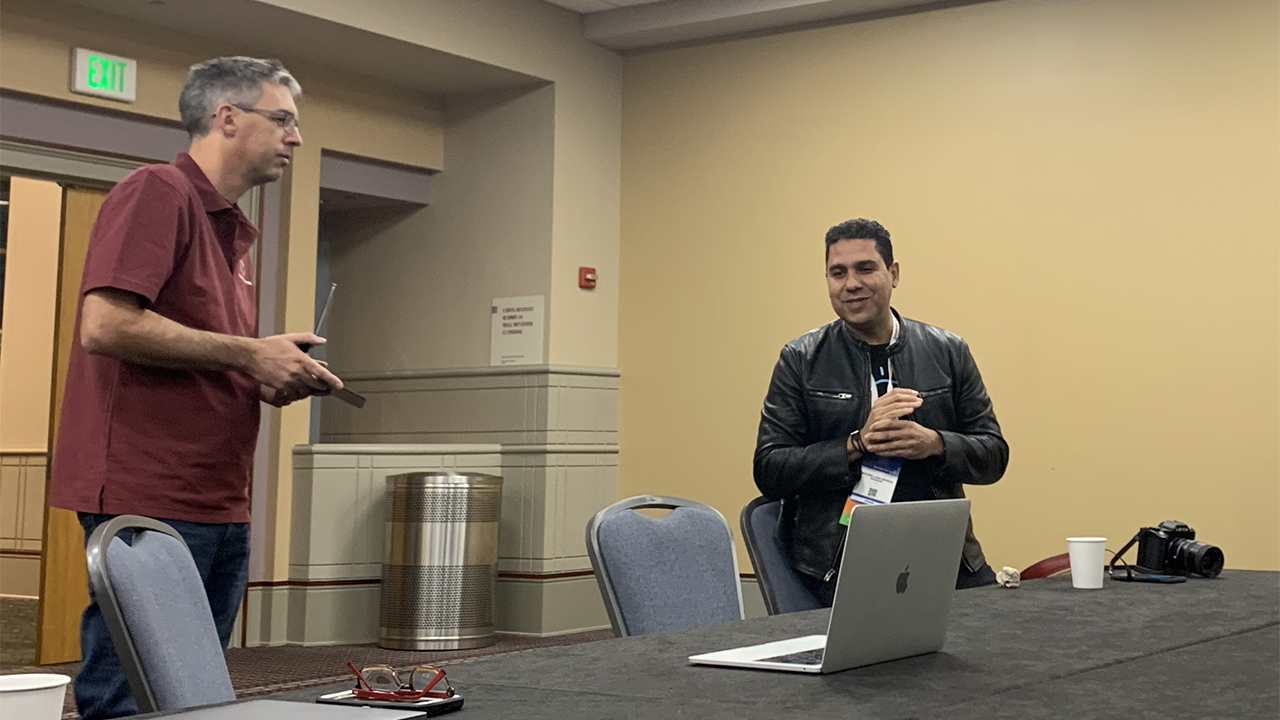 Dr. Nic and Dr. Max (Source: Altoros)
Prior to the summit, Dr. Max wrote an awesome series of blog posts dedicated to the history of Cloud Foundry evolution and contributions made by ecosystem's key members. He also emphasized the importance of monthly CAB calls and our reports like this one.
The next CAB call will follow the usual format and schedule on Wednesday, May 15, 2019. It starts 8 a.m. Pacific Time. As always, the call is open to anyone who is interested in listening or participating. Connection details and the monthly agenda appear on the Cloud Foundry CAB Slack channel.