Altoros Supported Three Days of Adobe in Belarus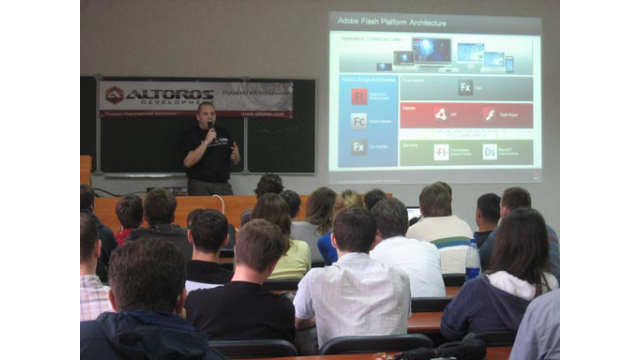 The joint meeting aimed at unifying the Adobe developer community to share tech expertise, as well as discuss the latest trends of Adobe Flash Platform.
Bringing together the Adobe community

During May 13–15, Altoros assisted Adobe in holding a number of presentations for RIA developers in Minsk, Belarus. On May 13, Cornel Creanga, Software Engineer at Adobe, participated in a joint meeting of Java and Flash/Flex developers, speaking on Adobe Flex, BlazeDS, and LiveCycle Data Services technologies, as well as integration with Java. On May 14–15, the expert presented Adobe Flash Catalyst and Flash Media Server at one of the local conferences.
"I found that Belarusian engineers have excellent technical skills and a good amount of creativity. These are vital skills for having a strong position in the future and to be able to deliver competitive services. Related to that, I also think that small entrepreneurs should be stimulated to put into practice their ideas and to create and sell their own products."
—Cornel Creanga, Adobe
The three-day meeting at a glance
On May 13, Cornel started with discussions on how to integrate the server-based technology BlazeDS (Flex/AIR) with Spring, a popular Java framework. He demonstrated the special features of the Statement and PreparedStatement classes and presented some tools for accelerating portal development. Touching upon Adobe Flex Builder, Adobe LiveCycle Data Services (LCDS), and an open-source project Phoenix (Nexus), Cornel demonstrated how one can reduce the amount of code and ensure integration of enterprise information in real time. 67 Belarusian IT specialists took part in the event.
On May 14, Cornel showed the roadmap for Flex Builder 4 (Gumbo) and presented Adobe Catalyst technology at the "Bynet 2.3" conference. Working with Adobe Illustrator, he demonstrated how to avoid rewriting the code after changing the design of an application, and how this ensures smoother collaboration between programmers, architects, and designers by virtue of automatic code generation.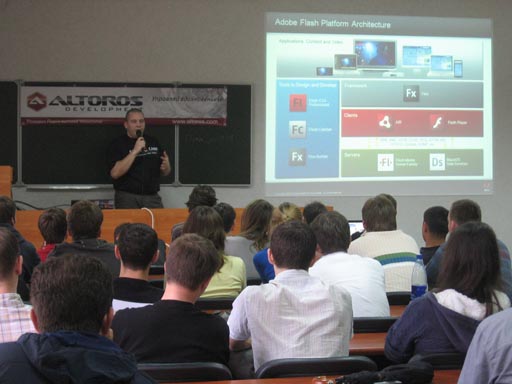 Cornel Creanga at the Adobe meeting in Belarus, Minsk
On May 15, Adobe's representative introduced Flash Media Server—a solution for streaming video—and told the participants about several Flash Media Server advantages, as compared to other similar RIA technologies. After the presentation, Cornel answered questions, discussed new Adobe technologies with other speakers and had a small tour around Minsk in the evening, accompanied by Belarus Java and Adobe Platform User Group members.
"I've seen an increase in the adoption of Adobe technologies in Belarus by companies using Flex or delivering media and I expect to see in future complex solutions implemented with the whole power of Adobe Flash Platform." —Cornel Creanga, Adobe
"Now I had a chance to spend more time in Minsk and again was amazed by the enthusiasm of the Adobe community and the people's hospitality," added Cornel. "I would like to thank Mr. Alex Khizhnyak from Altoros for hosting the AUG/JUG meetings and for the logistic support. Looking forward to being in Minsk again!"
Further reading