Adopting TensorFlow for Manufacturing and Industrial Internet of Things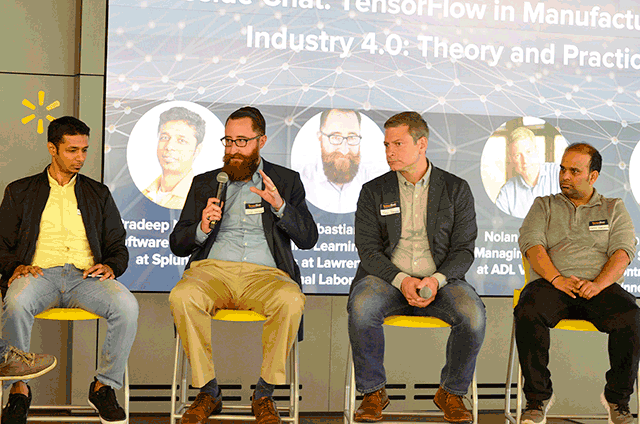 At TensorBeat 2017, a panel revealed the reasons behind TensorFlow adoption, exemplified real-life scenarios, and questioned the future of data.
Some of the industrial scenarios
During a lively discussion at TensorBeat 2017, the speakers contemplated the use of machine learning for various tasks in manufacturing and the Industrial Internet of Things (IIoT). James Henrikson is applying machine learning at the Lawrence Livermore National Lab to the glass manufacturer's energy program. In particular, he works on increasing the efficiency of the customer's furnaces.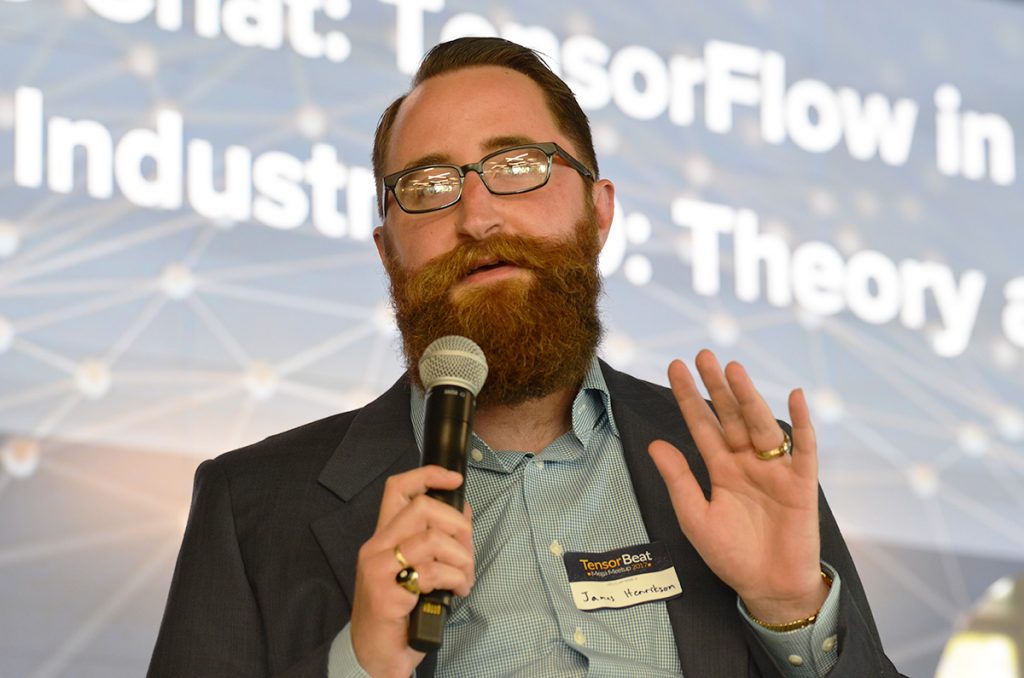 "A furnace is about the size of half this whole room…And they put sand in, heat it with a bunch of fire, just the hottest place you've ever been in the entire world, and out comes glass. It's really hard to figure out how to measure exactly what's going on." —James Henrikson
With TensorFlow, James is analyzing CFD models of a glass furnace to enable plant engineers to make informed, real-time process adjustments.
"At lab, we are also using TensorFlow to train neural networks on the CFD models to create new models to downtake, you know, days or weeks of what we normally do."
—James Henrikson
In its turn, Pradeep Nagaraju of Splunk shared his experience in developing an IIoT-based solution that helps to drive insights from data—gathered across critical industrial systems and assets.
"Essentially, the two biggest challenges are the cost of ownership and real-time actions of using global knowledge. So, that's what I am focusing on and where I use TensorFlow."
—Pradeep Nagaraju
What drives TensorFlow adoption?
The panelists then discussed the reasons for adopting TensorFlow within their organizations and getting projects funded. Pradeep noted that TensorFlow—having an advanced toolkit behind it—"democratizes" the way software engineers tackle different problems of different industry domains.
James exemplified how Autodesk applies TensorFlow to build aerodynamic simulations. As James puts it, utilizing a neural network trained with TensorFlow helped to achieve certain results in seconds instead of hours/days, thus reducing time-to-market.
"I think that's a real thing that will change the industry, because, when designing a car, you can change little parts and see what is going to happen immediately." —James Henrikson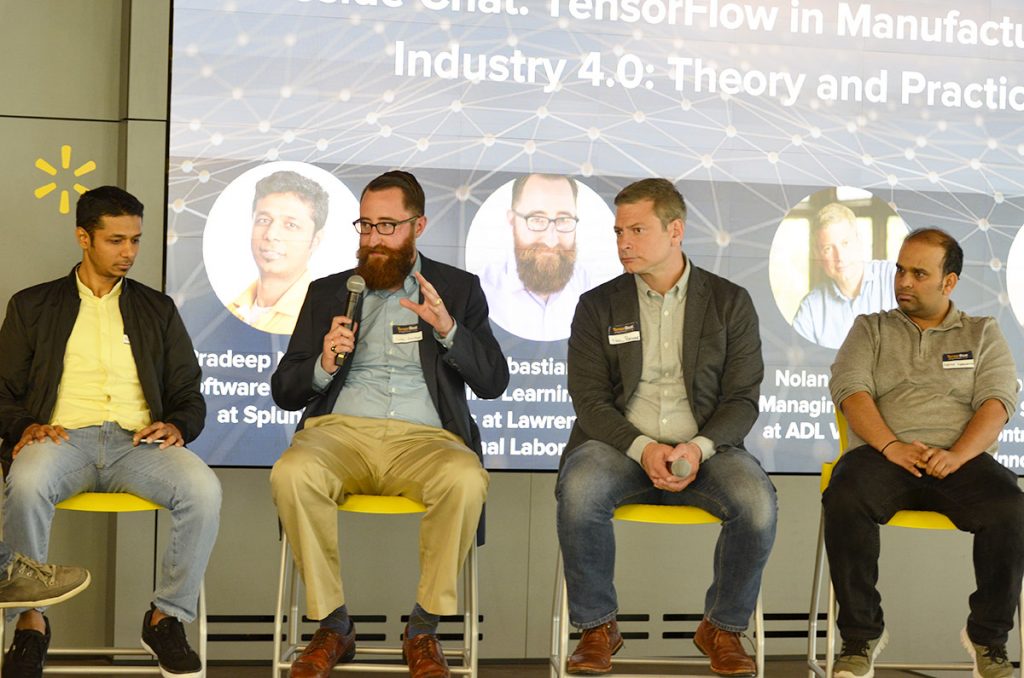 Pradeep Nagaraju (Splunk), James Henrikson (Lawrence Livermore National Lab),
Nolan Browne (ADL Ventures), and Dr. Karthik Kappaganthu (Johnson Controls)
Data is the new oil
Renat Khasanshyn of Altoros made a point that more and more data is needed for data sets to train models on. The related issue is that certain data is sometimes labeled as irrelevant, while it is not. Furthermore, a lot of data sources are outside organizations and the tendency is not to share as data is a truly valuable asset.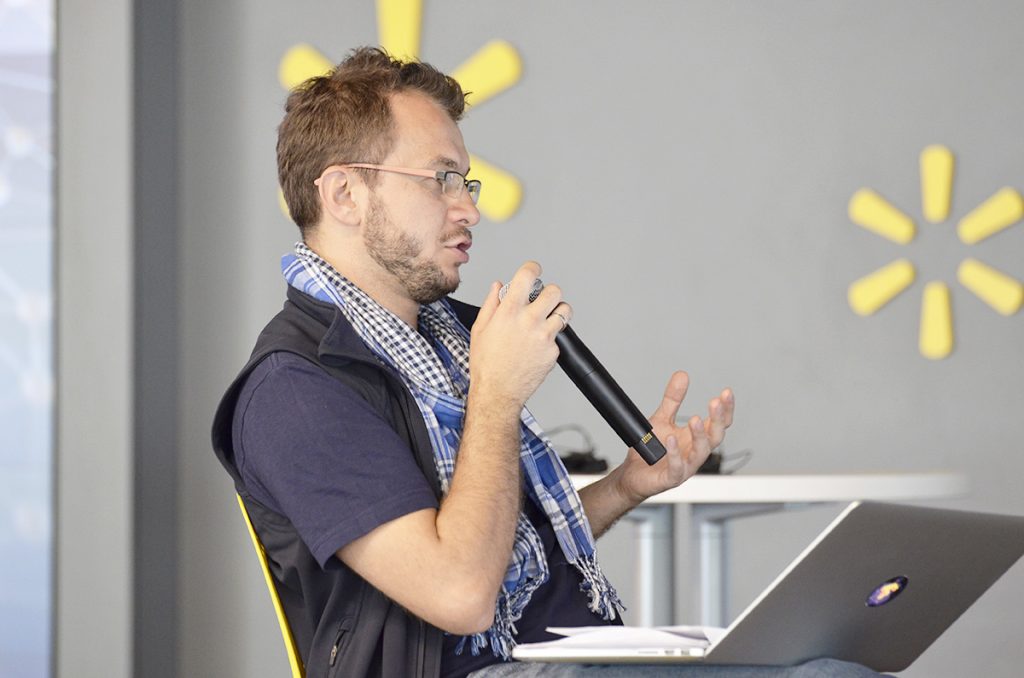 "Data is the new oil. So, where the data will come from? Are there ways to share data, sell it, monetize it, or exchange data, may be a barter?" —Renat Khasanshyn, Altoros
The panel moved on to addressing the rest of the questions:
Are there any examples of discovering data—not previously used for some reasons—that can be analyzed to establish better processes?
Where is data to come from in future?
What were the challenges of incorporating TensorFlow in your organization's processes?
What are the features you'd really appreciate to see in TensorFlow?
Want details? Watch the video!
Further reading
About the experts
Pradeep Nagaraju is a software engineer at Splunk, working on big data search engine and machine learning algorithms. His research initiatives include edge analytics and machine learning for Industrial IoT deployments. Prior to this, Pradeep was working with Qualcomm Inc. on machine learning algorithms for Wi-Fi, which are currently in production on millions of Android-powered devices. He holds five patents and four publications in machine learning, big data, and IoT.
James Henrikson is working on a cooperative project between Lawrence Livermore National Lab and a corporation from the glass industry, which involves applying machine learning to create a reduced order model of a glass furnace. The effort is to aid plant engineers in decision making.
Dr. Karthik Kappaganthu is a Senior Scientist at Johnson Controls International, Tyco Innovation Garage. There, he works on using machine learning to develop new solutions in the area of automation and control. Prior to this, Karthik was at Siemens Corporate Technologies, building research partnerships to develop new technologies in the area of automation.
Nolan Browne is active in the entrepreneurial and venture capital communities, having founded two for-profit internet companies to date. He holds an MA in Strategic Studies and International Economics from Johns Hopkins University School of Advanced International Studies (SAIS) and an MBA from the Massachusetts Institute of Technology.
Renat Khasanshyn is the founder and CEO of Altoros, and Venture Partner at Runa Capital. He helps to define the strategic vision of Altoros and its role in ecosystems the company works in. In the past, Renat has been selected as finalist for the Emerging Executive of the Year award by the Massachusetts Technology Leadership Council and once won an IBM Business Mashup Challenge. Prior to founding Altoros, Renat was VP of Engineering at Tampa-based insurance company PriMed.