A Fireside Chat with Stormy Peters of the Cloud Foundry Foundation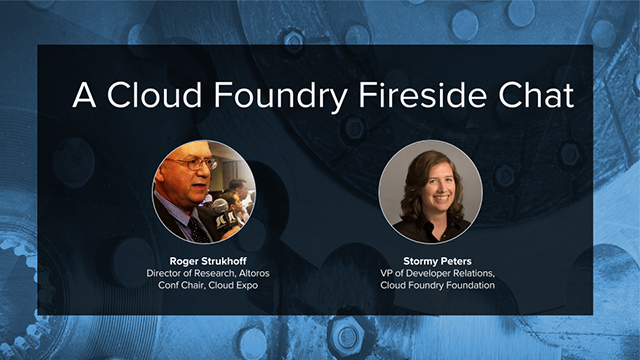 The Foundation's VP of Developer Relations talks about her job as the Cloud Foundry Summit 2016 in Santa Clara approaches.
(This is the third in a series of Fireside Chats with members of the worldwide Cloud Foundry community. We've held previous chats with Dr. Michael Maxmilien of IBM Cloud Labs and Omri Gazitt of HPE.)
With the Cloud Foundry Summit 2016 returning to the Santa Clara Convention Center in Silicon Valley next week, it seemed like a good time to have one of our virtual Fireside Chats with , who serves as VP of Developer Relations at the Cloud Foundry Foundation.
The Foundation is a non-profit, open-source software project, headquartered in San Francisco. It produces the Summit, as part of its responsibilities to drive global awareness and adoption of the project and to make Cloud Foundry the leading application platform for cloud computing worldwide.
Roger Strukhoff: Please tell our audience (users of Cloud Foundry) what you do, what you're working on, and your relationship to Cloud Foundry.
Stormy Peters: I run Developer Relations for the Cloud Foundry Foundation. I have the best job because I get to meet and work with the Cloud Foundry community. My goal is to make sure that our community is working well—that people can contribute what they want and that there is great collaboration across organizations and projects.
Roger: What are the greatest challenges and greatest competition facing the Cloud Foundry community in 2016?
Stormy: This is the year we will see the benefits of working across organizations and industries to provide the industry standard: a multi-cloud, open-source ecosystem that works across industries and is created in the open by many corporations and individuals.
Roger: How open and functional is the Cloud Foundry community in your opinion?
Stormy: The things that make Cloud Foundry different—like pair programming—are the things people love and what makes us so effective.
Roger: Given a checklist of Cloud Foundry's greatest strengths, which ones would you choose?
Stormy: I would check the following…
The community
BOSH
The direction of Diego
Reaching out to public clouds
Quick deployment
Ease of use
Multi-cloud support out of the box
Workload portability between public and private clouds
It's a cloud workhorse for microservices
Roger: What is Cloud Foundry's greatest weakness, and the two or three top improvements you'd like to see to Cloud Foundry?
Stormy: Cloud Foundry's greatest weakness is that it solves more problems than people believe possible. In 2016, we'll see even more collaboration across members including common multi-cloud messaging across all our member companies, as well as a transition to Diego. I want to see us continue the awesome work we are doing: more knowledge sharing, more Dojos, more new projects, great community!
---
About the interviewee
Stormy Peters is VP of Developer Relations at the Cloud Foundry Foundation. She is a prominent free and open-source software advocate, consultant, and conference speaker. Stormy co-founded the GNOME Foundation and served there as an executive director. She also worked for such companies as Mozilla, OpenLogic, and Hewlett-Packard.