Top 10 Trends in Enterprise Open Source (2006–2007)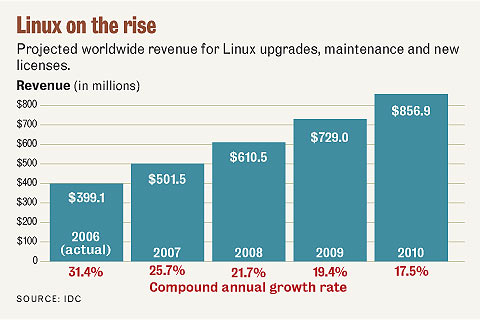 Learn what's happening with open source adoption and related initiatives at the enterprise level today.
(Featured image credit)
1. An array of commercial open source applications emerge
There is a strong tendency to mix open source software and proprietary features and make money on open source software. While it is another competitive edge for some software vendors, for others it is a way to survive. Apart from open source communities, commercialized open source vendors provide users with prepaid support, dual licenses, upgrades, customization, etc. Though skeptics label such business model as non–open source and immoral, these commercial applications are being adopted anyway. The success of the adoption often depends on the additional values that the vendor provides customer with.
2. VC investments into open source have surged in 2006
Open source funding was on the rise during 2005, but venture capitalist (VC) investments were cool in the beginning of 2006. Only seven companies commercializing open source projects were funded during Q2. The main issue is a lack of fundable vendors with 'critical mass' and a sound business model.
On the other hand, there are a set of VCs (mainly individual partners, and not firms) that have a positive track record helping fund and build open source companies. I can tell about the guys from Accel Partners, Peter Fenton is now with Benchmark Capital. In general, a 131% increase in open source funding to $404.5 million was reported at the end of 2006.
Some say that the time for open source investments is now and predict that we will see yet more open source funding announcements during 2007.
3. Professionals in open source business development are rare species
Though there are plenty of commercial open source projects, professionals in open source business development are still rare. Some might think they are, but actually they don't. Being non-proprietary open source guru is not enough to succeed in commercial open source, as well as open source in not about marketing issues only. At least, it's about collaboration.
4. Emergence of 'open source ghosts'
It is hard to find 100% open source projects and products that were developed for using as enterprise-grade and backing it up with performance results. There are opinions that many open source companies that arose recently are in fact using term 'open source' to ride the wave and they are not really open source, while they have vendor 'lock-in' issues and other proprietary features.
Yet many move towards truly open source business models. For example, Pentaho and Alfresco became 100% open source in 2006—a hard but necessary decision to remain competitive in the long term. Congratulations, guys.
5. Open source integrators boost
Open source is finally meeting the enterprise's integration challenges. Furthermore, open source software (OSS) is climbing up to the higher levels of the integration stack. Process integration, data integration, application integration, SOA, transactions integration…OSS is to bridge the gaps between applications, processes and data sources. Enterprise Service Buses (ESB), Extract Transform and Load (ETL) tools and other middleware are gaining top positions in integrating appropriate data elements and optimizing their performance. The main reason for such success is that proprietary integration tools still remain expensive.
6. Open source is moving into enterprise's infrastructure
The adoption of open source applications for enterprises is strongly increasing. Cost is definitely an issue here, especially for small and mid-sized businesses (SMB), and another key driver is security. As a result, open source shifts to business intelligence products and penetrates enterprise's infrastructure. Open source CRM & ERP segment is growing, while Gartner predicts that by 2008, open source databases will be used by more than 70% of IT organizations.
7. Web 2.0 is on the rise
Collaboration tools and Web 2.0 trend are hot today. Open source blog, wiki and mashup solutions gained enough interest to become mainstream tools. Content management systems are being adopted by many enterprises, while open source applications already manage the most of the web's content, according to multiple surveys. Semantic approach is crucial here and becoming the norm.
8. Rich interfaces and applications
Business users long for an easy-to-use tool; they are not programmers. 'Web 2.0' era stands for scalable and user-friendly interfaces. Open source Rich Internet Applications (RIAs) and interactive richness provided by Ajax are here to accelerate the functionality of web-based desktops and portals.
9. Software as a service popularity
On-demand software delivers the value of the application without struggling with its complexity, while open source is a trusted cost-saving solution. That's why non-technical and business users are widely looking for such new delivery models which provide pre-integrated software stacks with open source components. Open source software delivered as a service is all about flexibility, zero costs, system integration, and ongoing maintenance. The on-demand model is another progressive trend in the open source world.
10. Open source is maturing
The open source ecosystem is experiencing rapid maturation. While the number of open source projects is increasing continuously, the technology is improving and becoming robust. There's a significant shift from concentrating on products to concentrating on services, which shows how the market is evolving. Of course, not every open source application is worthy, but the market is becoming mature-stated. Open source business model becomes more and more profitable, as far as enterprises adopt more and more open source software each year. If companies prepare thoroughly, open source will be a winning business model for them.
Further reading
---
The post is written by Renat Khasanshyn, edited by Alex Khizhniak.