Open-Source Databases Break into the Enterprise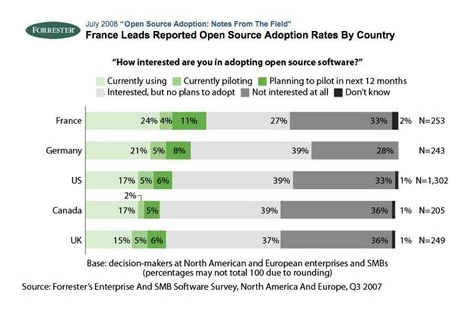 A recent Forrester research reveals that open-source databases are entering the enterprise market, demonstrating a great potential for future adoption.
(Featured image credit)
A steady growth
Forrester reports open-source database market at the point $850 million and predicts it a 40% growth (to $1.2 billion) by 2010. Doesn't compare to a $16 billion commercial database market, of course, but considering the absence of licensing costs, it's still quite an number.
"More enterprises are deploying open-source databases than ever before," the report states. "Enterprises are mainly looking to open-source databases to support new applications such as Web 2.0, web-based applications, small portal applications, radio frequency identification (RFID), and other new workloads."
The report suggests that "every enterprise should now consider open-source databases as part of its overall DBMS strategy, as doing this will deliver cost savings, especially when supporting small to midsized applications."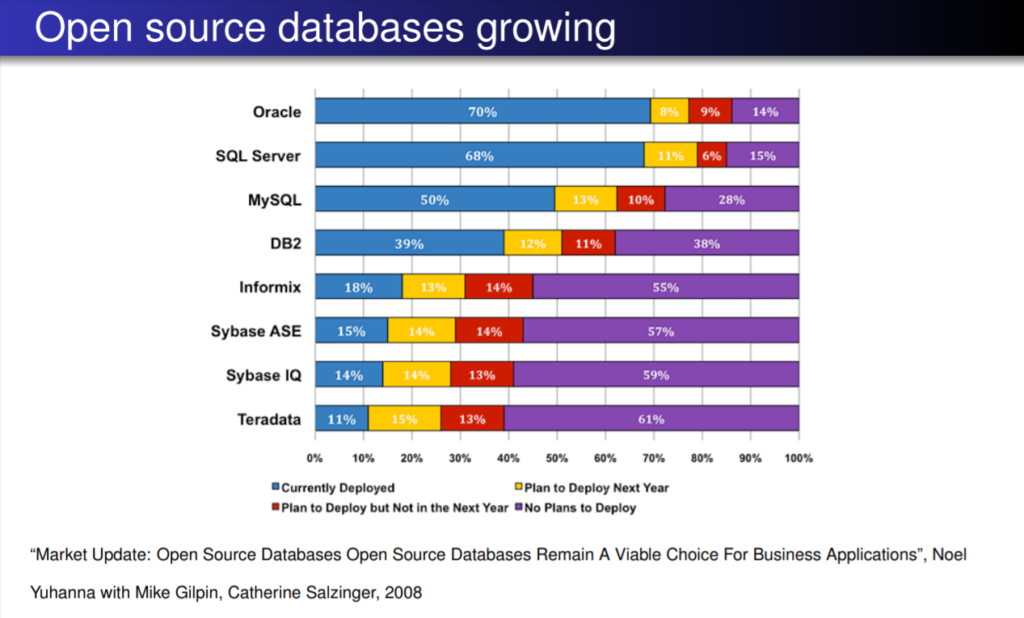 Oracle and SQL Server are the mostly deployed databases today (Image credit)
Suitable for major enterprise needs
Following up on the report, Forrester experts estimate open-source databases to be quite capable of supporting 80% of business applications market. The factors backing up this estimation include:
1) Price. Obviously, open source is more cost-effective that commercial. Forrester estimates cost savings ranging from 20% to 55%.
"IT costs themselves have gone up quite significantly over the years, and database management costs have also grown over the years," said Noel Yuhanna, a Forrester analyst and the report's author. "[Companies] are looking to contain these costs, and they're looking for alternative database options, including open source."
2) Flexibility in use and deployment, which again substracts from the general cost.
3) The large number of independent software vendors and partners providing a 24/7 support.
That doesn't mean, however, that companies currently using proprietary databases should switch to open source immediately. The migration process can get complicated, so much thought should be given to a decision like that.
"Migrations are complex, and no one actually has a solution where you can do a 100% migration from an Oracle database or DB2 to an open-source database so easily," Yuhanna said. "It takes a lot of effort, and basically no one wants to spend a million dollars to save a million dollars."
Migration from legacy systems, including mainframes
At the same time, we at Apatar are working each day to make such migrations as easy as possible.
Oracle, SQL Server, MySQL, and DB2 remain the mostly deployed databases today. For instance, according to Gartner, IBM DB2 was deployed within 34 percent of enterprise applications worldwide in 2006 and has recently experienced the highest growth compared to other major databases. In 2007, DB2 was positioned in the Leaders section of the Gartner's Magic Quadrant for Data Warehouse DBMS.
Helping enterprises to fulfill their migration needs, Apatar Data Integration supports all of the four databases and provides a drag-and-drop interface for DBAs and even nontechnical users. Launching this project more than a year ago, we already expected this kind of growth for open-source adoption. Today, it is amazing to see how open source spreads out and already facilitates data integration initiatives dealing with DB2 instances, including those used in the mainframe systems.
Check out this tutorial to learn how you can integrate (or migrate) your DB2 data with Apatar.
Further reading
---
The post is written by Alena Semeshko and Alex Khizhniak.