Supply Chain Pros Reveal the Questions Asked Before Blockchain Adoption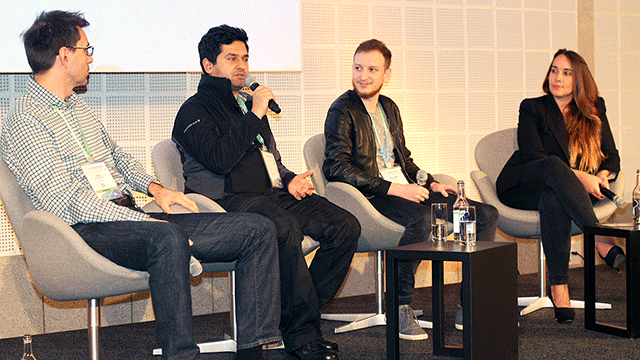 Experts from eBay, Amazon, we.trade, etc., discuss the importance of being clear about the business case with blockchain, as well as concerns related to GDPR.
More projects = more questions
According to the report delivered by Hired in Oct 2018, the demand for blockchain engineers has increased by 400% since 2017. With so many large enterprises and small businesses already investing in blockchain, other organizations are starting their own blockchain projects. However, adopting blockchain isn't simple, and there are important details to consider.
At the Hyperledger Global Forum 2018 in Basel, a panel of blockchain experts, moderated by Marissa Iannarone, discussed the initial steps organizations should take before beginning their blockchain journey. The panelists included Ales Zivkovic of Soramitsu Labs, Vijayendra Bhamidipati of eBay, Benjamin Djidi of Amazon, and Cris Torres Fernández of Hu-manity.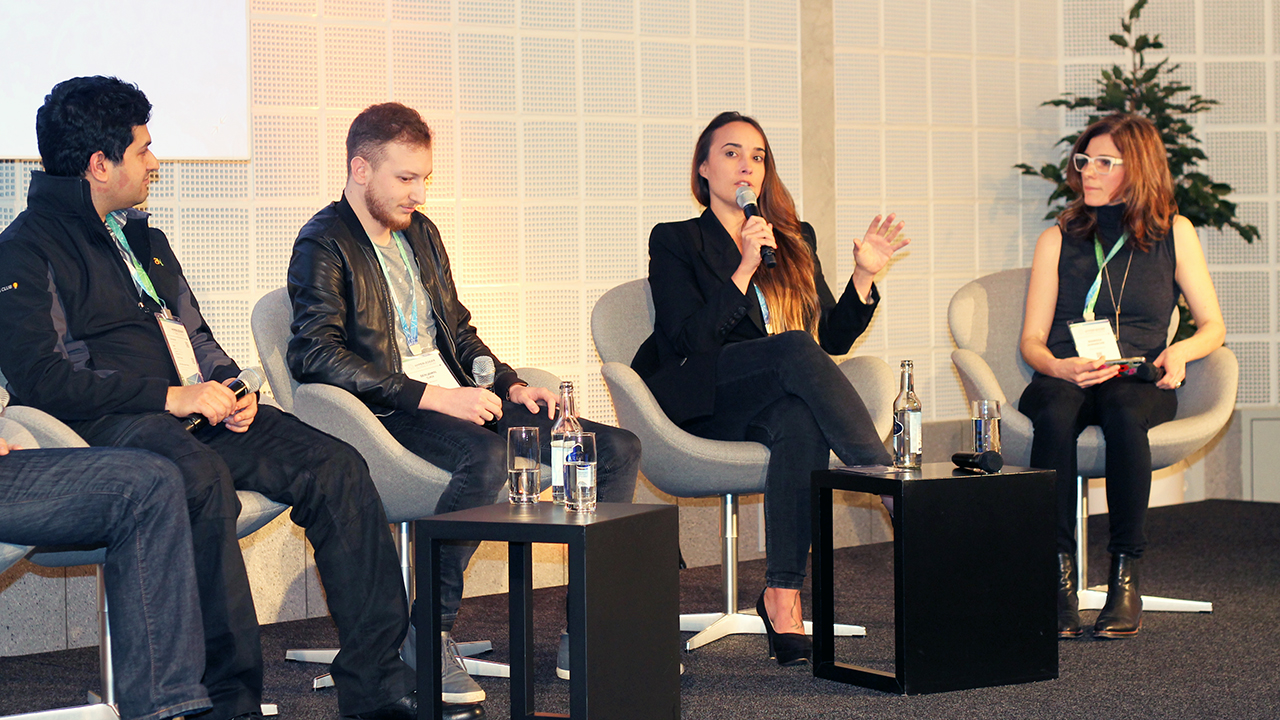 Vijayendra Bhamidipati (eBay), Benjamin Djidi (Amazon), Cris Torres Fernández (Hu-manity),
and Marissa Iannarone (Forums Solutions)
Another panel featured experts from we.trade (a company offering a platform for international trade finance) and focused on using blockchain for supply chain.
When should you consider adopting blockchain?
Naturally, the initial question an organization needs to ask is whether or not it even needs blockchain. To be able to answer this question, the first panel contemplated additional criteria, which organizations should also consider:
Do you spend too much time on reconciliation activities?
Do your processes need system-driven consensus mechanisms?
Do you need transparency because your network has multiple parties?
Do you really need blockchain to resolve your inefficient processes?
If the answer is yes to more than one of these questions, then it's time to explore blockchain solutions, and even this can be its own challenge.
"The difficult part for companies is actually finding their use case. You can look at several directions where blockchain is always useful. One of these is when you have to cooperate with different partners outside your company. There are also things like managing digital assets, digital identities, and supply chain, where you can easily find a use case." —Ales Zivkovic, Soramitsu Labs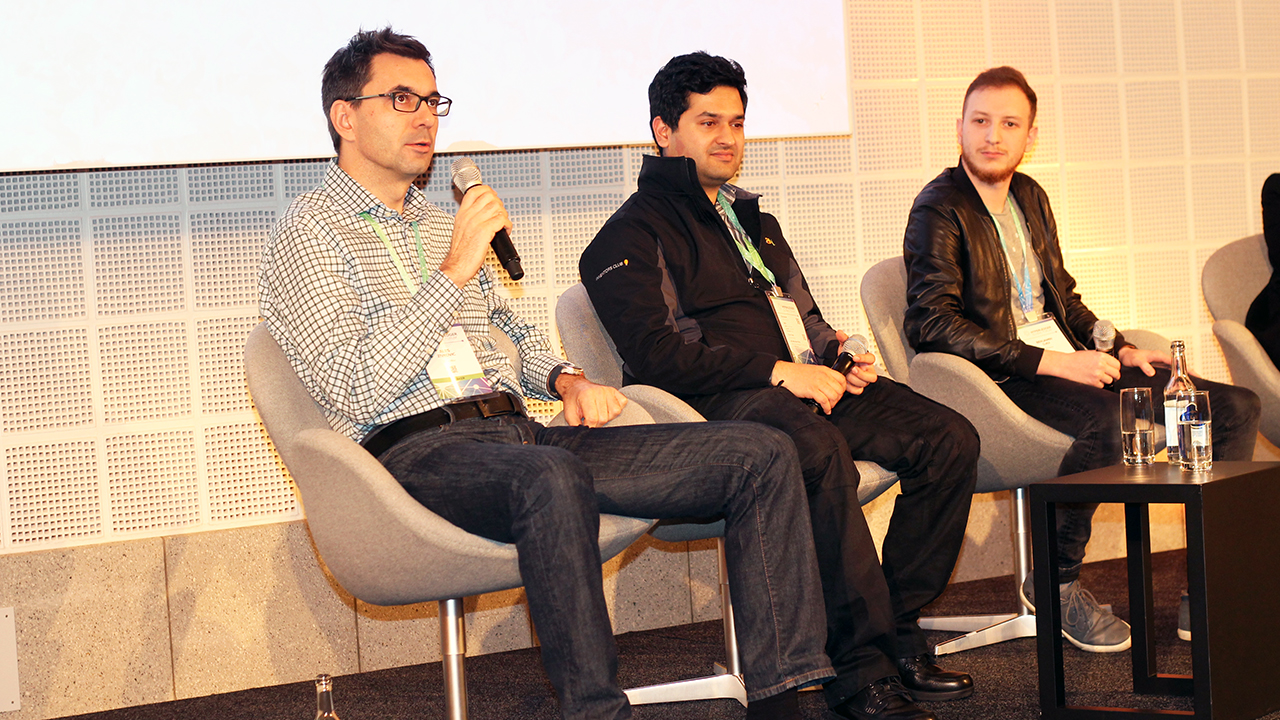 Ales Zivkovic, Vijayendra Bhamidipati, and Benjamin Djidi
Vijayendra Bhamidipati of eBay noted that the immutability and permissioned nature of private blockchains should also be considered when thinking of blockchain solutions.
"The blockchain ecosystem was created in such a way that you can use the distributed ledger technology to establish an amalgamation of control flows along the data itself. This means you can actually delegate authority, you can share authority over the data." —Vijayendra Bhamidipati, eBay
How do I introduce blockchain to my company?
While it can be easier for larger enterprises to explore blockchain, it's not always simple for any organization to adopt a new technology. In some cases, the problem with blockchain is that an organization isn't even aware of it in the first place. In order to start the conversation about blockchain, Ales Zivkovic and Cris Torres Fernández provided a few guidelines:
make the business case clear
provide ROI calculations
find companies to cooperate and collaborate with
To put emphasis on the business case for blockchain, Vijayendra Bhamidipati suggested focusing on three main points:
Can you save money for your customers?
If you cannot save money for your customers, can you deliver better value?
Can it create new streams of revenue?
"It's very important and critical that when we pitch any idea to management, we take into account the interest of the company and all the actors involved." —Vijayendra Bhamidipati, eBay
To supplement Vijayendra's advice, Benjamin Djidi of Amazon added that blockchain adoption should not be treated differently from any other technology transformation project, so you need to find where the entitlement lies.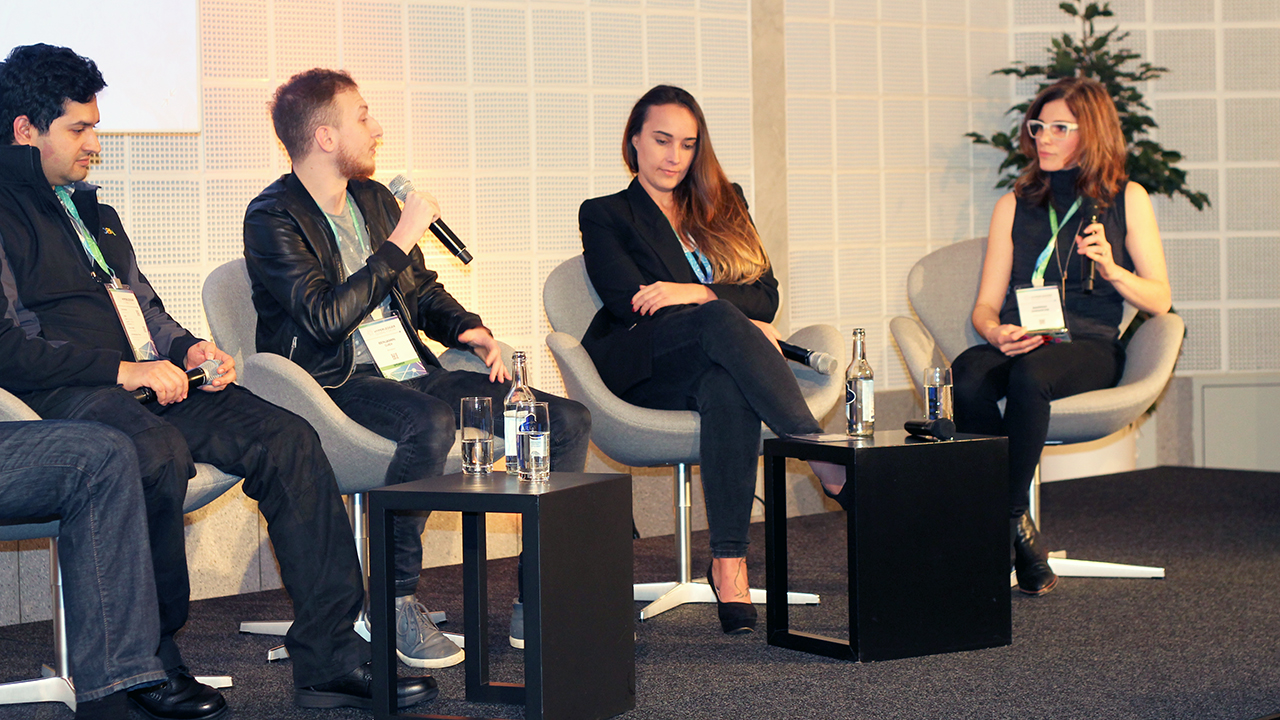 "At the end of the day, keep in mind that you're going to compete for resources, especially in large organizations." —Benjamin Djidi, Amazon
Choosing between a private and public blockchain
The choice between private and public blockchains depends largely on how they are going to be used. According to Benjamin, private companies shouldn't be limited to private blockchains if it's going to interact with the things that need to be in public records. To give an example, Vijayendra talked about companies dealing with publishing digital content with DRM. Part of the data needs to be stored in a public blockchain.
To move the discussion further, Ales stressed the need for interoperability and being able to have the best of both worlds.
"What we already see today is that all the blockchains will need to be interoperable. We will have to bridge them at some point. If you are in the permissioned blockchain and you have a bridge to the public blockchain, you can decide which parts you want on private and on public. That gives you the full power of both options." —Ales Zivkovic, Soramitsu Labs
When it comes to public blockchains, the main concern is GDPR compliance. The transparent and immutable nature of blockchain can be considered to be in conflict with the layers of privacy imposed by the GDPR. Although this is a challenge, there are ways to make blockchains that are GDPR-compliant.
"The mentality should not be 'we need to adapt to GDPR.' (The regulation) and blockchain have the same objective, which is shifting the power structure towards the user. I don't think we should take advantage of the blurry lines in GDPR, but we should build upon GDPR." —Cris Torres Fernández, Hu-manity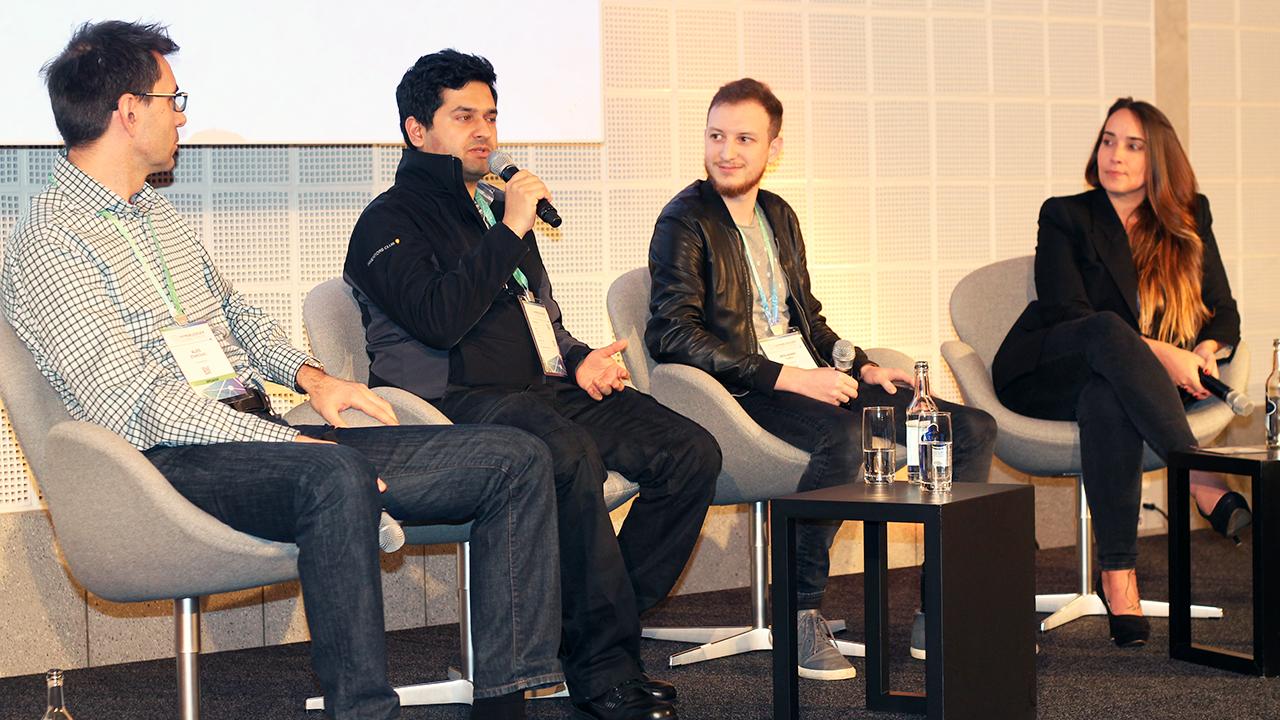 One such solution to make blockchains GDPR-compliant is zero-knowledge proof (ZKP). In a nutshell, ZKP enables a verifier to validate a transaction without having to know all the details in the transaction. (Read more about ZKP and how it adds privacy to blockchain transactions in our paper.)
Adopting blockchain for supply chain
In a different panel moderated by Roberto Mancone, representatives of we.trade—a trading platform built on IBM Blockchain (Hyperledger Fabric)—discussed the benefits provided by the technology. According to Anne Claire Gorge, the transparency and immutability brought by blockchain removes the issue of mistrust between different parties in any given network.
"You can see that there are very different kinds of players in a supply chain ecosystem. Why would one player trust the other players? We can't afford to put all those data in the hands of one single party." —Anne Claire Gorge, we.trade
The decentralized or distributed nature of blockchain also enables members of the network to have a single view of the data, noted Chantal van Haute.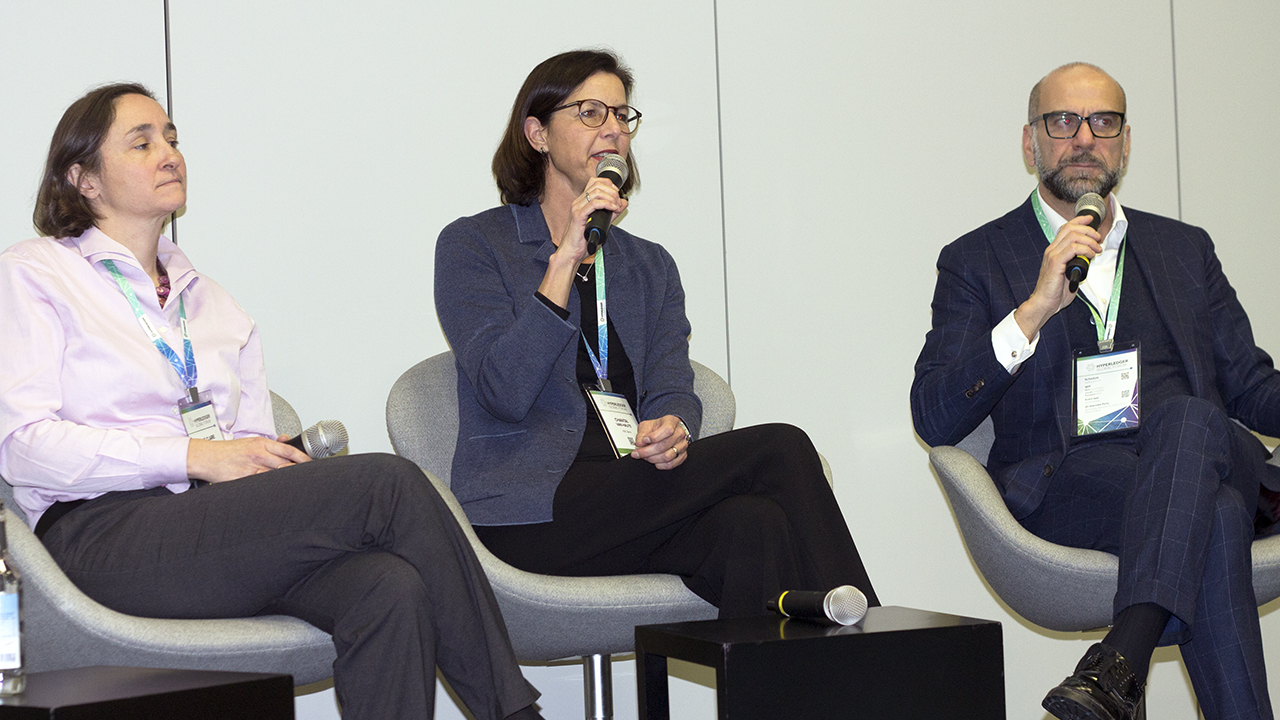 Anne Claire Gorge, Chantal van Haute, and Roberto Mancone
"Instead of transmitting paper-based documents or data in a digital form from one party to another and then duplicating it for several parties. With blockchain technology, we can now have one shared database where only the parties that relate to the data have access to it. It's all about efficiency, transparency, digitizing the trades, and not only replicating the current way of working." —Chantal van Haute, we.trade
While we.trade was able to share its success story and capitalize on blockchain in trade finance, other organizations are leading the charge in other industries. Walmart and Alibaba are already using blockchain for food safety. Everledger is leveraging blockchain to provide provenance and traceability for diamonds.
Blockchain is already having a massive impact across several industries. It's only a matter of time before we see other organizations follow suit.
Want details? Watch the videos!
During this panel, Ales Zivkovic, Vijayendra Bhamidipati, Benjamin Djidi, and Cris Torres Fernández discuss how to start adopting blockchain.
Next, Anne Claire Gorge and Chantal van Haute talk about how blockchain has changed existing supply chains.
The slides by Vijayendra Bhamidipati Venkata Siva also highlight some of the questions a business should ask when adopting blockchain.
Further reading
About the experts
---
The post was written by Carlo Gutierrez, then edited and published by Alex Khizhniak.
All panel photos are courtesy of Altoros.