Hyperledger Meets Ethereum: Integration and the Future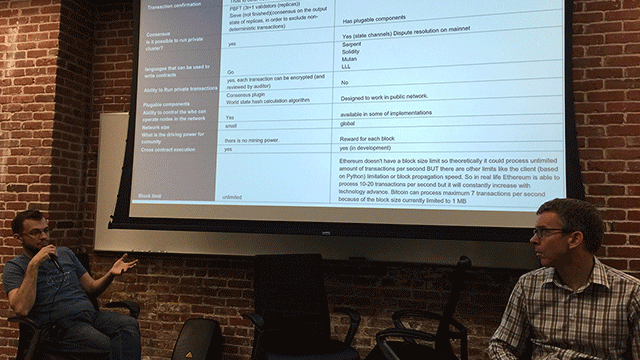 The Hyperledger Project and Ethereum are both still in the early stages of development. However, there are already talks about differentiation and possible collaboration between these two blockchain technologies.
What is Hyperledger?
It's been a few months since the Hyperledger Project was founded, but there are still some questions surrounding the technology. Many of these questions still boil down to, "What is the Hyperledger and why was it created?" At a recent meetup in San Francisco, Renat Khasanshyn of Altoros and Arnaud Le Hors of IBM answer these questions with an introduction to Hyperledger.
"The goal of the Hyperledger is to create an open source solution for blockchain technology."
—Arnaud Le Hors, Senior Technical Staff Member, IBM
According to Renat Khasanshyn, CEO at Altoros, "There was nothing like Hyperledger Project before it was founded." Nothing that had the same features, community size, enterprise support and governance.
"There was a critical mass of company that wanted something different and this is it."
—Renat Khasanshyn, CEO, Altoros
Technical overview and use cases
Getting more into details, there are still key concerns surrounding the Hyperledger Project. There are some issues with the underlying system of the Hyperledger which is blockchain. What makes blockchain unique to other existing transaction systems? Here, Renat gives a more technical overview of the technology along with a few use cases.
Two of the use cases developed using Hyperledger were FleetChain and Decentralized Energy. FleetChain, which is a rental tool, solves the problem of low utilization of industrial equipment. Decentralized Energy solves the problem with areas where electricity rates are high but have access to solar energy.
"The Hyperledger blockchain aims to decentralize transactions, allowing two or more entities to do business with one another without having to involve a third party." —Renat Khasanshyn, Altoros
Enter Ethereum
There's been some talk going on about the Hyperledger Project and Ethereum since the start of this year. The questions in everyone's minds seem to be, "Do they fulfill different roles?" and "Is there room for integration between the two?"
This fireside chat with Chris Peel, the organizer of Silicon Valley Ethereum meetup group, looks to answer some of the questions and the discussions they spark.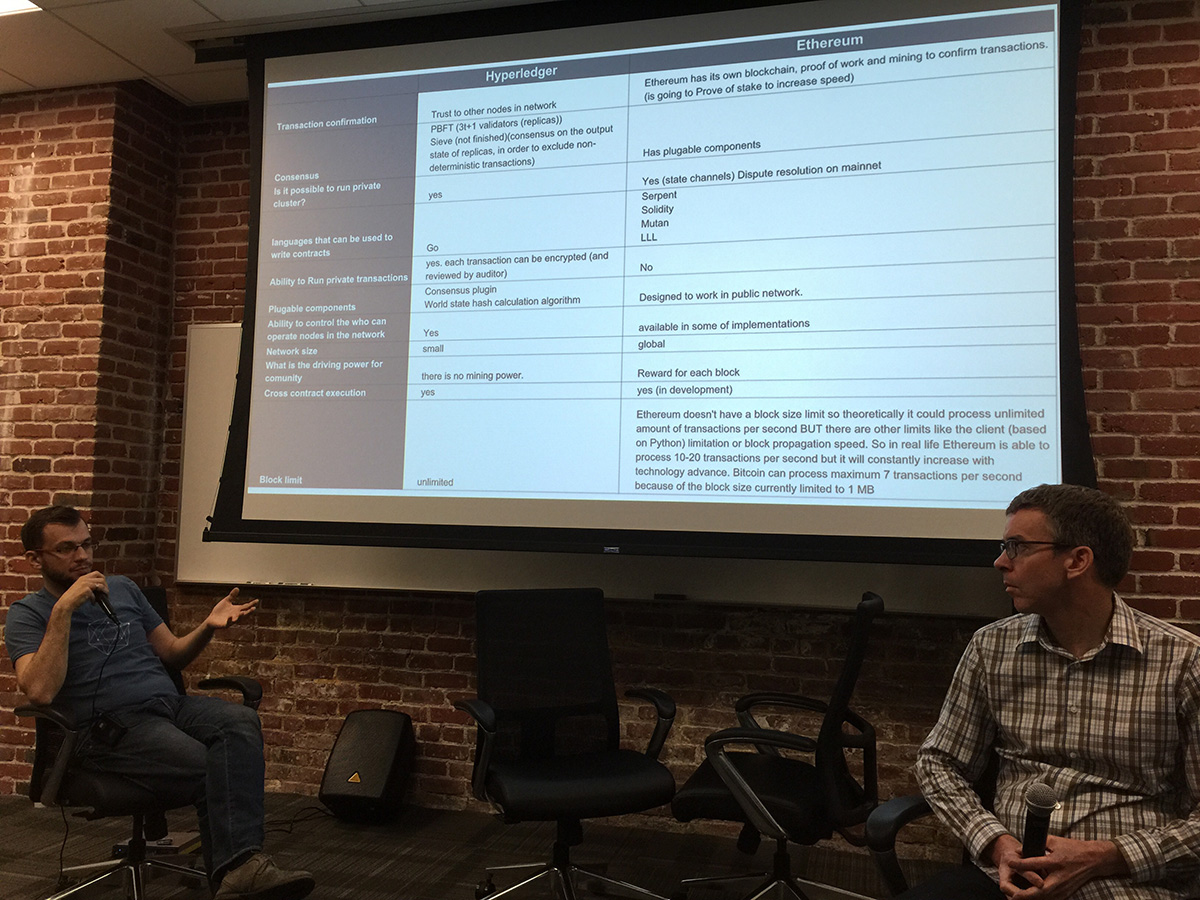 Renat: From what you've seen of the Hyperledger Project so far, what do you make of the goals set by the community and do you think these same goals can be achieved with Ethereum alone?
Chris: In the long term, it's possible that it can all be done with Ethereum but right now it's not quite so obvious. One of the things that's certain is that you can't store everything on the blockchain that's visible to everybody but these blockchains have this key exchange feature which you can use to encrypt for off-chain storage. This can be done in a centralized way with IPFS.
Renat: What are some of the upcoming features of Ethereum are you looking forward to?
Chris: Proof-of-Stake is a good choice. Another thing is Ethereum 2.0 which adds the possibility of sharding. There's a really big discussion in the Bitcoin community about scalability, and Ethereum has the same problem. Ethereum is still not a perfect system. We would like to have scalability, stable value cryptocurrencies and the consensus algorithm not consume too much energy that's wasted. We'd also like to have privacy on the blockchain.
Renat: While the structure of contributors in the Hyperledger Project are mostly business driven, what's the structure like for Ethereum?
Chris: I haven't seen companies submit any bugs but Microsoft has at least done some integration. A lot of the contributors still continue to be individuals though I'm not sure if that's necessarily going to be a requirement.
Renat: What do you see as the bottlenecks in Ethereum that's keeping development in the proof-of-concept stage and stalling production?
Chris: There's lots of things that are missing. It depends on the application. Let's say we have fully decentralized bank, one thing that's missing is the credit score. I don't see anything that could replace a regular credit score.
Renat: What does Ethereum need to resolve these existing bottlenecks that slow down production?
Chris: Right now Ethereum needs user space and users. One other thing that Etereum and Bitcoin would really benefit from is to ability to hide your cryptographic key similar to HTTP where you no longer see IP addresses but just web addresses.
Renat: I do think that both projects have really good compatibility, maybe not in all the features since there's a lot of duplication, but there's opportunity there in being able to use each other's strengths. We'd like to be able to mount an Ethereum Virtual Machine on top of Fabric. There's also opportunity given both of the technologies' bottlenecks when it comes to legacy systems integrations. We could start on an API layer where both projects can tap into and make connections then that API layer connects to legacy systems.
Want more details? Watch the video!
About the speakers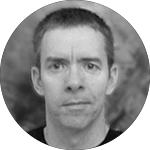 Christian Peel
specializes in multi-antenna wireless communications, signal processing, detection and estimation, LTE, WiMAX, the Julia programming language, Ethereum. He design broadband access components including Synchronous Ethernet (SyncE), Dynamic Frequency Selection (DFS) for radar avoidance, Dynamic Channel Selection (DCS) in the presence of DFS or other interference. He simulates SyncE, DFS, and DCS for systems characterization and bit-level verification of FPGA and software.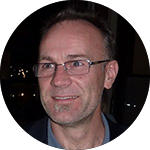 Arnaud Le Hors
has been working on open technologies for over 20 years, involving standards and open source development, both as a staff member of standards development organizations (SDO) such as W3C and as a representative for IBM. He's been involved in every aspect of the standards development process. This includes the technical, strategic, political, and legal aspects, both internal and external to an SDO and to a company like IBM. He's also been involved in open source projects, such as Xerces, the Apache XML parser.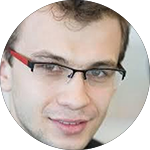 Renat Khasanshyn
is the founder and CEO of Altoros, and Venture Partner at Runa Capital. He helps define Altoros's strategic vision, and its role in Cloud Foundry PaaS ecosystem. In the past, he has been selected as finalist for the Emerging Executive of the Year award by the Massachusetts Technology Leadership Council and once won an IBM Business Mashup Challenge. Prior to founding Altoros, Renat was VP of Engineering for Tampa-based insurance company PriMed.
Related reading