GE Digital Exec Talks Open Predix—Based on Cloud Foundry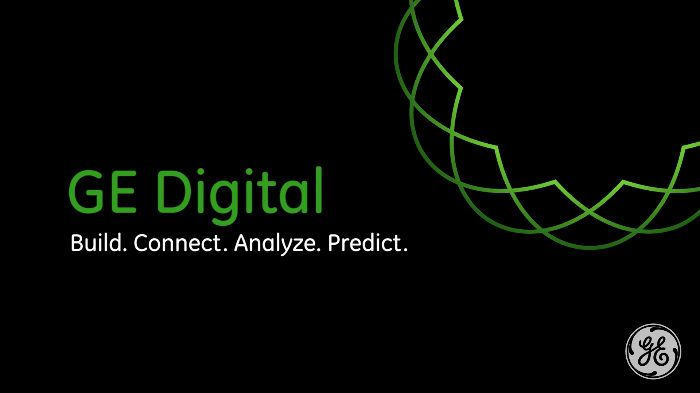 Greg Petroff outlines current successes with analytics platform and future plans that call for an open approach.
"If you can make systems more efficient, the economic benefit to society is enormous." Thus spoke , Chief Experience Officer, GE Digital at a recent presentation at the Plug and Play Center in Sunnyvale, CA.
GE is a company, of course, that thinks on a large scale. At a Cloud Foundry meetup last year at GE Digital's headquarters in San Ramon, CA, one of the company's developers told the audience that "At GE, you know, when we think of a "thing" on the Internet of Things, we think of a jet engine or a railroad locomotive."
Planes, trains, and turbines
Greg took up that mantle the other evening, outlining GE's Predix platform and program. He started by noting that a GE engine on a Boeing 747 can generate 500 gigabytes (0.5 TB) of data per flight. "Having the ability to have massive compute, and we can take that information and discover how customers operate our equipment. We can change maintenance to be condition-based maintenance."
Yet, even GE had to adjust its culture to grapple with such challenges. "GE had to change," Greg said. "In setting changing who we are, we started with creating a Software Center of Excellence in San Ramon. This is now GE Digital, as we went from 0 to 1,600 people in (San Ramon)."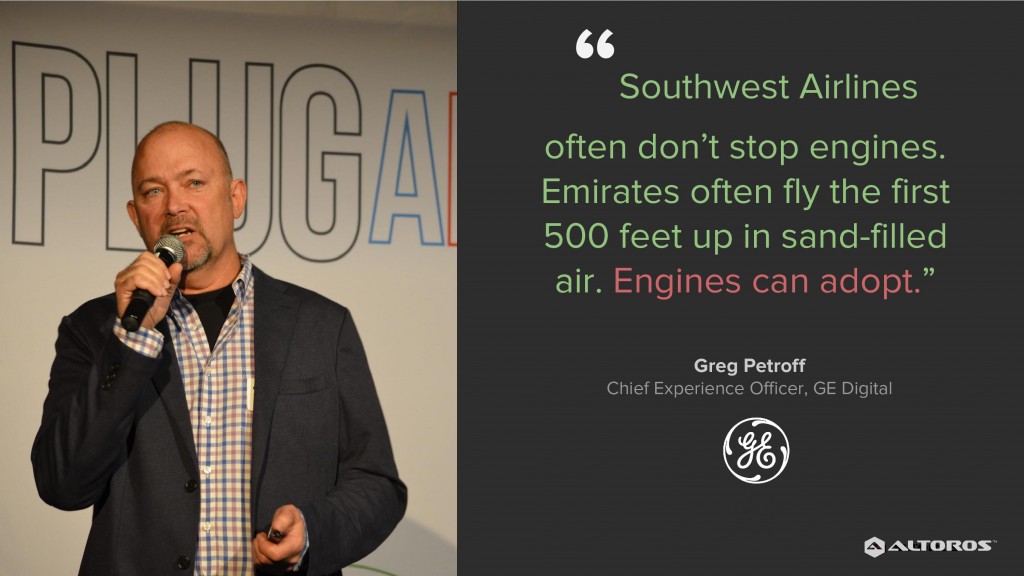 GE's engines endure a number of unique stresses with its customers. Southwest Airlines, for example, doesn't stop running its engines with all the short flights in its schedule, Greg noted. In a separate challenge, Dubai-based Emirates "flies the first 500 feet of its takeoffs in Dubai through sand," he said. "We can adopt."
GE's work in the airline industry extends to airports as well. In San Diego, for example, traditional runway lamp posts are being replaced by LED lights, "and we're putting in sensors (to detect and analyze) vibrations," Greg said. "Sensors are cheap," he noted, "(and can be considered to be) even free if you consider the benefits of using them."
GE is also the world's largest manufacturer of renewable energy wind farms. In this business, "we wanted to allow each wind farm to talk to each other," Greg said. "In doing so, we enabled them to generate 8% more power just with a small iteration on software."
Open up!
Greg said the next step will be "a transformational moment for GE—to have an open platform." Predix will thus not be limited to GE systems, but the company plans to "enable even our competitors to build in our environment."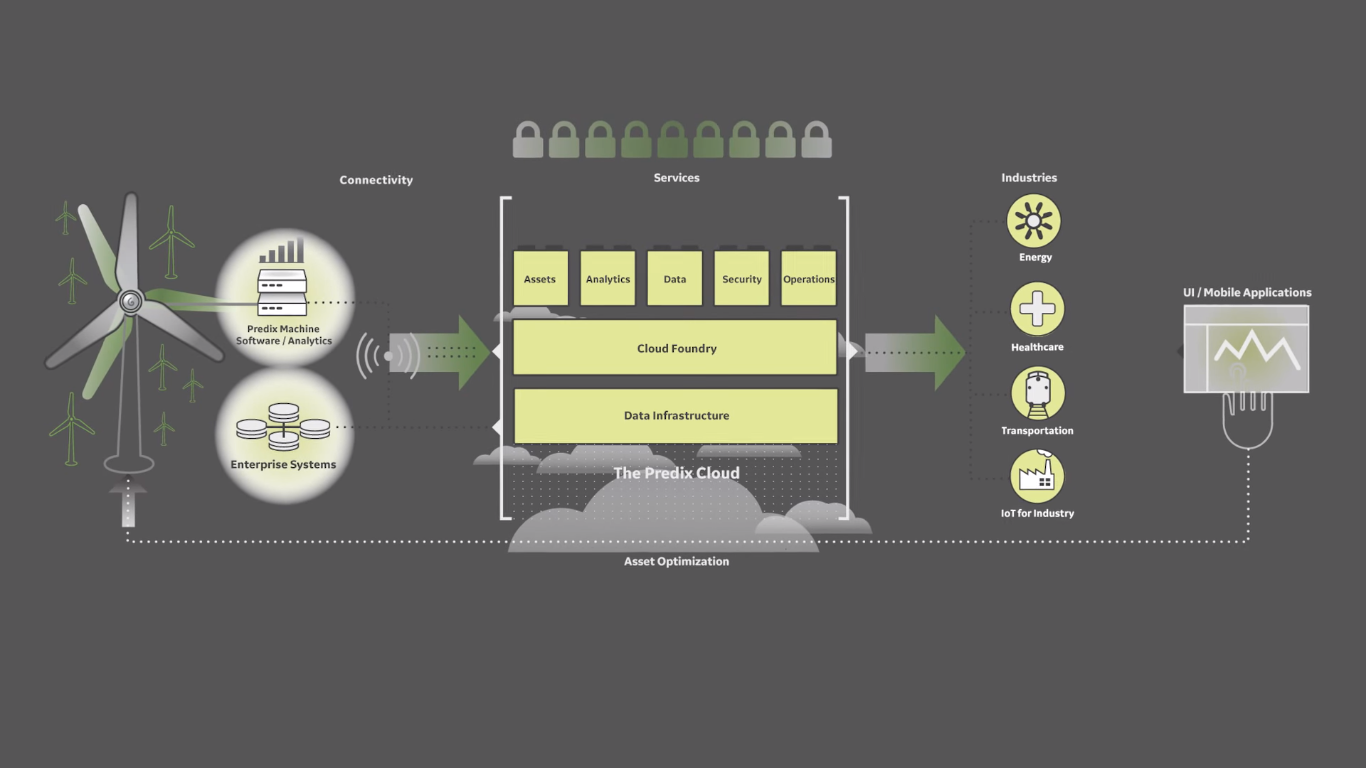 Greg also answered a few questions from the audience:
Q: Is it running on AWS?
A: We don't think AWS is secure enough for this kind of data. Predix is running on its own infrastructure.
Q: What will happen with existing customers of GE?
A: There is a migration path. Historians now becoming part of the platform. Over the next 5–10 years, we will migrate all of our existing customers from legacy products to Predix.
Q: How does Predix help its users to deal with silos, hundreds of file formats and standards?
A: One of GE's prime design principles is to focus on interoperability. Industrial systems are very diverse. We hope that developer community will build apps that capture. We are talking with all major ERP vendors. There is a nice mashup of PLM, repair history for equipment.
Q: How do you make this platform easy for users develop applications in specific verticals?
A: In the environments that we operate, we not only will be providing application hosting platform, but microservices that can help with app development. We also will be looking for startups to invest in and help grow within our ecosystem.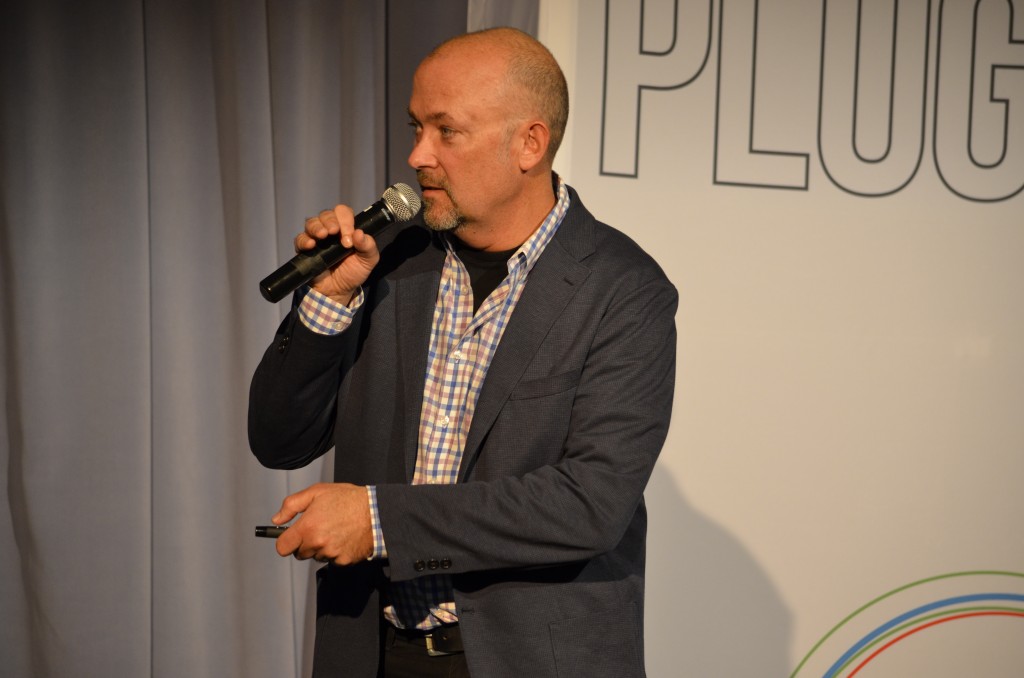 Q: How about HDFS?
A: Yes, we will allow you to use it.
He said there will be two opportunities for companies that want to work with GE.
Build apps on top of Predix
Build services that other people can buy from you through Predix
"In the IoT," he said, "we are moving into the moment where it's not mobile first, but context—who, what, why—first. Apps will adopt, react, and anticipate."
He continued, "If you look at other providers, Bluemix, Heroku, the differentiator for us is the attention we spending on every aspect on the technology and security aspect of the cloud, to make sure that it's as secure as possible."
"Next, we are focusing on analytics. We are probably the best experts on time series data, because we used this information for decades. We have a strong data science team and an ecosystem of folks building applications at an industrial scale with large data sets."
He finished by noting that GE Digital has a Dojo—"come and hang out with us"—a VC arm in Silicon Valley for investing, and a Predix catalog in which collaborating companies can sell their applications.
Related links
A Predix overview:
A Predix deep dive:
A developer's take on Predix:
Related use case