Gartner Suggests Rationalizing Data Integration Tools to Cut Costs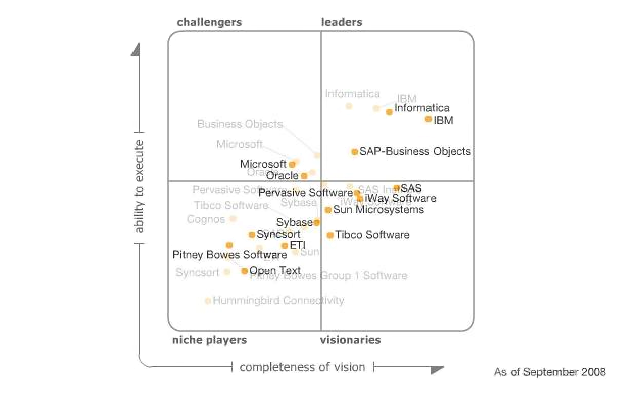 Proprietary ETL tools have traditionally been expensive, with a typical license costing $25,000 to $500,000. Sometimes, they overlap within a single enterprise.
(Featured image credit)
Optimizing a fragmented approach
The market for application, integration, and messaging software is estimated to be $8.5 billion (Gartner, June 2006), while the market for the support of these products is valued at $132 billion. According to Gartner's latest press release, rationalizing data integration tools can save companies more than $500,000 annually. The company suggests adopting a shared-services model in the long run.
Most companies often purchase and implement new data integration tools in a fragmented way—without extending investments already made in other parts of the business. This results in multiple tools from different vendors and, consequently, loads of money on licensing and maintenance.
Taking into account today's focus of organizations and industries on cost optimization, fragmented approach to data integration should be reviewed in order to increase efficiency and reduce expenses. Here is what Ted Friedman, a distinguished expert at Gartner, said in a recent interview:
"The first step is for IT teams focused on data integration to save money by rationalizing tools. Further, there is a greater longer-term opportunity to substantially reduce costs and increase efficiency and quality by moving to a shared-services model for the associated skills and computing infrastructure."
Gartner recommends three elements executed to implement this:
Planners should rationalize data integration tools across the three main categories: 1) extraction, transformation, and loading (ETL), 2) data replication, and 3) data federation—ideally, arriving at a standard tool for each of these styles of data delivery. They should decide which tools to keep and which to discontinue based on the business context and requirements, rather than blindly rationalizing wherever possible based purely on cost.
Centralize data integration computing infrastructure to avoid redundant servers and storage caused by deployment of each tool on dedicated hardware. Many organizations can make substantial savings on computing capacity by implementing shared computing infrastructure for data integration workload.
Gartner recommends that organizations centralize data integration roles and skills into a shared-services team model to reduce staffing costs directly by 50% or more each year.
Ted Friedman stresses that rationalization should not be limited to one business unit, and that CIOs and data integration teams should work together to lead the rationalization and shared-services program.
Learn your needs and negotiate
It appears to be that many companies don't understand the terms of their data integration licenses, having never taken the time to study them in detail. They seem not to clearly understand what their needs are and what particular software and services they could use.
Gartner experts insist that learning and understanding the terms of their software licenses is a must for companies. The research firm also recommends to negotiate with multiple vendors which is essential to realizing maximum cost savings. Companies should keep negotiations open with multiple vendors until a contract with one of them is finalized—something too many companies fail to do.
And, finally, companies must know their needs and craft licenses to include only those tools and services that they will actually use. This step becomes increasingly important as proprietary data integration vendors continue to push expensive, comprehensive software suites.
Is open source good for ETL?
According to Ted Friedman, more and more companies start considering open-source IT technologies as the economy continues sliding down. Surely, it's done to keep costs down, which is a major driver of open-source technologies of all kinds, including open-source data integration software.
However, one should take into account that open-source data integration tools are not absolutely cost-free. You don't have to buy licenses from open-source software providers, what you certainly have to do dealing with their commercial counterparts. Customers still must pay for support and maintenance and for internal manpower to run and monitor the software.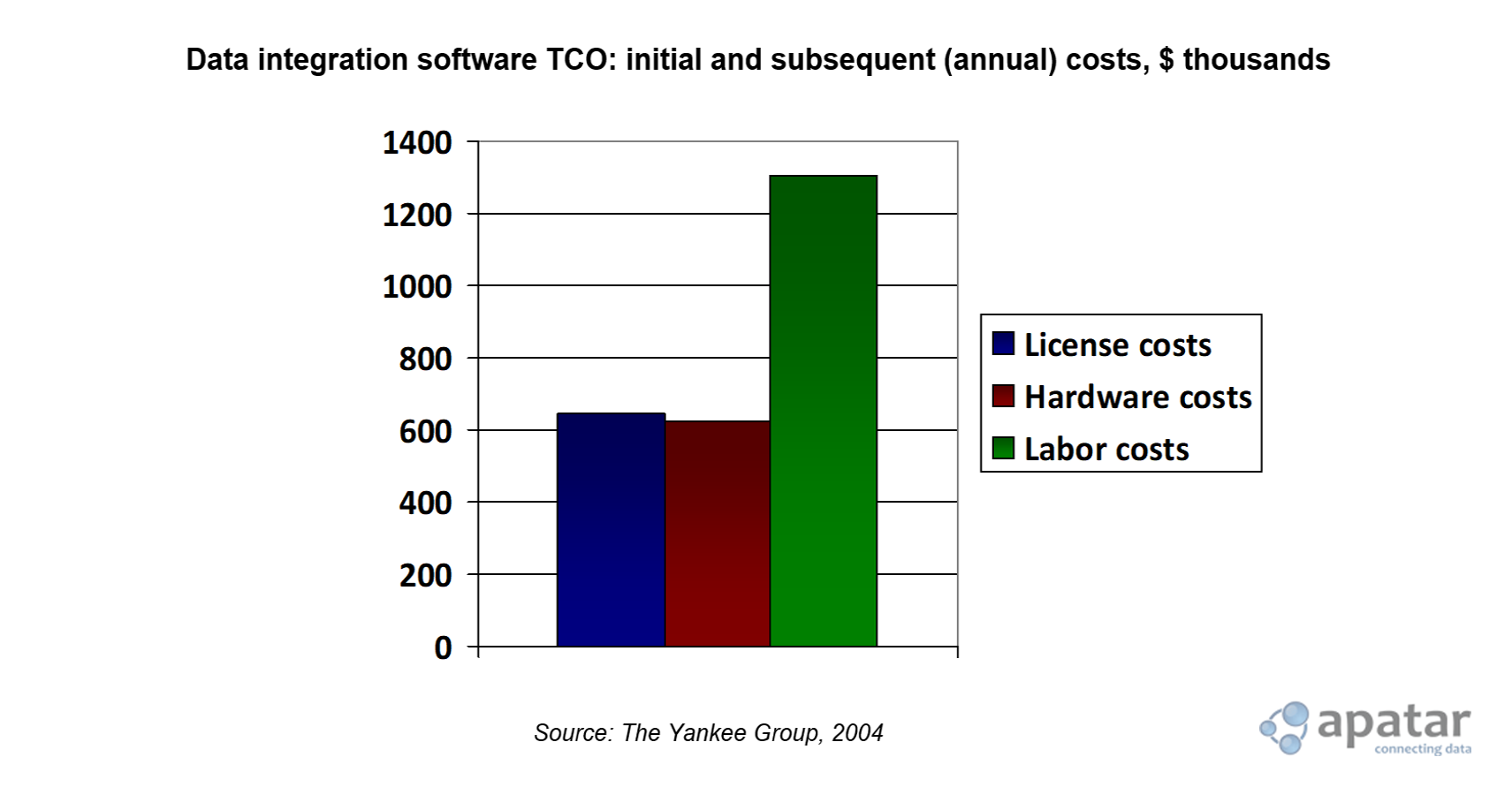 Data integration software TCO
There is one more thing one should take into account with regards to open-source software, according to Friedman:
"We definitely are seeing an increased interest in open-source tools in the data integration space."
Most open-source data integration software is geared to traditional ETL methods. As for data virtualization and enterprise information integration, real-time data integration methods (e.g., change data capture) are not well represented, at least at this point, in the open-source community. Open-source metadata management capabilities are also "lighter" than most on-premises variants.
There is a continuous growth of interest in open-source ETL and other open-source technologies, as the recession continues to put pressure on IT departments to do more with fewer resources.
Friedman's recommendation for companies is to consider open-source data integration software to reduce costs "when your requirements map well to the level of maturity of the open-source solution," which, as he reiterated, are mostly geared to standard ETL.
Further reading
---
The post is written by Olga Belokurskaya with contributions from Alex Khizhniak.