Cloud Foundry Summit Europe 2018: The Platform Has Matured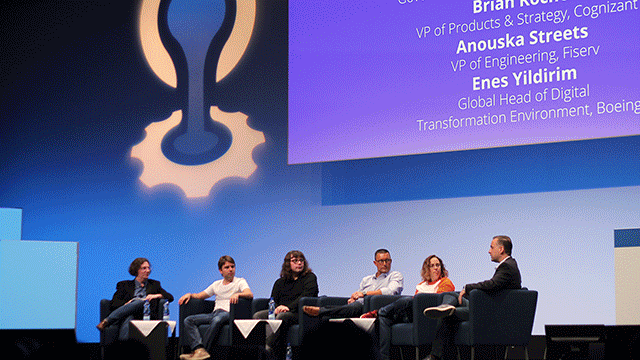 Four years after going open source, many users were present to share their stories of adopting Cloud Foundry and other technologies now in the ecosystem.
Cloud Foundry saves 10 weeks and $100,000 on average
During her keynote speeches at the Cloud Foundry Europe Summit in Basel, Switzerland, Abby Kearns, Executive Director of the Cloud Foundry Foundation, highlighted the continued growth of the platform ecosystem. According to her, the community numbers have reached 83,000 commits, 3,500 total contributors, 5,800 pull requests, and 42 active projects. Present in the summit itself, there were 144 keynotes, breakouts, and lightning talks, 65 member companies, 8 certified platforms, and 961 registered attendees.
"Many of the companies here today and within our user community, 61% are large enterprises, and 14% are small enterprises. We're seeing a tremendous amount of momentum in the enterprise market." —Abby Kearns, the Cloud Foundry Foundation
She also emphasized the Cloud Foundry's ability to save users "10 weeks and $100,000 on average" per app development cycle.
"Not only is Cloud Foundry saving you time and money, but it's moving beyond just the early proof-of-concept applications and onto more and more production workloads that are touching millions and millions of users." —Abby Kearns, the Cloud Foundry Foundation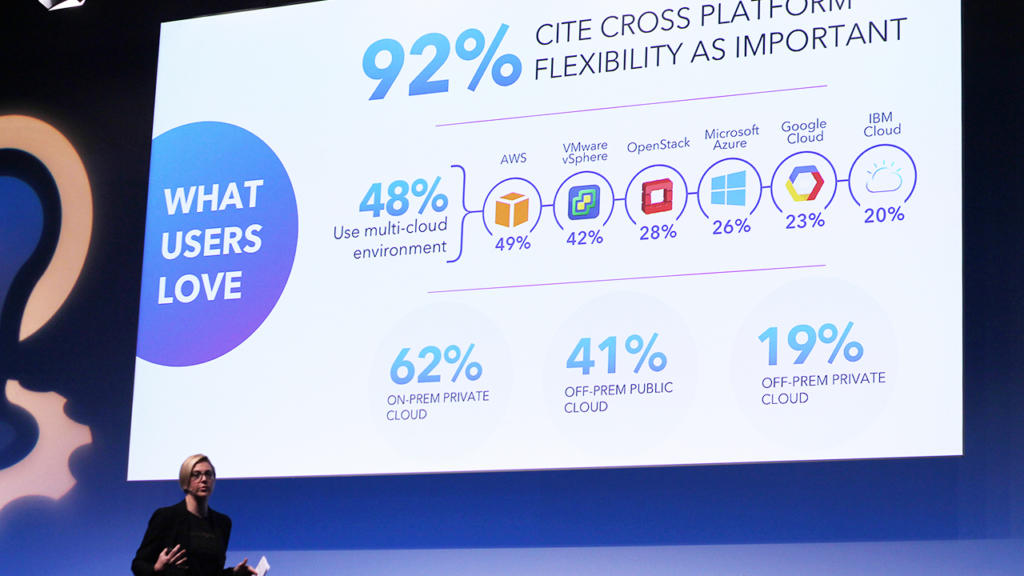 Abby Kearns, the Cloud Foundry Foundation (Photo credit: Altoros)
Abby took note of The Foundry, which was launched last year as a marketplace for 580 services.
"Last year, we launched The Foundry, an open-source marketplace of services. Today, that number is 5,600 services. We are the largest open-source market out there."
—Abby Kearns, the Cloud Foundry Foundation
Among the news of the Foundation, she noted that Cloud Foundry is now powering the development of INDICS, the China's first homegrown Industrial Internet platform. The project was initially launched by CASICloud, a subsidiary of China Aerospace and Science Corporation.
Kickstarting a project in an hour
Since the creation of the Cloud Foundry Foundation in 2015, the platform itself has only matured over the years. At the summit, users were more than happy to share why they adopted the 4-year-old open-source project. For Tammy Van Hove of IBM, Cloud Foundry enabled isolation.
"One of the important things that our enterprise customers are telling us is the ability to have their critical production applications isolated in the public cloud from others. The Cloud Foundry Enterprise Environment provides that level of isolation." —Tammy Van Hove, IBM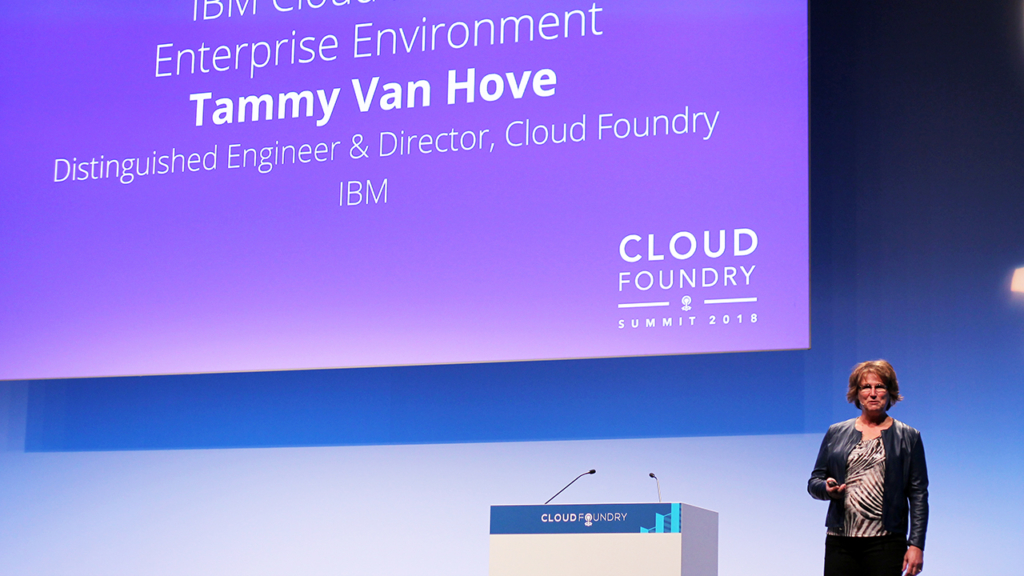 Tammy Van Hove, IBM
To Nicolas Dumont of Thales Digital Factory, it's all about security and configurability, as well as faster development cycles.
"Cloud Foundry provides the right level of security and configurability…Before using Cloud Foundry, the time it would take to push a project was four months. Now, we are able to kickstart a project in an hour." —Nicolas Dumont, Thales Digital Factory
This sentiment was shared by Anouska Streets of Fiserv, a provider of financial services.
"We can push change faster now rather than quarterly, biannually, or yearly. We're now making several hundred changes a day." —Anouska Streets, Fiserv
To Enes Yildirim of Boeing, this is about making it easier to adopt a new technology.
"It's important for these open-source projects to work with each other. One of the things I really like about Cloud Foundry and Pivotal is the focus on really making it easy for the developers and businesses to adopt technology." —Enes Yildirim, Boeing
Cloud Foundry also helped Boeing to transform its people and culture. You can also check out our story about how Boeing cut development time from years to just a few months through the platform's adoption.
"One of the things we really wanted to do was to focus on the real transformation, which is with people—getting the culture changed, getting more agile, leveraging LEAN principles. We wanted to focus on people by making technology abundantly easy to use. The first thing we did was implement Cloud Foundry." —Enes Yildirim, Boeing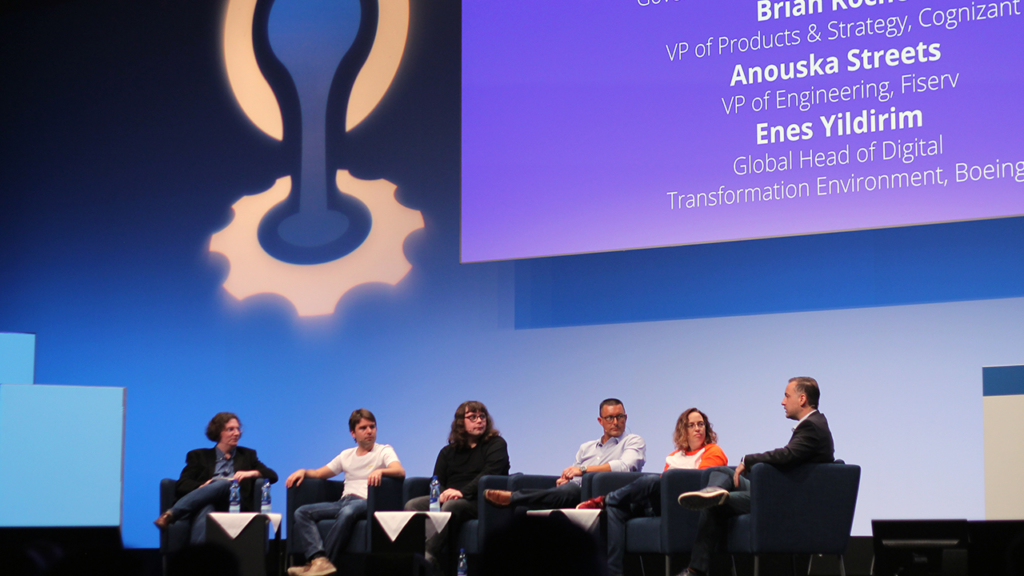 Frederic Lardinois (TechCrunch), Nicolas Dumont (Thales Digital Factory), Miki Mokrysz (UK Civil Service),
Brian Roche (Cognizant), Anouska Streets (Fiserv), Enes Yildirim (Boeing)
For Philipp Lindner of Kaiserwetter, it was about scalability.
"We wanted to leverage the scalability of cloud, but we also wanted to make sure that looking forward, we could bring our stack as a business case to how cloud can really work well." —Philipp Lindner, Kaiserwetter
And also multi-cloud.
"Looking at security issues in Asia, America, and Europe, it's clear that we need to think about a multi-cloud solution, and in some instances, a private cloud solution. This is why all this deployment through Cloud Foundry is helping us." —Philipp Lindner, Kaiserwetter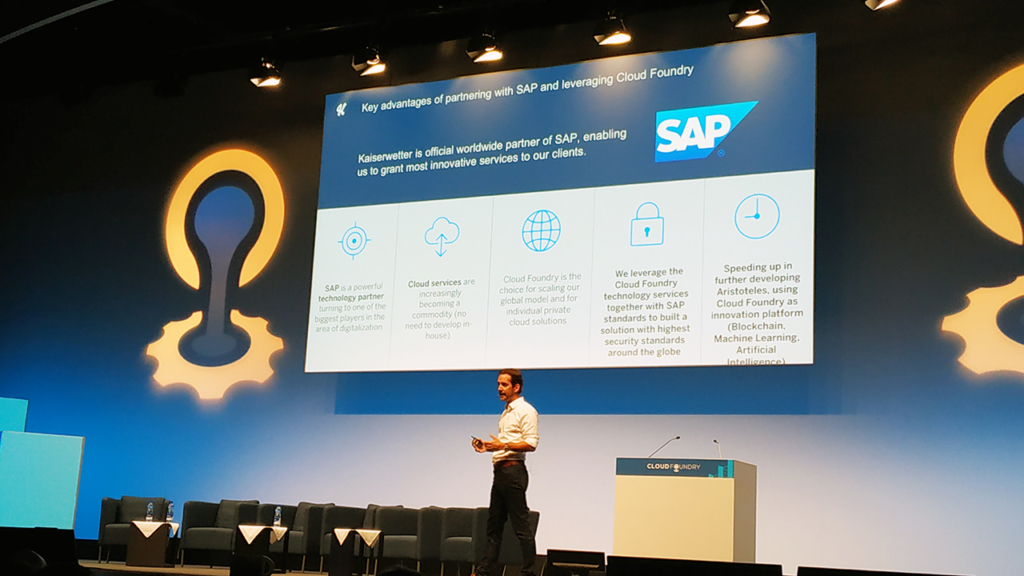 Philipp Lindner, Kaiserwetter
The praise for BOSH and Kubernetes
Talks surrounding BOSH, Kubernetes, and containers were present during the summit. Anouska Streets related the early struggles Fiserv had with BOSH, but now the company is using the tool to manage their environments.
"Using BOSH to manage your Cloud Foundry across multiple clouds is awesome…The day one BOSH story is fairly gnarly, but the wins you get in day two are worth the pain." —Anouska Streets, Fiserv
Enes Yildirim of Boeing praised BOSH for its innate security.
"Our security actually loves BOSH more than anyone else, because it automatically repaves the virtual machines all the time." —Enes Yildirim, Boeing
"We are faced with a multi-cloud world," said Christian Bach of Swiss Re as he recounted his company's use of Kubernetes. "In this context, the rise of containers to become first-class citizens of deployments, to us might simply be the best thing, since sliced bread both in terms of deployments and business continuity."
"For us, the possibility of limiting a container's connectivity perimeter was key in getting green lights for running third-party containers." —Christian Bach, Swiss Re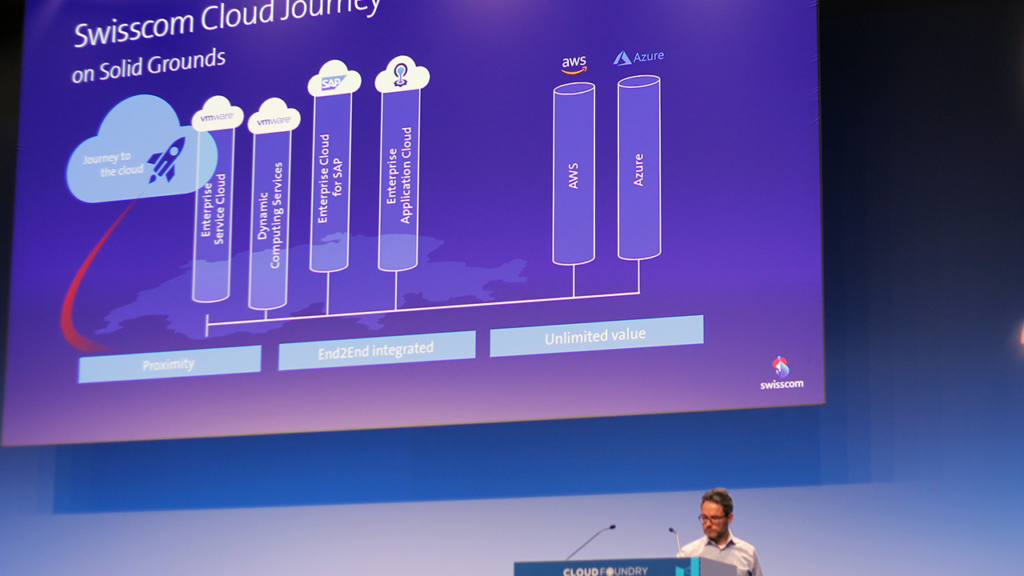 Christian Bach, Swiss Re
Gone are the days when live demonstrations were destined for failure. On both days of the summit, many of the speakers presented live demos on the different uses of Cloud Foundry. Dieu Cao of Pivotal displayed how CF Application Runtime can be used to update applications with zero downtime.
"You'll probably want to make a plan. Enable your clients to slowly opt in, then change the default, and then force them all over. By the time you have to force them all over, you can use this (CF Application Runtime). It's a great way to update your dependencies, stay secure, and stay up to date." —Dieu Cao, Pivotal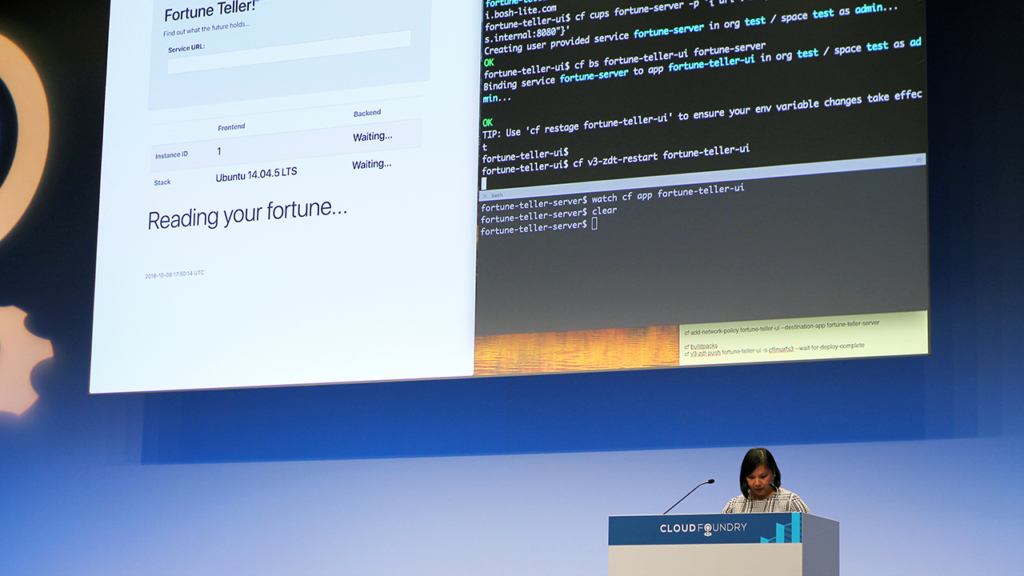 Dieu Cao, Pivotal
Matthew Horan recounted the work the .NET Windows team has done to bring cloud-native practices one step closer to .NET developers. "We're excited to announce that Windows has official support for multi-buildpacks," he exlaimed. "You can now actually compose buildpacks to pull in third-party libraries or change configuration in your applications."
"Users of Cloud Foundry don't just run Windows, they've got Linux workloads, Linux microservices, .NET microservices and they all need to talk to each other. Users also have expectations of the platform. They want it to be easy to use all this stuff. We've got some of that with .NET. We're focusing on bringing all these features to the Windows platform via an effort we call pragmatic parity. If there are things in the Linux world that makes sense for Windows, we'll bring those features to the Windows stack." —Matthew Horan, Pivotal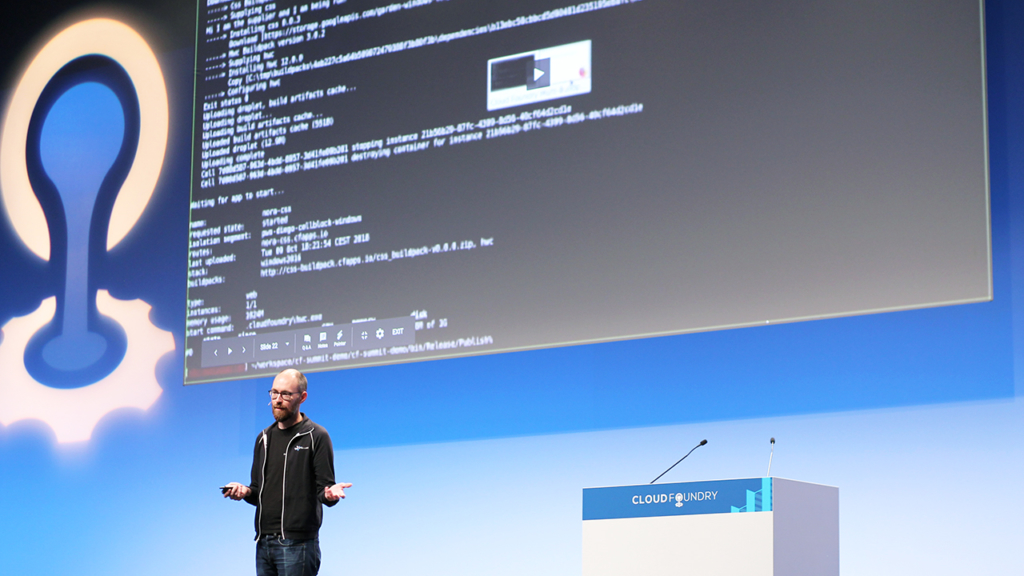 Matthew Horan, Pivotal
Focus on enterprise initiatives
The Cloud Foundry Community Advisory Board (CAB) meeting of October also took place at the summit. The conversation focused on what Chip Childers, CTO at the Cloud Foundry Foundation, called the "practical" side of the debate in remarks he had made to the collected audience in Basel. Dr. Michael Maximilien (aka Dr. Max) of IBM, the moderator of the meeting, noted the placid nature of most conversations he heard during the summit, with attendees stressing their (often very) specific needs and the eagerness to create PoCs, MVPs, and full-blown enterprise initiatives.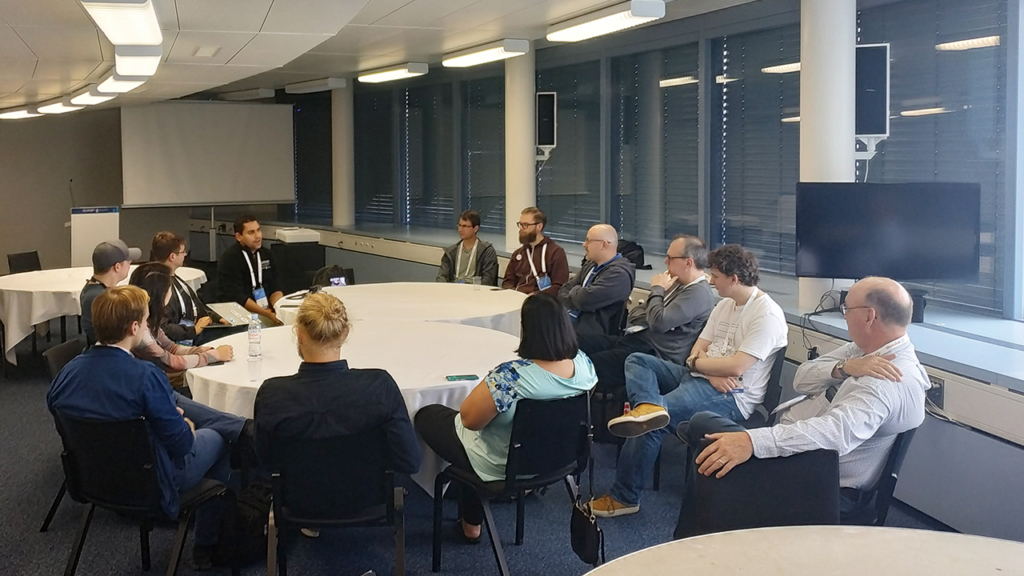 CAB meeting during the Cloud Foundry Summit Europe 2018
It seemed that a certain maturity is starting to emerge within not only Cloud Foundry itself, but within a community that has now spent several years in developing the technology and watching it being increasingly deployed worldwide.
The usual project manager reports were not given during the meeting, although information about developments during the preceding month are always accessible on the relevant GitHub repos. (In the meantime, two new projects—Eirini and CF Containerization—have been accepted by the Cloud Foundry Project Management Committee for incubation.)
Runtime PMC's GitHub repo | BOSH's GitHub repo | Garden's GitHub repo | CF Extension's GitHub repo
Following the tradition from the summit in Boston, the event in Basel was also rich in a series of hands-on labs from the company members of the Foundation. The goal behind such labs is to provide a consultation from the experts around some issues the attendees may have while using Cloud Foundry and, for sure, share experience. The European summit featured a hands-on lab by Pivotal, SAP, Altoros, and some other companies.
Altoros also delivered two hands-on labs, which aim was to help attendees with the challenges and pitfalls they may face while troubleshooting the Cloud Foundry platform.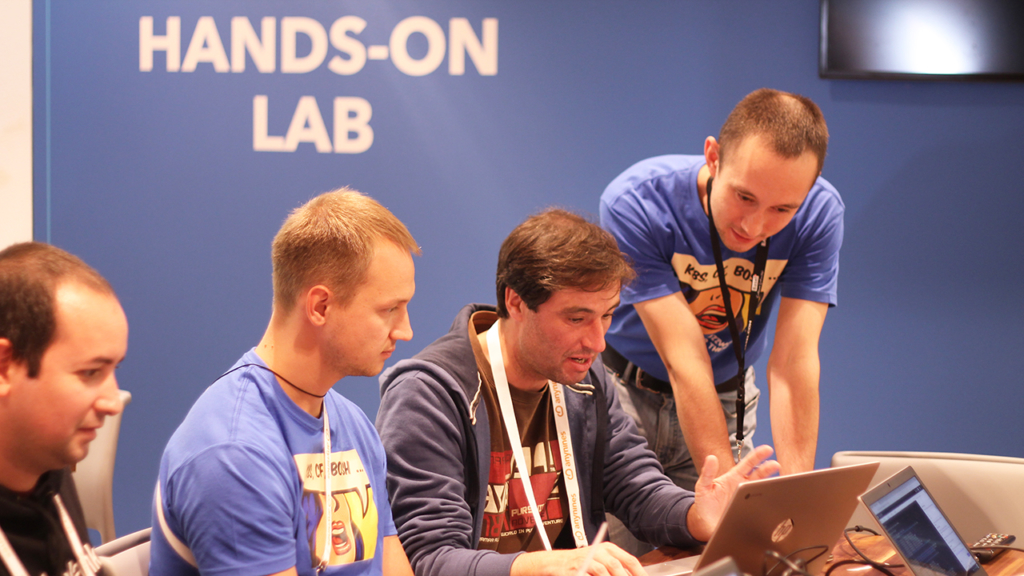 The Cloud Foundry troubleshooting challenge
Communicating better and the need for interoperability
Talking about proper communication, Chisara Nwabara of Pivotal noted that it's all about creating visibility and also making sure that people understand what's happening, as then it's a lot easier for people to have empathy and a lot easier for them to be more patient.
"It's important to create an environment, where people can safely take risks." —Chisara Nwabara, Pivotal
She also mentioned the importance of knowing the "difference between guidelines and rules."
"Sometimes, we set up systems to help us, but we don't keep in mind that there's nothing wrong with changing them. You have to create space to allow for a change when it makes sense." —Chisara Nwabara, Pivotal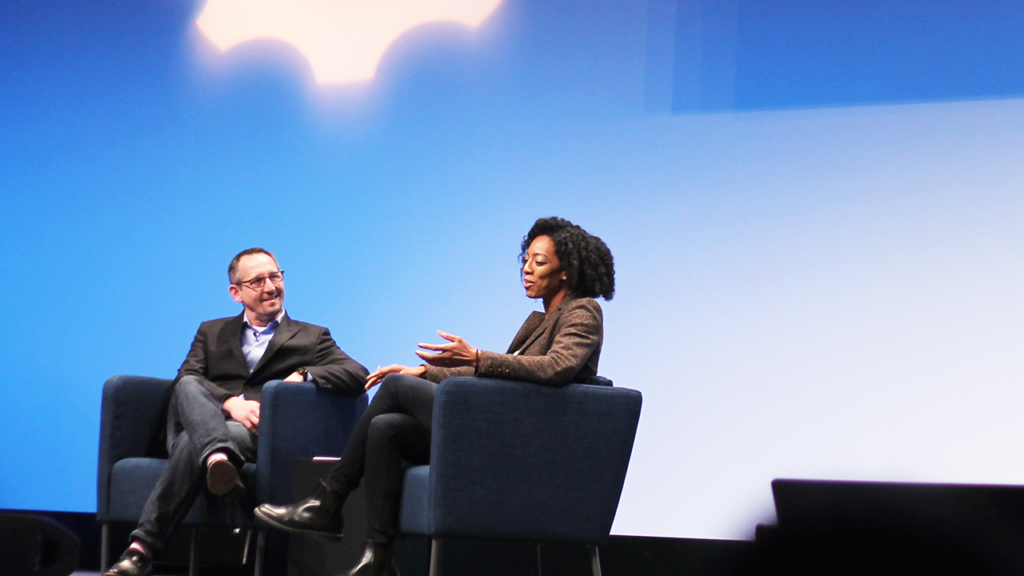 Chip Childers, the Cloud Foundry Foundation and Chisara Nwabara, Pivotal
Compared to the previous summits, Cloud Foundry at this point has reached a point of maturity and interoperability is becoming the new focal point. "We're at an inflection point," admitted Chip. "We know that most organizations now are focused on adopting cloud, adopting cloud-native technologies whether it's on-prem, off-prem, public cloud, mixing and matching. It's a bit of a mess"
In response to the need for interoperability, he highlighted a few projects that were working on bringing cloud ecosystems together.
"With the Cloud Native Buildpacks project, we're bringing Heroku and Cloud Foundry ecosystems back together. We're doing it in a way that's going to allow the power of buildpacks to work in any OCI compatible platform." —Chip Childers, the Cloud Foundry Foundation
Finally, he ended the keynote with a message about responsibility to the Cloud Foundry community. "We're on a journey as an ecosystem, as a community. We've been on that journey for a number of years," acknowledged Chip. "New projects are going to show up. We need to embrace them when they're useful, we need to integrate them when they're ready, and we need to help get them ready. That's our responsibility as users, contributors, and committers in the Cloud Foundry ecosystem."
Let's take this journey together and really focus on building bridges between different parts of this broader ecosystem. That's how the end-users get the most benefit. That's how we can take advantage of the innovation across this broader landscape. That's how we get to really continue to evolve and solve the problem that the Cloud Foundry community has been so focused in solving—making it easy for businesses and organizations to be good at software." —Chip Childers, the Cloud Foundry Foundation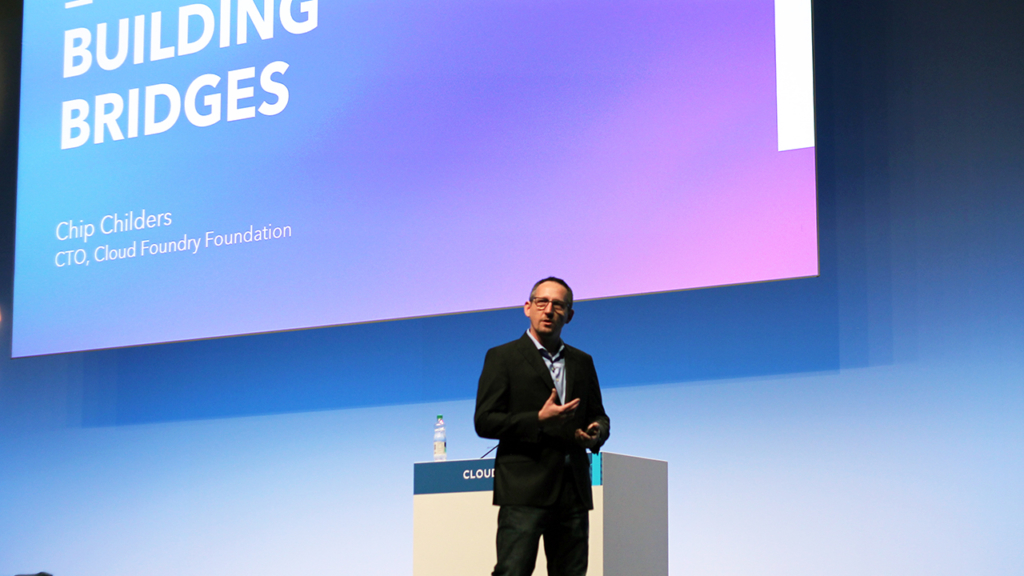 Chip Childers, the Cloud Foundry Foundation
At the conclusion of the summit, it was clear that Cloud Foundry was no longer just a buzz word. It's become a mature technology that's now being used by startups and the Fortune 500. What trend can we expect for next year?
The next Cloud Foundry Summit will be held in Philadelphia, Pennsylvania, on April 2–4, 2019.
---
This blog post was written by Carlo Gutierrez with assistance from Sophie Turol, Alex Khizhniak, Marina Romanovich, and Roger Strukhoff.