RubyGardens Graduation: Our Ruby Team Welcomes New Engineers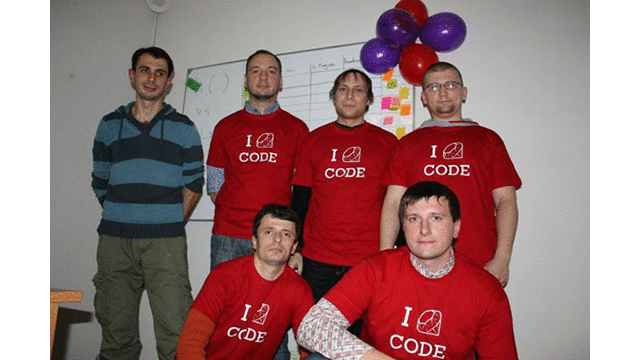 Can't find Ruby developers for your project? We understand. Having the largest RoR team in Europe, we know about the shortage of skilled engineers firsthand.
New graduates from our training courses

In Augist 2011, to help our customers hire enough Ruby on Rails talent, Altoros launched a series of Ruby training courses. They then evolved into an educational initiative called "RubyGardens." We preselected the best-of-breed developers (senior- and mid-level) that had previously worked with other technologies to help them enter the Ruby world. In the course of three months, they got a comprehensive overview of Ruby on Rails and started working on real projects.
Today, we are proud to announce the latest RubyGardens graduation. The winter course has finished with success: we've got eight newly established Ruby engineers ready to start their new career.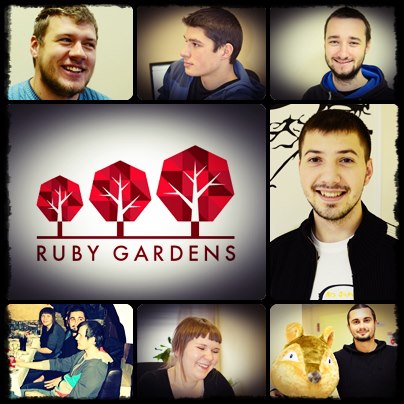 Recent RubyGardens graduates
Time passed sweepingly through all the sprints, Scrum meetings, iterations, code review, and parties, as if weeks of studies fused into a single stream of events. Our former students still have a lot to learn, but the information we managed to squeeze in our students' heads will soon turn into real experience and professionalism.
Meanwhile, watch this funny video shot at the beginning of the course enrollment. Here, our "Ruby heroes" who already work on customer projects answer why they enjoy Ruby and why the language is so convenient for solving tasks quickly and efficiently.
Background
The main idea of the courses was to prepare highly qualified staff for working on real customer projects. The customers actively supported the experiment and expressed strong interest in hiring professional developers. To ensure good progress and sufficient results, only mid-level or senior developers were offered to enroll. The instructors conducted a careful examination of the candidates' skills and, finally, after a number of tests and interviews, eight applicants were selected to enter the course.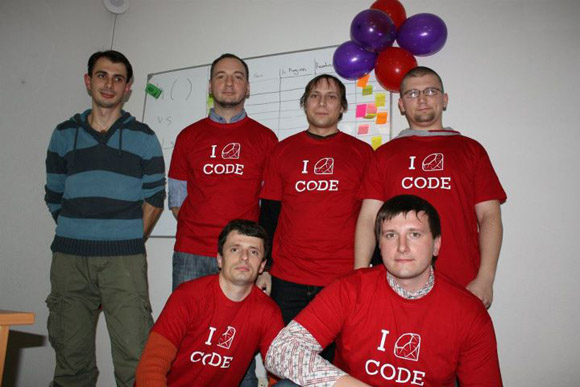 The first Ruby-on-Rails course participants
A learning process combined intense theory studies and immediate practice of the received knowledge. The Scrum methodology was put into the basis of the curriculum. The sprints, time-boxed periods allocated to complete a set amount of work, allowed for a lot of flexibility in prioritizing tasks and goals.
The students actively worked with a white board and visual materials to set the tasks and track the progress. During weekly meetings, all team members discussed some challenging issues and shared their ideas on how to make the development process more efficient. As a graduation project, the students presented a website for Belarus Ruby on Rails User Group.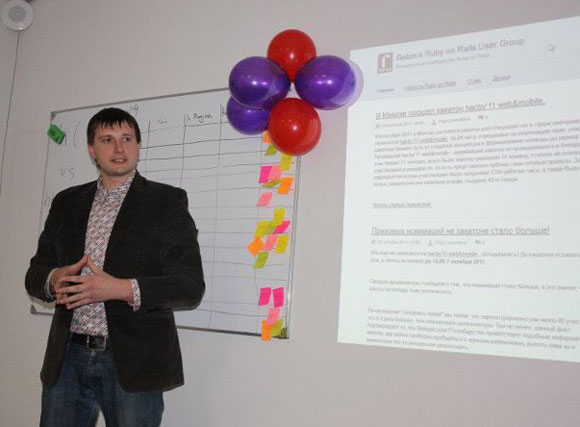 Presenting a website for Belarus Ruby on Rails User Group
During the studies, the instructors monitored the progress and efforts made by every participant. As a result, four of them became graduates of the course. Thanks to a well-balanced learning plan and highly skilled trainers, the course participants became fully armed to generate fresh ideas, take unfamiliar approaches, and successfully solve business tasks. All the graduates were rewarded with a certificate.
Further reading
---
This blog post was written by Alena Vasilenko, Olga Belokurskaya, and Alex Khizhniak.