Hyperledger vs. Ethereum: Yes? No? Maybe?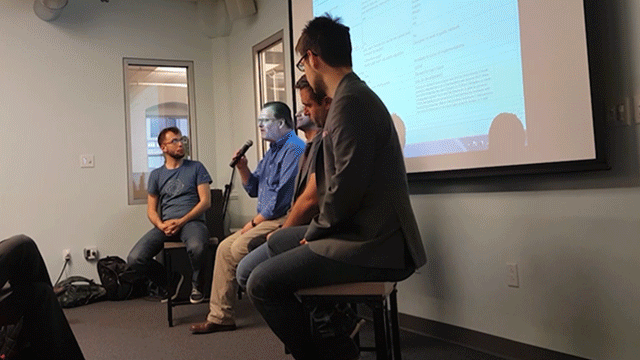 The idea of integrating the Ethereum Virtual Machine (EVM) into the Hyperledger Project took root. Will it flourish?
Lofty expectations and long looks at blockchain
Blockchain "should be the next generation of the Internet," said Conensys Head of Global Business Development Andrew Keys at a May meetup held in New York on the eve of a Hyperledger F2F meeting. "It has the ability to promote peer-to-peer transactions without incumbent intermediaries garnering unnecessarily large revenues, and (therefore) help humanity. If we can improve peer-to-peer interactions, that money can flow to more people."
That sort of lofty expectation is not uncommon among discussions of blockchain—at least the ones I've heard—and should be expected as a global financial services industry that generates $13 trillion in annual revenue is laser-focused on it, with managers of the rest of the worlds $78 trillion economy also taking long looks at blockchain, whether out of fear, opportunism, altruism, or all three.
Altoros sponsored the meetup, with its CEO Renat Khasanshyn leading Andrew and three other panelists through a discussion with the topic, "Hyperledger vs. Ethereum: A War in the Making, or a Match Made in Heaven?"
To versus or not to versus?
The panelists all objected to use of the term "versus" in the title, as they outlined their respective expectations and concerns about the current state of the blockchain technology. But the discussion revealed that this may not be a match made in heaven just yet. Besides Andrew, the panelists included Tom Menner, Senior Solution Architect, IBM; Bhavin P. Kapadia, an independent consultant focusing on OTC Calypso; and Igor Lilic, Principal Technical Lead, Consensys.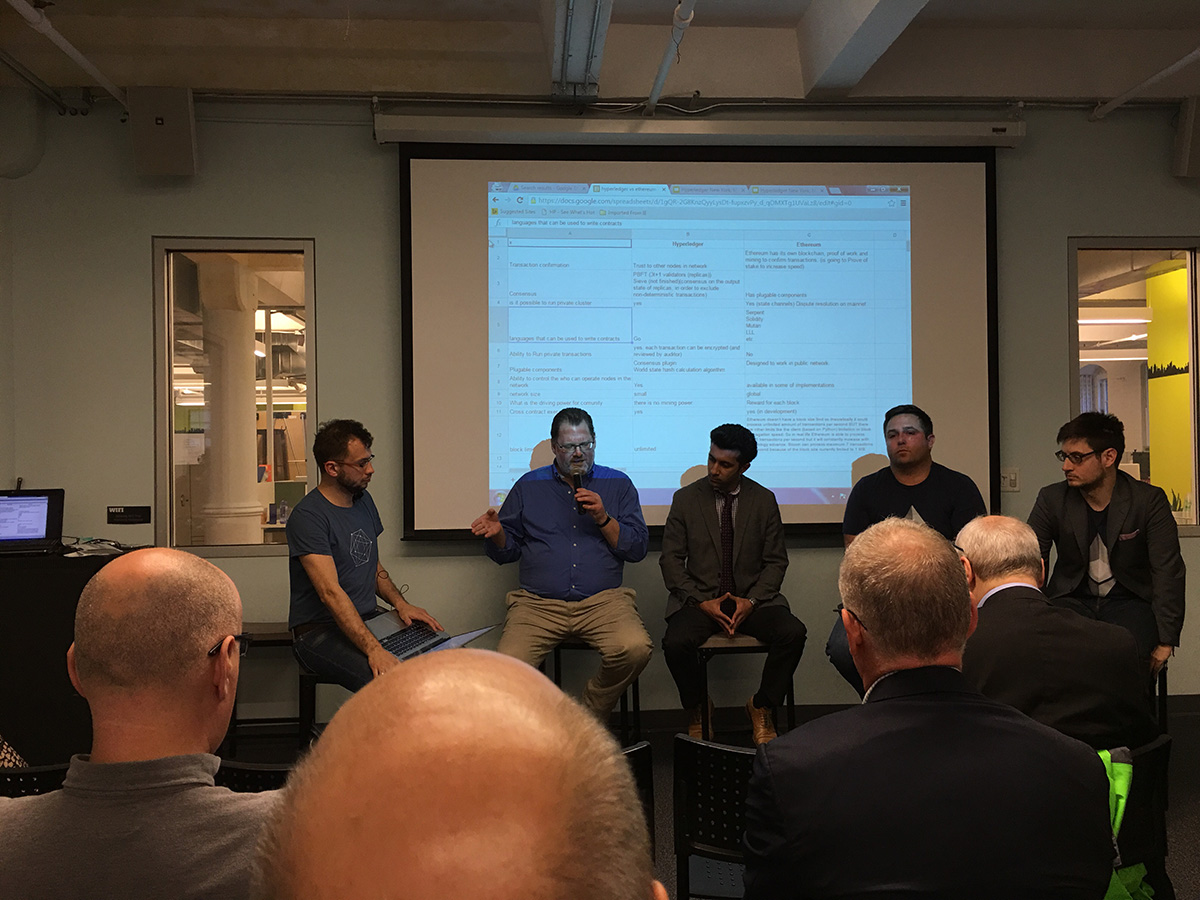 "I just want to solve problems. I don't care how they get solved." —Tom Menner, IBM
Tom said, "I just want to solve problems. I don't care how they get solved." He continued, "What will provide supply chain visibility, faster settlements, order management visibility, etc." He then got more specific, saying that what he imagined "is looking at Hyperledger as the protocol layer (of blockchain implementations) and Ethereum as an OS on top of that. But if I can just build apps on top of Hyperledger, then that's great, too."
A couple of other IBMers in attendance outlined their view of the Hyperledger Project's history, with one noting that "we wanted the solution framework to be modular. One consensus and security model is not going to satisfy every case."
If one were to be afflicted with a bit of paranoia, all of the soothing words from IBM might sound a bit like the calming speech you give to Old Rex as you bring him into the vet for that final shot.
He went to say that the IBM Hyperledger team envisions "what we call HL Transaction Protocol, or HTLP. We spent months (wondering whether) to throw an army against Ethereum, which is open source but not openly governed. But what if you could shift time, with Ethereum built after HLTP existed; then, you would spend less time building Ethereum."
Hmm…
Many big issues
He also mentioned high transaction throughput, finality, identity, and private confidential agreements as priorities for an ideal blockchain solution. For his part, Bhavin mentioned the same issues in a different way, noting that "I'm concerned about settlement—how to clear the trade—and how to make this aspect a lot more robust. I want to see more emphasis on life cycle and its impact on the OTC side of things and other (so-called) exotic stuff."
"I want to see more emphasis on life cycle and its impact on the OTC side of things." —Bhavin Kapadia, OTC Calypso Consultant
Less grandly, but similar in profundity, Andrew said blockchain "should be the next generation of the database. It should replace MySQL and add that layer of trust from the public Ethereum network. He said his company's main interest at this point is to integrate the Ethereum Virtual Machine (EVM) into the Hyperledger Project.
Renat pressed the panelists to identify issues relating to use cases outside of bitcoin and financial services, and asked, "what type of issues can be solved with Hyperledger but not Ethereum, and vice versa?"
The question seemed a little premature, as the panelists focused on general integration issues, as well as public versus private networks, and permissioned versus non-permissioned environments. This reflected much of the talk I heard a couple of days later at the Hyperledger F2F.
Andrew said "we've been able to create a private infrastructure that's completely moduralizable. Bitcoin does one thing well—the transfer and storage of value—but without smart contracts and applications it will be relatively limited."
Igor seconded that emotion while noting that "we like that Hyperledger is able to conceptualize computational, expensive work and incorporate it into the blockchain. (On the other hand), Ethereum runs native so can things can get really expensive to compute.
He also asked, "How do we provide so-called "oracles" in smart contracts that can take outside data?" One example would be micropayments to the 3.5 billion unbanked, unregistered people in the world—an application "in which a public network provides value," Igor noted.
"We've been able to create a private infrastructure that's completely modularizable." —Andrew Keys, ConsenSys
Andrew noted how the SWIFT system today transfers "all the money in the world" through both private and public instantiations, something "that will always be." He said a successful blockchain roadmap "must interact with both of them, and that's why we want to integrate the EVM into Hyperledger."
Where smart contracts live
"EVM is where smart contracts live," Igor said. "The difference is Ethereum is native to blockchain, so contracts execute within the context of blockchain; they are not off-chain. There is a tremendous value-add here. It enables true disintermediation—if you agree on smart contract code there is nothing in the middle besides the blockchain that's running it. If we could bring that into the Hyperledger Project it could go hand-in-hand with code to create on-chain contracts."
Within this context, identity is a big issue, and one that merits its own working group within the Hyperledger Project. Indeed, Igor said that with a private key "you can almost take the blockchain away and I still have this string that represents me on the network. It's almost like we need to have an Identity Foundation."
Andrew then took the conversation through an interesting turn, saying there's a paradigm shift going on here, "going from the Facebooks of the world, which make lots of money on our identity, to what should be instead a world where we each have a self-sovereign identity. We own a canonical persona with attributes and attestations. When you sign into Facebook today, the company owns your identity. But instead, if we own our own identity we could get paid if we choose to look at an ad, for example. This is the critical next point on the evolution of the Internet."
And if that doesn't get people's attention, what will?
Want details? Watch the video!
Related reading
Related presentation
Andrew Keys served as the Keynote Speaker at Cloud Expo on June 7, a conference at which I sit as Conference Chair. He took an audience of 2,000 people through a grand tour of Ethereum, and pronounced its future as grandly as he did in the meetup described in the above article. Find the full slides of Andrew's keynote here.
About the panelists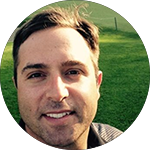 Andrew Keys
comes to ConsenSys with capital markets, technology and entrepreneurial experience. Previously, he worked for UBS investment bank in equities analysis. Later, he was responsible for creation and distribution of life settlement products to hedge funds and investment banks. After, he co-founded a revenue cycle management company where he learned about Bitcoin and eventually Ethereum.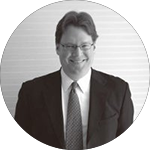 Tom Menner
is currently an architect for digital commerce solutions, including digital marketing and customer analytics, payments, B2B, and blockchain patterns. He has over six years experience as a Worldwide Solution Architect for IBM, with customer experience in many geographic markets and across many industries. He also has seven years experience as a middleware specialist and solution architect for IBM in NYC.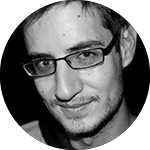 Igor Lilic
is currently the Principal Technical Lead for Consensys. He is formerly a senior consultant at ThoughtWorks, software development engineer at Amazon Web Services, OANDA, SAP and AMD. He has experience in enterprise development, implementation and delivery experience at a variety of Fortune 100 companies. He studided at the University of Waterloo and is an alumni of Honours Computer Science.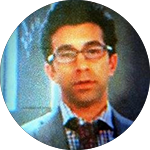 Bhavin P. Kapadia
has been an Independent Consultant for Investment Banks in OTC Calypso Derivatives Implementation Trading Systems for 8 years. He has had high-visibility leadership roles serving Deutsche Bank, Wells Fargo, Natixis and Calypso. He successfully spearheaded $27M Wells Fargo Banks'​ FX trading system implementation. He has aggressively led 67/73 (93%)—up from 40%—customized trading Rates solutions within SLA.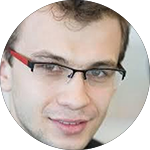 Renat Khasanshyn
is the founder and CEO of Altoros, and Venture Partner at Runa Capital. He helps define Altoros's strategic vision, and its role in Cloud Foundry PaaS ecosystem. In the past, he has been selected as finalist for the Emerging Executive of the Year award by the Massachusetts Technology Leadership Council and once won an IBM Business Mashup Challenge. Prior to founding Altoros, Renat was VP of Engineering for Tampa-based insurance company PriMed.