Cloud Foundry Summit 2014: Day 1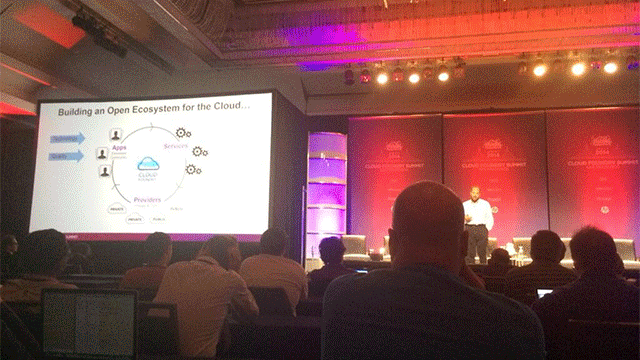 The most anticipated Cloud Foundry event of this year kicked off yesterday in the sunny San Francisco—fully packed.
Previous recaps: Day 1 | Day 2 | Day 3
The agenda for the first day included a welcome keynote by Paul Maritz, CEO of Pivotal, and the opening Cloud Foundry Foundation panel featuring its Platinum members: HP, Rackspace, SAP, IBM, Pivotal, VMware, and CenturyLink. The number of attendees reached 1,000, doubling the last year's figures.
In this blog post, we recap what's been happening at the summit on Monday (June 9), including some major announcements and quotes from the speakers. We hope it will be useful to those who are at DockerCon and could not attend.
The keynote with Paul Maritz
At the beginning of day 1, Paul Maritz delivered a keynote on how the convergence of cloud, big data, and Agile application development can help businesses to succeed in the new era of computing. The session covered the history of Cloud Foundry and how the Cloud Foundry Foundation has grown from 0 to 35 members in just four months.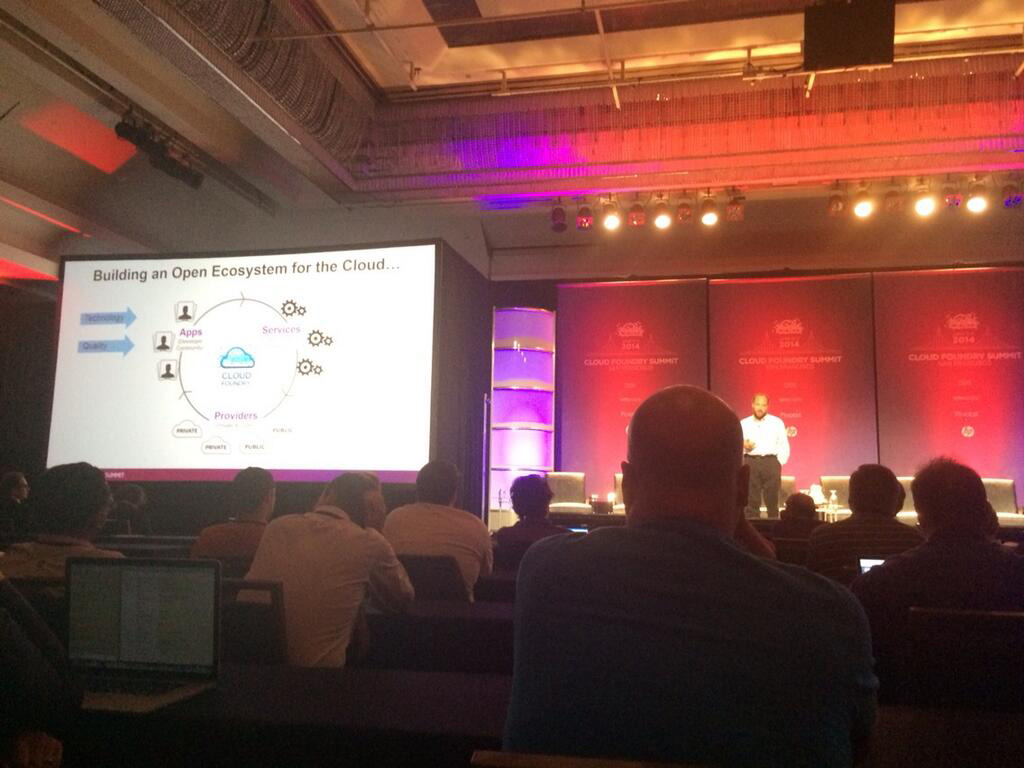 "Open source has become a very effective approach to enable people to come together and build a standard platform." —Paul Maritz, CEO @ Pivotal
Some major developments that happened over the year were also highlighted—e.g.,thanks to the Decker project, Cloud Foundry now supports Docker container orchestration. The keynote ended with the foundation mission statement that summarized the project's goals.
"Meritocracy, clean IP, low barriers to entry, and an open process drive the new Cloud Foundry mission statement." —Leo Spiegel, Senior VP of Strategy @ Pivotal
The opening Cloud Foundry Foundation panel
The summit continued with the opening Cloud Foundry Foundation panel that featured Mark Atwood of HP, Dan Choquette of Rackspace, Erich Clauer of SAP, Christopher Ferris of IBM, Killian Murphy of VMware, Jared Wray of CenturyLink, as well as Michael Maxey and Leo Spiegel of Pivotal.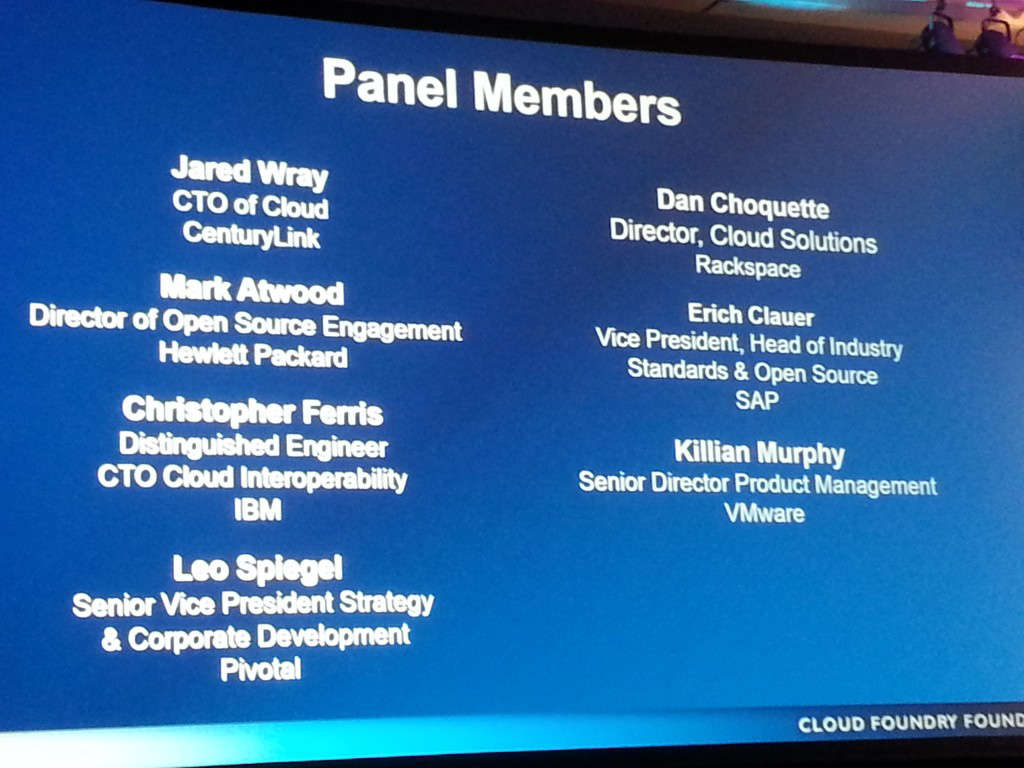 "The OpenStack presence in the opening Cloud Foundry summit panel on Cloud Foundry Foundation is significant." —Cornelia Davis, Senior Technologist, Pivotal
The panel welcomed two new members to the Cloud Foundry Foundation, announcing that Swisscom and Canopy had become Gold and Silver sponsors respectively. As of now, the foundation is supported by a total of 35 members.
Further discussion mainly revolved around several questions:
Why the Cloud Foundry Foundation?
What drives the adoption of Cloud Foundry?
Why Cloud Foundry is the right technical choice?
What will be the future of Cloud Foundry?
The answers to these questions were not as technical as those we discuss at the monthly Cloud Foundry Advisory Board meetings, so they might be interesting to a broader audience as well.
Why the Cloud Foundry Foundation?
The panelists shared why they support Cloud Foundry and why they think the Cloud Foundry Foundation—planned to be formed this fall—is likely to be a success.
"Our customers demand no vendor lock-in, that's why CenturyLink loves Cloud Foundry." —Jared Wray, CTO @ CenturyLink Cloud
HP, a company that has experience with multiple foundations (such as Apache, Eclipse, and OpenStack), suggested that their accumulated knowledge of how to run this kind of organizations will help to avoid potential mistakes and pitfalls with Cloud Foundry.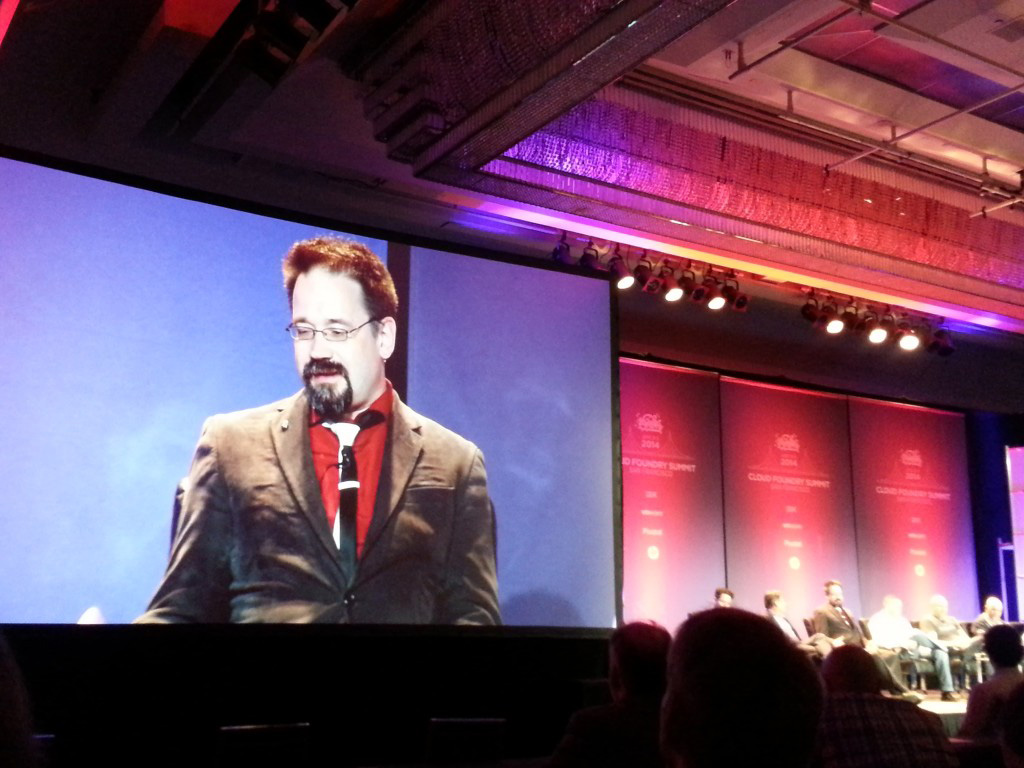 "Infrastructure is not enough to provide cloud to the enterprise, you need a platform, and we chose Cloud Foundry." —Mark Atwood, Director of Open Source Engagement @ HP
Rackspace, a customer-driven support company, chose the Cloud Foundry way because many of their customers requested them to do so.
IBM wanted to bet on a promising open-source (OS) technology that is not governed by a single company.
VMware aspired to provide great user experience to anyone using their technology, and Cloud Foundry is the possibility to do this for developers.
SAP would like to become more open by bringing open-source software (OSS) to their ecosystem and encouraging partners to contribute. Their vision is that developers should not worry about where the cloud is located. Whether it's private or public, AWS or OpenStack—you should be able to just deploy apps to a platform using credentials. SAP also announced that they had started to integrate their products as Cloud Foundry services (in particular, SAP HANA).
CenturyLink's philosophy is to avoid lock-ins on proprietary technologies. They believe that developers should be driving innovation in enterprises.
"The goal of PaaS is to turn DevOps people back into just dev people."—Mark Atwood, Director of Open Source Engagement @ HP
What drives the adoption of Cloud Foundry?
According to Jared Wray, CTO @ CenturyLink Cloud, "the delight on developer's face" drives PaaS adoption.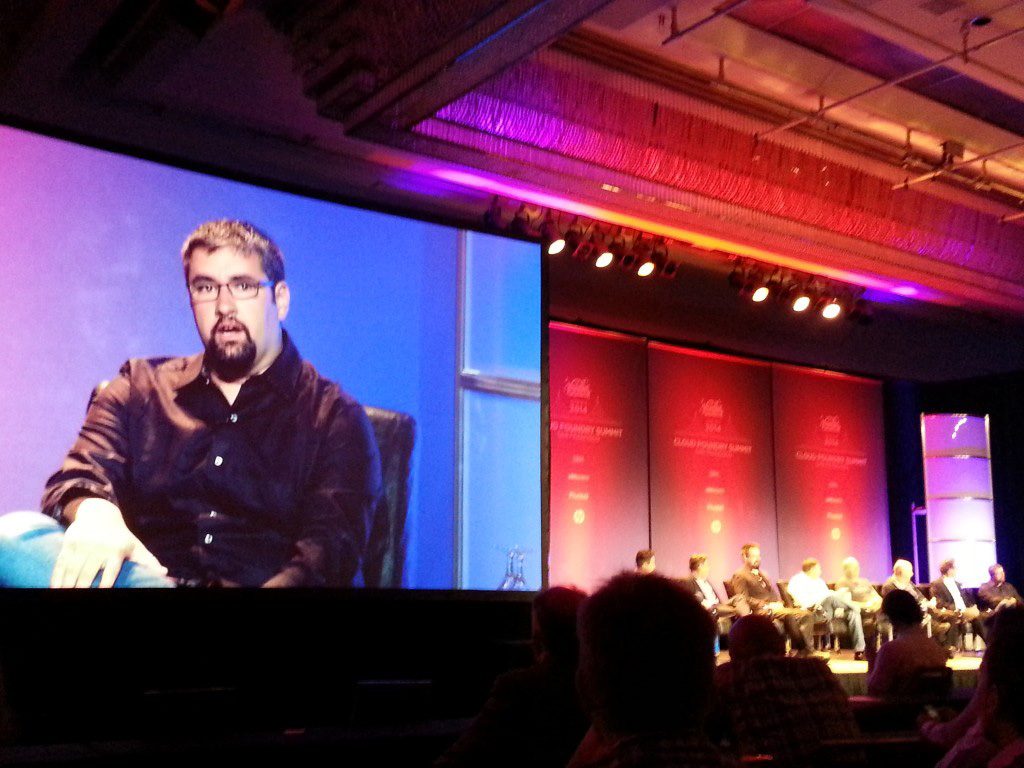 The main drivers pushing adoption of Cloud Foundry were quoted as follows:
Cloud Foundry is IaaS-agnostic, supporting various Infrastructure-as-a-Service providers, including AWS, OpenStack, and vSphere.
It provides a variety of services through Cloud Foundry and Heroku buildpacks.
It has a great ecosystem, with 35 companies now sponsoring the Cloud Foundry Foundation.
When speaking about the adoption of Iron Foundry, the .NET distro of Cloud Foundry, the main driver is the growing popularity of .NET technologies.
Finally, Cloud Foundry is pretty solid.
The last point was illustrated by a notable use case from IBM. They used Cloud Foundry to run an in-house hackathon for 300 developers and their internal deployment stayed strong.
"Our admins were actually bored that night." —Daniel Krook, Senior Certified IT Specialist @ IBM
Why Cloud Foundry is the right technical choice?
Here's what the foundation had to say on this matter:
The ability to choose where you want to put your deployment is what makes the difference. (VMware)
Putting Cloud Foundry on top of OpenStack resulted in a pretty robust deployment. (IBM)
There is a thriving ecosystem, support for various services, etc. (IBM)
It's Cloud Foundry's great architecture on the distributed system level. (CenturyLink)
The fact that Cloud Foundry developers were able to include Iron Foundry over Cloud Foundry as a major inclusion. (CenturyLink)
The incubation process. (CenturyLink)
Where do you see Cloud Foundry in 5 years from now?
Then, the panelists shared their predictions on what will become of Cloud Foundry in 5 years.
According to Erich Clauer of SAP, Cloud Foundry will become an interoperable platform that scales where it is deployed. As a result, the infrastructure where the apps run will become irrelevant, while the cost of app deployment will further decrease. Given the wide support enjoyed by Cloud Foundry, it might have to take the responsibility of being the industry-standard PaaS in the coming years.
Mark Atwood of HP noted that there will be more collaboration between the developer and the user, while the DevOps stuff will become increasingly automated. Enterprise applications will come packaged as Cloud Foundry-ready apps. He also mentioned the OS project as an example of the traction that Cloud Foundry can have.
"An enterprise application will be packaged as a Cloud Foundry app or service connectors."
—Mark Atwood, Director of Open Source Engagement @ HP
Christopher Ferris of IBM predicted that all services will become available in 5 years. The focus will shift towards developers, and the platform will fundamentally change the way we deliver apps in an enterprise.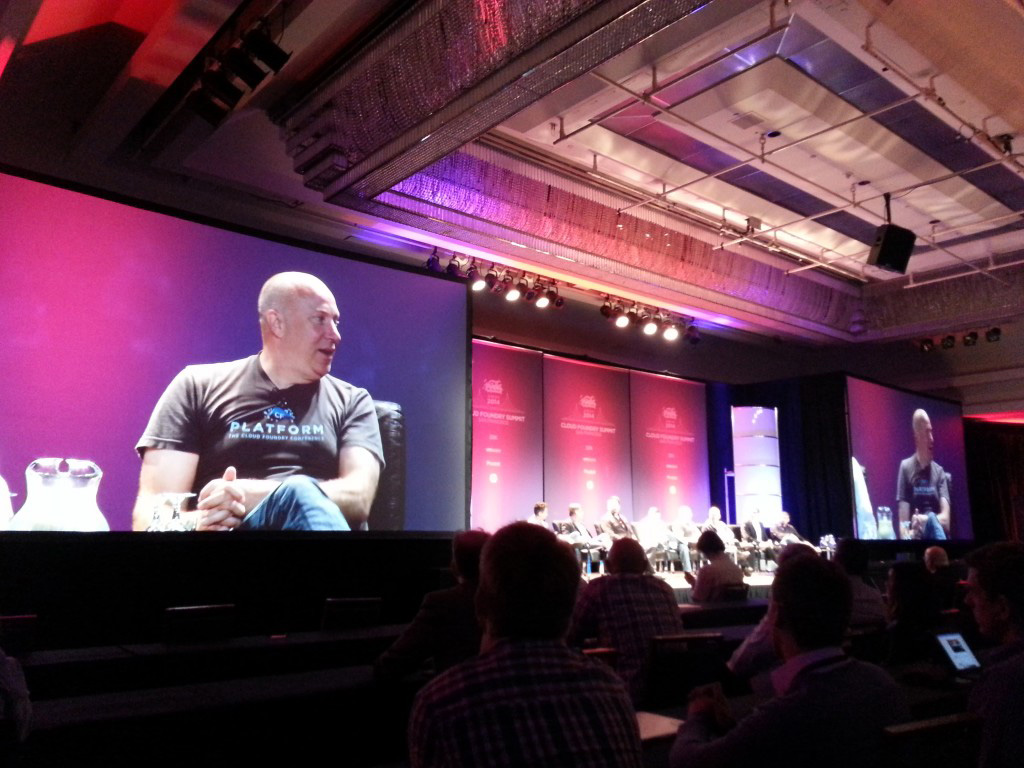 "To take Cloud Foundry to the next level, it needs to be driven by the community." —Christopher Ferris, Distinguished Engineer and CTO for Cloud Interoperability @ IBM
Dan Choquette of Rackspace believes that the project will continue following the same basic principles of open-source technology development as OpenStack.
How to balance the individual and the corporation?
Christopher Ferris of IBM answered that the foundation is trying to keep the business guys out, although they can provide valuable experience. He also added that, in general, companies are more comfortable with the OS term.
According Mark Atwood of HP, HP and Rackspace have traditionally used the developer-developer model—developers take the lead with OSS requirements and development as long as they are in line with the vision of their project managers and companies.
Jared Wray of CenturyLink believes that innovation should come from developers and from the OS.
Christopher Ferris of IBM also thinks that projects should be managed by individuals, but the corporate point of view should also be taken into account.
Pre-summit training on Cloud Foundry
It's also worth mentioning that, on the first day of the Cloud Foundry Summit, Altoros conducted a Cloud Foundry training to help the attendees gain the necessary DevOps skills for the summit. The training was led by Manuel Garcia, Director of Operations at Altoros, and was focused on building practical skills in Cloud Foundry deployment, working with instances, buildpacks, scaling apps up and down. Manuel also touched upon auto-scaling, blue-green, zero-downtime, and auto-healing deployments, as well as Cloud Foundry services (types, current restrictions, expectations, and much more).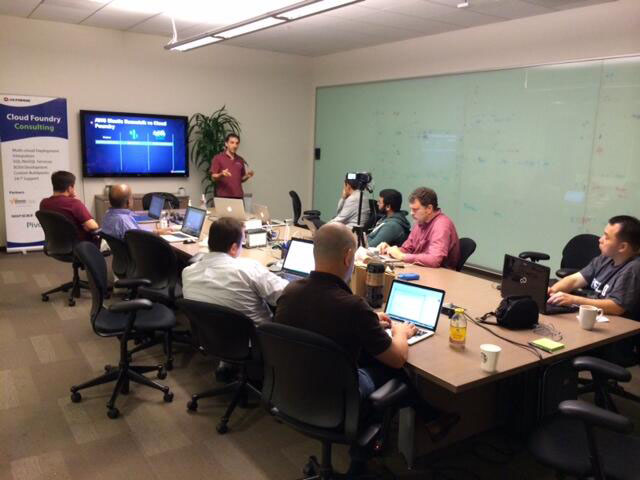 Manuel Garcia of Altoros leading the training
Resume
To sum it up, the first day of the Cloud Foundry Summit was marked by the announcement of two new Cloud Foundry Foundation members: Swisscom and Canopy. The Platinum sponsors of the Cloud Foundry Foundation shared their vision of how the platform and community would evolve.
In general, it became clear that the ecosystem is mostly interested in:
Support for various IaaS: Cloud Foundry is already running on AWS, OpenStack, and vSphere.
Services (e.g., MySQL, PostgreSQL, MongoDB, Couchbase).
The distributed file system that enables legacy applications, writing to the file system, to run in a Cloud Foundry environment.
Security: application isolation, firewall, compliance with government regulations, etc.
Scaling: the ability to monitor and scale every application in a different way.
The Cloud Foundry ecosystem should also pay attention to the release of Docker v1.0 (a stable, production-ready version of the container orchestration engine) announced yesterday at DockerCon.
The second day of the Cloud Foundry summit has already started, so come to our booth today to chat or discuss Juju Charms for Cloud Foundry, MBaaS on CF, or learn how to select a PaaS.
All recaps from the summit:
---
The post is written by Renat Khasanshyn, Alex Khizhniak, and Volha Kurylionak.