Cloud Foundry Competition: IBM and GE Enter Gorilla Warfare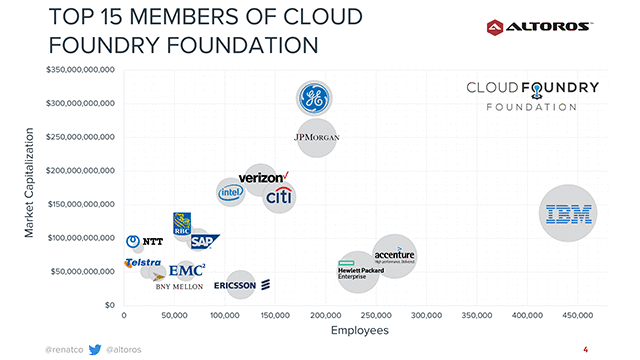 Cloud Foundry sits at the center of what would be a heavyweight bout for the ages. As GE Predix and IBM Bluemix battle for control over the fast-growing analytics sector, enterprise IT should benefit.
Let it be known that today, Monday, February 23, 2016, will be remembered as an epochal day in the history of Cloud Foundry. Today is the day that two 800-pound gorillas—IBM and GE—started what should be a long battle for supremacy in the hot, hot field of business analytics and the Internet of Things (IoT).
GE is expected to start a major public relations for its Predix platform, which is based on Cloud Foundry. Meanwhile, IBM is set to kick off its enormous InterConnect event in Las Vegas, drawing an estimated 24,000 people who are focused primarily on predictive analytics based on Bluemix, IBM's version of Cloud Foundry.
Cloud Foundry Foundation's CEO was among the few speakers at an Open Technology Summit held on Sunday, and he will appear a few more times on the IBM InterConnect program during the week.
Oldies but goodies
GE and IBM, founded respectively in 1892 and 1911, have both stayed in business for more than a century by staying as close as they can to the productive leading edge of big technology.
Decisions by both companies to embrace the open-source Cloud Foundry a few years ago are now being followed up by major strategic directions.
For GE, its dedicated GE Digital (formerly GE Software) division in the East Bay of San Francisco Bay Area is committed to the Industrial Internet—in which a "thing" in the Internet of Things can be a locomotive or a jet engine.
For IBM, which keeps many of its InterConnect people in North Carolina, but spreads its Bluemix talent throughout the world, it is now leveraging its Watson platform throughout overall predictive analytics and "cognitive IoT" initiatives.
Why are we here?
Within this context, let's share some observations:
AWS and Microsoft Azure now seem to own the mindset of public cloud early adopters. Revenues of about $7 billion and $5 billion, respectively, were attributed to them for 2015. However, the workloads of later adopters—more than 80% of enterprise IT—are still up for grabs.
The later adopters (call them laggards at your peril, as these are still early days), the manufacturing, automotive, utilities, hospitality, and oil and gas industries have been some of the slowest to adopt the public cloud. These industries represent, in a rough estimate, more than 50% of the global GDP of $75 trillion. Their IT spending is proportionate.
As implied above, the two gorillas, with a combined annual revenue of about $200 billion, have become focal points in the "how to" of digital transformation, in large part from their commitments to Cloud Foundry. IBM and GE are the largest, wealthiest, and noisiest technology providers out there, when it comes to shaping mindsets and mindshare of businesses who are trying to embrace digital transformation.
This embrace certainly strengthens the ecosystem and prospective future health of Cloud Foundry. Simultaneously (and significantly), membership in the Cloud Foundry Foundation grew last year by 87%, with members driving large dollops of global business revenue.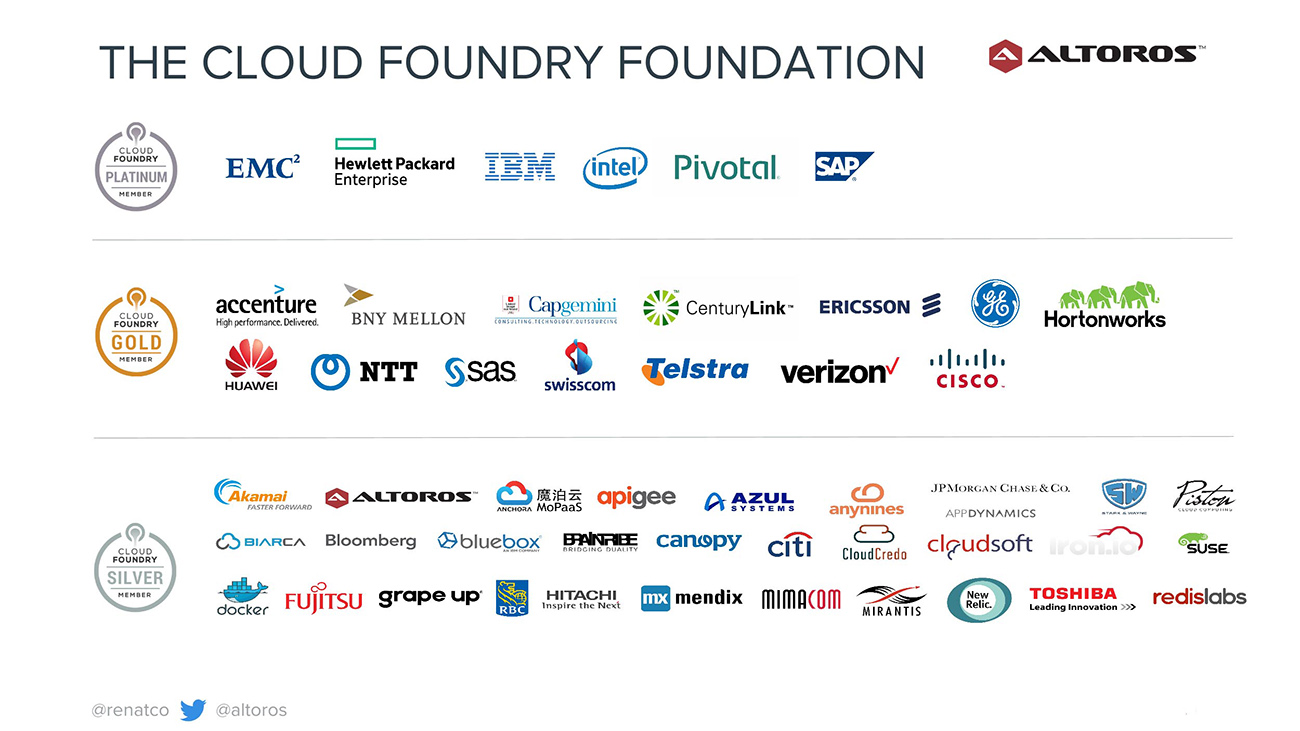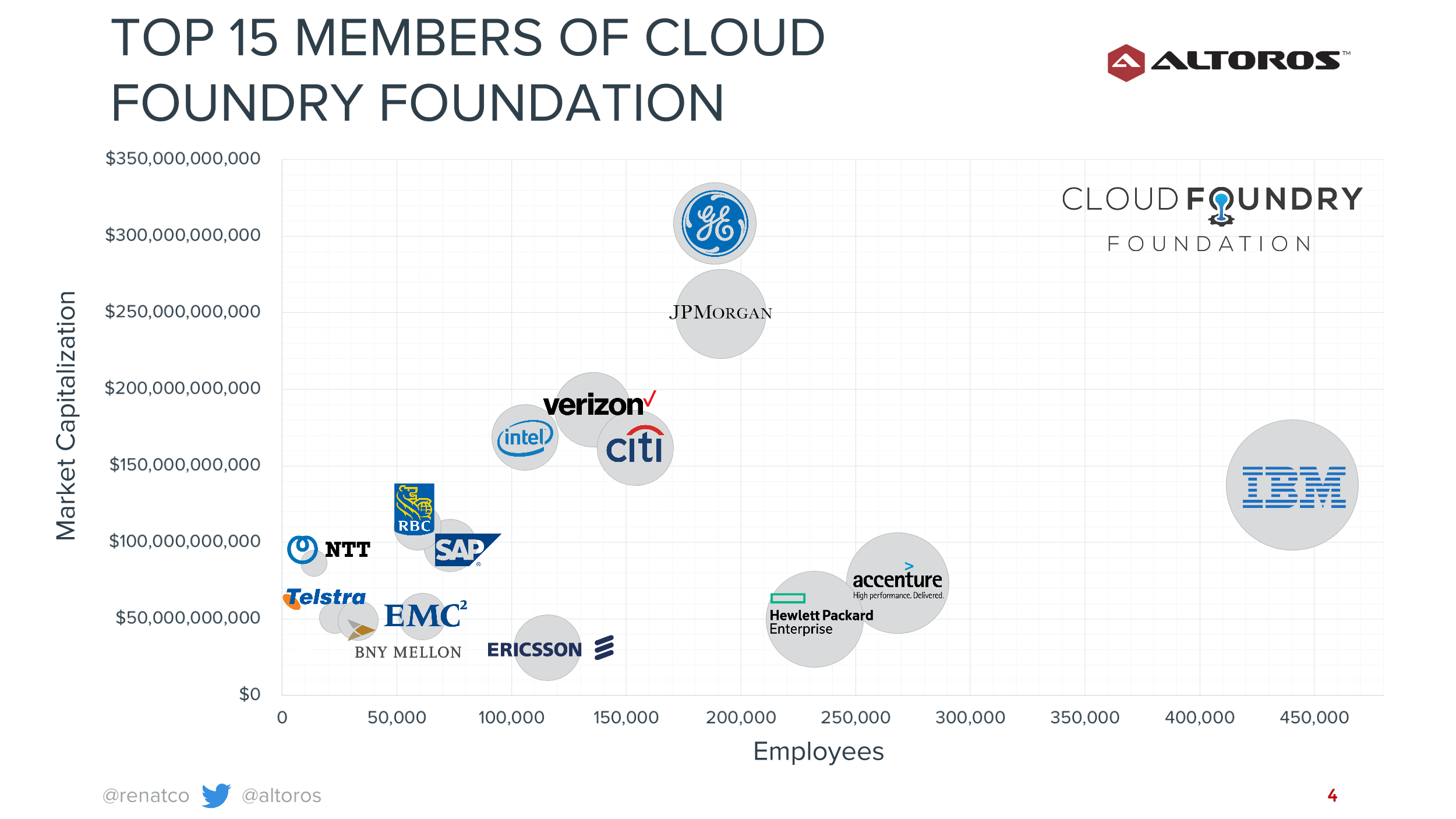 Driven by Cloud Foundry, naturally the two companies' service catalogs are the center point of the oncoming gorilla warfare.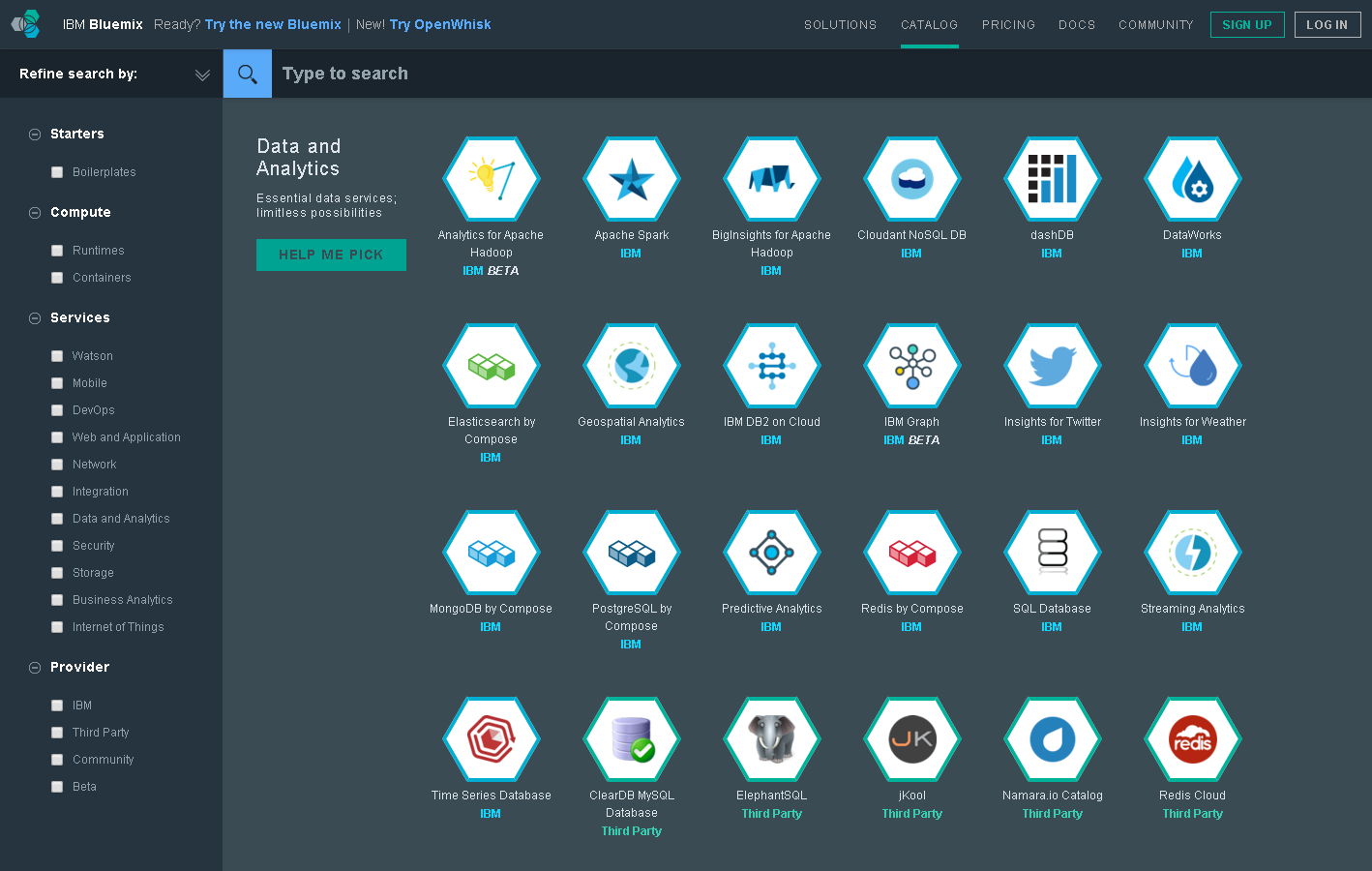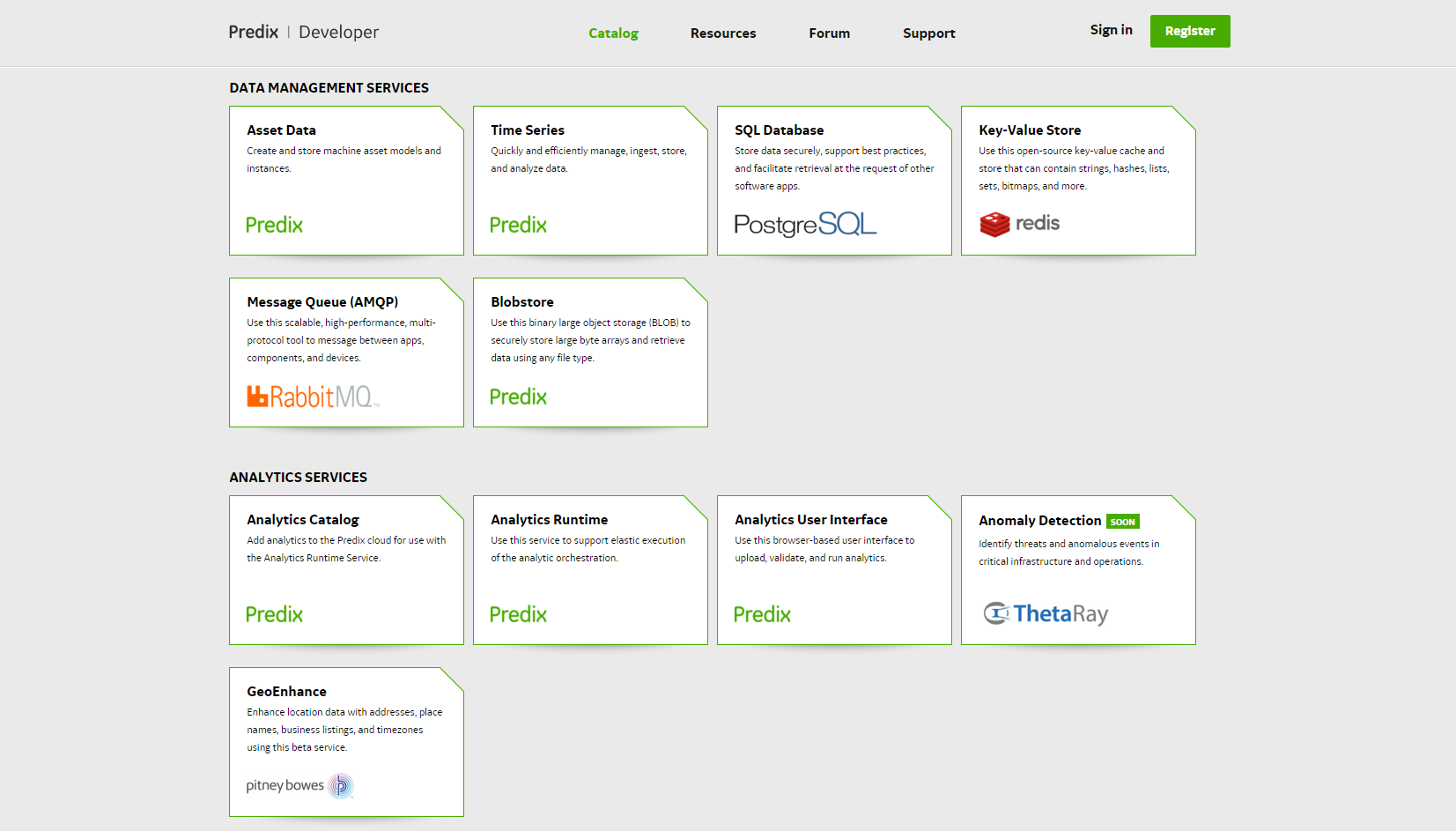 Going to market
It's commonly received wisdom that battleships turn slowly in the water. What's often forgotten is that battleships are, well, battleships. They are good at warfare, literally and figuratively.
Neither IBM nor GE is withholding its fire at this point. With tactics ranging from application modernization to a sales pitch of (in essence) "digitally transform your company, or die," we see both companies approaching their customers directly and frankly. There are free trials, low-cost programs, pay-as-you-go services, and through enormous channel partners the companies are making pledges of planetary proportions.
Meanwhile, Accenture and Wipro have committed a combined 100,000+ developers to Bluemix. Read that number again. Additionally, GE is expected to announce today, or soon, further boosting of key partnerships the likes of Cisco, AT&T, Verizon, and Softbank.
Differentiation—IBM
IBM has first-mover advantage, with a lead over GE of almost two years. With its Softlayer and Blue Box strategy (including building 18 new data centers throughout the world), in-house Big Data play, and a gamut of in-house software, Big Blue has strong control and integration of its platform pieces.
IBM also has many years of contributing to open-source projects—not just Cloud Foundry. It has contributed in the past within the Linux community, and to Apache and Eclipse projects. The company currently has more than 600 current open-source developers.
Differentiation—GE
On the other hand, second-mover advantage is often the key to dominating colossal markets. In any case, GE has its predictive insight technology, a detailed understanding of machine data (again, reflecting its Industrial Internet focus), and a deeply intimate knowledge of its customers.
GE is also partnering with Google on front-end UI/UX components, and is embracing the Polymer stack of Web Components.
GE also has an unprecedented influence and control of the digital transformation process, because the company makes its engine, and now it makes the app. It controls things end to end. Want to create demand for another $1 billion worth of revenue downstream? Just change a few items upstream! For example, add more sensors, change the data types, protocols, and/or endpoints. This becomes a revenue-driving engine.
IBM doesn't have that luxury.
Turning against AWS
The two gorillas have enough natural intelligence to know that they are not, in fact, each other's strongest enemy. That would be AWS. Each of them is addressing this challenge.
IBM is migrating its legacy software to something fit for the cloud/IoT age. Nearly half of the IoT tracks at InterConnect, for example, are from the IBM Maximo product line. This is the legacy of a company purchased in 2006.
There are efforts at IBM to integrate it into Bluemix, including efforts by the company's solution architects to link the old product with the Bluemix-provided services whenever possible. Only a small percentage of the Maximo presentations mention Bluemix this year, but let's watch this trend.
IBM Smart Cities program has been heavily into pushing software suite called IBM Intelligent Operations Center (IOC) for cities, public programs/disaster response, and public transportation. IBM Intelligent Operations Center (IOC) offers ability to gather insights on transportation, water, public safety, and social services. The public sector may be the slowest to adopt public cloud (ironically, as use of the word "public" has two completely different meanings here). IBM wants to take no chances here.
GE is now considered to be one of the world's top 10 software companies. Recently, at a meetup at GE Digital's headquarters, the company's Chief Experience Officer stressed the importance of Predix as a platform for much of what the company will be doing. The three largest software lines at GE today are asset performance management, fleet management, and GE Healthcare software suites. So the ambition Greg outlined goes far beyond the current Industrial Internet focus.
Field notes
Within the outlines of the major fields of the battle, there are some humorous sidenotes. One is that GE often refers to "predictive analytics," while IBM is trying to differentiate by going with "prescriptive analytics." We'll have many more case studies within these two semantic realms after GE's announcement and IBM's convention.
Also, as GE has increasingly been using the word "intelligent," IBM is shifting much of its positioning to the word "cognitive" instead. As long as it's smart, users should be happy.
So the battle begins, with Cloud Foundry as a weapon. The end goal is to win customers, but along the way the battle will also be for developers, architects, and business sponsors working for the industrial companies of the world.
If you happen to work in the manufacturing, automotive, utilities, hospitality, or oil and gas businesses, then grab some popcorn and enjoy the show as GE and IBM fight to earn and keep your cloud business.