Anchora Delivers a PaaS for 36,000 Students in China with Cloud Foundry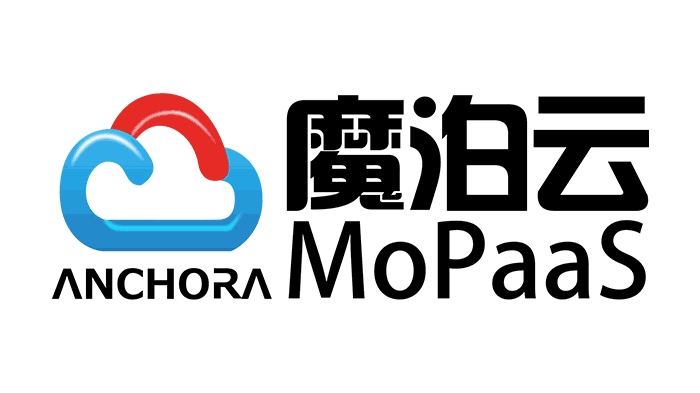 OpenStack-based cloud at Shanghai Jiao Tong University serves a large, diverse community.
Why read this?
Education: Develop a university community PaaS for tens of thousands of users
More than 36,000 students and 7,000 teachers use this community PaaS.
A private­-public partnership works in this case. Integrating a Cloud Foundry–based PaaS into a large university networking center.
The PaaS has successfully deployed, working with a data center that has more than 250 servers.
Since 1996 Network Information Center of Shanghai Jiao Tong University has laid about 70 km optical fiber cable between the campuses and 57 km optical fiber cable in the campuses.
The need for a PaaS
Shanghai Jiao Tong University (SJTU) is considered to be one of the top five universities in China, as well as a major research university in Shanghai. SJTU has its own Network Information Center (NIC) which is undertaking many national science and research key projects, as well as carrying on a lot of R&D domestic and international projects. Thanks to NIC, the campus network backbone bandwidth of SJTU has been upgraded to 10G by using WDM. Currently, there are about 70 km optical fiber cable between the campuses and 57 km optical fiber cable in the campuses. Through the computer networks, all the five campuses of SJTU have been connected faster and closer, also with the universities, scientific research institutions and corporations both at home and abroad. All the students of SJTU are entitled to the Internet free access, they can surf the Internet in their dormitories. Furthermore, NIC has also provided the campus network users with a lot of free services, such as e-mail, FTP, VOD, and virus scan online.
SJTU wanted to build a system that would allow for developing applications in a fast and efficient way without worrying about infrastructure, as well as satisfying students' needs in sufficient training and hands-on practice. The university turned to Anchora, a leading cloud platform and services provider in China, for a solution. Anchora's MoPaaS is the enterprise-class open cloud platform that offers multi-granular elastic resource allocation and management, as well as agile application delivery via streamlined application life-cycle management.
Anchora delivers both MoPaaS, a public cloud platform with extensions for mobile and data applications, and a dedicated PaaS solution that facilitates application consolidation and cloud platform portability for enterprises. Anchora can boast of having 100+ enterprise-cloud project instances, 300,000+ public cloud users, and 1+ million applications delivered.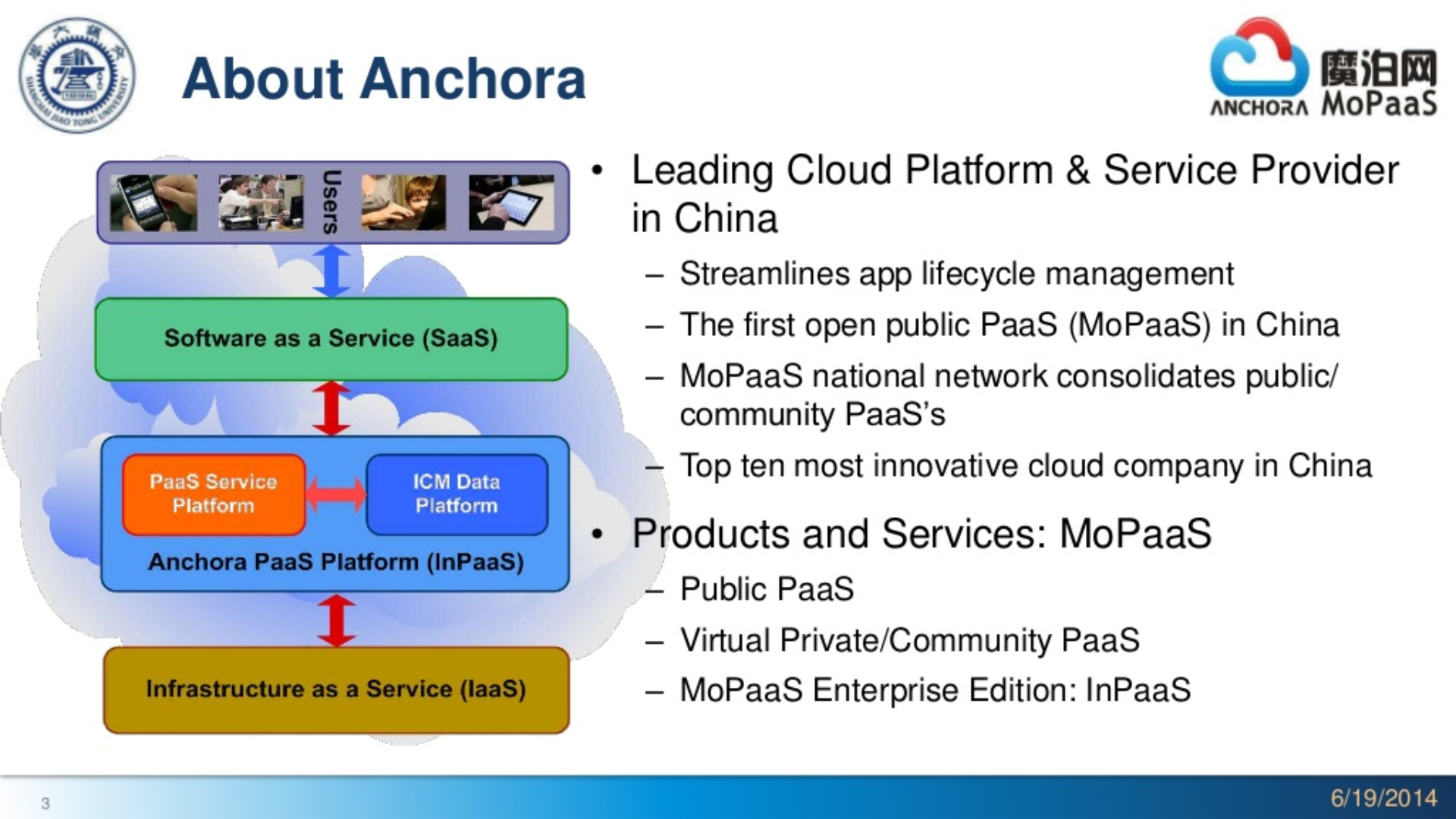 Anchora is a leading cloud platform and services provider (Image credit)
This article describes the work done.
Results
This use case is based on a presentation by Dr. Wei-­Min Lu, Founder and CEO, Anchora, at the Cloud Foundry Summit 2014 in San Francisco. It describes work being led by Dr. Wei-Min Lu and by Yaohui Jin, Deputy Director, Network Information Center, Shanghai Jiao Tong University.
According to Dr. Wei-Min Lu and Yaohui Jin, the PaaS is used for the following three fields at SJTU.
Research. Providing research individuals and groups with a unified IT environment for research projects.

Teaching. A unified development/testing environment for class projects: the students develop their code on their PCs, and then deploy and test their apps on the PaaS. After that, the teachers monitor the students' progresses, and run and evaluate their projects on the PaaS.
Innovation and entrepreneurship. The university encourages entrepreneurship, that is, an online incubator for students.
"We built a university PaaS at SJTU, which is the first community PaaS in China." —Dr. Wei­-Min Lu, CEO at Anchora
As mentioned above, the university PaaS is built on top of OpenStack, which in this case resides at the university's Network Information Center.
The use of Cloud Foundry in Anchora's MoPaaS solution incorporates some third­-party services, including identity management and authentication.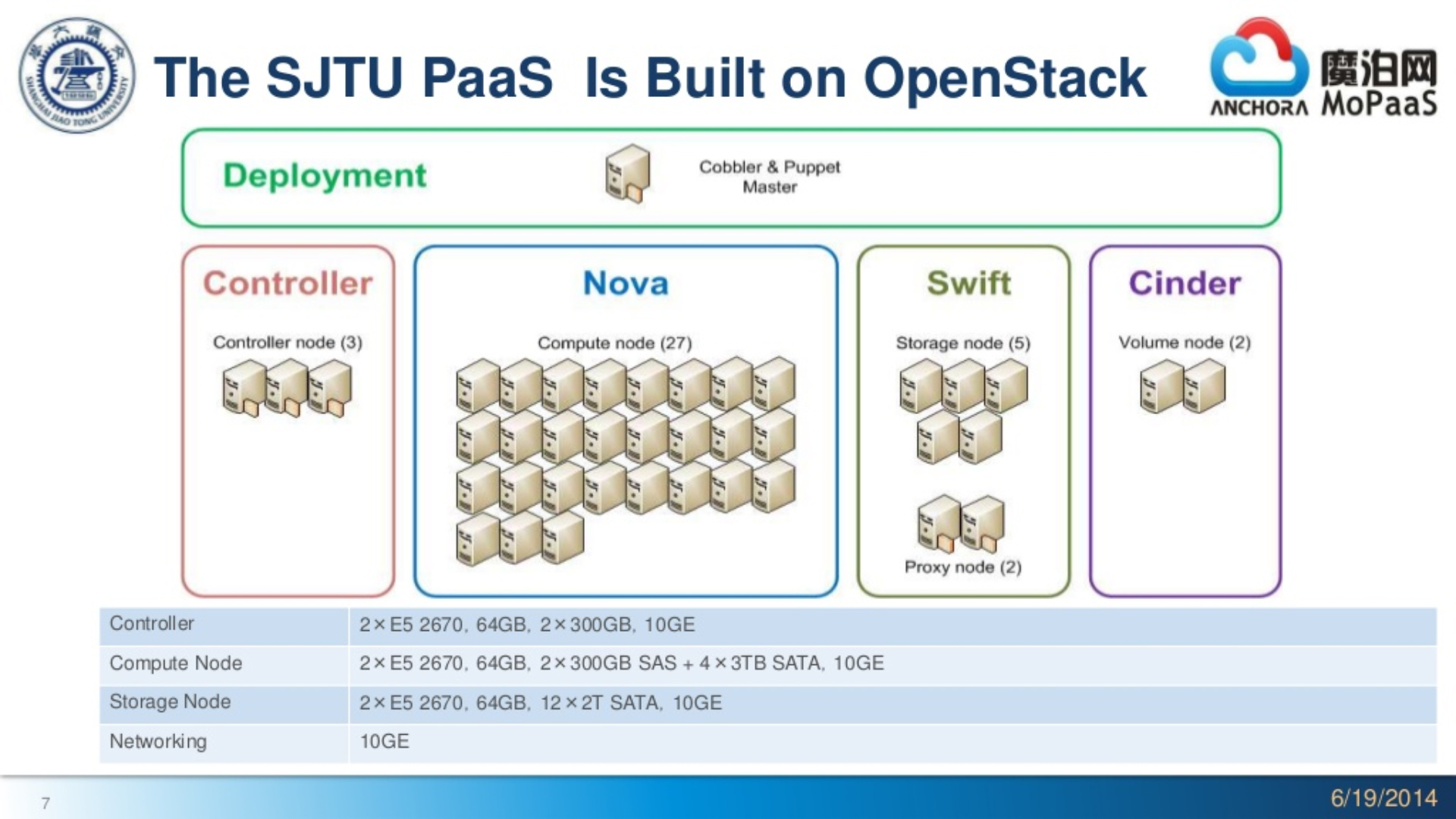 The infrastructure part of the SJTU PaaS (Image credit)
This community PaaS serves more than 7,000 professors, instructors, and researchers, and more than 36,000 undergraduate and graduate students. It's been designed to provide an agile cloud application platform for R&D and teaching. The university's NIC currently employs about 40 people, administering more than 250 servers in the data center.
As the university uses OpenStack for many years, the transition to the Cloud Foundry-based PaaS was natural.
Apps created with SJTU's platform
There have been some fun and interesting uses of this PaaS at the university in Shangha. One was a mobile app "innovation challenge" in which 67 teams participated. A second use is by the NIC itself, which hosts its Wi-Fi network on the MoPaaS platform.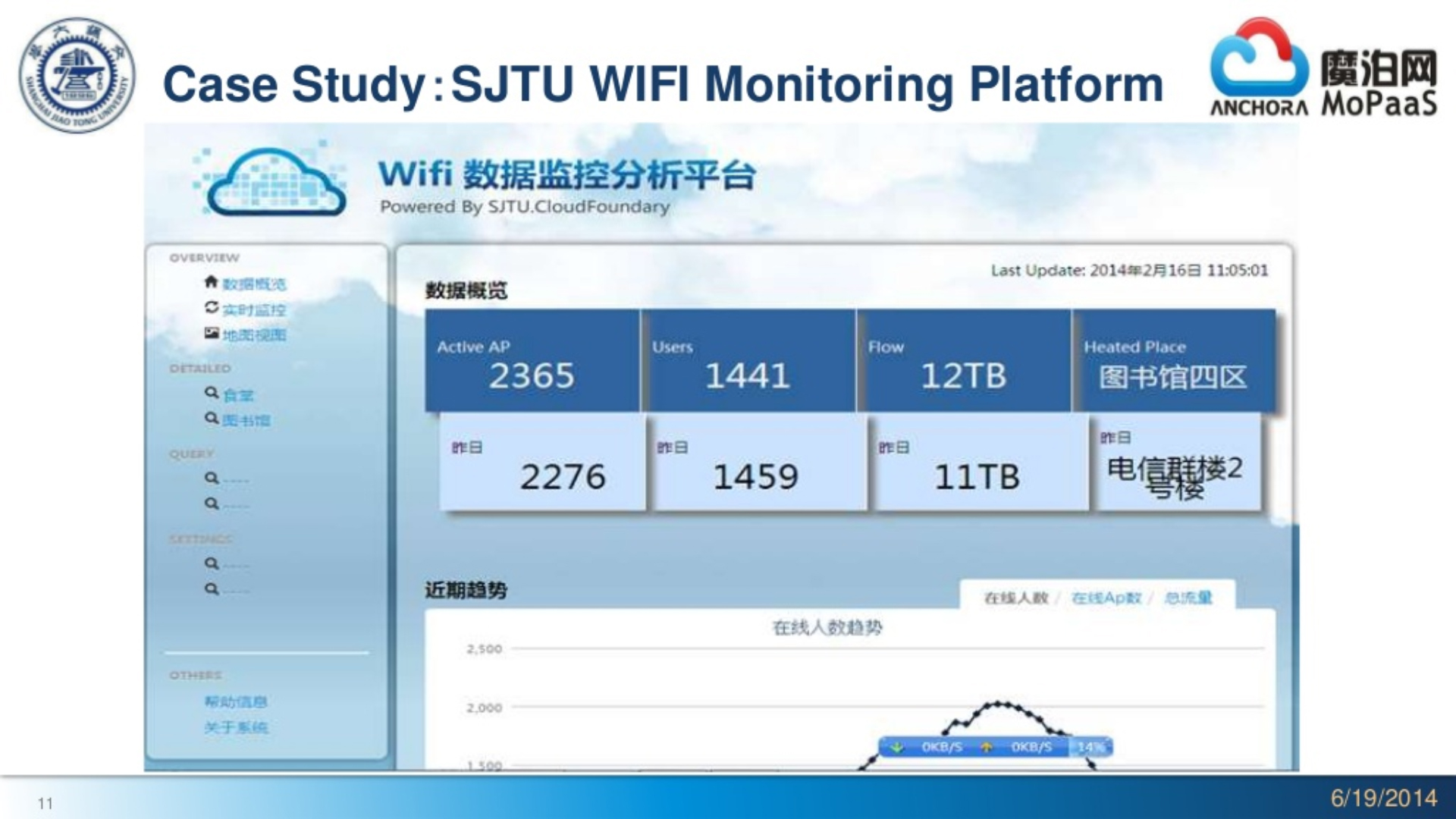 SJTU Wi-Fi monitoring platform (Image credit)
A third valuable use involves air pollution monitoring and analysis in the Shanghai area: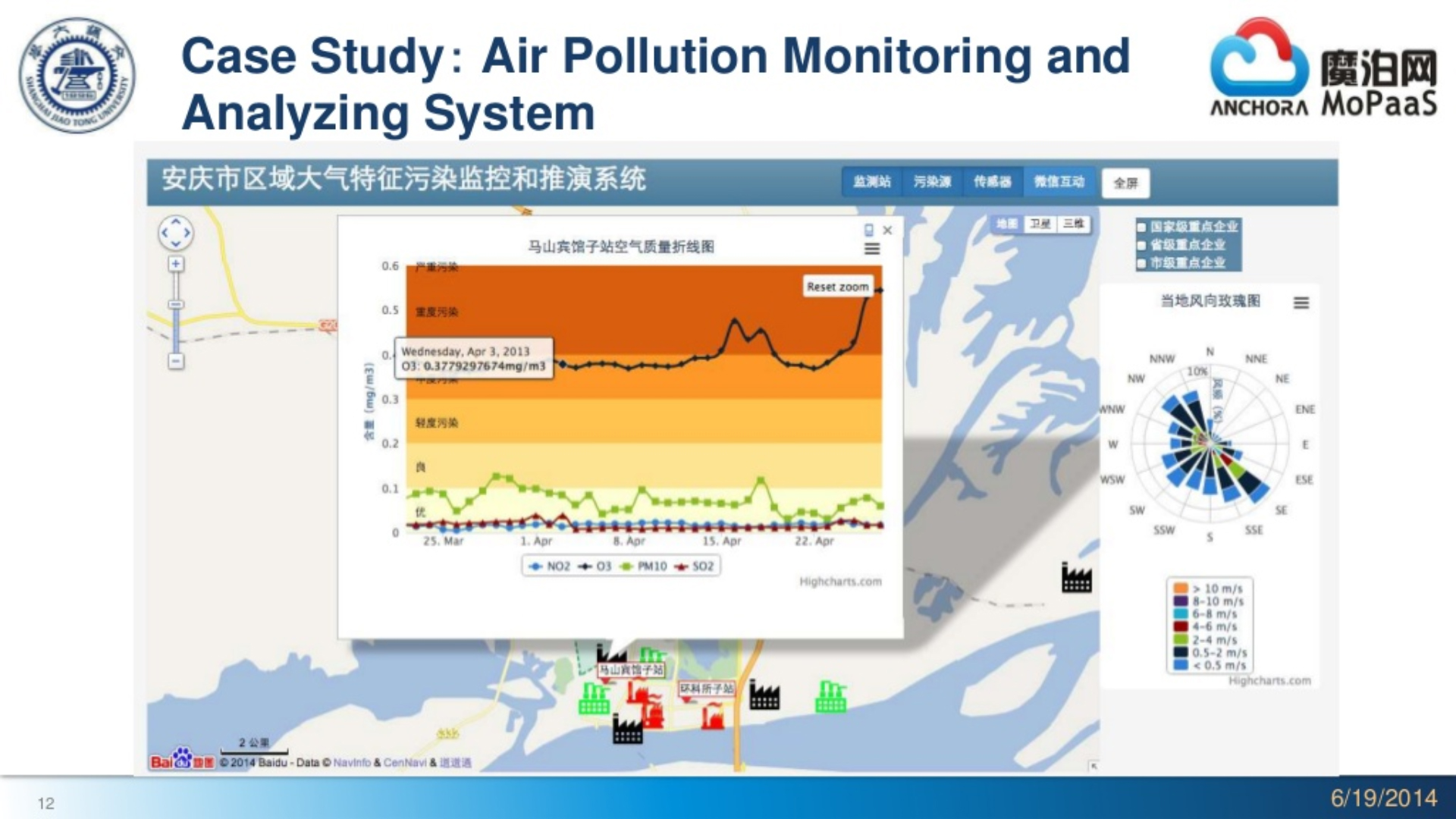 Air pollution monitoring and analyzing system (Image credit)
More apps are in progress.
Want details? Watch the videos!
Here is Dr. Wei-­Min Lu presenting this use case.
Here is Dr. Wei-­Min Lu describing MoPaas at the Cloud Foundry Conference in 2013:
Related slides
Here is a presentation of Dr. Wei-Min Lu and Yaohui Jin.
The second dates to 2011, and outlines the Network Information Center at Shanghai Jiao Tong University.
About the experts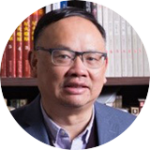 Dr. Wei-­Min Lu is the founder and CEO of Anchora (MoPaaS), which is the leading cloud platform solution provider in China. He has over 15 years of experience in product development and marketing. Before Dr. Wei-Min Lu founded Anchora in 2008, he served in key engineering and management positions at IBM and NASA-JPL, etc. Dr. Wei-Min Lu has a solid background in cloud computing, cybernetics, machine learning, information retrieval, and storage technologies. He received the Ph.D. degree (EE/Math) from CalTech and the B.Sc. degree from Tsinghua University, China.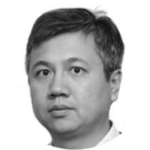 Yaohui Jin is a Professor of the State Key Lab of Advanced Optical Communication Systems and Networks at Shanghai Jiao Tong University. Before he joined Shanghai Jiao Tong University in 2002, Yaohui Jin was a member of technical staff at Bell Labs Research China. His research interests include urban open innovation, cloud computing architecture, and streaming data analysis. Yaohui Jin led deployment and operation of OpenStack, Hadoop, and CKAN open-source environments in SJTU campus. He is the founder of OMNILab, which is an open innovation lab focusing on data analysis. Yaohui Jin served 10+ technical committees. He published 100+ technical papers in leading conferences and journals and owned 10+ patents. He enthuses public-service and science popularization, actively promotes crowd-engaged innovation, and interdisciplinary collaboration.
---
This blog post was written by Roger Strukhoff and edited by Alex Khizhniak and Hanna Kautur.