Kroger Integrates Pivotal Cloud Foundry over 45,000 Virtualized Servers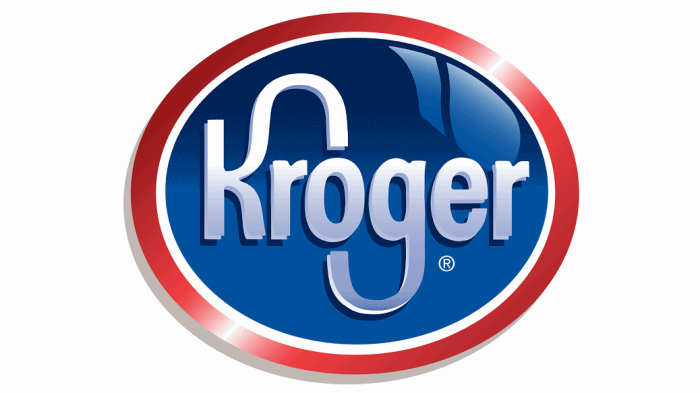 The largest grocer in the US transforms its IT and creates a DevOps culture, running 7,000+ app instances and 400+ apps in production.
Why read this?
Retail: Digital transformation of a large, 130-year-old grocer.
The company took the next step beyond virtualization of IT resources—it virtualized 45,000 systems (90% of its enterprise IT infrastructure).
Pivotal Cloud Foundry now hosts 7,000+ app instances, with 400+ applications in production, and has already helped to provide 5+ billion coupon downloads for customers.
One step at a time.
Management buy-in is essential, as is continued teamwork.
Make sure that "best practices" are actually practiced.
Drive creating documentaton as part of your culture.
vCloud Director, vCenter Orchestrator, Spring, Spring Initializr, .NET, Cassandra, Kafka, Kubernetes, Calico
Kroger is the largest grocer in the US, with department stores and jewelry sales complementing the grocery business. Based in Cincinnati, the company is 130+ years old, having more than 2,700 stores. Kroger also runs 2,200+ in-store pharmacies, 1,500+ fuel centers, 250+ jewelers, and 30+ food production plants (as of March 2019). Each day, these facilities serve 14 million customers. With annual revenues of $121.16 billion (2019) and 443,000 employees (2017), Kroger is the fifth largest retailer in the world.
Barney Kroger opened his first grocery store in Cincinnati in 1883, investing life savings of $372.
Ambitious goals
The largest grocer—and second largest retailer—in the United States, Kroger generates more than $120 billion in annual revenue from more than 3,000 locations.
It top management has set the Cincinnati-based company on course to reach $250 billion. A 21st-century IT architecture and infrastructure will be a key component as Kroger works to reach its ambitious goals. With Cloud Foundry, it is reforming its IT and creating a DevOps culture that will be essential to the company's success.
The company's journey to Cloud Foundry began in 2007 with integration of VMware into the organization. Today, there are more than 45,000 virtualized servers, representing 90% of the company's IT infrastructure.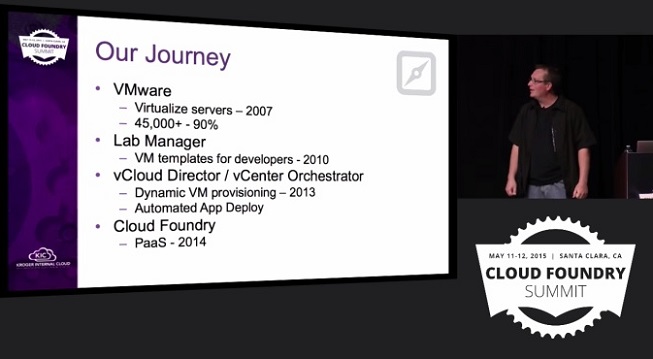 A second stage commenced in 2013 with integration of vCloud Director and vCenter Orchestrator, according to James Masters from Kroger's IT operations side.
"Getting the VMs was well-received but still a challenge," Masters explains. "We brought in Lab Manager around 2010 to expose some of that infrastructure via a self-service portal, then upped our game with vCloud Director and vCenter Orchestrator in 2013. We've encouraged people on the dev side to help us write code and get their VMs to the point where they could be managed by others."
Masters further notes, "The hard part is not deploying systems. The hard part is managing them." Within this context, Ted Tollefson from Kroger's dev side says, "Dev and ops have started working more together. We do a lot of orchestration, exposing infrastructure. We're marrying the orchestrations of dev and ops, creating a running environment, with applications deployed."
The two sides got into Cloud Foundry in 2014 "as a next step," according to Tollefson. "So, now we're not only orchestrating and provisioning middleware and databases, but also focusing on orchestrating an entire project initiation."
Kroger Internal Cloud
The company has thus arrived at what it calls its Kroger Internal Cloud (KIC) initiative. "We're doing this from a business perspective because we want to consolidate platforms and needed elastic scaling to scale horizontally. We need to scale more gracefully as the business continues to grow. From the DevOps perspective, we want to develop 12-factor apps and add a lot of automation."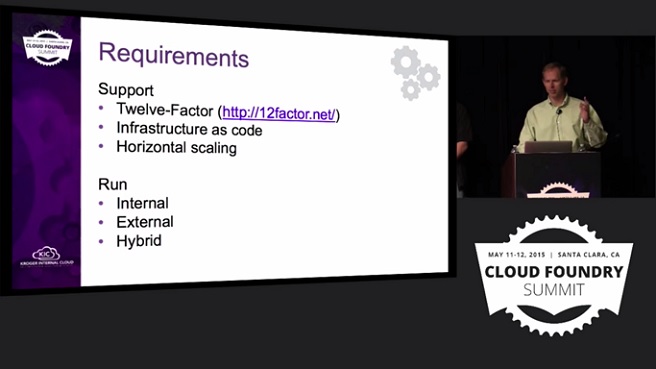 The integrated team uses Spring Initializr as part of its effort to automate project provisioning.
Team members can type in a few parameters and fork base sets of code, then use enhancements to create stash repo checks and create continuous integration builds. "We are able to set up best practices right from the start," according to Masters. "It takes 10 minutes to get code, ALM tooling, and be ready to go."
"We started launching apps into production, and went from 4 apps to 40 apps to 400 apps, and it's been great for running our entire e-commerce business." —Sean McShay, Director, Cloud Services, Software Architecture and UX, Kroger
Masters notes that the KIC initiative requires "much greater change for operations than from development from an organizational point of view, and we're a little cautious with respect to so much change" even as the company pushes forward with Cloud Foundry.
Keys to success of the initiative are outlined in the following slide: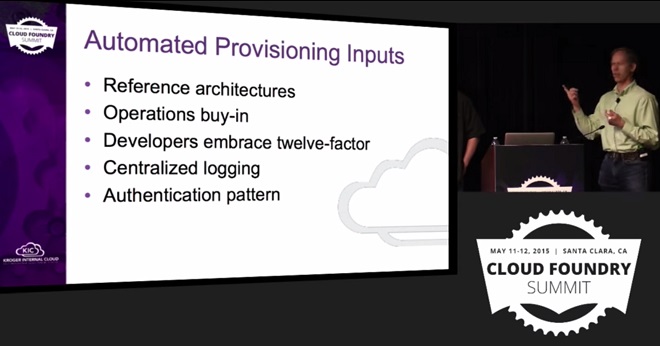 At this point, there is a pure VMware stack underneath, although the company is also looking at VIO (VMware Integrated OpenStack) and "playing around" with other hypervisors. The Kroger team also is looking at using additional resources to scale out with the Cassandra data store in the future.
Masters and Tollefson agree that there have been benefits to developers and to operational managers:
For developers, "the platform "makes it easy to do the right thing" due to automated functional testing, continuous delivery, and infrastructure as code.
Managers can enjoy faster project provisioning, higher consistency, a consolidated platform, and auditable environments.
As the KIC initiative progresses, the integrated team will continue to think of infrastructure in terms of code and working to having a common platform, while realizing that quick and easy spin-up means "it's also OK to put something that's not working back in the resource pool and start over," Tollefson says.
Management buy-in is essential, as is continued teamwork. "If you spin stuff up but don't have support, there will be a very short flight," Masters points out.
"With our previous platform, I had a huge amount of human capital resource invested. Today, our associates can stand up an environment, go build an application, connect to the resources they need, and get it functional in hours." —Elijah Savage, VP for Infrastructure Engineering and Operations, Kroger
Want details? Watch the videos!
Here is the original video presented at the Cloud Foundry Summit 2015 in Santa Clara, CA, by James Masters and Ted Tollefson of Kroger.
---
The post was written by Roger Strukhoff and Alex Khizhniak.
Updated in July 2019.