Can Japan Win Over COVID-19 with Technology, Automation, and Telemedicine?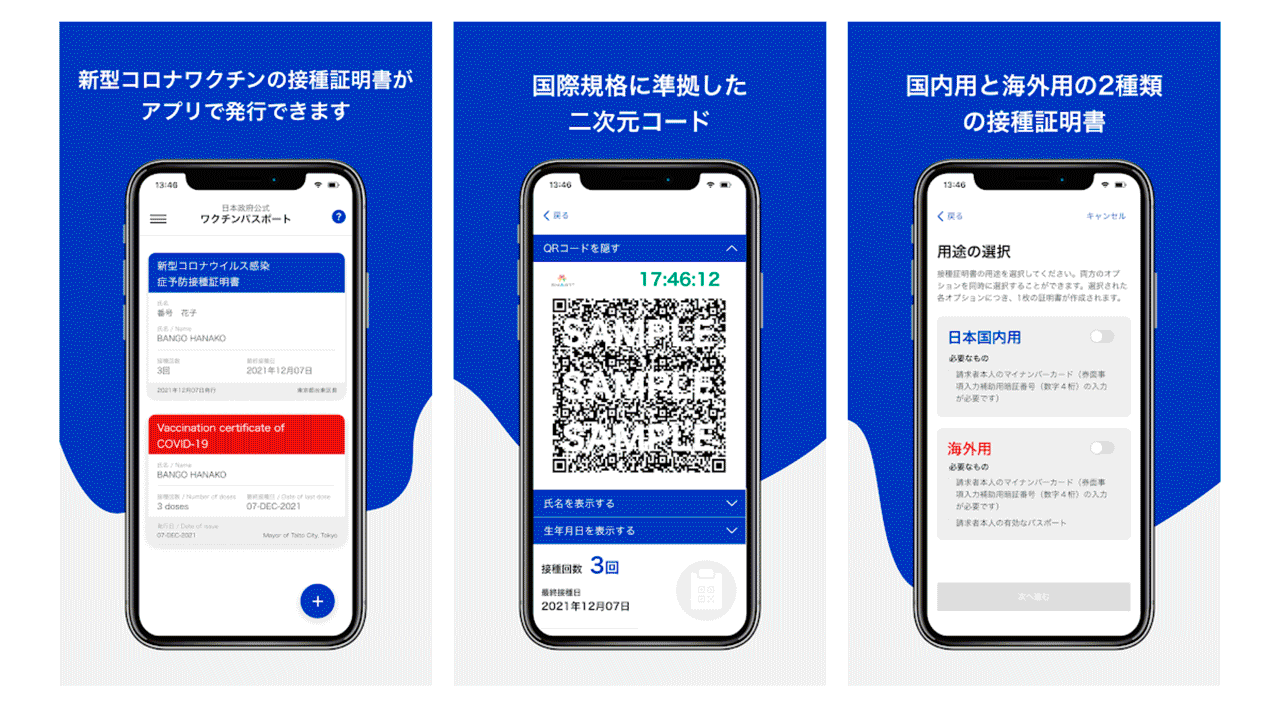 Having vaccinated more than 78% of its population, the country invests in digital transformation to get back to the new normal.
Facing the unexpected pandemic
On December 20, 2021, the Japanese government released a digital vaccination certificate app for its residents, making it available on both Android and iPhone. Storing their vaccination data, citizens can use the software for confirming inoculation status—by generating QR codes when entering restaurants or events, as well as traveling domestically and abroad. This measure is part of a larger initiative aiming to slow down the spread of COVID-19 by utilizing technology and automation.
While some countries are registering thousands of new COVID-19 cases per day, others were able to minimize the spread of the virus thanks to a set of safety measures. With a population of nearly 126 million people, Japan has been reporting less than 200 daily cases throughout November and December 2021. This makes Japan a regional leader in the COVID-19 Recovery Index compiled by the NIKKEI media agency.
The question is, how did a densely populated country like that manage to effectively reduce the spread of the virus? In brief, Japan is taking measures associated with vaccination, social distancing, and innovation.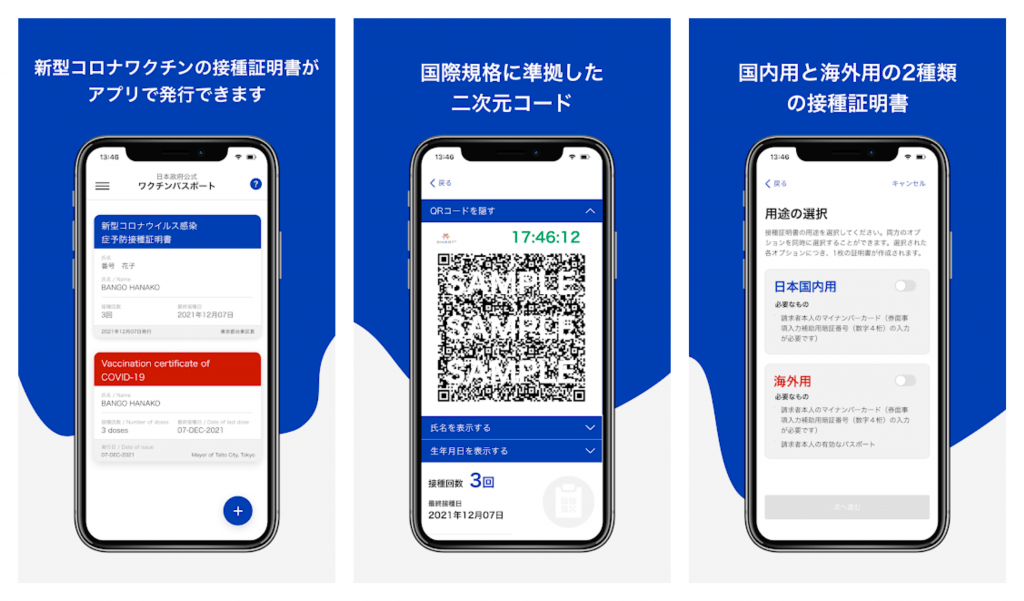 The digital vaccination certificate (Source: Google Play)
First, thanks to vaccinating more than 78% of the population (at the time of publication), the country was able to increase the immune protection of the most vulnerable groups.
Second, the government has taken a comprehensive set of measures to fight the disease. The initiatives involved restrictions on mass gatherings, limited operation of bars and restaurants, the closure of borders, and encouraging remote work. (It is worth noting that the inherent mask-wearing culture, which existed before the pandemic, might have contributed to a lower number of deaths in Japan, as well.)
Besides, as one of the world's most technologically advanced countries, Japan is taking steps toward using innovations to support social distancing. Though the penetration of technology was lagging in the governmental sector for the last decades, the pandemic accelerated the need to solve the legacy issues as soon as possible.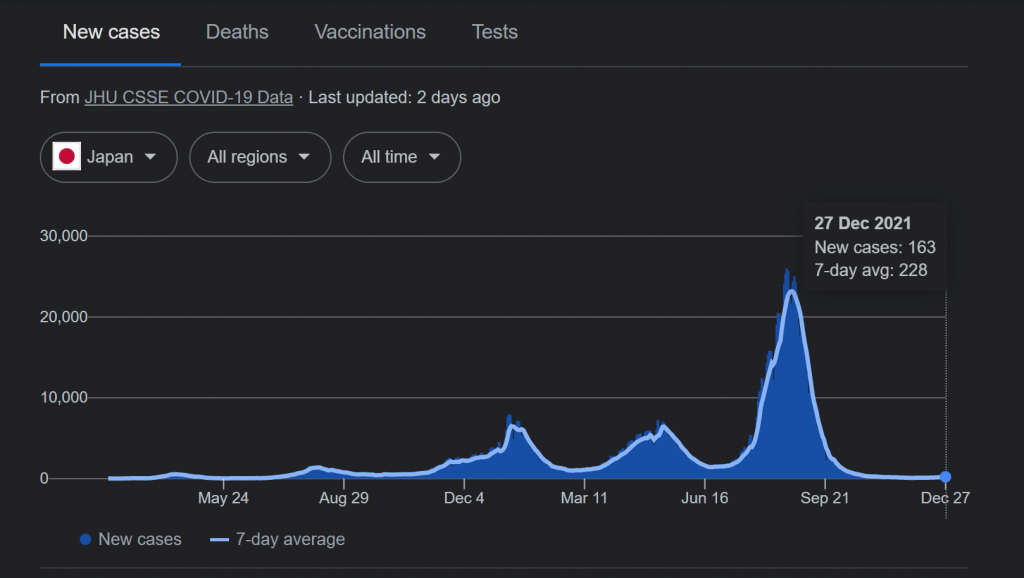 Coronavirus cases in Japan (Source: Google News)
In this regard, former prime minister Yoshihide Suga introduced a public organization aimed to foster automation, digitization, mobility, AI, etc. Unveiled on September 1, 2021, the Digital Agency got the right to manage IT budgets across Japanese ministries.
The main objective of the agency is to accelerate the digitalization of administrative procedures and healthcare processes. In addition, the organization will develop software systems on its own and provide other ministries with recommendations. The slogan of this transformation is "Government as a startup."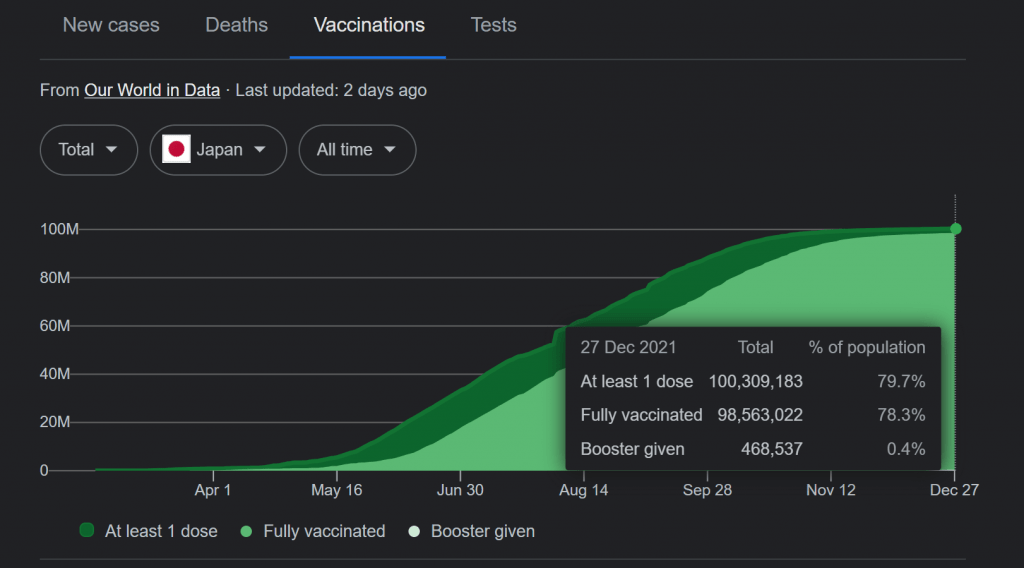 The vaccination in Japan as of Dec 27, 2021 (Source: Google News)
So, how do these and other technology advancements help the country to take the epidemic under control and what are the obstacles out there?
Automation and social distancing
One of the ways Japan is using technology to reduce the spread of COVID-19 involves automating administrative processes. The goal is to minimize the need for face-to-face communication and promote social distancing.
Keeping in line with a global approach, the Japanese government is assigning its citizens a 12-digit personal ID number. Following Estonia's example, the officials are encouraging people to obtain My Number cards for automatic identity verification. The plastic card has an embedded chip containing a person's information and electronic signature, which enables residents to carry out a range of administrative procedures online. This minimizes bureaucratic burden, reducing queues in institutions and improving safety during COVID-19.
My Number identification card (Source: The Financial Times)
Eventually, people can use My Number cards to:
Verify their identities when applying online for administrative procedures or public services
Receive health insurance, register a personal seal (hanko), visit a library, etc.
Carry out private online transactions
Print a range of government documents using terminals at convenience stores eliminating the need for queueing and commuting
As of November 18, 2021, over 50 million ID cards were issued, covering 39.5% of Japanese residents. It is planned that the country's entire population will obtain this card by March 2023.
The newly created Digital Agency is expected to coordinate this process, digitizing 98% of administrative procedures, such as applying for permits and receiving documents, by 2025. The ministry will also unify processes, systems, and infrastructures across departments, migrating siloed data stored in each municipality to the cloud. Leading by example, the Digital Agency shifted away from paper-based job applications and managed remote hiring via Scrum-driven HR software developed by Tokyo startup HERP. To avoid issues associated with a lack of technical expertise among government workers, the agency will introduce exams to test civil servants' digital competence.
In the long term, the Digital Agency aims to create a "base registry" to serve a centralized repository of essential data for society. The organization will implement data utilization practices according to the "once only" principle, meaning that the information provided by a resident earlier should not be resent.
The use of technologies such as RPA will also allow public organizations to automate paper-based workflows. To date, 42% of clinics have already digitized their patient data, while 85% of large hospitals use some form of electronic health records (EHR).
The ultimate goal of this transformation is building Society 5.0—focused on serving people with smart technology—which will follow the Industry 4.0 era. The basic principles of the Digital Society the country is aiming to shape can be found in this bill.
"This digital defeat is our last chance." —Takuya Hirai, ex-Minister of State for Digital Reform (Sep–Oct 2021)
Remote Work
As part of COVID-19 mitigation measures, Minister Yoshihide Suga urged companies to adopt remote work. As a result, a survey revealed that nearly 40% of employees in Japan adopted this model for at least three days a week, with 22.1% of business people working remotely almost every day. (In 2019, only 4.8% of the workforce had experienced remote work for three or more days a week.)
For instance, Japan's leading mobile operator KDDI transitioned 90% of employees to remote work during the lockdown, with only essential personnel continuing to come into the office. Even after the lifting of restrictions, the company still has 50% of its staff working from home. In addition to ensuring safety in its offices, KDDI shared its Location Analyzer tool with 47 regions to help them monitor the density of movement and other characteristics by using anonymized smartphone data.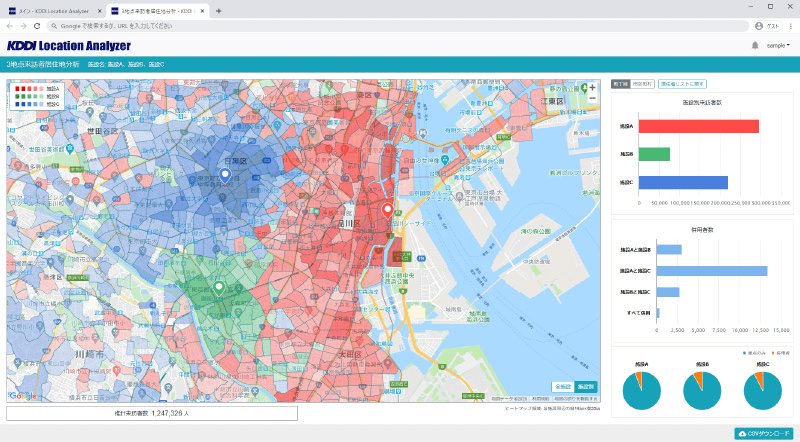 KDDI Location Analyzer (Source: KDDI)
Fujitsu, which introduced remote work company-wide in 2017, is also using technology to increase job flexibility and reduce office space by 50%. The company utilizes AI dashboards based on Power BI to visualize work content, pinpoint problems, and further improve productivity. Fujitsu takes advantage of communication tools, such as Microsoft Teams, to make collaboration more convenient. The organization hopes that shifting away from the rigid concept of commuting would improve productivity and allow for significantly better work–life balance.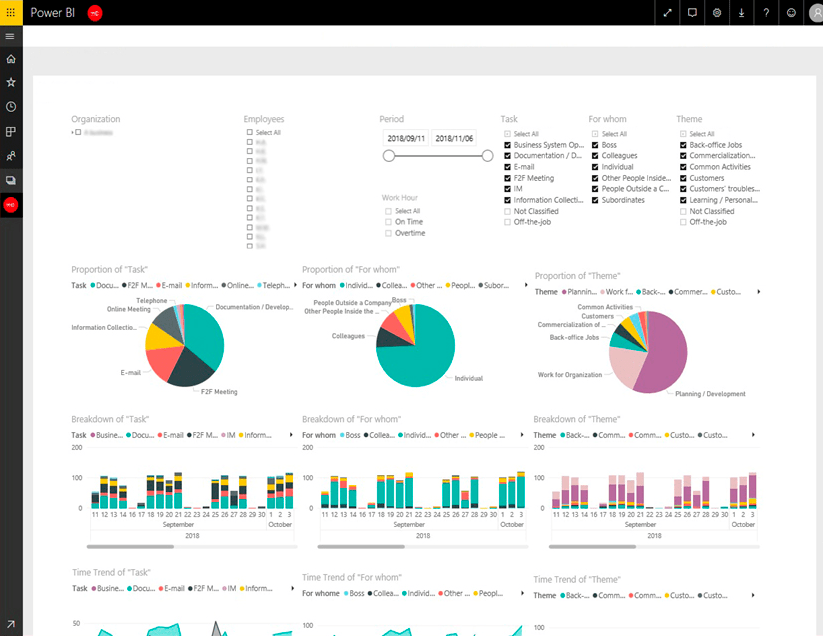 The AI-based workplace innovation dashboard (Source: Fujitsu)
Another example is TokyoMate, a startup that provides remote assistants, digital mail services, and other automation tools for organizing virtual offices. Running a 99% remote team, the company improves collaboration efficiency with Slack, Trello, Google Calendar, etc.
One more survey revealed that 86% of Japanese companies plan to continue practicing remote work after the pandemic. Experts found that in the context of how often this model would be allowed in an organization, "3–4 days per week" was the most frequent response (42%) followed by "every day" (28%).
Telemedicine
In-person hospital visits often involve long commutes and queues, which put patients at an increased risk of contracting COVID-19. Transitioning some parts of the healthcare processes online is another way Japan is fighting the pandemic.
In April 2020, the Japanese government allowed initial virtual consultations between doctors and patients, as well as prescription counseling carried out online by a pharmacist. The Ministry of Health, Labour, and Welfare (MHLW) reports that the number of healthcare organizations in Japan employing telehealth solutions surged to 14.5% in June 2020, reaching 15.1% in January 2021. In the summer of 2021, the government declared that measures taken on telemedicine adoption will be maintained permanently.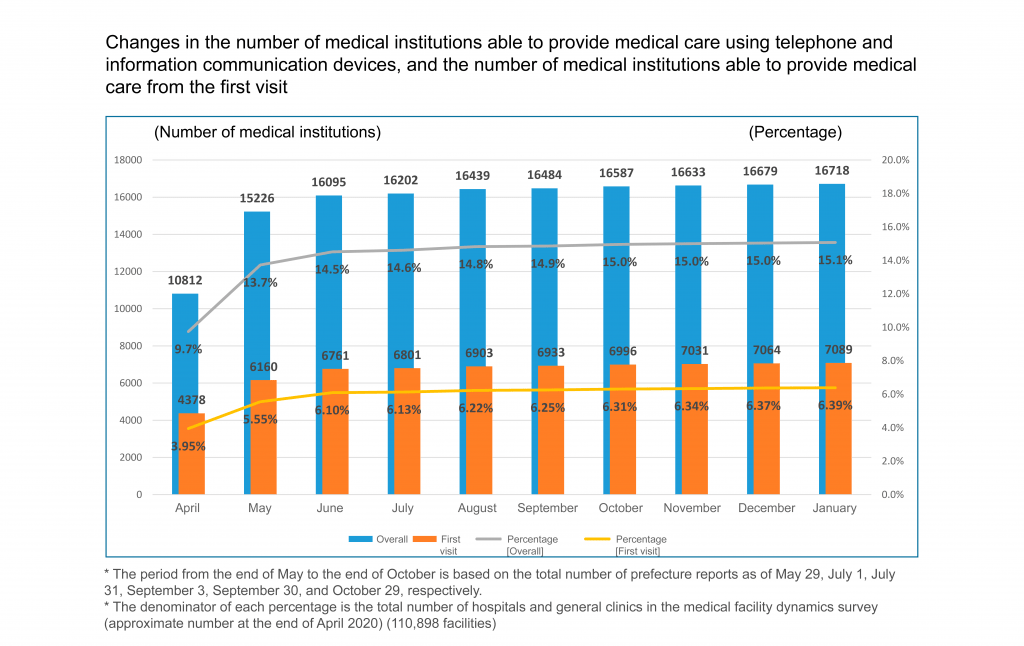 The adoption of telemedicine in Japan, 2020 (Source: MHLW)
The MHLW has allocated over 100 billion yen (US$870 million) in its FY2021 budget toward digitization of healthcare in response to the pandemic. The government plans to introduce electronic health records, personal health records, and e-prescribing, with My Number serving as an insurance verification card.
Last year, Takeda Pharmaceutical and Kanagawa Prefecture implemented Care for One, a pilot project to remotely monitor patients having Parkinson's disease. Aiming to reduce the burden of health management and in-person hospital visits, the organizations developed an integrated platform that monitors patients with wearables, providing virtual medication guidance and prescribed drug delivery. Employing the system, clinicians can view and analyze patient data remotely.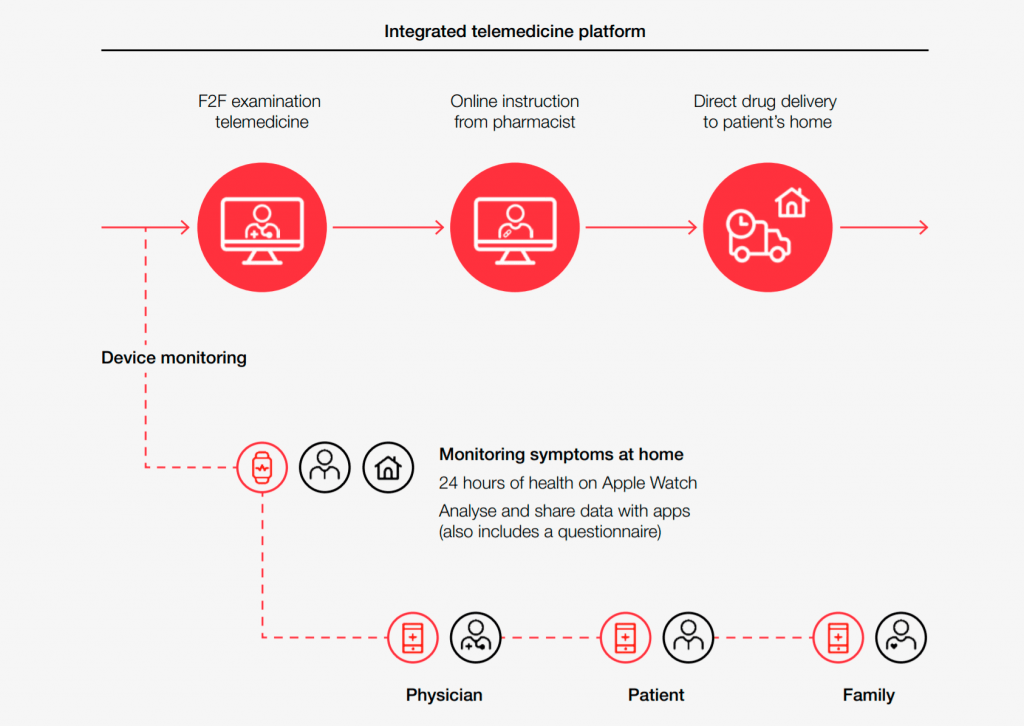 Remote patient monitoring with Care for One (Source: World Economic Forum)
In addition, Takeda Pharmaceutical created Monipad, a healthcare mobile app that allows for detecting the signs of disease that may be difficult to notice. Reporting on the frequency and severity of symptoms, it aims to assist Parkinson's patients with medication guidance and enable physicians to improve the quality of remote care. In the future, Monipad will be part of a patient-centric ecosystem that gathers medical information, helping doctors to deliver optimal treatment.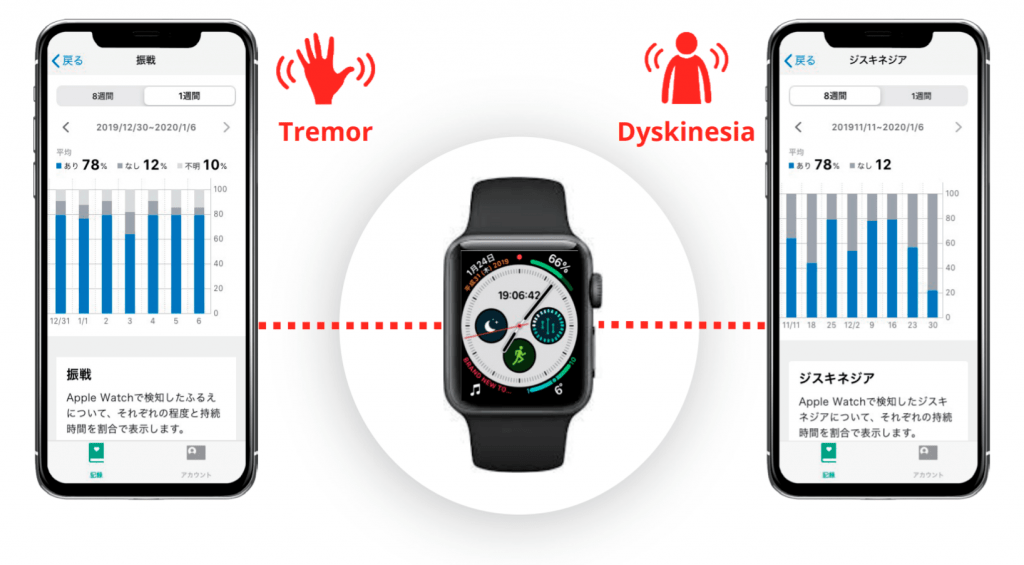 The Monipad app (Source: Deloitte)
The ongoing evolution of telehealth in Japan sparks private initiatives, as well.
Another promising remote care product is being developed by Bisu, a Tokyo-based healthcare startup offering self-diagnostics at home. Based on a microfluidic "lab-on-chip" technology, Bisu Body Coach consists of a test stick and a reader that synchronizes with a mobile app enabling to measure a variety of biomarkers in just two minutes. Turning medical data into actionable insights, the product provides feedback on key nutrition indicators that include minerals, vitamins, hydration, pH, ketones, and uric acid.
On top of that, Bisu Body Coach offers personalized recommendations based on user activity, goals, nutrition preferences, sleep, and weight.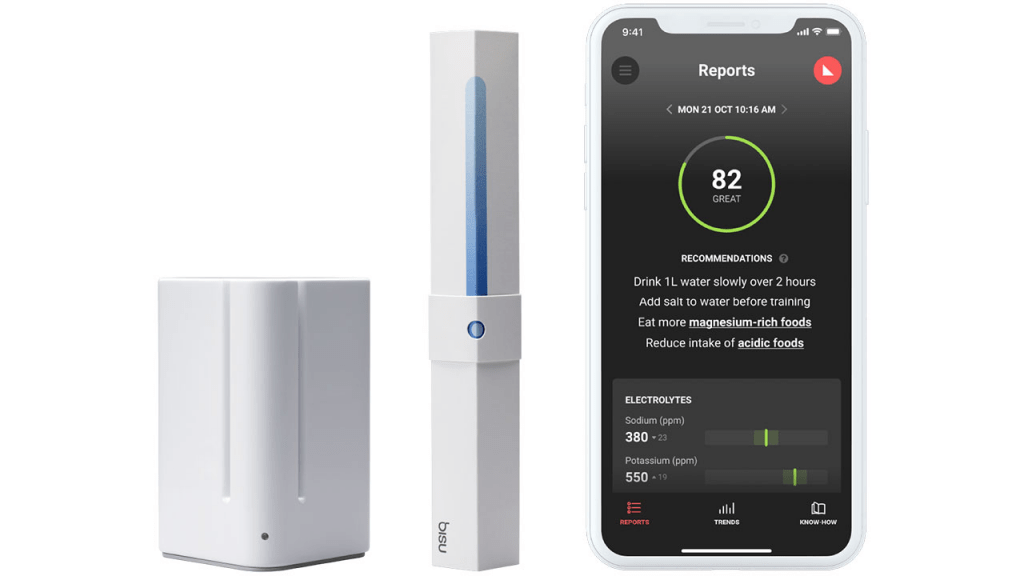 The Bisu toolkit (Source: JETRO)
Many other promising HealthTech startups are being created right now on the journey to Society 5.0.
Obstacles
Though Japan has started taking steps toward digital transformation, outdated technology is still affecting medical, administrative, and economic processes. To continue improving safety during the pandemic, the country needs to further invest in innovation across communication, remote work, and telemedicine.
Challenge #1. Japan's use of fax machines is one of the hurdles to overcome, as it forces people who need to send or receive a message to come into the office. Businesses and government agencies often have to print documents, because they require hanko, a personal seal used on official papers. Despite the obvious downfalls of this approach, many government officials insist on continuing using it for security reasons.
At the same time, some parts of the Japanese government have reportedly stopped using faxes, and the Digital Agency plans to abolish the hanko seal, as well.
"To be honest, I don't think there are many administrative procedures that actually need printing out paper and faxing." —Taro Kono, ex-Minister for Administrative Reform
Challenge #2. Another issue with manual administrative processes became apparent in April 2020, when the Japanese government launched an emergency cash handout program. Residents had to receive a physical application form, fill it out, and mail it back to their local authorities, along with copies of ID documents. In addition to being slow, this method caused queueing in convenience stores with printers, further contributing to the spread of COVID-19. Municipalities manually processed each request and were only able to start delivering emergency checks in June 2020.
Challenge #3. Outdated technology also had a negative effect on vaccination in early 2021. Instead of using online booking systems or text messages, local authorities physically delivered paper vouchers to eligible residents. This approach was so inefficient that only 3 doses of the vaccine were administered per 100 people by the end of April 2021. Finally, the government expanded eligibility criteria and opened large inoculation centers in Tokyo and Osaka, accelerating the process dramatically. Large corporations vaccinating employees (such as Canon, Central Japan Railway, SoftBank, Toshiba, etc.) also sped up immunization.
Challenge #4. On June 19, 2020, Japan's government released COCOA (the COVID-19 Contact-Confirming Application). In addition to having only 25 million downloads per 126 million population, from late September 2020 to February 2021 the app's Android version did not notify users when they came into contact with infected individuals. The health ministry blamed the glitch on insufficient testing and a lack of knowledge about app development among the people assigned to the project.
Challenge #5. While remote work has proven effective at slowing the spread of COVID-19 globally, not all Japanese companies were able to implement it due to organizational limitations. Unlike other G7 nations, Japan has not automated many jobs yet—due to its membership-based employment and the abundance of repetitive physical tasks. In combination with the country's business culture that traditionally favors face-to-face communication, all these issues slow down the adoption of remote work.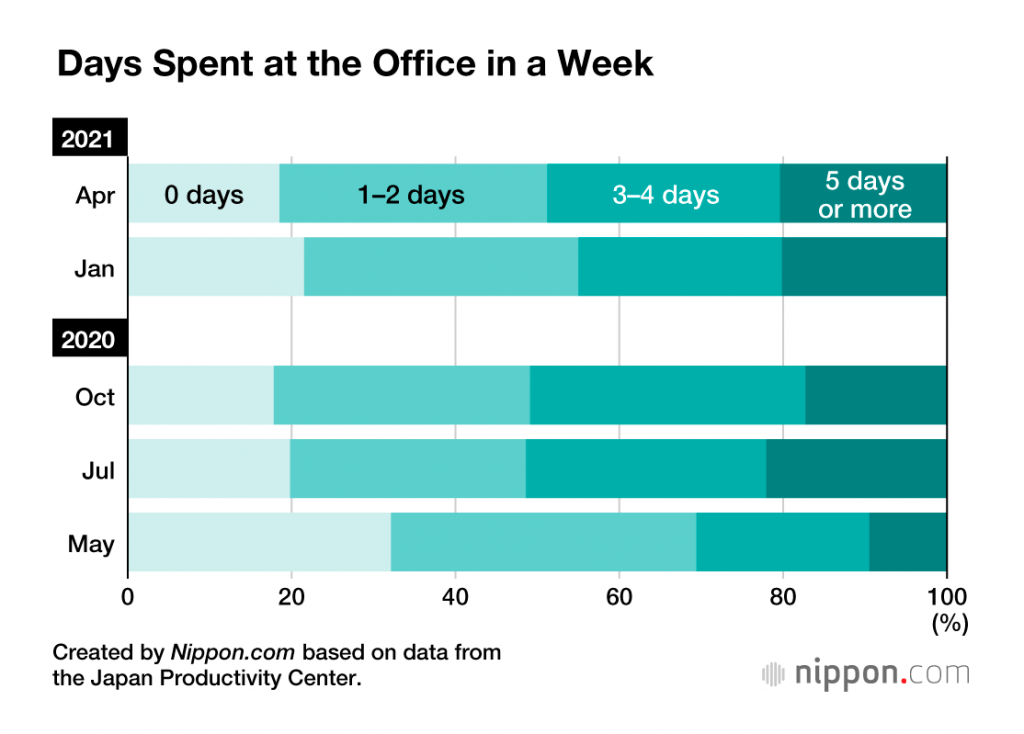 Remote work adoption in Japan (Source: Nippon)
Challenge #6. As for telemedicine, it still develops more gradually than, for instance, in the US, where the percentage of virtual visits spiked to 32% in April 2020 and stabilized at 13–17% across specialties, according to McKinsey. Many physicians believe that online visits are ineffective, and some are worried that footage from appointments could be leaked or used in lawsuits.
Regardless of these issues, Japan managed to reduce the spread of the pandemic when other countries failed to do so, and deserves its credit.
On the way to Society 5.0
Moving ahead, the Japanese government aims to foster the adoption of AI, the Internet of Things (IoT), and robotics to become the world's first human-centric nation. The Society 5.0 idea will be centered around the needs of each person, digitizing healthcare, insurance, finance, and other industries. By freeing people from routine jobs, the authorities plan to mitigate the economical issues of the aging population, as well as address labor shortage, rural depopulation, and high government spendings.
In addition to the transformational programs in the public sector, there are numerous private digital initiatives, including those formed by local IT giants.
April 1, 2021, marked the launch of the Healthcare AI Platform Collaborative Innovation Partnership (HAIP), a nonprofit association working on integrating AI deeper into healthcare. The partnership was established by Nihon Unisys, Hitachi, IBM Japan, SoftBank, and Mitsui to develop common fundamental technologies for a social healthcare AI platform. In June 2021, Microsoft Japan joined the initiative.
The current goals include forming functional requirements, creating international standards, developing connection APIs, and ensuring security. HAIP's research will become open to the public domain.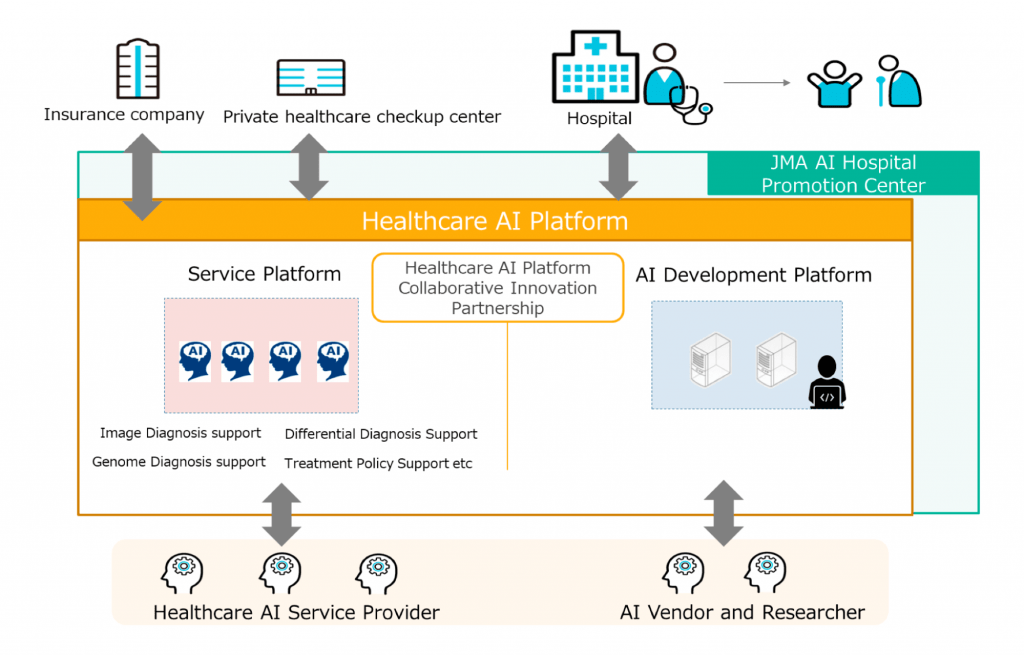 A high-level HAIP's architecture (Source: Hitachi)
On a global scale, Japan has provided around $4 million to transfer technologies and products to 12 developing economies, so that they can improve sanitary and hygienic environments, as well as health safety. This initiative is a part of the Sustainable Technology Promotion Platform (STePP), which aims to stimulate the industrialization of developing and emerging countries.
By establishing remote cooperation with local partners and counterparties, Japanese organizations strive to implement their projects regardless of the travel restrictions. For instance, due to lockdown, engineers from an industrial company Kinsei Sangyo were unable to visit Kenya in person to install a medical waste incinerator. To address the challenge, they used six applications and two cameras to provide instructions to Kenyan engineers remotely.
Though there are still some barriers, digital transformation in healthcare has seen a surge during coronavirus. Japan's Digital Agency is undertaking significant efforts to mitigate COVID-19 and eliminate inefficiencies by using innovations. In addition to vaccination, mask-wearing, and social distancing, the technology plays an important role in fighting coronavirus in Japan.
Now the question is, can Japan keep the situation under control with the arrival of the Omicron variant, which already brought the number of daily cases to 200+ last week?
Further reading
---
The post is written by Diana Maltseva, Alex Khizhniak, and Yaroslav Goortovoi.