Altoros in the Media, 2004–2005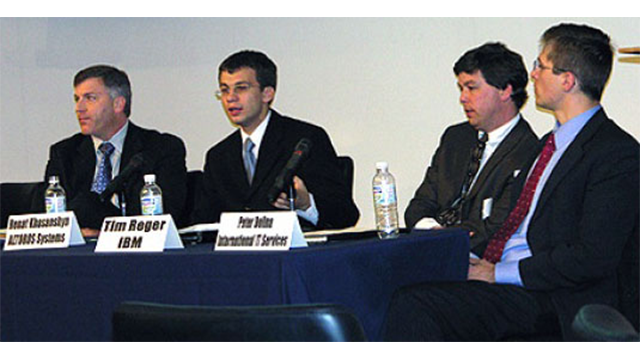 This blog post features the most significant media coverage of Altoros discussing the role of outsourcing in global businesses today.
Best practices in offshoring
In December 2004, Renat Khasanshyn, CEO at Altoros, took part in the panel entitled "Best Practices in Offshore Outsourcing" together with representatives of the major IT companies, such as IBM, and educational organizations, such as Duke University. During the talk, the speakers explored the potential impact offshoring may have on the U.S. economy, as well as discussed how businesses can benefit from the outsourcing trend. Read the full article for more details.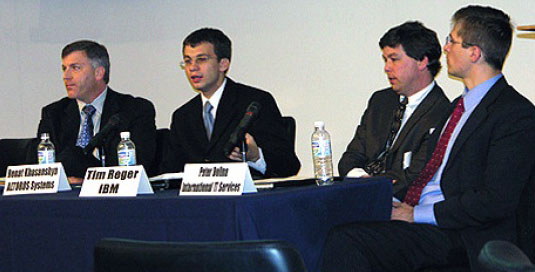 A panel on best practices in offshore outsourcing
5 outsourcing risks

Renat Khasanshyn of Altoros, shared his thoughts on how outsourcing can help to achieve a variety of business goals, if senior management creates an effective strategy for offshore relationships. For more information on five major risks that organizations should consider in planning and executing an outsourcing strategy, read the article published by Projects@Work—an online resource for IT and business professionals.
"Businesses are under increasing pressure to do more with less, and offshore outsourcing is on their agenda for many reasons, including lower costs and capital expenses, accelerated time to market, compensation for lack of internal staff, and improved quality. In search of these goals, outsourcing may be a suitable solution. However, as with any new business endeavor, there are trade-offs. Here are five major risks that organizations should consider in planning and executing an outsourcing strategy." —Renat Khasanshyn, Altoros
Belarus to become the Eastern European Bangalore

Altoros was mentioned in the article dedicated to reviewing the Belarusian IT outsourcing industry. The article describes how Belarusian outsourcing is different, as well as highlights the main challenges and strategies for its future development.
"With its modest population of 9.9 million, Belarus hosts the largest and most established European IT outsourcing providers to the east of Germany. Five of its largest IT outsourcers are at least 10 years old, an age well above average for a private business in Belarus."
—Renat Khasanshyn, Altoros
Pros and cons of outsourcing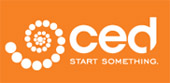 In December 2004, Renat Khasanshyn of Altoros participated in the discussion, sponsored by the Council for Entrepreneurial Development. The event took place at the new Fitzpatrick Center for Interdisciplinary Engineering, Medicine and Applied Science (CIEMAS) at Duke University.
"There are many issues other than payroll to be addressed in debating whether or not to outsource." —Renat Khasanshyn, Altoros
When offshoring goes awry

On April 4, 2004, Salon published an article that described how CompareWirelessPhones.Com LLC turned to Altoros after collaborating on several unsuccessful projects with Indian-based companies.
"Not every trip to India is blessed by Krishna. Although it is considered to be outsourcing heaven, some business executives face real problems when trying to manage IT projects with development teams located in India." —Renat Khasanshyn, Altoros
Beating outsourcers by joining them

Atoros was mentioned in the article published by Richmond Times-Dispatch. The article tells a story of David Spring, a computer technician in Safety Harbor, FLorida, who hires developers in another country at a fraction of the cost of American programmers.
"Outsourcing is very real for David Spring, a certified Microsoft engineer, who was working for SCC Soft Computer in 1998 when his job went to computer technicians abroad."
—Renat Khasanshyn, Altoros
Is high-tech R&D too vital for outsourcing?

E-commerce Times published some excerpts from the interview with Renat Khasanshyn of Altoros, talking about how R&D outsourcing helps to decrease costs.
Renat Khasanshyn of Altoros also noted that, although outsourcing had cast a long shadow over many IT professions and functions, there were glimmers of sunlight for the U.S. employees involved in certain aspects of the computing industry.
Further reading